Looking back at OMD's 2013…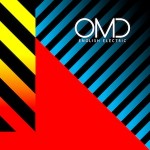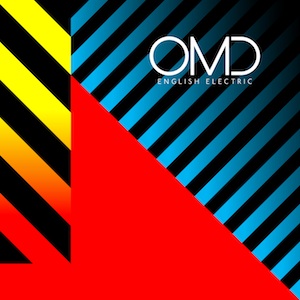 2013 was a significant year for OMD with the release of their 12th studio album English Electric. It was an album that was going to surprise both critics and fans alike who, throughout the post-History Of Modern
period, had only been teased with small snippets of information revolving around the enigmatic album title. But January brought the official announcement of both English Electric's track listing and release date.
Andy McCluskey also made an appearance on The Dave Charles Show on Harborough FM to comment that both Paul Humphreys and himself had viewed English Electric as a "definitive statement" and suggested that they couldn't view any further OMD albums beyond this one, adding "that's how good we think it is".
Meanwhile, Messages began to track the emerging information on the album via our English Electric In Profile feature. 'Decimal' offered up the first taste of what English Electric would sound like. Suggesting an obvious nod to the 1983 Dazzle Ships track 'Time Zones', Andy commented in an interview for The Quietus, "I cannot believe that no one actually spotted where 'Decimal' comes from. 1975, before Kraftwerk released the Radioactivity [sic] album, and before we'd ever released anything: Einstein on the Beach
by Philip Glass. That's the most obvious reference".


Plans for OMD's live airings of the English Electric album also began to come together, with John Foxx & The Maths announced as the support for the UK dates. Foxx's line-up included Hannah Peel, better known to OMD fans for her unique take on 'Electricity' as well as providing the inspiration for the track 'Bondage Of Fate'.
Andy McCluskey was quizzed on his thoughts on Kraftwerk for an article on the pioneering German outfit in The Telegraph: "Kraftwerk were hinting at the removal of some of the more human or primitive elements in music, the sweaty drummer, strutting lead guitarist. As a result, they were viewed as cold, inhuman or frosty, but in hindsight we [can see we] have removed a lot more and the stuff from the Seventies actually seems quite human. What was often perceived as coldness was actually a kind of melancholy of emotional restriction."
Meanwhile, The Guardian ran a separate feature exploring the same topic (with a contribution from Peter Saville).
February proved to be a busy period of English Electric updates with the video for 'Atomic Ranch' revealed and the first single 'Metroland' aired on radio.


Synth outfit Metroland provided support to OMD at the Utrecht Tivoli and Brussels Ancienne Belgique concerts. Metroland also provided their own remix of the track 'Metroland' and were clear about their inspiration: "We both hate those darn f*cked up club mixes where you can barely recognize something of the original. We started all from scratch. So, every sequence and bass line, melody was played a-new".
March saw Andy McCluskey interviewed for the Messages site in which he discussed touring, History Of Modern and his thoughts at the time regarding English Electric: "It's just letting people know that there's an overriding feeling on this which is that its more minimal, more electronic, more intellectual, if you like, a lot more conceptual stuff on it and I've already been quoted as saying that you know that there's an overriding kind of view that the future that we anticipated has not arrived".
Paul Humphreys, meanwhile, took time out to join Claudia Brücken on the dates for her UK tour.
'Metroland' was also finally released this month and Andy and Paul posted up a video discussing the inspiration and creation of the song.
English Electric was finally released on the 8th April. Messages prompted the release with a spoof news item on a cassette version of the album. But the album itself received glowing critical reviews, including Messages own modest review of the album.
We also spoke to English Electric's graphic designer Tom Skipp on the design process of the album sleeve and associated singles.


A special release came out as part of Record Store Day in the form of a 10" single of The Future Will Be Silent. OMD fans scrabbled to their nearest record shop in hope of snapping up one of the limited edition releases.
OMD also embarked on a trip to America to take part in the Coachella Festival in California – a performance that was also streamed online.
May saw the second single release from the album was the epic 'Dresden', which was also promoted by special remixes by both John Foxx And The Maths and Zebra And Snake.
May also marked OMD's first appearance on long-running UK music show Later With Jools Holland.


In June the English Electric promotional campaign kept going. Paul Humphreys was interviewed by Under The Radar for his thoughts on performing at Coachella and also the motivation behind English Electric: "We spent two years making this record because we wanted to get it right. We just felt with this album we knew what we wanted to do. We had a real vision of how we wanted it to sound, what the songs were, what the palettes of sounds were going to be. We wanted to make sure that the songs were good. We went from rewrite to rewrite to rewrite to rewrite to the final product."
Rare footage from the legendary 1988 Depeche Mode concert at the Rose Bowl, Pasadena surfaced – well known amongst OMD fans as OMD supported The Mode at the gig. The video featured some brief footage of OMD both performing and backstage.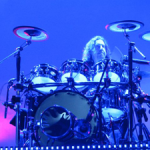 OMD embarked on their North American tour in July – a schedule that was sadly cut short by the illness of Mal Holmes during the Toronto gig. The OMD Website issued a statement on Mal's condition: "We are sorry to inform you that Malcolm was taken ill during last nights show in Toronto. He's currently being treated for heat exhaustion in hospital but is recovering well. Sadly however we have to cancel the remaining shows of the year (including Rewind festival). Please accept our sincere apologies, we really appreciate your understanding at this very difficult time. We will give you more news on Malcolm as and when". A more detailed statement was also issued clarifying OMD's plans in light of Mal's condition.
In August, with Mal out of the hospital, he issued his own statement: "I have finally arrived home after I collapsed and my heart stopped due to a Cardiac Arrest at the recent OMD Toronto gig. I owe my life to quick thinking members of our crew & band and the Toronto Fire Dept Paramedics who performed CRP and Defibrillation to bring me back to life". Mally also expressed his thanks for the good wishes and support from the fans through a very harrowing period.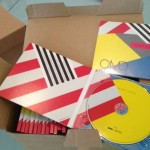 September brought the announcement that 'Night Café' would be the next single release from the album. The release would also pull together many of the B-Side and bonus tracks that had been issued previously.
It was also when an announcement was made about Voyager finally leaving the solar system – a fitting story on the back of English Electric song 'Our System' which had utilised the sound of Voyager passing through the magnetosphere of Jupiter on its outward journey.
October saw Andy make an appearance at a panel in Liverpool for a book launch. The book was Bob Stanley's book Yeah Yeah Yeah: The Story of Modern Pop
. Meanwhile, Mal Holmes posted up some homemade video footage that he'd shot at the 9.30 Club in Washington USA as part of OMD's live shows.


In November, Messages made its back issue archive available to fans with the launch of a dedicated shop.
December was a good time to reflect on the successes of English Electric. Popdose listed the album at No. 15 in their Albums of the Year listings.
---
Thank you to everyone who has supported the Messages site during 2013, particular thanks to Kathryn Hooper. Special thanks to Andy McCluskey and the OMD team.
English Electric
is available to purchase now from Amazon
.
Official OMD Website
www.omd.uk.com