'Red frame white light! Six three two three double o three!'
Those are the immortal words uttered by Andy McCluskey in Orchestral Manoeuvres In The Dark's second single 'Red Frame/White Light', released in February 1980 and taken from their eponymous debut album. To listeners unfamiliar with the history of the band, the numbers mentioned in the track may sound a little random, but seasoned OMD fans will know that '6323003' was in fact the number of the red telephone box on the Wirral that the band used as their 'office' in the early days of their career. The box has therefore been an important part of OMD's history, and over the years fans from all over the world have flocked to see it.
It is no surprise then, that when on 18th August a truck drove up and removed the phone box from its place on Greenwood Road, Meols, not only were OMD utterly fans outraged, but OMD frontman McCluskey visited the site to try and find out what was going on.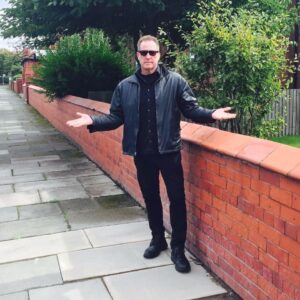 'I understand it's no longer economic to have a telephone box' he said, on finding out that, like thousands of other red telephone boxes around the country, '6323003' had been removed by BT contractors. 'It's interesting because I believe Wirral Council wants to portray the borough as a cultural destination. When OMD fans had a gathering they visited [that] very phone box…on a personal note I'll be sad to see it go".
And he was not the only one.
Almost immediately, an online petition was set up in order to get the box back to its rightful place- a move which not only prompted pieces in local newspapers, but also on local radio.
McCluskey also said how he wanted to try and track down the phone box so he could buy it back. He even went as far to say that if the box was found and the council wouldn't allow it to be returned to its original place, he would have it in his garden- showing just what a vital part it played in OMD's history.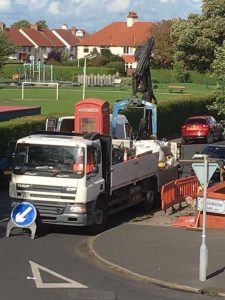 Later on in August, '6323003' was discussed on BBC Radio Merseyside, with its removal prompting the radio station to ask listeners to ring in if they had any stories about a music pilgrimage they had made in the past, just as many OMD fans had made the journey to The Wirral to see the phone box. Newspapers including The Mirror and The Wirral Globe also covered the event, with the latter featuring pictures and an article about the fan protest that took place at the original site of the box.
However, thanks to OMD fans- in particular Steph McCahill, Hazel Barrett, Andrew Gardner and other members of the recently-established 'Friends of 6323003'- and of course Andy McCluskey himself, the phone box was returned to Greenwood Road exactly two months after it was taken.
Clearly the removal, fan protest and subsequent return of the box had made a big impact, as not only was the whole saga charted on a radio interview on BBC Merseyside a few days after it was returned, but it was even featured on television on BBC Northwest news.
The Wirral Council also made a statement saying that the box's return was a 'welcome' one, and of course, Andy McCluskey was delighted, issuing a thank you to 'all who [took] part in preserving this small piece of [OMD's] history'.
Fortunately, the tale of '632 3003' does not end there.


Plans now to turn it into a mini OMD museum are well under way, with features to include an old GPO payphone that will play an OMD track, a grey phone directory containing a discography and facts about the band, as well as a 'yellow book with adverts' (as cited in 'Red Frame/White Light') that will showcase other types of culture from the area.
Whilst the Council are paying for the box to be reinstalled, funds for the mini museum will come from online donations as well as a collection before OMD's gig at the Empire Theatre in Liverpool on 29th October, as part of their new Punishment of Luxury tour. The 'Friends of 632 3003' have also organised an 80s disco event (including a raffle and auction of some specialist OMD items) which is set to take place on 24th November at Melrose Hall, Hoylake. All entrance and raffle ticket sales, as well as auction profits, will of course all go towards the continued maintenance of the phone box.
Thankfully, according to the poster, Andy McCluskey-esque 'windmill dancing' at the disco is optional.
---
https://www.facebook.com/groups/377496742665560/
https://twitter.com/save6323003
http://www.6323003.co.uk/
---