OMD return to Wirral…
It's been a long time coming, but last night we finally saw OMD at Birkenhead's newest music venue, Future Yard. With an audience of 350, it promised to be a very special night for fans of the band, and although that's it exactly what it was, it wasn't quite what we were expecting.
Originally scheduled for 9th May 2020, we were told that the set would see the band 'revisiting material that they played at their last Wirral show, at West Kirby Youth Club in 1979', including a 'selection of tracks from their debut album'. But having heard 'History of Modern' and 'The Punishment of Luxury' being sound checked when we were queueing up, I think a lot of us already had a sneaking suspicion this wasn't what we were going to be getting, even before we got inside.
Essentially what we did get was a truncated version of the band's 'greatest hits' setlist, with a few 'rarer' tracks thrown in to keep the hardcore fans happy. But what made the gig special wasn't necessarily what OMD played, it was the way they went about it.
For starters it was a two-man show – Andy on vocals and bass and Paul on keyboards and MacBook – which is something we haven't seen for a while. Andy was also more relaxed on stage than most of the crowd will have ever seen him, substituting his regular chatter between (and during) songs for observations about familiar faces in the audience, and amusing remarks to Paul about how long they'd been doing this ('You know it's forty-three years and four days since our first gig…you'd get less for murder'!).
It seemed like he knew he was amongst friends: people who forgive him for thinking he'd messed up the words when he hadn't; people who are more than happy to pour their hearts out for an hour by shouting along to a thirty-eight-year-old song about radio waves; people who quite clearly love nothing more than that simultaneous outpouring of love and affection for specific lyrics and melodies, which makes live music so unlike anything else.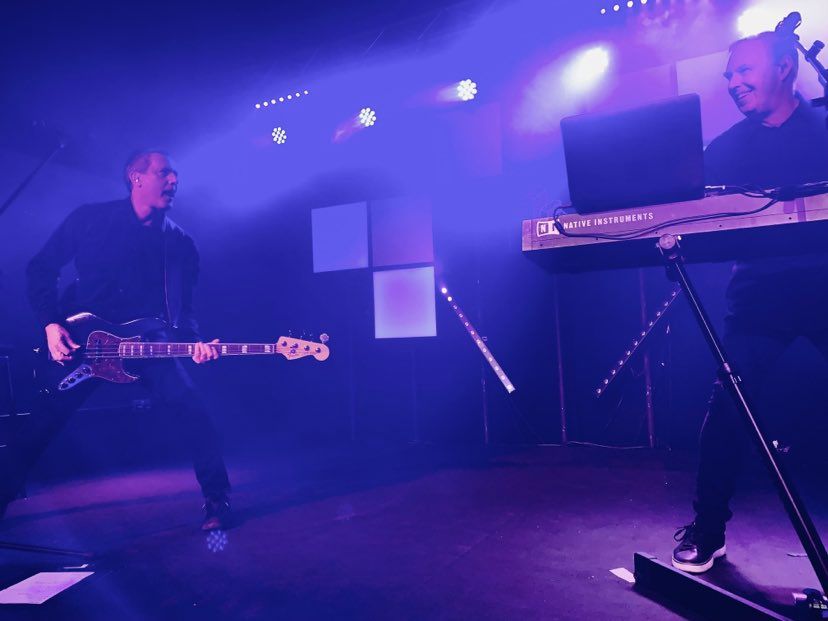 During 'History of Modern' Andy didn't have to tell us to jump up and down because we already knew what to do. He didn't announce the name of third song as 'Messages', he just asked us what the third song of the set always is. When he asked who'd seen the band on their last tour a few years ago, the audience roared.
Paul was in fine form too, grinning when he played a song perfectly and grinning even more when he made mistakes. He briefly lost the hi-hat track during the introduction of 'Secret', but seemed to find them again before the vocals came in, and happily pointed in the right directions when instructed by Andy during 'Locomotion'.
In terms of the set, yes it would have been nice to hear something from the first album that we don't usually hear, although we did get 'Julia's Song' and 'Almost', both of which have been played on tours in recent years but don't usually get a look-in in the band's 'festival' set. 'Radio Waves' and 'She's Leaving' – two more lesser-played tracks – seemed to go down particularly well with the audience, with lots of dancing during the former and many tears shed during the latter.
And of course, 'Romance of the Telescope' (the band's 'going home song') was spectacular, the combination of those glorious synths and Andy's heartfelt vocals shaking the room and leaving the crowd buzzing.
No, we didn't hear 'Mystereality', 'Bunker Soldiers' or 'Pretending To See The Future', but we did have a damned good night out, and that was more than enough.
---
SETLIST
Intro
Isotype
Messages
Radio Waves
History of Modern
Julia's Song
She's Leaving
Souvenir
Joan of Arc
Maid of Orleans
Almost
Punishment of Luxury
Locomotion
Sailing on the Seven Seas
Enola Gay
Secret
Electricity
Romance of the Telescope
---