Tour Stop #12-Granada Theatre, Dallas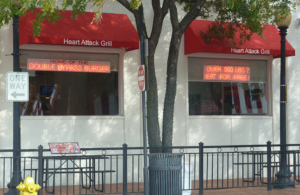 Well, after a tearful goodbye to Missy at the airport, we parted ways as she was flying a different airline back to San Fran and I was leaving sunny San D. for the predicted rainy Dallas (though seeing as how they've been in a drought, that was actually a good thing). But landing, I found sun and mild temps, yay!
Like I mentioned in the last blog, it was a welcoming hello to my friends Kiki and Rob who I'd met at The Granada in March as they were gracious enough to let me stay with them. They took me out to dinner at a place called Riverside where they said the best Tex-Mex BBQ awaited me and gotta say, it was tasty. Also got to play with their three dogs… aww!
The day of the gig started with Rob and I catching some of the live GMT show with OMD as a guest. Mr. M and Mr. H on a huge flat screen… nice way to wake up, LOL! Rob had taken the day off and Kiki got off early so eventually we headed downtown but not before another stop for food, this time their favourite Mexican place. I was dying for ice cream afterwards so went to a place called Heart Attack Grill where the staff are dressed up as nurses and doctors and you put on scrubs when you walk in… and if you weigh over 350lbs you eat for free… NO I'm not kidding! The funny thing was, we had planned on eating something at HoB so we could get our receipt validated for "pass the line" but none of us were hungry anymore so we eventually ordered some appetisers and picked around. I saw Stefan so he joined us, along with Irene once she was done with sound check.
When it was time to head to the door, we lined up and I met Tommyboyy and his wife, which was nice since we missed each other last time. We all headed to the front when the guards let us in and once again I was ready to have a great time. Got to talking to a nice London to Texas transplant named Martin, and Spencer and his friend Greg were up in the balcony, which took a while to fill up. Actually, so did the floor but once Washington came on, it felt more crowded.
I gotta say, I'm really curious who the extra member is with them since he's still here but I haven't run into any of the members to ask… maybe some time before the tour is over…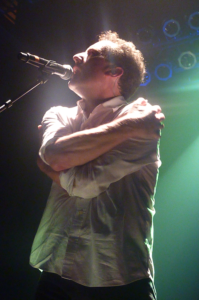 Well, Dallas was a repeat city so that meant the 'Stanlow' set. I couldn't help but smile when, right before Mr. M was about to sing, a fan near me must have figured out what song he was about to hear because I suddenly heard a "OMG!" I got a bit emotional hearing it for the last time. It's just an unforgettable song to experience and when it was near the end and I looked over to Mr. H, the lights looked like they were swirling around him, stunning! Afterwards, Mr. M thanked us for coming out to their "Secret Dallas gig". But for a small crowd, we still made a lot of noise and I couldn't help but smile as I remembered March's gig. The best up to that point of the tour and one of THE best when the tour was finally over!
'Messages' and 'Tesla Girls' were crowd pleasers and then the sweet 'She's Leaving' came, along with Mr. M. ripping into the bass at the final section, cool! Kiki and Rob were my bouncing partners tonight and when 'HoM1' came on, up we all went. I loved looking over to see Kiki's big smile and Rob had fun reaching and slapping Mr. M's hands (one of a few times too).
One of the best cheers/screams/"Paul" I've heard this tour came with '(Forever) Live And Die' and Mr. H took the ball and ran with it as he slapped many eager fans hands. 'If You Leave' was great but LOL, no pink prom dress this time around. Ah well. I just missed getting Mr. M dabbing Mr. H#2's head with a towel on camera during 'Souvenir' but it was adorable and by the time 'Joan Of Arc' and 'Maid Of Orleans' came on, the crowd was really showing some love. The response afterwards had Mr. M laughing (and letting out a "You've got to be kidding, hahaha" when the crowd broke into the "Ole, Ole Ole Ole" chant afterwards) and the rest of the guys were smiles from ear to ear. Yeah, small gig or not, Dallas LOVES their OMD!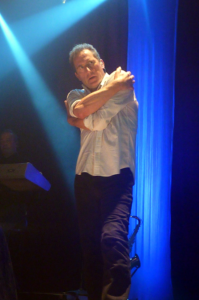 But then things had to get dampened a bit for a minute. 'Statues' came on, as lovely as it always is, but apparently there was a woman who wouldn't stop yapping. By the end of the song, Mr. M pointed her out and made a gesture to be quiet. But when the song was over, he was still looking at her and she was still talking! He made a comment about if she's finished now… no, she's still not finished… STILL not finished and then just gave up by saying "oh F*ck it". And he let her know even more during 'Green' when he turned the first few lines to her and asked her why she even came tonight… good one! (especially since I swear I heard a small cheer when he did the "be quiet" motion in 'Statues'. Seriously, if you want to talk, got to a bar, not a concert URGH!)
Soon we were all up and bouncing again though, singalongs in tow with 'So In Love'. 'Sister Marie Says' found me solo with the prayer stance but not solo with the bouncing and singing and 'Dreaming' just continued the pattern. I swear, the gigs of this second "leg" have flown by a lot quicker for me, not sure why as the set list is the same but they just have and before I knew it Locomotion was up. Antics for the night… Mr. M coming up behind Mr. H and staying there a bit, causing Mr. H to turn but Mr. M leaned in the other direction so there were a few double takes before they were looking and laughing at each other. Mr. M also made a joke of the crowd size by adding a few thousand to his venue area points "To the 5,000 over there" etc but us up front… well there were only "2 or 3 of you down here", LOL.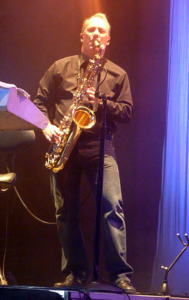 Mrs. Tommyboyy got sung to in 'Sailing On The Seven Seas' which was fun to watch as Mr. M dropped to his knees in front of her but then it was 'Enola Gay'. Everyone was all over the place and it was great to see the guys having so much fun! When it was over, more laughs from Mr. M and Mr. H#2 and I love how they all get introduced now, that's sweet.
When they returned to the stage, Mr. M thanked all of us for coming to the gig again, then asked for audience participation and we all clapped and sang to 'Walking On The Milky Way'. 'Secret' was special as I had a sweet friend who couldn't be at the gig so I called him and was swaying back and forth, gosh that song is amazing and when it was done, well even when it was going on, the crowd loved it. Lots of "Secret" yells. SO glad it got added!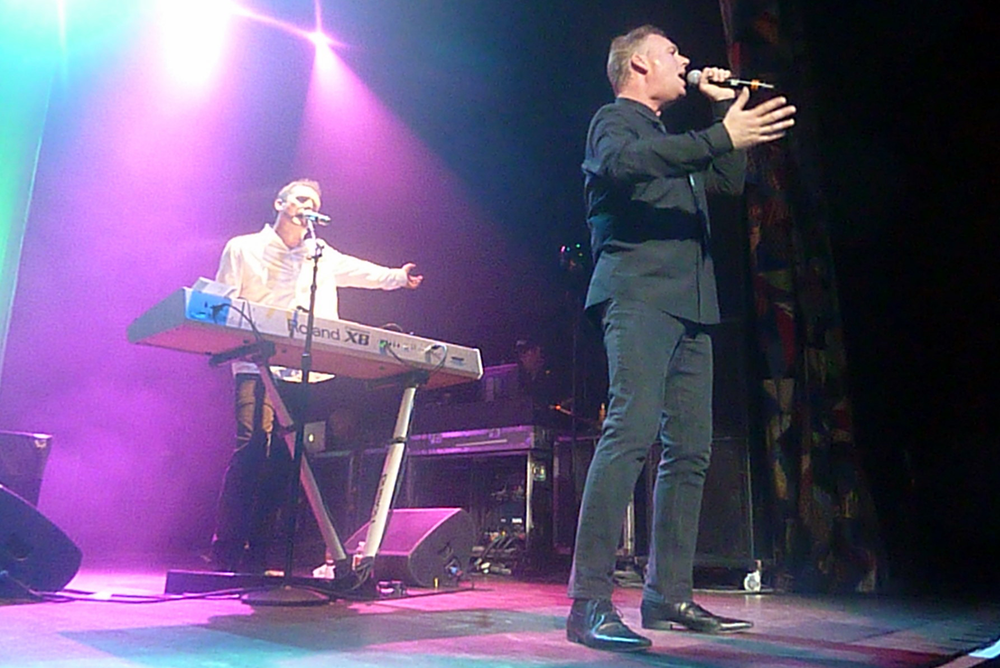 'Electricity' ended the gig and then the guys said their final farewells. We all conversed afterwards, Spencer and Greg coming down from the balcony, and went on about this gig vs. Granada. Granada was definitely a bigger crowd and more chanting but this one left no doubt in my mind that Dallas is a consistent OMD loving town. The vibe was there, no doubt and like always, smiles on everyone's faces and a nice line at the merchandise table so… =o)
So highlight of the night… well I think it goes to after show… funny cause that was what March's Dallas gig went to but can't help following a Dallas pattern. In March, Kiki and I had met because Rob had done VIP, along with Dianne and her friends so I was on my own and she was too. We hung out, clicked, and the two of them were part of four new friends I made and enjoyed the gig with. After, they had wanted to wait to meet the band but when we came around the corner and saw just how many people were waiting, they decided to go as they (and myself too) didn't think we'd make it up there. As it turned out, the guys had stayed out for quite a long time and my other two friends and I got to meet them and get pics. Sooo, this time, we were going to wait no matter what. Thanks to Roger being such a SWEETHEART about giving set lists to my friends, Kiki got one and that, along with Rob's History Of Modern CD sleeve was waiting for signatures. When the guys came out, they were gracious as always and not only did Kiki and Rob get things signed but also pictures (along with Spencer and Greg…I should add them in too as they had the same smiles as Kiki and Rob). It was great and as we drove back to their house, they excitedly went on about how they had never had an actual conversation with band members and how nice the guys were, glad for signatures etc. It was wonderful to see!
So now another late night, early morning as Kiki and Rob return to work and I hit the road for Tulsa….only two more gigs left! :o(
---
Photos by Lori Tarchala