OMD Tour Stop #20 – La Zona Rosa Austin TX, October 13th, 2011
LOL, today saw the earliest departure I had to do the whole trip, it wasn't even fully light yet. For me, this was the "end of the road" gig as I wasn't going to Mexico City so as Mark and I headed down for the 8+ hour drive, I had a lot of things swirling around my head. However, good talk and laughs made the time fly and though we hit a few snares getting to the venue, we made it in time after all.
The plan was to meet my friend Lisa and her sister Angie, both who I'd met and befriended back in March at SXSW. They had Platinum packages like me and Mark, along with Irene, had Gold so we were able to share one final soundcheck together. Except the poor guys had a lot of trouble with the sound system so we got let in quite late and they were still having issues as we watched. Mr. M made reference to the last time they were in Austin, not just the camera falling but also the Mellow Johnny's Bike Shop gig… ahhhh, that was magical!
Just like in March, I waited at the end of the line so I could say goodbye to the guys. It never gets any easier, in fact in many ways it was harder this time than before because it's truly over but I managed to keep it together and farewells all around. Once outside however, poor Mark and Stefan got us girl's emotions landed on them but they had been forewarned, LOL.
So on top of the friends I had with me: Lee, Lisas husband joined us, Kevin, another SXSW friend came, and a pleasant surprise that Kiki and Rob were also making the drive, whoo hoo! This was going to be a great gathering time!
As usual, Mark, Stefan and I got in line early as we wanted to be up front and there had been a good amount of packagers so we didn't want to take any chances! The set up of the venue was basically one large, circular room. There was no balcony, the sound booth was in the back as usual but the bar and bathrooms were off to one side. When Washington came on, the thoughts of "last time" came and I teased Mark to slap me if I started to cry during THEIR set but they seemed to have an extra something with this being the last gig and the crowd seemed to enjoy them.
Well Mr. H had told us the night before that there was going to be a good crowd and by the time I made my usual pit stop before OMD, I saw that was a true prediction. What a sight to see after having more room the past few gigs!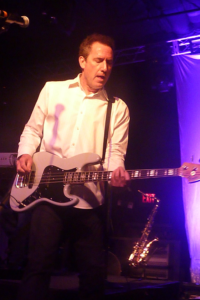 10pm came around and we could see some of the guys from outside the door that the staff kept opening behind the stage and also, LOL, ourselves in Mr. H#2's drum (that took a bit of getting used to… basically having a mirror in front of me, especially since the stage was lower and not much of a barrier… hello, oh gosh) When the lights came down and DS started, I thought "This is it". Strangely, we heard some loud clicking noises initially but I believe that was what the guys had had problems with during sound check and it disappeared by the end of the song. Mr. M met the cheers with "We promised we'd be back to play a proper gig in Austin". More cheers and he continued with a joke about how they spent a long time trying to get the PA to work right and they hope it holds out for the whole night, then onto 'Messages'. There was a poor photographer who was behind Kiki and I trying to get pictures and I tried to bounce a bit lower and less so he could get some shots but not sure if I was fully successful. Thank goodness she and I are short!
'Tesla Girls' had strong clapping and was about the time I realised this was turning into an awesome crowd! Austin is quite the music city with not just SXSW but Austin City Limits and that love of music was focused on OMD tonight no doubt! 'Radio Waves' found Lisa just freaking out as she earlier had said she hoped they did something off of Dazzle Ships… yep, they did! No tripod for tonight's performance of 'History of Modern (Part I)' (in fact, aside from some quick pics I snapped during 'Messages' for this blog, I didn't use my camera the whole night, I just wanted to live the moment!) With Mark and Kiki on my sides, I bounced like crazy and the crowd was singing along as if this song was a decade old!
Mr. H's turn came next and he was happy to take the mic as the screams came out and more singing for '(Forever) Live And Die'. If You Leave, well what more can I say about this song but that it too was loved as it always is but then 'Souvenir' began and the lights cast a nice hue on the whole band, it was sweet.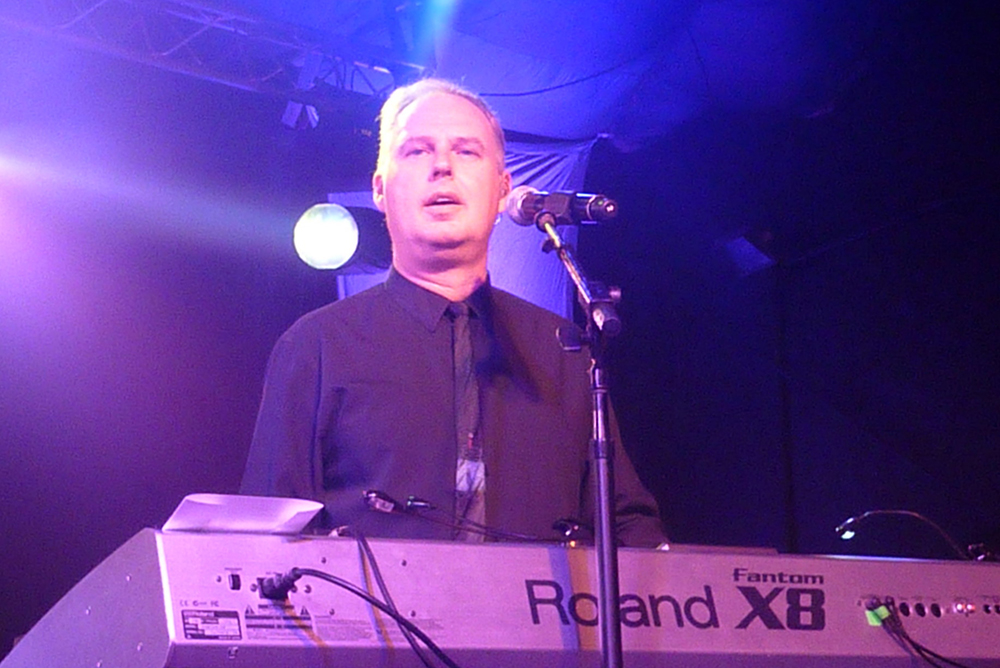 'Joan Of Arc' was next and being the first song I'd ever heard of OMD way back when, it holds a special place in my heart so it, along with 'Maid Of Orleans', found me losing the battle of keeping it together but I also tried to relish in the final windmilling experience and once done, the crowd erupted and I just had to smile. What a gig to send the guys off with, not just because of their crummy experience in Austin last March, but to see the hands way in the back clapping like us up front, brilliant!
'Statues' was wonderful but 'Green' was a stand out for me as Mr. M. sang with an extra surge of emotion and the unison of his arm hits and Mr. H#2's drum beats really pounded in the feeling, no pun intended. During 'Talking Loud And Clear', Mr. M told everyone that it was the last slow song so all the older folks could rest a little longer, then he stood up to look over the crowd, noticed some teenagers a few rows back from me and said "Well, YOU can dance to this one if you'd like but I'm going to sit down". He also asked a girl next to Kiki if she was enjoying her birthday and she elatedly said YES! She ended up getting his towel afterwards as he tossed it to her. A final birthday gift, sweet. =o)
'SiL' brought out more singing and Mr. M. told us to be louder, so we sang even more. Huge smiles from the Mr. H's and Mr. C too, as he happily nodded his head back and forth to the beat. They were loving it all. Mark had recruited a few newbies to the congregation for 'Sister Marie Says' but they only stuck around for the first part, forgetting later… ah well, LOL. This was one of two songs I hadn't gotten recorded so before the gig, I had asked the girl behind me called Letty if she'd mind taping it since she said she wouldn't be bouncing but she ended up having Kevin do it since he's taller and they worried about Mark and I getting in the way. Ha, can't wait to see that footage, tee hee. We weren't the only ones up and down though, like 'History of Modern (Part I)', the crowd went crazy. I gotta say, Austin was becoming one of the best gigs I'd seen this tour and I couldn't be happier for the guys, their smiles, laughter and looks back and forth from us to each other a reminder of just how special the gigs can really be.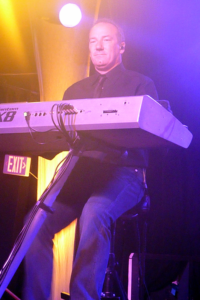 The next few songs just flew by and before we knew it, 'Enola Gay' was starting. Everyone was ready to let loose and the energy from both us and the band was at a max. When they finished and waved goodbye before walking off, cheers and hoots erupted and it wasn't long before the OMD chant began. Coming out for the encore, it was obvious they were thrilled with the way the night was going and when Mr. M asked for some "Good old fashioned audience participation" for 'Walking On The Milky Way', that's exactly what he got. Mark was one of the back up singers this time and when it came time to personalise the song, we got "But FIVE times in Austin, you can…", HA! Secret, well that was another special one for me as I just savoured it one more time, remembering back to Miami when it was debuted… wow, Mr. H really does shine on that song! When the guys finally launched 'Electricity', Mark and I bounced our feet and hearts out one last time and when it was over, before the guys could even start their goodbye intros of each other, the crowd started chanting OMD again, it was awesome!! They did eventually say final goodbyes and, waving one last time, left the stage.
Once the lights came on and everyone started to disperse, Mark wanted a final group picture so I gathered everyone around while he found someone to take it. The venue security was motioning everyone out so we headed to the porch but not before I yelled to Roger about goodbye. I wanted to make sure to say it to the crew too but had only been able to do it with Merv earlier while he came by us to tape down Mr. M's set list. He said something about outside so figured he meant as they loaded the bus so we ended up heading towards the doors but not before seeing Andrew and Chicky one last time, goodbyes ensuing. Once outside, I said goodbye to Kiki and Rob as they had a 3.5 hour drive back home, then Mark and I headed around to the tour bus…except we couldn't get to it the way we came out. I'm going to chalk the fact that we could have just gone around the other side of the bus vs. around the entire block as a sign we were both tired and not thinking straight (oops, ha) but we eventually ended up where we wanted to be and Irene and Stefan came by shortly later. We laughed at how we weren't waiting for the guys this time, just the crew and kept partly hidden as we didn't want them to think we WERE waiting for them…ala OMD stalker style haha. But Roger and Co. didn't come out and as we kept waiting, suddenly Irene jumped back saying she saw Ryan coming out with luggage heading towards a van I had wondered was there to take the guys to their hotel. We all followed, now fully hidden by the building and stood their looking at each other, not knowing exactly what to do since we all had the same thoughts. We came to a mutual conclusion that we didn't want to be seen so decided to just forget it and walked back the way we came, though Mark and I giggled when Stefan was like "if the band wants to stalk US, then that's OK but if not, no, we should leave." They had to turn the final corner in a different direction though so more goodbyes and teary eyes before we parted. When Mark and I made it to Lisa and her family (forgot that Kevin and I said our goodbyes by the building corner) I glanced inside the venue one last time…and saw Stan finishing up at the merch booth! I honestly didn't think I'd be allowed back in but ran to the door, told the guy coming out of it with equipment (not sure if he's a venue man or what) that I just wanted to say goodbye and in I went. Mark followed and we hit Stan first, then saw Roger was still on stage so ran over there too and a final goodbye… awww, yea! The night ended with dropping Mark off at his hotel (yeah, more tears, he's used to it by now I'm sure) and then going home with Lisa as she was kind enough to invite me for the night.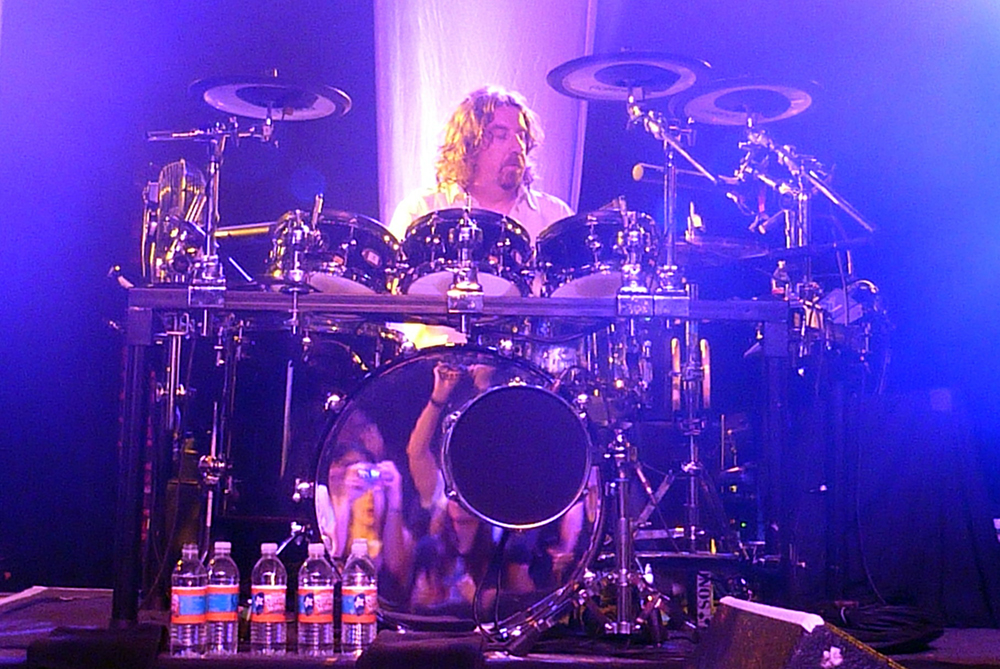 So highlight of the night… well, as sad as it was, I have to say the goodbyes to the guys. Though the pre-gig meet and greet flew by and I didn't get to say all I had wanted (LOL, probably should have written thank you cards again but I just felt trying to do it fully in person was the right thing this time), it was a chance to have a final moment with them all and I was also able to say it in special ways during the gig. Hand holds/kiss, smiles and laughs… and the joy of it all sent me out the door with the knowledge that even though it was over, I had yet another month of amazingly UNBELIEVABLE experiences! I never in a million years thought I'd get to do this twice in a lifetime, not yet alone twice in one year! There's no words to express how grateful and lucky I feel to have had the opportunities and I now have another world of memories to add to my heart and soul.
Like before, I have to say thank you's because a lot are due. Of course the guys, not just for coming back to us Americans and taking yet another chance on us, but also for giving it their all, even when the crowds weren't to capacity. The smaller numbers didn't show me a lack of enthusiasm, neither from the band nor from the fans because I saw the same smiles on all their faces and heard the same things out of the mouths of people around me, things like how they couldn't believe they were getting to finally see them, how it was a dream come true, etc. SO precious, really! But also a thank you for being so graciously kind and sweet as they always are.
A round of thanks for the crew who were also wonderful, funny, and very accommodating with set lists for my friends, tee hee. Thank you to PaulB as, through some issues with the website, he still worked hard to get these blogs out. Shouts out to my friends back home and abroad who followed me on my journey and one final big thank you to everyone I had the pleasure and honour to see shows with. I had made a lot of new friends back in March and got to see almost all of you again this time around but the difference being that now we were doing things together vs. just meeting. I also got to meet forum friends and enjoyed my time with all of you too! And among all that social time, I managed to make a few new friends, LOL, so thanks to each and EVERY one of you for making my month so special. I'm not afraid to admit that it's going to be hard once more to get off the OMD wagon and back to "normal" life. SO much has happened in the past year and it won't be easy to turn it off for awhile but as Stefan said "I don't see this as truly being a goodbye and over, just a time for them to rest and make new music, then we do it all over again". Here here to that! It's so true and I think it's safe to say everyone I met holds that same thought, hope and wish but no matter what the future holds, I won't ever forget any of this, or any of you! xo
---
Photos by Lori Tarchala