OMD deliver more luxury than punishment…
OMD's talents for putting on a dynamic live performance remains strangely undiminished in the face of their decades-long concert history (in fact the band's 40th Anniversary lands next year).
The Punishment Of Luxury tour once again sees the band out on the road presenting both new songs and old. In itself, this is a challenge as they carefully select which of the new album tracks will pass muster, while assessing which of the older tracks need to go.
For their London show, OMD have returned once again to The Roundhouse, the Chalk Farm venue that itself has a long and storied history (it was originally constructed in 1846 as an engine shed for trains).
Kicking things off is support band Tiny Magnetic Pets, the Dublin-based electronic outfit currently enjoying critical success on the back of their new album Deluxe/Debris (see the review on our sister site The Electricity Club).
Live, the Pets' material is given a much more robust sound. Percussionist Eugene Somers lends the songs a decent meaty rhythm and, as a result, the likes of 'All Yesterday's Tomorrows' and 'Here Comes The Noise' escape the clean, polished sound that the record boasts to present a more organic and engaging approach.
As their set progresses, singer Paula Gilmer gets more confident in prowling the stage, particularly on 'Never Alone' (one of the tracks that emerged from their collaboration with Wolfgang Flür).
Things go slightly astray with the inclusion of 'Semaphore' however. While the composition is a worthy number, it's also a lengthy track with several instrumental passages, which leaves Gilmer looking slightly lost on stage at times. It's a minor point overall though as the band have received a warm reception by OMD fans across the tour.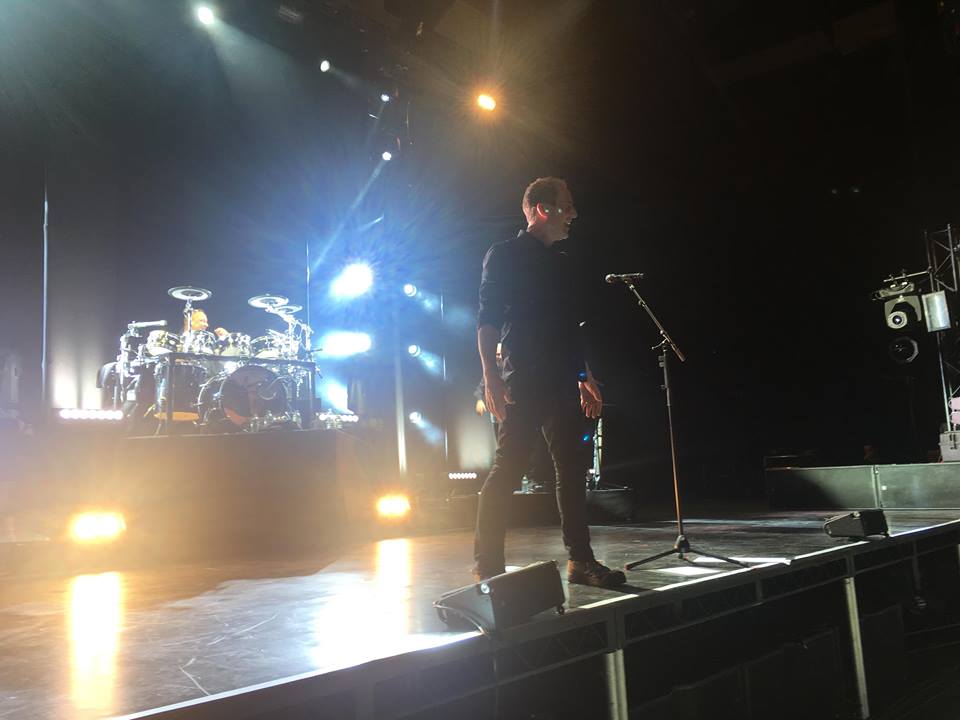 Meanwhile, OMD's entrance to the stage is proceeded by a medley of sorts culled from their new album The Punishment Of Luxury. 'Art Eats Art' and 'La Mitrailleuse' are combined to set the scene before Wirral's finest present themselves once again.
An angsty 'Ghost Star' sets the OMD performance off proper. Andy McCluskey pours heart and soul into this Punishment Of Luxury number – an evocative moment that seems oddly fitting in the middle of this historic venue.
An energetic 'Isotype' follows, which is given a powerful live rendition care of Stu Kershaw's solid drumming skills. While the absence of Mal Holmes is keenly felt at these live shows, Kershaw certainly has the chops to provide OMD with a worthy substitute as the heart of their concert performances.
As ever, the third song in the set is the timeless 'Messages'. The classic OMD single is a reminder of how effective OMD's particular take on synthpop can be, with lines such as "But memories are uncertain friends/When recalled by messages" still managing to project a raw emotion into the crowd.
Rather than slow things down, it's the clipped tones of 'Tesla Girls' next followed up by 'History Of Modern (Part 1)'. Post-song, Andy quips about the audience enjoying a song about the end of the world, before musing on the fact that the band have previously penned songs for a variety of odd ideas – from machines to telephone boxes. But occasionally they also write songs about "how your heart can be completely fucking destroyed" before delivering an impassioned 'One More Time'.
Prior to the gig, OMD fans were invited to vote for one track out of three to include in the setlist. This was a concept that's been rolled out for the tour as a whole, with London's choices being 'She's Leaving', 'New Stone Age' and 'Radio Waves'. Considering how often 'She's Leaving' gets played on tour – and how little both 'New Stone Age' and 'Radio Waves' get aired – you would think this was a no-brainer, but somehow, 'She's Leaving' pips the post. It's a fine song, but the opportunity to lend the set some variety gets lost in this moment.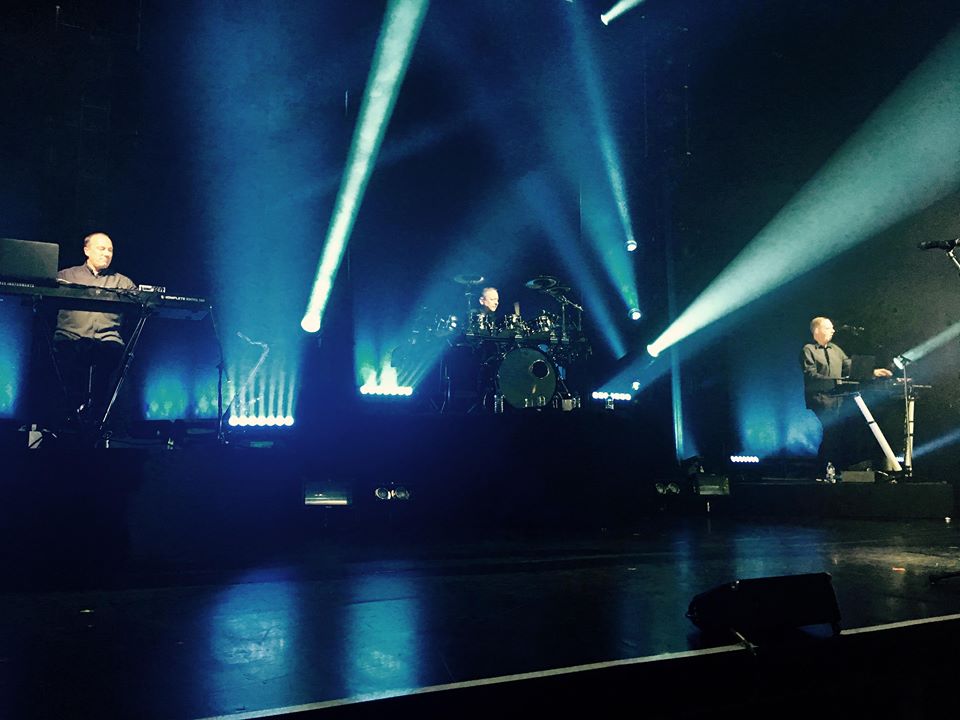 '(Forever) Live and Die' casts an eye back to OMD's middle period – and also allows Paul Humphreys the opportunity to step from behind the keyboards. Andy throws shapes during the brass segments (which take on a ghostly presence without the element of the Weir brothers on stage) and it provides a reflective moment for the setlist.
One thing that also stands out about OMD's 2017 live ventures is that the reliance on screens and projections has finally been retired. There had been some discussion in times past about the projections possible robbing the attention from the live performance (which was never true), but OMD have always proved that they can cut it live without those types of bells and whistles.
With a little banter about Martin Cooper wanting to play sax on more than just one song, Andy introduces an extra track into the set. 'If You Leave' remains one of OMD's most distinctive tunes – and also the song that got their foot in the door in the US. Here, it gets a good reception with its lush synth melodies still warming hearts so many years later.
The classic 'Souvenir' follows with some oddly strong, yet affective percussion care of Mr. Kershaw. Andy McCluskey leads the crowd during the handclapping segment – a moment echoed for the next song, the captivating 'Joan Of Arc'. As tradition dictates, it's 'Maid Of Orleans' up next. Here, a strobing collage of light captures McCluskey's legendary flailing. "Just dance like no one's looking" he adds after.
At this point, the set takes a pause and darkness descends. Another OMD medley erupts over the PA, weaving in elements of 'Time Zones', 'Please Remain Seated' and 'Frontline'.
It provides time for the band to assemble strange-front for a performance of 'Of All The Things We've Made'. Here, there's a wistful tone to the classic OMD number as powered by Stu Kershaw's simple tattoo elicited from a single snare drum.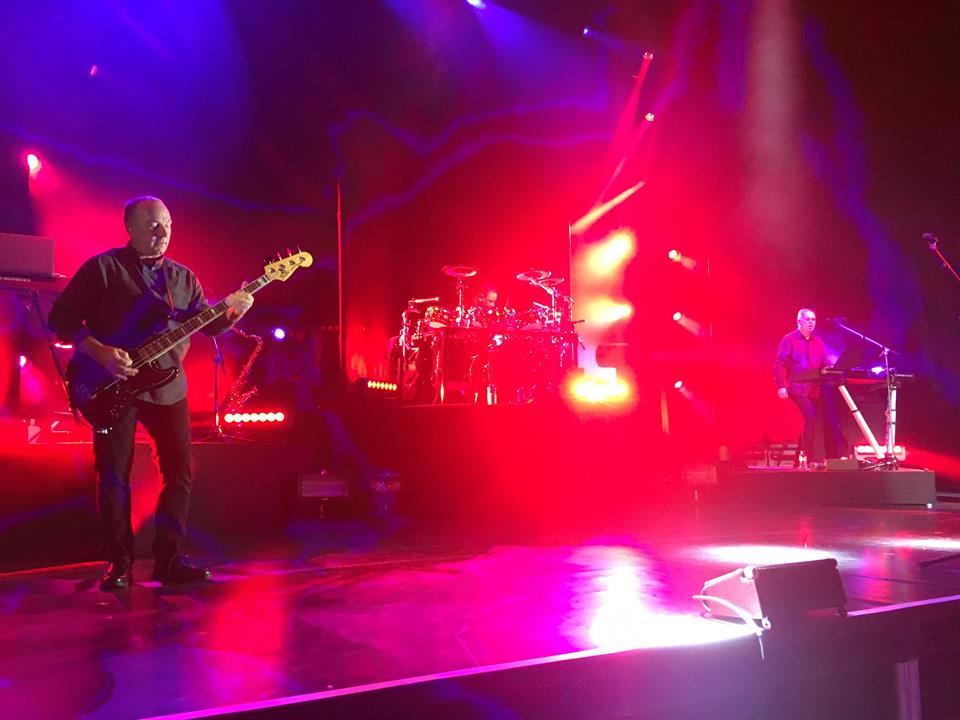 The band then resume their places for the next Punishment Of Luxury number. 'What Have We Done' once again sees Paul Humphreys step forward for another vocal turn. The lightness of this track on record gets transformed on stage, with its synth melodies sounding much beefier. It also provides an opportunity for Humphreys to utilise the stage more than in the past.
"That's the end of the cultural part of the set," quips Andy. "Just non-stop dancing now…" The result is an enthusiastic response to 'So In Love', whose dance-pop rhythms manage to work their magic.
Meanwhile, 'Locomotion' (swiftly becoming the Marmite song of OMD live shows!) follows. The Junk Culture number is still a robust live track, its tropical beats still managing to get feet dancing. As red and gold lighting rapidly peppers the stage, the song's train motifs seem to be comfortably at home with the Roundhouse's original purpose.
Then things switch back to contemporary OMD as 'Punishment Of Luxury' itself is given a live airing. The album title track's bassy foundation shows that it's a shrewd choice for concert performances.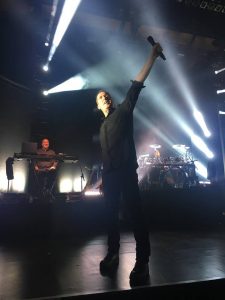 True to his word, Andy McCluskey keeps the up-tempo tunes moving with a muscular 'Sailing On The Seven Seas', while 'Enola Gay' once again proves to be one of OMD's strongest weapons in its live arsenal.
"Shall we do some more?" asked Andy on returning for an encore. The hymnal 'Walking On The Milky Way' follows before Mr. Humphreys takes over vocal duties for a heartfelt 'Secret'.
Finally, as Andy describes it, it's time for the "oldest and fastest" as 'Electricity' brings the evening to a stunning close.
OMD's approach to live performances in recent years has covered nearly every base. Their special 'boutique' shows (such as the Museum of Liverpool and Royal Albert Hall gigs) offer an opportunity to showcase classic albums with rarely played songs. Meanwhile, the festival circuit sees the band in full 'Greatest Hits' mode. But at the same time OMD are capable of combining new material with a choice selection of older hits for album tours, such as the current Punishment Of Luxury one.
As one of the UK's pioneering synthpop outfits, tonight's performance demonstrates why they're also one of the best.
---
The new album The Punishment Of Luxury is available to purchase now.
OMD are currently on a UK and European tour. Dates as follows:
UK
Nov 21 Birmingham – Symphony Hall, Nov 22 Gateshead – Sage.
EUROPE
Nov 25 Erfut – Traum Hits Festival, Nov 26 Hamburg – Grosse Freoheit, Nov 28 Berlin – Huxleys, Nov 29 Leipzig – Haus Auenesse, Nov 30 Munich – Tonhalle, Dec 02 Offenback – Stadhalle, Dec 03 Dusseldorf – Mitsuibishi Electric Hall, Dec 05 Tilburg 013, Dec 06 Antwerp – De Roma, Dec 08 Lausanne – Les Docks.
Live photos by Imogen Bebb.
---