Tour Stop #19 – The Music Box LA 29th March 2011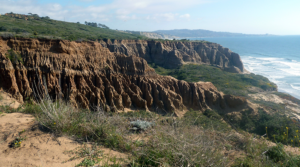 Well the day of the final gig started a bit off… the day before I had headed off to Torrey Pines State Park, a gorgeous place that kind of reminds me of Bryce Canyon filled with red rocked cliffs and crashing ocean waves. It was a great place for me to go and collect my thoughts since I had a ton racing around in my head (though LOL, I had forgotten the huge hill you had to climb to get up to the trails!) but as I started off, a warning light came on my dashboard… low tire pressure. OK, no biggie as it turned out I found a gas station with an air machine rather quickly but this morning as I decided to head out for a local breakfast take away site, I found the light on again. Shoot, tire leak… not good since I had to drive to LA, about 130 miles, and then another 350 or so the next day back to San Fran. Sure didn't want to get a flat on the way to the show or my flight home so as it turned out, I had to swap out my little sunshine car for a black Ford Focus. I know this is going to sound ridiculous but I felt quite sad having to say goodbye to my faithful traveling partner and it was an unwelcome reminder of the numerous goodbyes I was going to be saying through out the day.
Once that was all settled, I finished a blog and headed out to LA. Traffic wasn't too bad and I ended up with a feeling of deja-vu as I checked into the same hotel I was in just a few day earlier (though this time I was on the other side of the hotel so my room was reversed). By now I knew exactly where I was going and it was a much warmer day to do the walk to The Music Box, but still lovely.
When I got to the venue, there were about 20 VIP/Gold ticket holders. I was one of them so joined the queue and it wasn't long before my German friends Stephan and Irene came. One last show to share… Sadly, forum and bouncing buddy Mark wasn't feeling well and was missing the gig, but John was going to join us later. Upon entry, I am guessing there were about 50 or so people all together and as we were ushered into the lobby and told not to go past the curtain, we could hear the band starting to warm up and requests for changes being made. Many of us cheered and the band heard us, laughing that they had hidden fans. Eventually we were allowed in and I stood watching my final sound check. After last Fridays gig, Mr. M had mentioned that there were no more shows scheduled at The Music Box between their's and the upcoming Tuesday gig so he was hoping they would keep the settings for them… not sure if that was the case but they didn't appear to have any major difficulties.
As it turned out, I saw Richard Blade again as Stephan, Irene and I waited to say goodbye to the guys. Got my courage up and went over to say hello and thank him for helping to introduce me to OMD through his MV3 show and he laughed, saying "Oh, so I did something good in my life" and then said he had just gotten off the phone with the guy who produced MV3 and he was going to be at the concert too… way cool!
Eventually the VIPers were gone and it was down to just the three of us. Goodbyes are always hard and I knew I would either be too shy, nervous or emotional to say what I really wanted to say so I had written out letters for each of them and gave them out with instructions not to read them until the tour was over and I can proudly say I totally contained myself… no tears LOL. Was thrilled to finally get a group photo since they weren't allowed in Chicago VIP and then went outside where Stephan, Irene and I staked our spots at the front of the line for front row. John showed up shortly after getting a close up spot in the regular ticket line and close to open doors I was surprised to see Charity. She had had so much fun on Sunday she decided to buy a ticket from a scalper ($70, could have been worse) and come to tonight's show. Well that meant two to spread for but no problem, I've become a pro and soon it was John behind me and Charity next to me (Stephan and Irene like to be more to Mr. C. side where as I went for centre). Eventually I started talking to a girl who had come alone, Maggie, and we quickly got her into our little circle.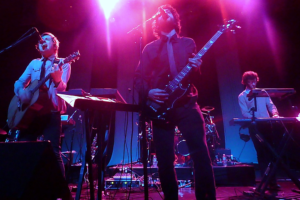 So after the opening act of Sunday, there was even more apprehension as to who we were going to have and what they were going to sound like. As it turned out, we got a band from Oregon called Mackintosh Braun and as soon as they started, it was obvious they were going to fit better into the mood of the crowd. They kind of reminded me of early Cut Copy, definite electronic influences (spoke to one of the guys afterwards and he said OMD had had an impact on them) but guitar riffs were often thrown in for good measure. Danceable, fun pop to sum them up.
Tonight was a sold out show like all the gigs ended up being and rumour was that Richard Blade was going to guest DJ but as it turned out, that didn't happen. He did however come on stage and gleefully introduce OMD one final time saying that the last time he introduced them was back in 1988 and that this was an extra special night because even his wife wanted to come (LOL, he said when asked if she wanted to go see DD, she said no, she was going to watch Survivor but OMD, yeah she wanted to go!). Like the Amoeba in-store performance, standing there watching Richard bring the guys out was an exciting and surreal event and to have it be on the last night…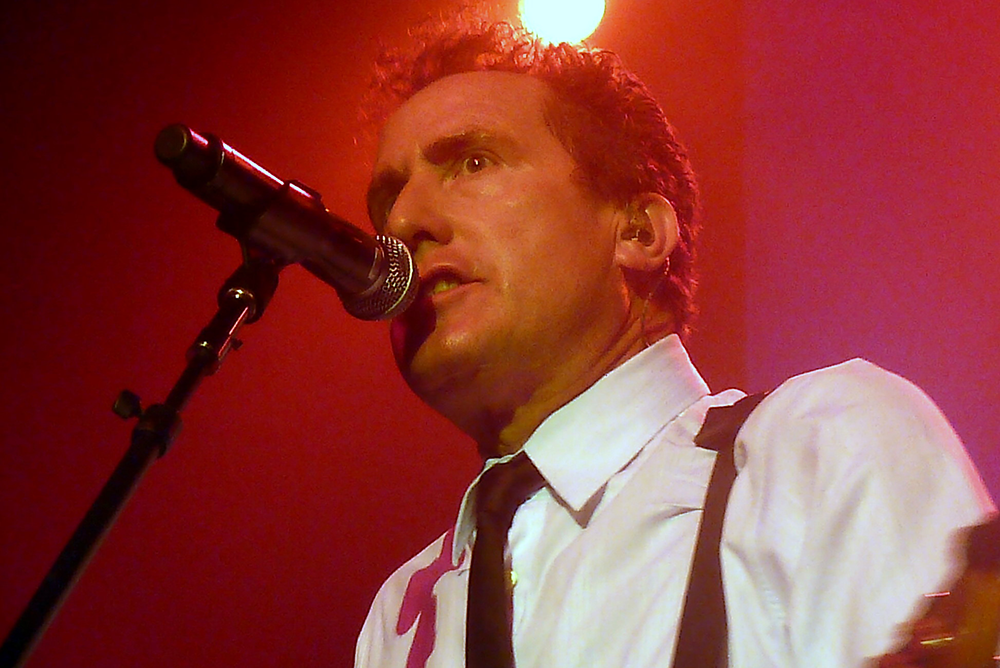 The lights went down and the familiar sounds of 'History of Modern (Part III & IV)' began as one by one each member took the stage and the crowd went wild. 'New Babies: New Toys' was even more vigorous than normal and 'Messages' had the sweet comfort of seeing an old friend. The band seemed to really delve right in and as 'Tesla Girls' and 'Radio Waves' played out, it seemed there was an extra fervour in them. I'd be lying if I said there wasn't a part of me that kept thinking "Last time I'll hear/see… " but I guess that's to be expected and that attitude found me dancing and bouncing with an increased earnest, starting with 'History of Modern (Part I)'. If You Leave was its usual sing-a-long moment and knowing we wouldn't hear it again for awhile made us nostalgic, and not just for the prom as Mr. M mentioned.
And then there was 'Joan Of Arc'. Being the first song I'd ever heard by OMD, it holds a special place in my heart so it ended up being one of a few I had a bit of trouble staying composed for but it went down fantastically as did 'Maid Of Orleans', Mr. M windmilling fiercely. The crowd ate it up and I can safely say that even though this was a Tuesday, so a work night, the crowd didn't seem to care and gave back to the band even more than the first gig a few days prior.
More emotional stuff came with 'New Holy Ground' and 'Green' but soon I was up dancing with the rest and laughing as a fan near me kept yelling out "Secret… I've got a Secret". Um, yeah I have one too… they're not doing it. ;o) Poor Mr. H, even on the last gig he can't hear the end of it…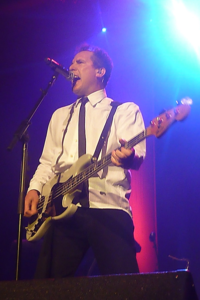 What can I say about 'Sister Marie Says' that hasn't already been said – hilarious, and 'Locomotion's Mr. M and Mr. H moments were so cute! In general the guys were smiles all around and Mr. H#2 kept pointing to people and giving them his huge grin. When 'Enola Gay's turn came, I knew it was almost over but the song called for a complete dance out and as I did that, I heard the crowd sing to it like no other night, I swear I even thought I heard the faint sounds of people "dur dur dur dur dur" to the musical part, amazing! Mr. M came over to Mr. H and teasingly kicked him in the butt and it looked like Mr. H. laughingly mouthed "Bastard" to which Mr. M cracked up. Yeah, they were definitely enjoying these last few minutes on an American stage!
Gathering together to say the first of two goodbyes I could see Mr. H#2 better this time, he came out a bit and they waved and waved before eventually leaving the stage. Well, I knew what was coming next when they returned for one final time and it was without a doubt a case of bitter sweet as I relished the final moments. 'Electricity' was filled with such a surge of emotions from all of us that I doubt it will be forgotten anytime soon. When it was time for them to truly leave, kisses blown to the crowd, more waves and hugs to each other rounded up the show and as Mr. M wished everyone to get home safe and promised they'd be back soon I hoped more than I had up to this point that they did! What a night! Not a single unhappy fan (well ok, the guy didn't get to hear 'Secret' but I heard nothing but cheers coming from his direction so I'm sure he got over it!) and there was a kind of bond that we all felt having experienced the last gig of the tour together, wow!
So highlight of the night… well, I will give the same apology I gave for the Montreal gig because it's going to be an obviously personal one. When the guys came out to do their remaining two songs, Mr. M started to thank people involved in the tour. The crew were of course first followed by Bright Antenna for helping to put the tour together in the first place but then Mr. M mentioned fans coming from all over and seeing multiple shows and how one girl did them all. I started to freak out as did everyone around me, just like in Montreal got lots of screams and people grabbing my shoulders, shaking etc. I am SO glad a fan near me caught it all on tape but I heard him thank me and both he and Mr. H blew me kisses, I blew some back and it was a really special moment! But it didn't end there. When the show was over, Graham came by and gestured me to stay put. I was conversing with Jaime on how to get the video she took when he returned and brought me over to the side of the stage and presented the flowers and thank you card that the band had gotten for me. OMG! I am still amazed I didn't burst into tears right there, it was SO sweet! Graham said they had hoped to get flowers wrapped or something they could have handed to me from the stage but this was really heavy so they couldn't (and when I picked them up I realised he wasn't kidding). He asked how I was getting back, I said walking and the look he gave me was like "With THAT?". I told him no worries, I'd be fine and to PLEASE thank the guys for me.
But as I walked back out to the crowd of friends I thought there was no way I was going to not try and say thank you myself so I decided to wait and see if they came out after the show and party. John, bless his heart, said he would wait a bit too as he wanted to give me a ride back to my hotel so out in the lobby we went. Stephan saw me and after a bit of clearing, informed me we were to wait in the lobby until someone came to get us for the after party. Huh? But he insisted he was told by Mr. C and Mr. H that that was the plan so I waited with him until some fans I met from the first LA gig showed up. Brothers Ceaser and Julian along with Christine (and two girls I didn't get the names of) stood and we all chatted a bit until a guard came over to us… "Do you have passes to the after party?". I told him what Stephan had told me (they had chosen to sit on a couch about 25 feet away by this time) and LOL he was like "Well just go up then". REALLY? He insisted so next thing I knew, we were all following Stephan and Irene up the steps, though to be honest I felt a bit strange. There was another guard at the second set of stairs who stopped Stephan and I could hear them arguing while Irene came over and started saying something angrily in German. At that point I was like "OK, let's just go. We probably shouldn't be here", but then some guy with a badge of some sort (who looked familiar but darn if I can place him) came by, looked at us, then at Stephan who was still going on with the guard, then back at me and my flowers and was like "Let them in, they're fine". The guard wasn't too happy but up we went and I was blown away to find we were going out on the rooftop! How awesome is that? Well, John was like "I'm sticking with you" and I told him "Good, please do" as I felt out of place and we both felt like party crashers (though Stephan and Irene quickly made themselves comfortable, LOL). All those feelings disappeared though when we started talking with the guys. I was thrilled to have the chance to give them one final big hug and kiss and thank them for the flowers and everything (though sadly I didn't get to see Mr. C). It was the perfect way to end such an amazingly wonderful month! Eventually we had to wrap things up and John gave me a ride back to my hotel. Once in, I stood there feeling like I just lived a dream…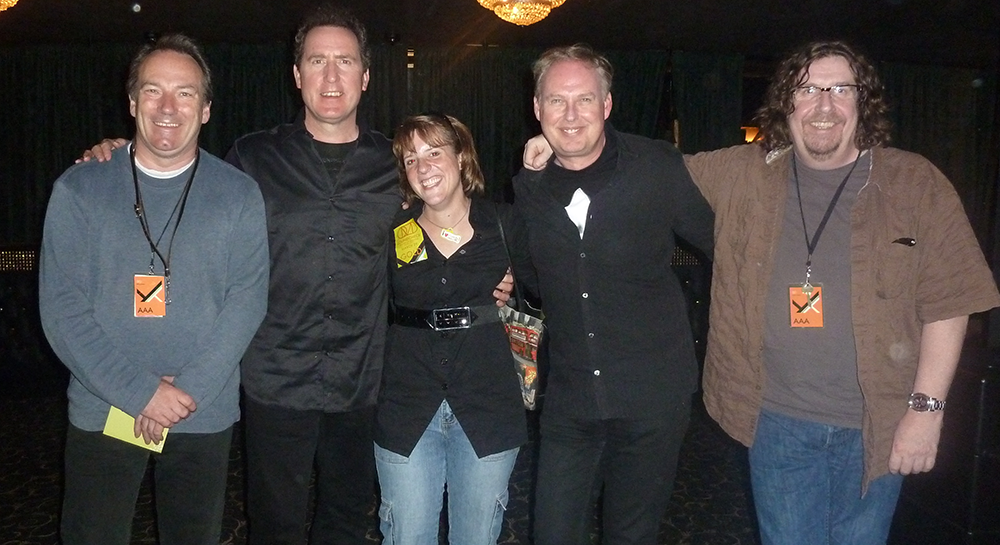 And now here I am, home typing this out on my own computer. I had tried to finish it when I first got back last night but it was really late already and by about 2am I had to give it up and get a few hours of sleep (broken by my cat coming up and purringly waking me to nudge my head and tickle my nose with her whiskers). I can't believe it's all over but what a trip! The idea of doing the whole tour came to me over a year ago at the first hints of American gigs but to have it play out the way it did… I am speechless. At the risk of sounding sappy I want to say thank you to people here. First and foremost, obviously the band for making this all a reality and giving myself and all us American fans lucky enough to catch one, two or however many gigs, nights to remember! I'd also like to thank any and all of you who read these blogs and for the sweet and encouraging words many of you gave and thank you to Paul Browne for all his work at getting them up live so quickly. A big thanks out to specific friends at home (you know who you are) who dealt with my ramblings (often sleep deprived) with great support and finally, to everyone I met while on the road. Every person who I got to experience this with made my time even more special and I know I have made some wonderful new friends who I will hopefully see again in the future.
I have to say it feels weird to be home and have this all over with. My sister asked me "But doesn't it feel good to be home? Even on my favourite vacation when I was on the plane back it became a nice memory but I was happy to be going home." No, not there yet… still sad and feeling a bit like "OK, now what?" Seeing OMD shows make me happier than anything so I think it will take me a little time to get over the 'withdrawal' feelings and get back to normal but I can't say enough how lucky I was (am) to have been able to do this! It's been such an amazing adventure, there's no doubt in my mind these past 4 weeks will stay with me forever and be some of the best moments of my life! Cheers! xo
---
Photos by Lori Tarchala