OMD Tour Stop #17- Humphreys By the Bay, San Diego October 9th, 2011
Well the day started early for Kim, Jaimie, John and I. Funny enough, John and Spencer ended up staying at the same hotel as us girls and it included a Grand Slam (specific breakfast) at Denny's so we arranged to meet at 8:30am (which meant only a few hours of sleep for us girls as we had ventured back to Sweet Factory after the gig for a middle of the night tummy filler, not getting back in until almost 3am… it's Vegas ya know, the city that never sleeps, tee hee ;o). After some good laughs with our waiter (we were all a bit brain dead that things weren't coming out quite right and she decided to have some fun with us), we said a sad goodbye to John and then headed back on the road to Jaimie's.
The venue that OMD were playing tonight was a unique set up. It was an outdoor, erm, mini amphitheatre that also had a nice hotel and restaurant associated to it. There had been the regular OMD Gold and Platinum packages but there was no guarantee of early admittance and a front spot because the whole place was assigned seating. AND, the venue itself had packages. The way it was supposed to be set up, first three rows were for packages (quite expensive) that included the show, dinner and hotel stay. Depending on which hotel room you chose, would put you in either first, second or third row. The next option was to take Humphreys dinner and show package which got buyers a seat in rows 4-7. This was what Jaimie, Kim and I decided to do and ended up with 5th row center. Missy did the same and had 2nd row side, Irene right next to her (not sure how that happened but great they got up closer!) but Mark had done the OMD package… and ended up with row 11! Well that wasn't going to do! :o( But more on that later.
With a 6pm dinner reservation, I put the pedal to the medal and got to Jaimie's in good time which allowed me to turn around and go to the venue to get ready there as Missy and I were rooming together (she had gotten a good last minute deal so I cancelled my other hotel and bunked with her… SO convenient and nice to have a 2 minute walk back from the gig to where I was staying! ) The grounds were beautiful! Right on the water, lots of sailboats and such all around. The venue was nice too and super room! We had one with a little patio area and we could hear the end of the sound check. Mr. M's voice carried to our ears and we both were relieved to hear it because it meant he was doing better, PHEW!!
So dinner was quite tasty.. choice of appetiser, main meal and desert (watermelon salad, chicken with delicious spinach soufflé and even more delicious chocolate caramel mousse… best meal I've had all tour LOL) And the atmosphere was nice too…elegant but not too sophisticated.
We ended up visiting (Mark joined us) past the start of Washington and by the time we got done running back and forth to the venue and car we made it in to literally hear the last minute of the final song. I've gotta say, the sound was wonderfully clear, cutting through the open air like that.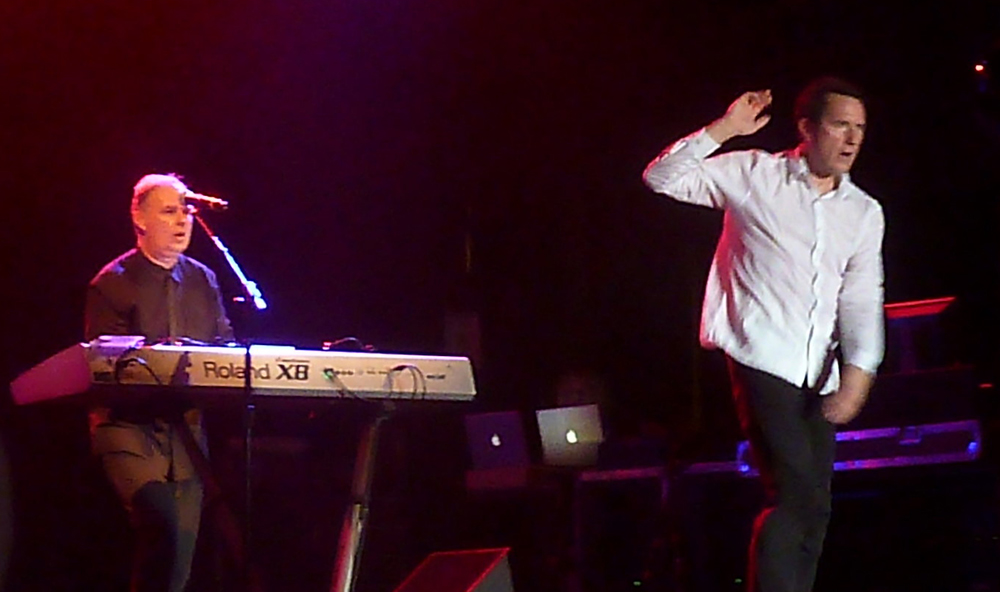 Mark had done Platinum and asked Mr. M during meet/greet about whether or not we could come up front to the stage as there was a space about 15 feet up front of the first row. He wasn't sure and was going to have Ryan check but I wasn't thinking it probable and when we got to our seats and looked around, we found a fairly mixed bag of attendees. There was a younger couple, I'm guessing early 20s, behind us dressed up in 80s prom garb but right next to us on my left were two girls who were dead serious and quiet, appearing to be getting ready for a nice, sit down gig with no fuss. Well, Kim, Jaimie and I were in no means going to sit down so I turned around to the young couple and asked if they'd he upset if we stood to dance. They were like "Heck no!" so that was that then, LOL (gotta say this though as I've NEVER had this happen and I doubt I ever will again… brace yourselves…. they didn't know 'If You Leave'!!! Seriously, the three of us were jaws to the floor. They were there more because they just liked "80s music in general" and thought it'd be a fun thing to do… get dressed for the part and see the gig. I couldn't help but tell them how Mr. M. sometimes announces the song as "If you don't know this one you're at the wrong gig" and we all laughed as the man said "I guess that's us."
So knowing all this, and the fact that Kim had been to the venue a few weeks earlier for Tears For Fears and got yelled at for standing to dance, I was a bit apprehensive and just hoped we'd be able to dance at our seats. When the lights went down and the sounds of DS began, there was a slow to build cheer… sporadic… until the guys began to come on one-by-one. Though this was a repeat city, they had decided to still open with 'New Babies: New Toys' (to help get the crowd going) so when Mr. H.#2 hit the hard drum beat to start the song off and the lights came fully on, there were at least 5 of us standing, LOL. I was actually too busy dancing to see if anyone else behind us (besides Mark of course) was up but it didn't matter because Mr. M. very quickly gave the order to "Stand up!" and thrilled to say that most everyone did! Phew again!!
Messages got some fans ahead of me singing and dancing and we belted out the "No, No, No" to 'Tesla Girls', making the guys in front of us laugh and say "Ah, back up singers". But it was just a strange thing seeing OMD in a venue like this. I kept telling myself it shouldn't feel this strange because last year's UK/European tour put them in theatres with assigned seats but I guess after you've seen them in dozens of small, general admission venues over a 6 month period, it's hard to switch gears, LOL.
'She's Leaving' was a treat to my ears tonight, can't say why, it was just so sweet and then it became time for 'History of Modern (Part I)'. I was sad that we couldn't get Mark up by us… the rows filled and there was a guy next to Jaimie who was sitting down (one of only a few I saw that night) so we couldn't really squish so I began to just bounce alone… until I heard my name and saw that Mark had come down to stand at the aisle of my row. WHOO HOO! Out I slipped and up we went, it was wonderful!! The cheers were getting louder with each song and I was realising that the crowd was starting to warm up a bit. Going back to my seat for the next few songs as I didn't want to blow off Jaimie and Kim… last OMD gig with them too… '(Forever) Live And Die' found us swaying back and forth. Then it was 'If You Leave'… I turned around to tell the couple this was their song and found them making out a bit. Oops, didn't mean to disturb but they stopped and were like "Oh, THIS is it? Our song? Great!". 'Souvenir' went down well and 'Joan Of Arc' and 'Maid Of Orleans'…. well the stage was large so plenty of room for wind milling but I wondered if it would be lost on this crowd. I think it's safe to say probably not as there were a lot of cheers and whistles.
It was now time for some slower songs. A few people had sat down for 'Souvenir' but had gotten back up once over. 'Statues' saw a few others sit and the couple in front of me start a conversation… shoot. But it was beautiful and still got a good cheer once over. 'Green' was mellow again tonight for the same reasons as Vegas… super tall stage. In fact this one was actually taller… above my head! (I'll get to how I know this later). Unfortunately, during the second half of the song, NO idea what happened (though Kim thought the girl behind me dropped it) but somehow a cup of red wine spilled onto me and the girl next to me, though most ended up on my right leg. I spent 'Talking Loud And Clear' in the bathroom washing everything off, URGH!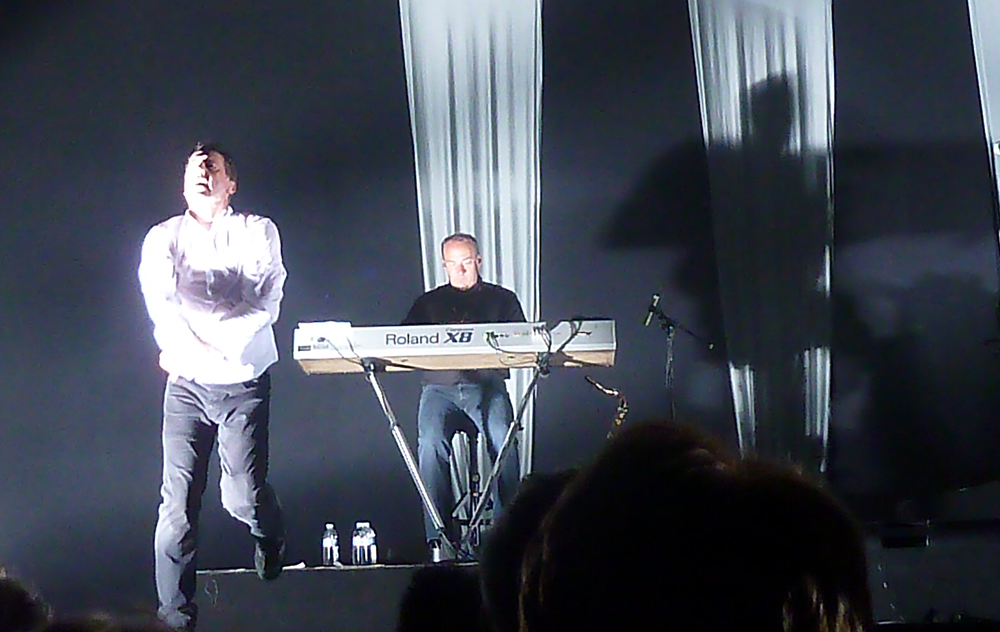 I knew 'So In Love' was next so rushed back down to Mark just in time to get going. Didn't really see anyone joining us but that didn't stop us. And right after… 'Sister Marie Says'. Mark hadn't recruited anyone so we were on our own (until I caught Kim's eye… her outreached hands suddenly came together and we were ready) To the credit of the crowd, the new songs got a great response so that was a nice relief. They may have been assuming they were going to see a nice, relaxing 80s synth band but they weren't opposed to changing their views once Mr. M and Co. got the show rolling, ha.
'Locomotion' was funny because since I was in the aisle, I had speakers up a ways but pretty much in front of me. I could hear Mr. H really clearly but I had to laugh as it sounded like he was singing right there at that side speaker, yet he was well across the other side of the stage. 'Dreaming' was still its usual sing along, just not as loud tonight (the crowd was still more subdued than the previous gigs). But then it happened… Mr. M made an announcement that "Since this is our last one, we've been told you can come down front to the stage". Mark and I looked at each other like "OMG, really?" and then whoosh, down we ran to the surprise of the guard who stopped us. I was giving him an excitedly friendly but perplexed look like "But he said we could" and motioned us towards the stage and then he moved aside and we ran up. I yelled "spread!" and soon we got Kim and Jaimie there too. The stage, like mentioned earlier, was really high so we got up on this little step like ridge but I was still feeling like Kilroy and the brick wall (me with the stage about to my chin, hands up on the ridge looking up at the band). But the main thing was that we were up front and able to get into the show like we'd done up to this point. The guys seemed happy too… a familiar feel having the fans up this close now. We bounced, we sang, we laughed… yeah, THIS was more like it!
Well, I've gotta say, I was pleasantly surprised when I heard a faint OMD chant once they had said their goodbyes and left the stage. Apparently the band won over the crowd… but no surprise there, LOL. When they returned, Mr. M apologised to the people who paid a lot of money to be in the front row, only to now have all of us in front of them, then launched into 'Walking On The Milky Way'. Kim, Mark, Jaimie and I had formed our own little choir so arms all spread around each other, we swayed and sang… and later got the mic for a communal "Hey Hey Hey". It was brilliant! 'Secret' went down wonderfully and when 'Electricity' came on, we all let out one final excited burst of energy. It was going to be the last OMD gig we'd be doing together and that just made us even more revved up! When it was all over, Mark got his usual group photo and then it was off to try and see the band as Kim and Jaimie wanted to say goodbye. And lucky us, we all got to chat a bit… too all four of the guys bless their hearts!!!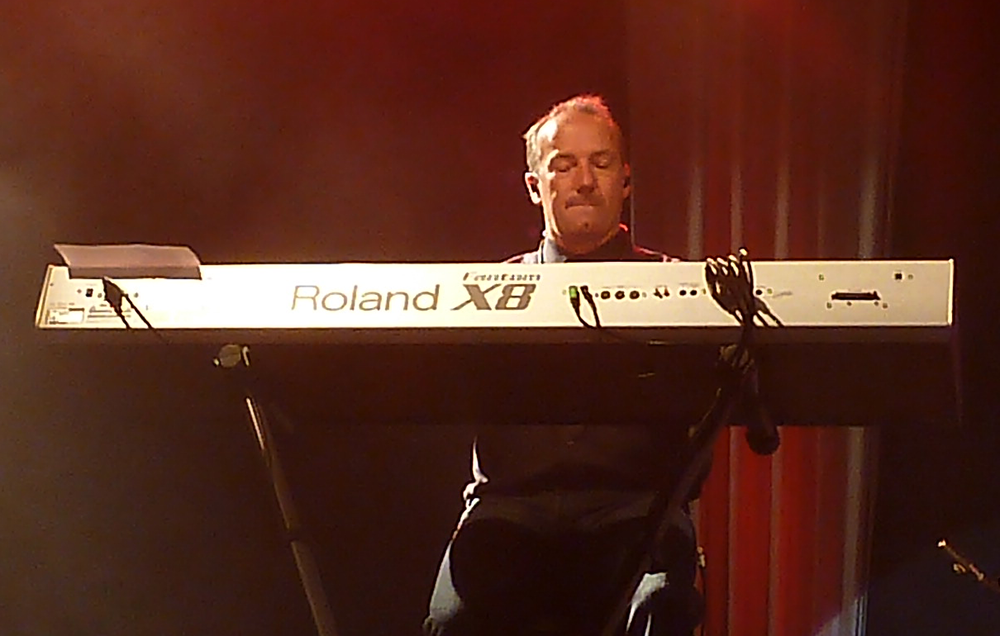 So highlight of the night… Mr. M talking to this little boy who was in the front and centre row. I had seen him before the gig started and remember thinking "Wow, that's a young fan!" because he looked 4 or 5. Shortly after the gig started, Mr. M stopped and said "I have to go talk to someone" and he went over to stand in front of the boy, stooping down. "Are you here because you want to or because your mom dragged you here? If it's because of your mom, make sure she takes you to Toys R Us tomorrow and buys you lots and lots of things." It was SO sweet! Gotta love it!
Now, off to Texas for the final 3 gigs, but not before more tears of goodbye, this time with Missy. (I will be seeing Jaimie and Kim next weekend as I'm hitting a few other non-OMD gigs in LA before heading home… yes, I do go see other bands sometimes LOL). It's goodbye here, and hello the next one as I get to see and stay with Dallas March gig friends Kiki and Rob. Have I mentioned emotions on this tour yet… yep, they're there!
---
Photos by Lori Tarchala