Tour Stop #14, House of Blues Anaheim California, October 6th 2011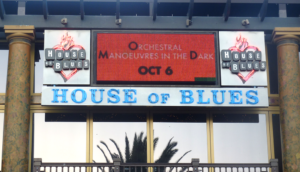 So, sunny California, that's what I got to finally experience on my way to Anaheim. It had rained cats and dogs the night before and even when Missy and I woke up it was pouring. I worried about how my drive along the coast was going to go but we were both pleasantly surprised to see it clear up within an hour and by the time I hit the road, it was gorgeous! And speaking of gorgeous, the coastal drive…..wow! You Californians are really lucky to have such beautiful scenery at your doorstep. I not only saw lovely beaches but majestic rocky cliffs and point outs… AND Elephant Seals. OMG, they were SO cute! All arping and waddling along the beach, totally oblivious to us humans watching from only about 30 feet away! Sweet!
Well, because Google map was off on the estimates a bit (and I stopped for a ton of photo stops and a few little walks) I rolled into Laura's at 1am but was eagerly ready the next morning to hang and see the show! She was a gracious host and we visited over meals and such, even getting to listen to PJ's show, LOL.
When it came time to leave, we were both excited, not just for the show but for friends we'd be seeing. This was like another Chicago for me, TONS of friends and happy to say a great reunion of Bouncing Sandwich buddy Mark. But there was also Kim, Jamie, MIssy, John, John's friend (also called John – that was easy to remember!), Irene and Stefan, and Albert, Kim's friend. Tonight was Laura's first sound check and from what I heard afterwards (Jamie and I were regular tickets so we wandered Disney… and no, I didn't buy anything! She loved it.
Well, the majority of us ended up in the front row (sorry to JohnX2 who ended up a few rows back) and when Washington came on, Laura really enjoyed them and I'm sure they appreciated her enthusiasm. Then, lights down, 'Dazzle Ships' starts and we were off! Like Vancouver, Anaheim was a sold out gig and I was wondering if that would make for an amazing night… it did! 'Stanlow' was its amazingly beautiful self and was met with a huge cheer but then after 'Messages', that cheer grew louder, causing Mr. M to smile and say "I think it's going to be one of those nights… we can take it." Glad to hear that cause it WAS one of those nights, LOL.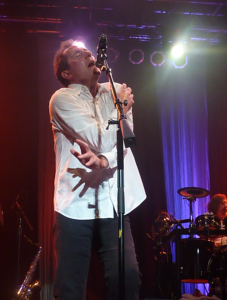 'Tesla Girls' got great "No, No, No's" (and Mark's loud "Yes, Yes, Yes" reply) and heads were a bopping, but when 'History of Modern (Part I)' hit… well, insert bouncing sandwich. The funny thing was, we were a bit cramped as a girl from behind Laura had managed her way into the front row so when we started to bounce, we were literally attached at the hips and shoulders! I was in the middle and felt like I was half jumping and half being lifted up (though at one point we got out of sync, LOL, that was a bit jarring but I laughed my butt off!
When Mr. H came out for '(Forever) Live And Die', lots of screams and shouts of "Paul!" and when he finished, he had the cutest smile like he couldn't believe the response as he sort of motioned a bashful "ah…thank you", sweet! If You Leave went over really well, Mr. M introducing it as a song that "if you don't know this one, you're at the wrong concert".
'Joan Of Arc' and 'Maid Of Orleans' were killer as usual, and Mr. M let out a huge, joyous laugh afterwards, though he then made a comment about how tonight he wasn't as energetic and that it's normally better, hmmm…. hadn't stuck out to me… 'Statues' came next. Laura had mentioned Summermuse missing the gigs and also how she was going to call Dianne for a song (later deciding to call during 'Talking Loud And Clear') so I decided to call Summermuse during 'Statues'. LOL, two songs with us girls standing there, phones in hand, ha!
But sandwiched in between those was Green… um… yeah, how do I put this nicely? There were a few female fans that got a bit overzealous when Mr. M came down onto the rail, one being the girl who had gotten herself up front by Laura. She grabbed Mr. M's toosh not once but TWICE! OMG! Mr. M looked down and a few times shook his finger like "no no no" and when it was over and he was safely back on stage, he looked to Mr. H and said " I may have to stop coming down for that song. It's supposed to be a nice love song and it's turning into molestation". Oh my! (though the highlight among all this was Mr. M coming over to Laura, taking her hand and kissing it… with her returning the favour. Awesome!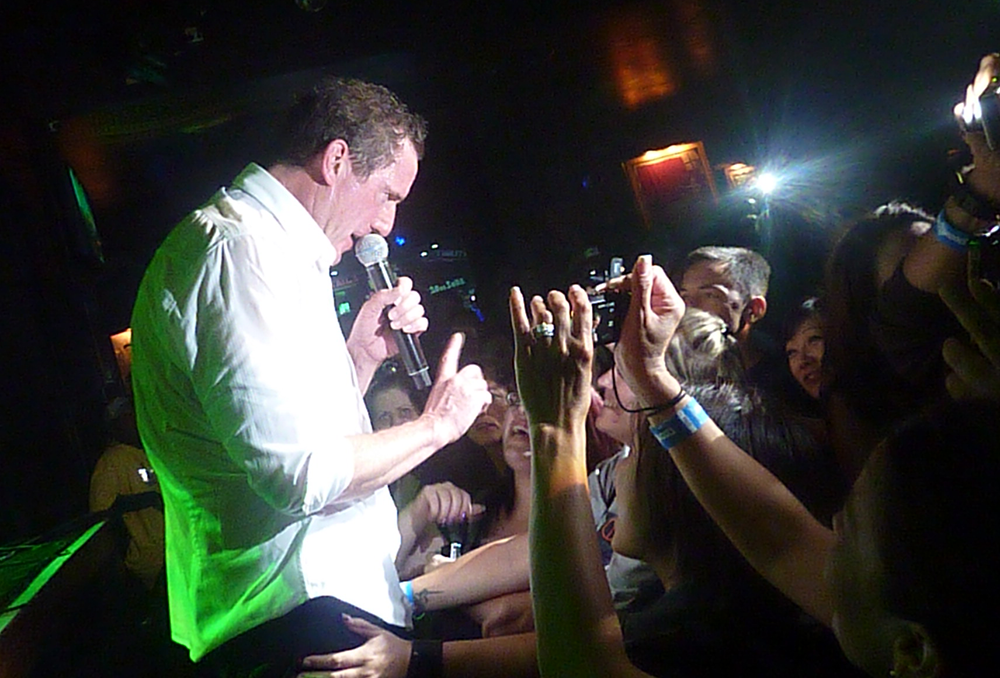 Soon it was back to dancing… or in our case, bouncing. So In Love saw the crowd rearing again and the cheers kept making the guys look at each other with thrilled surprise! 'Sister Marie Says', well that was just a blast! Mark had the idea of putting our arms up, palms together in a prayer position in between the clapping parts at the beginning and near the end, tee hee ;o)
'Dreaming' was probably the best sing along of the night as it often is and 'Sailing On The Seven Seas' was its funky self. This would be a good time to mention, LOTS of smiles tonight from Mr. C and Mr. H#2. By the time 'Enola Gay' came, the crowd's response was thunderous as Mr. M let us know he hadn't been feeling well but that we had helped him through it… aww. :o( When it was done and they left the stage, the OMD chant began and didn't stop until the guys came back on.
'Walking On The Milky Way' saw Mark getting the mic, yippee! 'Secret' was introduced by Mr. H again (maybe he's taken over that role since it's one of his songs, dunno…) and then, one final thank you from all of them, Mr. M reiterating that he was serious about how we all made the night great since he wasn't feeling so good and then they launched into their triumphant finishing song of 'Electricity'. Wow, NO idea how it went down the way it did with Mr. M feeling ill but in all honestly, had he not said something, I think it would have passed us by cause he was still amazing, bless his heart. Afterward, it was all of us chatting, hugging, and carrying on. Everyone just had a great time and the best part is we are all getting to do it again tomorrow in LA! Every single one of us, whoo hoo!!!
So highlight of the night….well, I know I've been having problems just picking one, or having a generalised highlight and sadly, tonight is no exception but I'll try and explain. There was a lot that happened during the night, a lot of emotions, reunions, camaraderie, all in a matter of one night, a few hours, and not just between us fans but also the band. Seeing OMD isn't great just for the music, though obviously that's the main thing that draws us all to the shows. But it's everything that comes along with that. When I did the first tour in March, I did most of it solo because I wanted to celebrate my favourite band coming to my country after so many years. I had an amazing adventure and ended up meeting a lot of wonderful people! Now, this tour sees me reuniting with many of those people, meeting more forumeers and also making new friends. And when together, there's a sense of community… we look out for each other, help save spots, share food/water if someone needs it etc. Tonight had a really strong sense of togetherness, a community of friends that all share a love and passion for the best band out there and that love and passion poured out into our experiencing the gig in a special way that I don't think any of us will forget.
But it also comes from the band. For anyone who's seen OMD, you know what I mean when I say there's a fantastic chemistry between the four guys while on stage. The energy poured out to us is infectious! No doubt they are there because they want to be and love what they're doing and that just fuels us on even more. And to have things occur like they did with Mr. M sick, (or anyone in the band sick for that matter), is a testament of strength, will, and love for what they do. So I guess if I was to sum it all up into a highlight, I'd say the pure joy of being there and experiencing the fellowship of OMD and all it entails!
---
Photos by Lori Tarchala