A warmer feeling seldom owned…
Following on from a host of projects tied into OMD's 40th Anniversary (including a new book and a new compilation album/box set), the band have embarked on a tour which is designed to celebrate that anniversary – and to showcase a selection of songs that have built that legacy.
There were some initial changes brought in that invited controversy. The setlist for the tour had been slightly rejigged so that the classic 'Red Frame/White Light' (last performed live back in 1983) was dropped after the audience response seemed somewhat lacklustre at the first three gigs on the tour. Subsequently, the setlist was revised so that 'Red Frame/White Light' was dropped and 'Dreaming' was brought in to replace it ('Red Frame' was retained for VIP ticket holders during the soundcheck however).
Outside of that particular issue, OMD were faced with a tough dilemma regarding the choice of songs to include for what is their 40th Anniversary tour. Part of that choice has resulted in some big shifts in their standard block of songs from earlier gigs.
Both 'Talking Loud And Clear' and 'Walking On The Milky Way' have been dropped for instance. But the choice of songs to replace them in the set is quite intriguing – 'Almost' (originally the B-side to 'Electricity') and 'Statues', their brooding reverie from 1980's Organisation album.
Curiously, there was talk of tonight's concert being filmed. Indeed, cameras are certainly seen prowling around in the press pit during the gig. It would certainly make sense to capture one of the 40th Anniversary performances for posterity.
Opening for OMD on the UK dates is Mig15, an alternative rock outfit featuring Andy McCluskey's son James on bass duties. Despite the band being relatively new. Mig15 hit the stage with a bang. Their set features tight, powerful compositions fuelled by some beefy guitar work.
Lead singer Adam Bray has a confidence and a swagger on stage that certainly befits more tenured artists. The band also have a nice line in harmonics for vocals on some tracks, such as 'Cellophane Girl' and 'Cowboys And Indians'.
"We're going to take things down a bit" suggests Adam, "This is the B-side to our new single…" 'Dials' is certainly a gear change from the rest of the set, a smooth number with some electronic flourishes.
Mig 15 close out with their single outing, the bold pop of 'Bite the Bullet' which features some effective percussion care of Martin Gordon. It's a perfect encapsulation of a pop rock gem – and also a sign perhaps of a band with bright things in their future.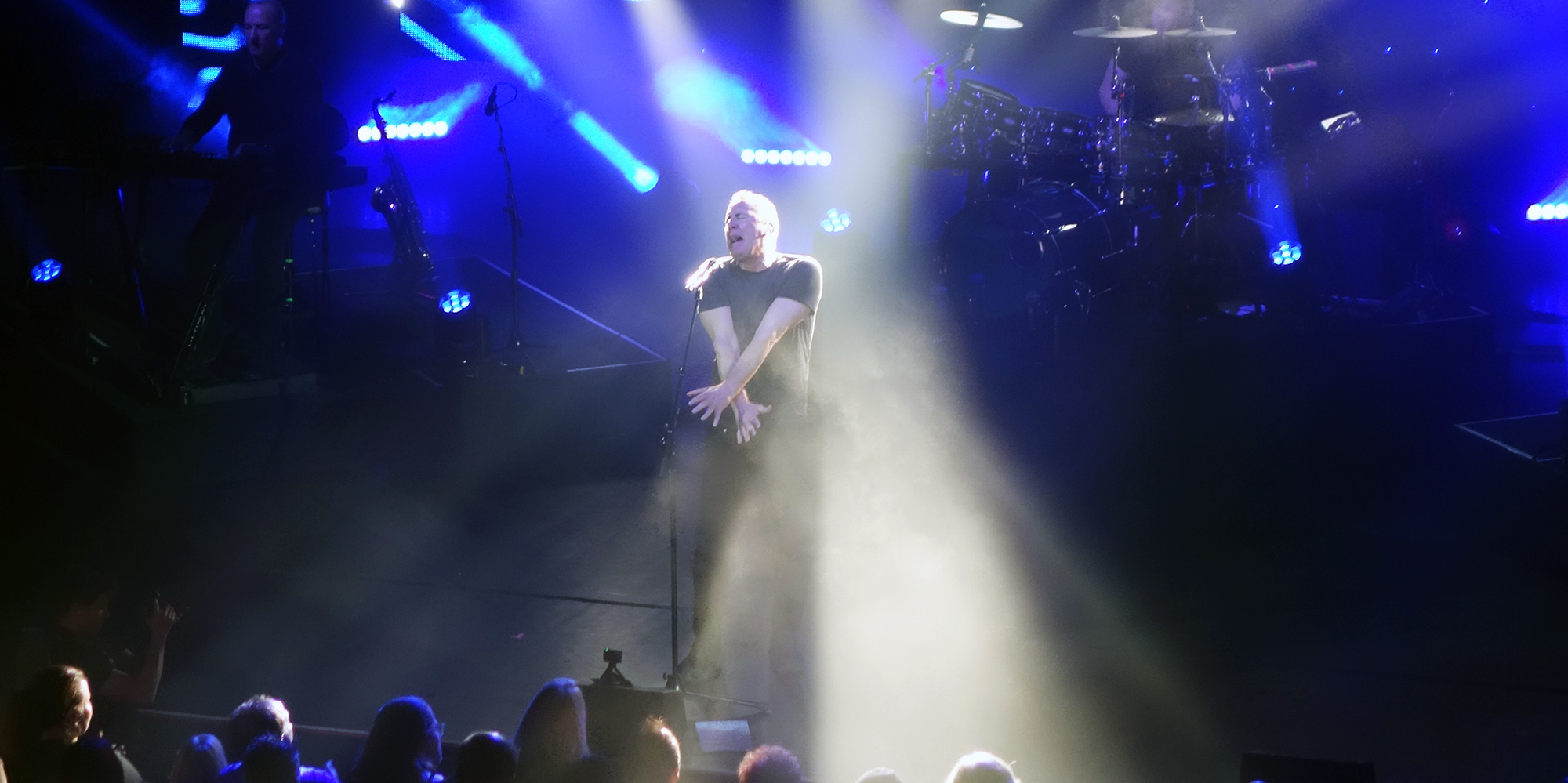 Meanwhile, OMD's set opens with a busy collage – both visually and audibly. There's a mashup of some of OMD's more unusual compositions (there's elements of the likes of 'Introducing Radios', 'ABC Auto-Industry', 'Please Remain Seated', ''Radio Prague, 'Atomic Ranch' and 'This Is Helena' in the mix) combined with images of various OMD record sleeves projected in fragmented slices (the projection screens are essentially several large vertical boards spread across the stage backdrop).
Following this appropriate overture, the band file onto a stage that's cast with a strange combination of luminous blue light and smoke. A huge cheer greets their arrival and a majestic 'Stanlow' follows. Traditionally, this Organisation cut was used as the closing number on early OMD gigs. But it's equally at home at the start of a concert, easing the audience into the performance with a graceful start. Andy McCluskey's vocal talents are still powerful enough to give this song a real whack ("Eternally/This field remains…").
With the intro out of the way, it's time to address the audience and outline what's to follow: "A few old ones, a few new ones and a few weird ones – but mostly dancing" offers Andy as 'Isotype' starts up. A barrage of strobing lights accompany this Punishment Of Luxury number and its up-tempo arrangement signifies that we're moving into definite synth-pop territory.
Then Andy straps on his bass guitar for a dynamic 'Messages', a classic that still sounds as fresh and innovative as it did back in 1980. There's always been something powerful in the song's melodic hooks, as well as an unnerving truth perhaps in lines such as "Memories are uncertain friends/When recalled by messages".
'Tesla Girls', meanwhile, sounds a little flat for some reason (although Stuart Kershaw's percussion in on point). In contrast to 'Messages', it's a song that somehow can't eclipse its studio-recorded foundations to give live renditions a sufficient boost.
'History of Modern (Part 1)' provides a suitably thumping pop outing before Paul Humphreys takes centre stage for a lush '(Forever) Live and Die' (although its pre-recorded brass sections sound a little odd without a live element).
Andy strokes Paul's hair at the end and delivers a quick quip ("Did you give your best one to Donald Trump?") before Mr Humphreys delivers a robust 'Souvenir' which has the audience singing along.
Then it's time for more Imperial Phase OMD with a passionate delivery of 'Joan Of Arc', complete with the obligatory handclaps from the audience. There's still an emotional power in the simplicity of the song's lyrics ("Now she's on her way to another land/We never understood why she gave her hand"). Meanwhile, abstract stained glass projections provide a suitably religious backdrop.
'Maid Of Orleans', as ever, follows with red and blue lights strobing across the stage in time to Stuart's frenetic drum fills. In fact, there's an almost primal quality to the percussion which is reflected by Andy's traditional energetic dance moves (more restrained perhaps than in previous years, but loses none of the spirit).
As the audience erupts with a massive cheer at the end, Andy reflects on the fact that it's the first time he's danced to 'Maid Of Orleans' at Hammersmith since he turned 60.
A brief interlude follows featuring elements of more experimental OMD tunes (including 'Time Zones' and 'Frontline').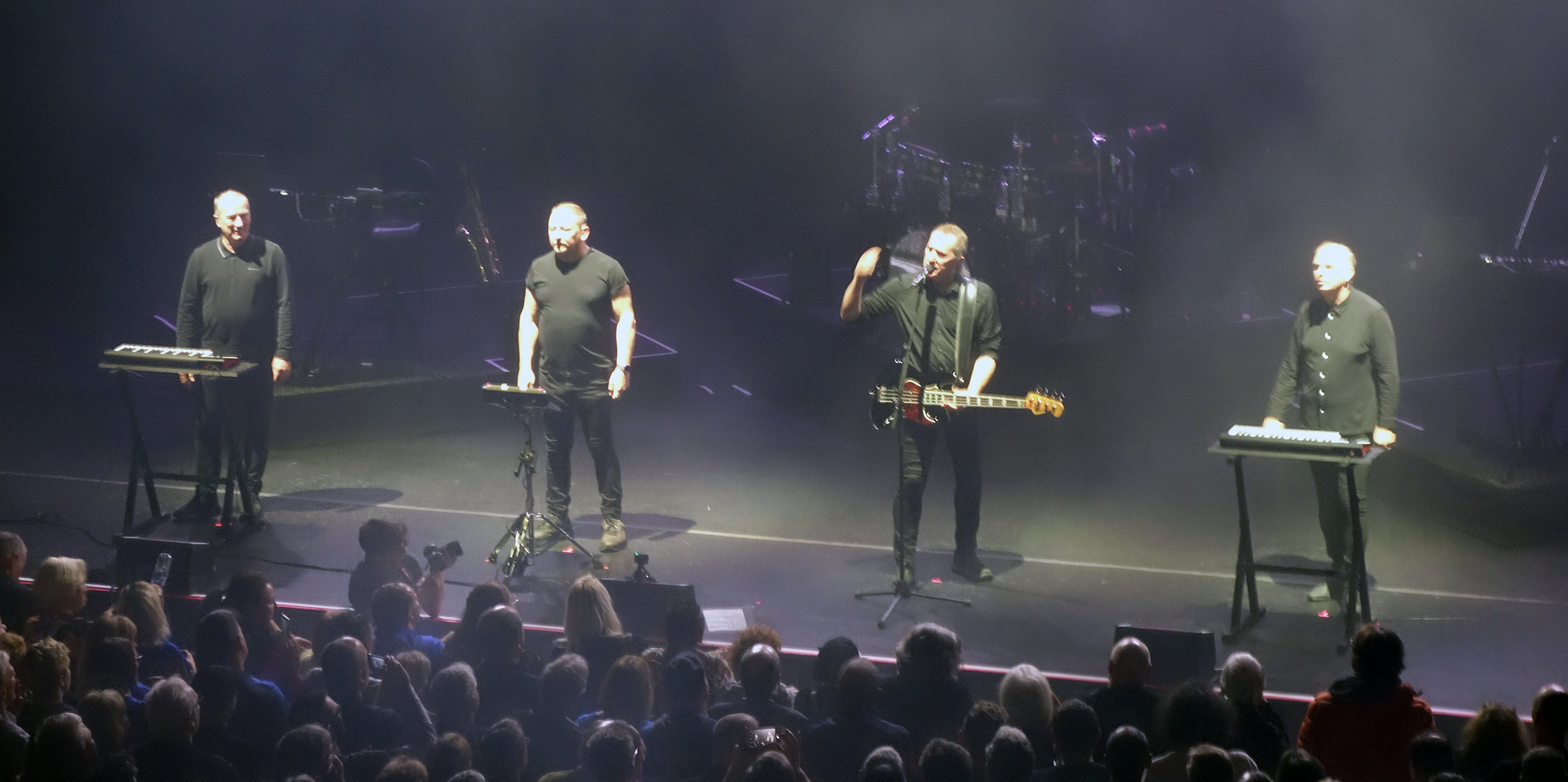 That's followed by the band filing up across the stage for a haunting 'Statues' which lends a more stately aspect to proceedings. "Did anyone see us 40 years ago with Gary Numan here?" enquires Andy. "We're going to play a song we definitely played back then.." which (after another little anecdote about a guy called Vince hearing this track and creating an obscure music combo known as Depeche Mode) gives us the wistful tones of 'Almost'.
Martin Cooper handles the timeless melody here, while Paul delivers the song's distinctive choppy rhythms. Stuart, meanwhile, puts in an element of performance art into his drumming. The endless appeal of lines such as "I'd travel oh so far/To be where you are" still work their magic.
"Did you enjoy your rest?' asks Andy of the audience, "It's the only one you're going to get. There's no more culture – and there's still 4 hours to go…"
The idea of an all-nighter of classic OMD tunes is certainly an attractive proposition. While the assembled crowds ponder this idea, OMD offer up their freshest composition in the form of 'Don't Go'. The plucky synth-pop of the band's 40th single has a simple charm to it on stage, particularly as a bass-less Andy can move around on the stage more to engage the audience. "40 years between two songs…" muses Andy afterwards, comparing their latest single to 'Almost'.
A surprisingly powerful 'So In Love' follows on, with Andy crafting a particular chemistry between the audience and himself. Meanwhile, Martin provides some lounge pop appeal with his sax at the appropriate moments. "Martin Cooper – the sax machine!" offers Andy at the song's conclusion.
'Dreaming' is another number that seems to benefit from a stronger arrangement on stage. It inspires some enthusiastic clapping from the crowd, but also inspires Andy to add some emphasis to the lyrics as if he's imploring each member of the audience personally: "Won't you stay here tonight?"
An energetic 'Punishment Of Luxury' with a strong light show keeps the audience on their toes before Andy gestures to Paul: "Roll it Humph.." The steel drum-enhanced melodies of 'Locomotion' follow as striking red and yellow forms are projected behind the band. At one point, Andy reaches out to Paul across his keyboard during the song, giving it a nice personal flourish.
"Stuart – we need you to play really fucking loud…" heralds the pop thumper that is 'Sailing On The Seven Seas', which manages to keep the audience on their toes.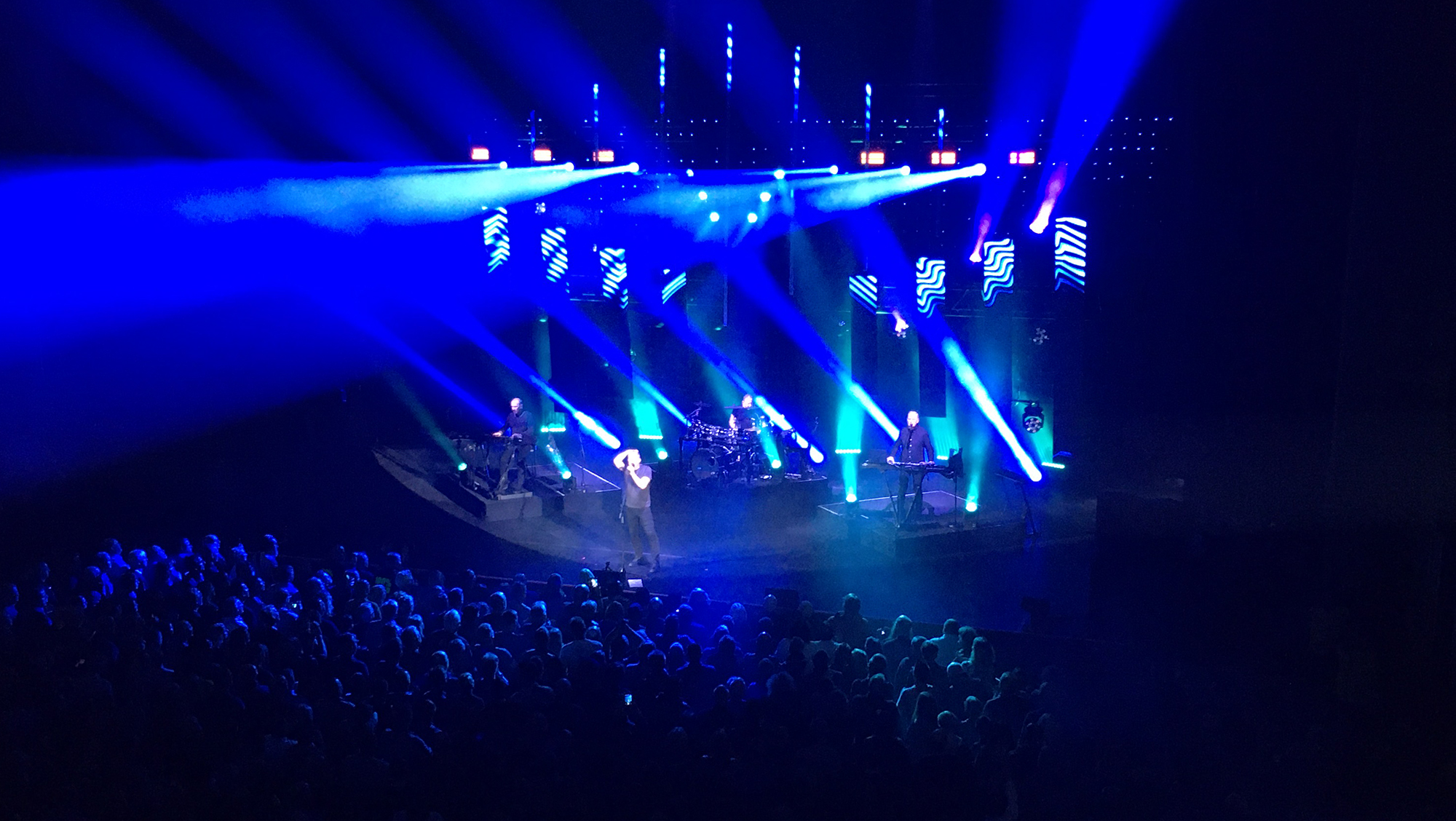 Then Andy straps his bass back on for 'Enola Gay' – the opening bars of which sees the entire balcony all standing up at once. As their regimented clapping neatly segues into the classic OMD song, the line about "This kiss is never going to fade away" seems very appropriate.
Despite 'Enola Gay' marking the concert's end, the inevitable encore sees the band entertain a 'Hollywood moment' in the form of 'If You Leave' (featuring more smooth sax appeal from Mr Cooper). That Hollywood theme is kept in the air by a burst of 1990s-era OMD with the driving rhythms of 'Pandora's Box'.
"As it's a birthday, we need to celebrate the first song we wrote together" suggest Andy for the inevitable closing song. Despite its age, 'Electricity' still remains a stone-cold electro-pop classic, its infectious hooks containing an energy that's reflected in the Hammersmith crowds this evening.
There's a few notable absences in the setlist (neither Dazzle Ships nor English Electric get a look in outside of the brief intro/interlude segments) while the omission of 'Red Frame/White Light' seems like a hard blow for diehard OMD fans. But trying to present a selection of songs that capture OMD's sprawling 40-year history was always going to be a tough mission. All things considered, it's a set that strikes an effective balance.
---
---