Tour Stop #9 – House Of Blues, Houston 16th March 2011
Well I hopped on my last flight for a bit, was just getting settled when there was an announcement… ."Um, folks, we don't have a pilot right now. We have some on the ground and heading to us but it is going to take just a bit for them to get here." No pilot huh? Yeah that could be a problem! We all laughed, some one yelled "Is there a pilot on board" and about 25 minutes later, one arrived and we were off.
Texas is a huge state, one I have yet to visit, so this was going to be all new to me. When offered a choice of rental cars, I of course had to pick what I have nicknamed "The Sunshine Car"… a bright yellow Chevy Aveo, tee hee. ;o) I headed to my hotel to find the nicest room I have had so far… OMG, it was like a studio apartment, whoo hoo! (everything is bigger…).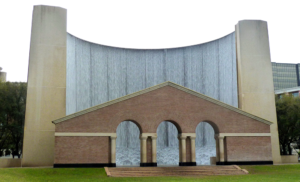 So the day of the show I planned on doing some sightseeing beforehand. Headed off to see a huge waterfall that stood in the middle of a grassy area just a block down from a large mall. 64 feet tall, you could hear it from a bit away and as I got closer, the water was quite powerful and got me and my camera wet. Tranquility in the midst of busy rush, glad I went to see it.
Once in actual downtown Houston, I wandered around a bit and came across a Farmers Market (an area where vendors set up tents and try selling their items that in this instance ranged from food you could eat right there to organic vegetables, sauces, I think there was even someone selling flowers). I got to hold a baby goat! Sooo cute, he kept looking up at me like "Helloooo", and nibbled on my shirt. I was told his name is Hold Em… . as in Texas Hold Em, a card game. "All our animals get a Texan name", HA! Too funny!
Talk about a small world – ran into Stephan, my German friend I first met along with his wife in Toronto, so killed more time wandering with him… nothing special on the list to see really. We split for awhile but he's like me in that he wants to be close to the stage so we eventually met up again at the doors.
House of Blues is a sort of chain venue in the states and used to be just that – a place to see live blues bands, but over a decade ago they began to branch out and now I have seen bands of all genres at the one in Chicago. I was curious if this one would be set up similar… not too much. This one had a large floor, then up one step and another area that was broken up by a reserved table seating area and then another GA area in front of the bar. Chicago has a slightly different format than that plus we have side areas. Never been to the balcony in Chicago, but in Houston it was all theatre seating that went up a ways.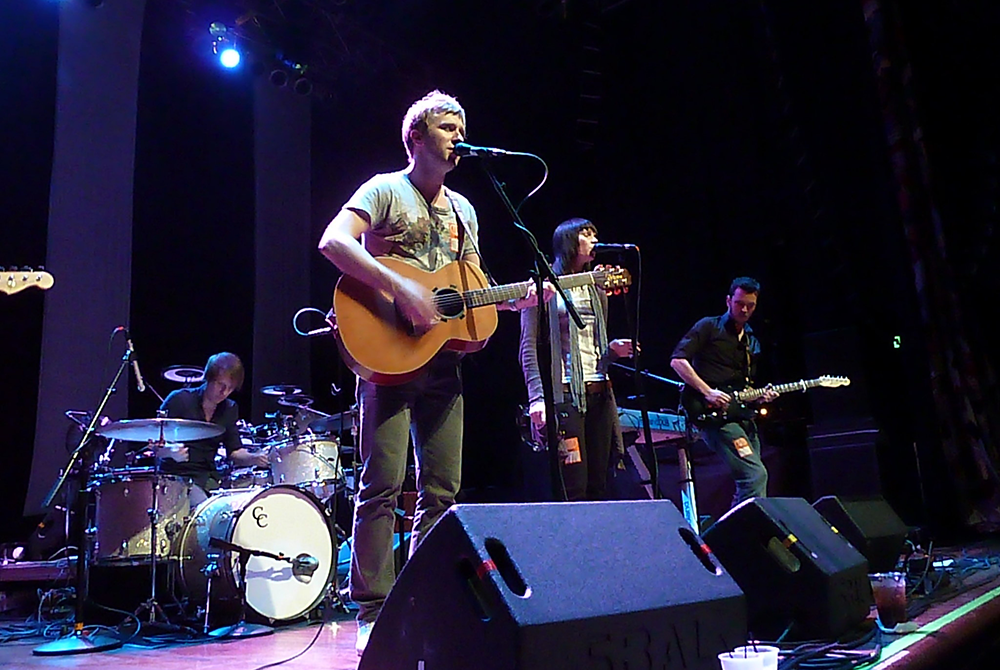 We were able to grab front row off to the side (I was smack dab in front of Mr. C) and I had found out prior to the show that the same opening act from Atlanta was going to be here. However, as I saw the keyboardist come and go with another member and LOL, he was like "Wait, weren't you in Atlanta?" I was told when I asked about the guy with him (who didn't look familiar) that it was going to be the full 6 members tonight. Gotta say I liked them better as a full band vs. stripped down acoustic. There was just more to them. They seemed confident, joked around well and the same songs I heard 2 days ago took new life form with an added bass and electric guitar along with a full drum kit. Sadly I noticed a lot of talking going on further back when they would stop to chat… that's too bad.
So it wasn't long before OMD's arrival was harked by 'History Of Modern (Part III & IV)' … all talking stopped and this was the beginning of a wild night! As usual, 'New Babies: New Toys' was kick ass (excuse the expression) and the crowd didn't seem to care it was a new one, though the cheer for 'Messages' was louder. 'Tesla Girls' got a wonderful "No No No" response (I was amongst a great crowd of singers) and '(Forever) Live And Die' also got sung along too. Many a scream for Mr. H came from my area; not me I should say, some girls a few rows back ;o) – but no knickers. 'History of Modern (Part I)' was like it always is, I will be absolutely shocked if I come across a crowd that DOESN'T get into it… I think that is humanly impossible.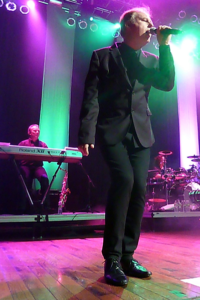 By this point, some of the balcony viewers were up and dancing… a sign of how good a band is when the balcony feels apt to get engaged and 'If You Leave' got more of them going. Like Mr. M said after the applause finally died down, the song wasn't a hit for them overseas so they don't normally do it and had to relearn it from 2 and a half years ago… good thing they did as it is more than a hit over here!
'Maid Of Orleans' was brilliant since the stage tonight was at least double the one in Atlanta and by the end, more people stood up in the balcony to give a much deserved salute to the efforts. When the slow break of 'New Holy Ground', 'Green' and 'Talking Loud And Clear' was over, the band flew into 'So In Love' and when it was over, for the first time on this tour the "OMD… OMD… .OMD " chant came up early. It was just awesome! No offence to the UK/European crowd, and I am obviously not a pro only having done shows in 5 UK cities and 2 German, but from my experience the crowd reactions here in America are better… . I think since we have waited so long it shows how much we appreciate the whole band. NOT that the rest of you don't! It's just like waiting and waiting to get something and when you finally do, it's a true joy, you treasure it and want to treat it special because a lot of heart and soul is involved. (hope that made sense).
There really was no going back after that! 'Sailing On The Seven Seas' was welcomed with open arms, 'Dreaming' brought out one of the best singalongs thus far (yes, even better than 'If You Leave'), and by the time 'Enola Gay' came on, the energy level was way up there. The balcony was up and everyone, including the band, was having a blast! When they walked off stage, the OMD chanting returned but not for long as we were rewarded with the two encore songs. When it was all said and done, I realised I got to experience yet another great show and as I was heading to the exit door, I noticed a sign that was perched above it… "Be nice or leave". Made me smile and, well, the people I have been running into at these shows fall into the nice motto so…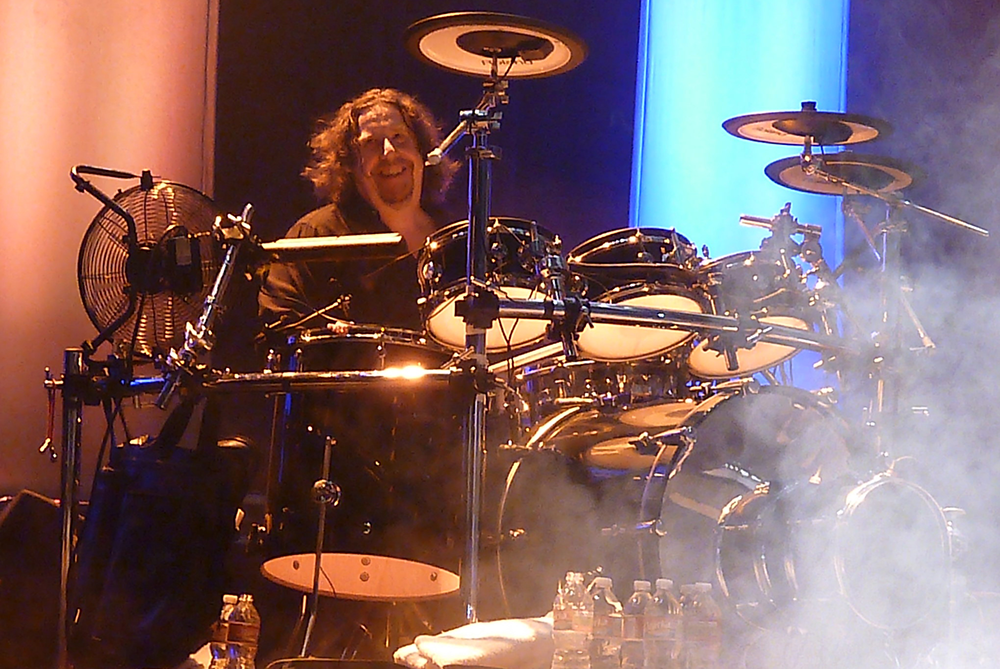 Ok, highlight of the night… it's a doozy! I believe it was in the middle of 'So In Love'… don't ask me how because there was a tall rail (came up to my chest as the stage itself was about eye level for me) and a small gap but somehow a fan managed to get on stage. He ran over to Mr. M, grabbed him and planted a kiss smack on the cheek! Oh but wait, it gets better… then, as Baz is shooing him off, he decides to STAGE DIVE into the crowd! I was like OMG!!! But as if that wasn't bad enough, he was able to get up yet again during 'Electricity' but thank goodness Baz saw him coming and thwarted his efforts to get to Mr. M He didn't however thwart him from stage diving again. Oh brother! NEVER thought I would hear or type OMD and stage diving in the same sentence/context but there ya go.
So off to SXSW tomorrow – early so I can see OMD in a bike shop. HA, that's actually another 'never thought' sentence… .only in America, tee hee! ;o)
---
Photos by Lori Tarchala