Tour Stop #9 – First Avenue, Minneapolis September 26th, 2011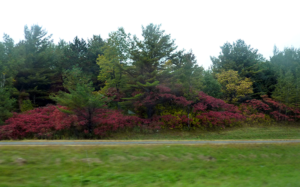 Well, I headed off for the long drive up to Minneapolis with the hopes of seeing some beautiful fall foliage… um, I did, but it was often through pouring rain. But lovely just the same, AND, at one point, the rain produced a gorgeous rainbow that went across the freeway from one end to the other! =o)
The plan was to get to Alexa's in time to drop my stuff off and then head down to the venue as she had a Gold package. I got in a little late and then we hit traffic so her boyfriend Andreas dropped her off and we drove around to eventually find parking and make our way back. The venue, from the outside, was a really cool thing to check out because all along the black building were stars with band names in them. I was amazed how far it stretched and how many stars were filled. I looked for OMD (because they had Duran Duran, Eurythmics, Psychedelic Furs etc) but nothing (though that didn't stop me from teasing the security guards later "So when are you going to put OMD's name in one?" to which I got "I don't know…. maybe tonight". LOL)
As Andreas and I killed time, we could hear the band from outside which was a nice bonus. When Alexa came out, she gave us the run down of the venue set up… hmm, high stage that was taller than the one in Milwaukee… shoot. I told her I'd let her decide if we were going to do balcony or floor as she said the barrier put us back a bit so maybe the height wouldn't be too bad. As it turned out, we did floor.
So there's a lot that can be said about the crowd we saw that night but I'm just going to say "Hugely eclectic" and leave it at that! This caused us to wonder what kind of night it was going to be but as Alexa, Mark, Melissa and I braced ourselves in the front row (Andreas was up in the balcony), we were pleasantly surprised!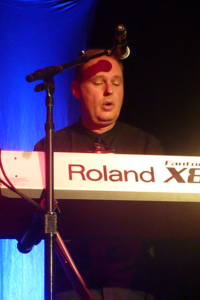 The lights went down, 'Dazzle Ships' began to play and then BAM, 'New Babies: New Toys' started and the crowd exploded! Tons of screams, cheers and dancing and it was only the first song. Immediately this was promising to be great and Mr. M said something to that extent after 'Messages', which was also well received. I couldn't help but laugh as I remembered Eric's and how hot we were… mainly because tonight the "bakers" (multiple bulb lights that flash out brightly onto the guys and are used I think also for 'Maid Of Orleans') were pointing right at us on our side. OMG, heat, heat, and more heat and Mark joked that he was going to have a suntan by the end of the gig. But as Andrew (um, crewman, not forumer) said to me in Milwaukee as he was moving said baker lights around, "Men sweat, woman glow"… well Mark and I were doing just that!
When it came time for 'History of Modern (Part I)' and Mr. M demanded that we join in the bad dancing, that's exactly what we all did, though some how the front row had gotten a bit squashed together so shoulders and butts were smooshed into one at times. But we didn't care! Just like back in March for NYC gig, this one had a girl to stage left who was going crazy for Mr. H. I heard screams of "We love you Paul" coming from that corner and when '(Forever)
Live And Die' came out, girls just went nuts (and that continued for 'Souvenir' too, tee hee.)
'If You Leave', well shoot, that was one that got probably the best sing-a-long of the night along with huge cheers when Mr. C let loose to do his thing on the sax! When it was done, there wasn't a single person who wasn't cheering loudly. I was recording it and just had to pan the crowd, it was amazing!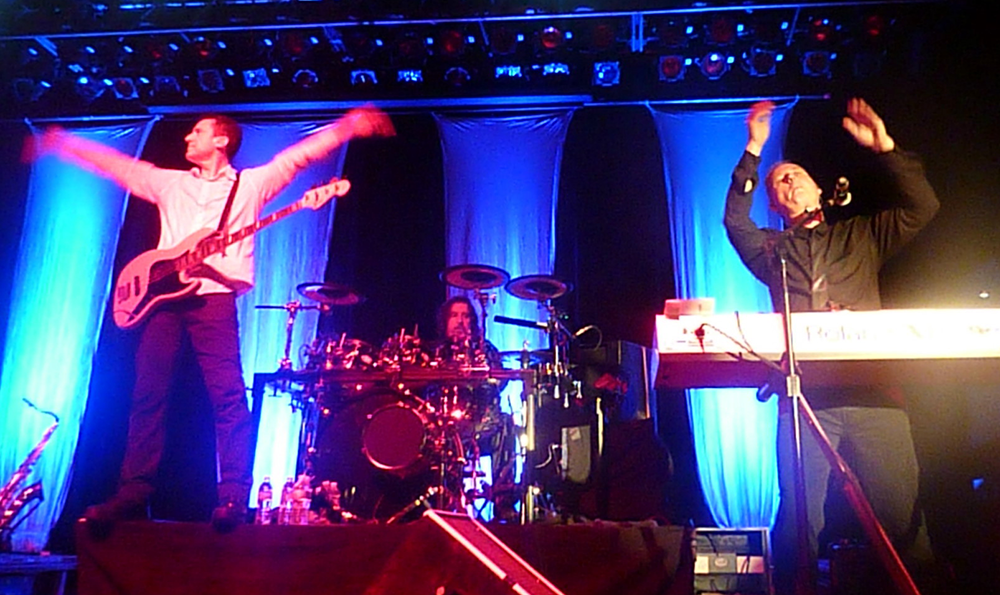 'Joan Of Arc' and 'Maid Of Orleans'… well as anyone who's seen OMD live knows, those two songs are killers and amazing to see in the flesh so when they were done, Minneapolis made it clear they were impressed! Mr. M and Co. all had enormous smiles on their faces, pure surprise and joy just like in March and this back and forth of us cheering and them all looking at each other amazed, laughing and clapping back to us with "thank you's went on for a bit. sweet!
I'm happy to say that though there was a couple who began to talk a bit in 'Statues', they didn't carry on too long so we had a peaceful few minutes tonight, phew! And then 'Green'… this song has totally turned into a 'mingle with the crowd no matter what' song… as mentioned, prior to the gig, Alexa spoke of how tall the stage was and said there'd be no way Mr. M would be able to get down to the barrier steps/platforms and back again so we figured he may just bend over and sing or something. Well, nope, we got in and LOL, saw they had taken one of the equipment cases on wheels, turned it on its side, strapped it down and essentially made a midway "step" for him to come down, which was exactly what he did. Well OK then.
After three slower songs, the crowd got their rests in too and as 'So In Love' started, everyone was up, dancing and singing loudly. And that mentality of "Whoo Hoo" just carried on through 'Sister Marie Says' which found Mr. M giving a sinisterly funny laugh after his "Don't let me in" line. Song after song, the frenzy grew and at this point Alexa and I were going crazy, arms all over the place, cheering, hugging and bouncing, it was just friggin great! Mr. H was extra bouncy, no doubt fuelled by the crowd and lots of smiles from Mr. C and Mr. H #2 also with the former getting a great crowd reaction from his earlier solo.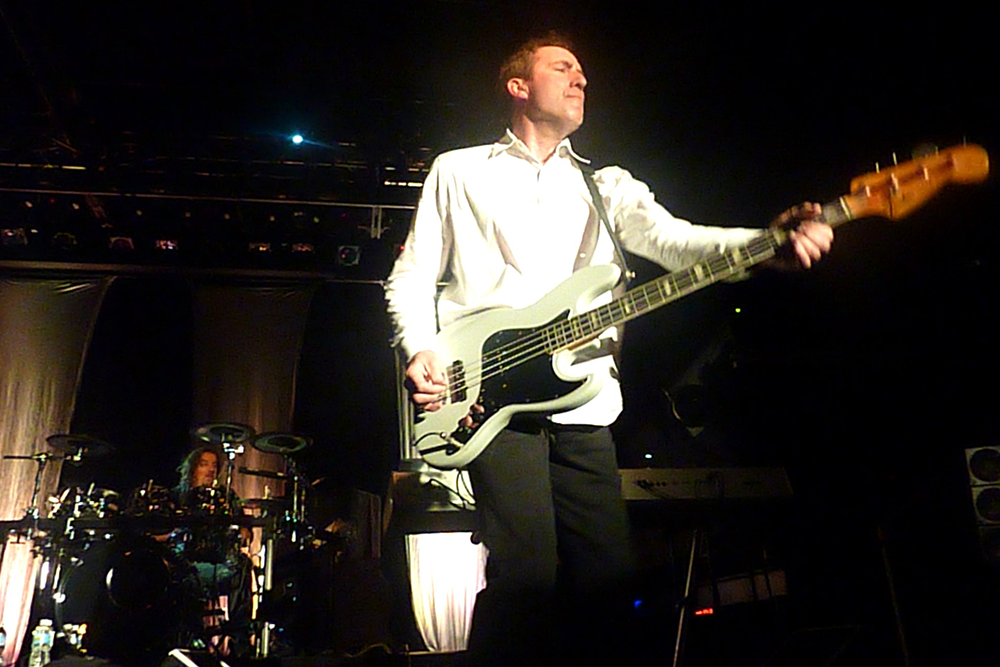 So that leads us up to 'Enola Gay'. Well, gotta tell ya, Alexa and I were at Chicago when we had the scare of a near fall off stage by Mr. M. but tonight gave us another scare, though as it turned out, only a perceived one. The song started, drums clicking along and Mr. M is doing his intro telling everyone it's the last song. Mr. H#2 is sitting there all happy as it's near his time to hit the sticks while he counts 1,2,3,4 and gets things going but all of a sudden, he just goes down… as in bends (or we thought maybe slumped) down. The drums keep clicking away, now past the normal intro, Mr. M looks over like "What's going on here?" and I just stopped in mid clap as I immediately thought the worst. Well it was only a matter of a few more seconds and up popped Mr. H #2, arms out stretched and then off he went but I turned to Alexa and was like "OMG! I thought it was his heart!" and, giving me the same look I'm sure I was giving her, she said "Me too!" That's two scares in 3 days, at this rate, by the end of the tour Mr. H#2 isn't going to be the only person with a heart condition but PHEW that it was nothing and Alexa and I quickly joined the others again in the celebration.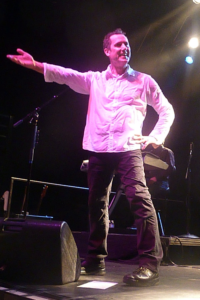 When it was over, the guys just stood there floored by the crowds' response. Ecstatic pandemonium is the best way I can explain us fans and they all thanked us over and over before leaving. When they returned on stage to the same thing, Mr. M. looked out and said "I've run out of things to say really… thank you!" Encores of course came next and Mr. H dedicated 'Secret' to the girl that had been going crazy for him, saying it was because she had it written on her arm… and she proudly raised her arm up so everyone could see "Secret" written in black, oh my. Before 'Electricity' began, Mr. M gave one final thank you "For making tonight fantastically brilliant", then they launched into their final number and all too quickly it was done and we sadly had to wave a final goodbye. But WOW, not what we were expecting from early on in the night but something that won't be forgotten by anyone lucky enough to experience it for sure.
So, highlight of the night…. well, I don't mean to make this so openly blanketed but I can't help it. I'd have to say just the whole night in general. No offence to other gigs thus far this tour as they've all been special in their own way but this one really transported me back to March with the sounds of the crowd, the continuous band reactions, the elated feel of bouncing crazily with friends, the sheer essence of it all, especially since no one saw it coming. I kept thinking about Dallas and how that was such a surprise gig, well so was Minneapolis! Awesome!!! What a way to end my first "leg" of the tour… now back to the real world for a bit, LOL. ;o)
---
Photos by Lori Tarchala