OMD Tour Stop #19, Cains Ballroom, Tulsa October 12th, 2011
Well, the day started with an early wake up call because I had a 5 hour drive to Tulsa and was also picking up bouncing buddy Mark at the airport as he had decided to come to the last two shows… whoo hoo! A couple of stops along the way to do a blog, LOL, before finally arriving in the small (and a bit desolate in places) city of Tulsa.
Dianne and her 3 KC gang friends Monica, Sunny and Jannine were already there when Mark and I arrived. We knew the crowd was going to be scarce and per Dianne, the foursome were the only Platinum holders. As it turned out, the soundcheck consisted of only 8 of us, one being a man who was experiencing all this for the first time… and what a treat he, and all of us, got! Because of the intimacy, we were allowed to play around with the instruments and shown how things worked (though LOL, we left Mr. C's saxophone alone ;o) and Monica and Jannine even got the mic to sing 'Sailing On The Seven Seas'… surreal to say the least!!! (and LOL, also got to see them do 'Radio Waves' which was exciting because I hadn't seen them do that in soundcheck either this tour nor back in March.) It was awesome!
So the venue has been in existence since the 1920s but used for ballroom dancing and big band performances back in the day. The guy next to me, once we got up to the front (yes, all 7 of us), said that when the 70's came, it turned more into a nightclub/venue. He named a bunch of bands he'd seen there such as Elvis Costello, Bloc Party etc but was thrilled to be finally seeing OMD. The floor was circular and hard wood, a bar sat way in the back by the entrance doors and there were table and chairs set up in the back 1/4 of the venue. But what was even more strange… some bleachers on the one side! Then again, if this used to be a grand ballroom, makes sense for those who wanted a break from dancing.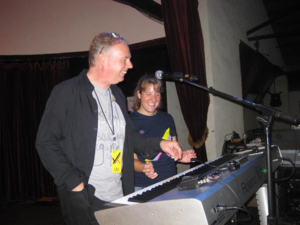 I remember looking at the stage and thinking, hmm, it's pretty large, yet the instruments seemed all crammed in. Well that was because we were given an extra opening band called Recorder. They announced they were from Tulsa, began their first song, and we were treated to a sort of electro-glam-goth sound performed by three musicians; two keyboardists dressed in a sort of futuristic officer uniform and the female lead singer who, um, well had a gothic type corset but her bottom half was black tights, big white boots, and then what looked like the outlining of a Xmas tree outdoor display that lit up after a few songs. Other than the fact that the lead singer was really hard to hear, we enjoyed them and to be honest, I think they were a much better fit to OMD than Washington. However, when Washington came on, the crowd gave a warm response to her too so I started thinking maybe this night wouldn't be too bad for the guys.
It drew time for OMD and a number of fans who had been sitting down came up plus more sales must have occurred at the door because there were a lot more than what we earlier were expecting. The lights went down, 'Dazzle Ships (Parts II, III And VII)' started and cheers erupted. When 'New Babies: New Toys' came on, Mark, myself and KC Gang all started bopping around and singing. We had a bit more room than normal (at least to start as it got smaller later in the gig LOL) and I couldn't help but laugh to myself about how we were sticking out like a sore thumb among the rest of the fans standing and watching. Afterwards, Mr. M thanked everyone for finding the secret Tulsa gig and said next time bring 10 relatives! 'Messages' and 'Tesla Girls' came next and more and more people started to move, the cheers getting louder and louder, and I could hear a strong clap back to TG. By the time it was done, the guys were laughing out loud. Mr. M said there was talk among management and promoter to cancel the gig but they had said no, they were going to do it for the fans who bought tickets and now he was glad they did. For a small crowd, we were loud, it was great! Even 'Radio Waves' went down well, a girl behind me screaming to get Mr. M's attention and show him her DS shirt she'd just bought… he saw her, smiled and nodded.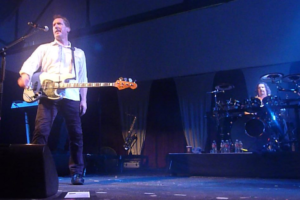 'History of Modern (Part I)' was the first of us all bouncing together and I had tried to do the same thing I'd done back in March and record using my tripod since I can't sit still but hadn't been able to record it during my initially planned gig… hmmm, didn't work so well, LOL. But it made for a lot of laughs from the gang (and Mr. H#2) and people around us seemed to really enjoy the song.
'(Forever) Live And Die' was fun to watch as I got the impression many were surprised to see Mr. H come down to sing lead but he was great as usual and the fans gave him as much love as Mr. M When 'If You Leave' came on, a lot of singing and clapping began. I have to say, I think Tulsa wins for the loudest clapping (in proportion to fans) from my memory stand point. 'Joan Of Arc' and 'Maid Of Orleans' had Mr. M with plenty of room to windmill and when it was over, huge smiles and laughs as usual. You wouldn't know this was the smallest turn out from the sounds!
Well, I'm happy to say that 'Statues' went on without a hitch from anyone in the crowd thank goodness! 'Green', well earlier Merv had put a piece of crew equipment that carried stage items down so that Mr. M would have a makeshift step but we weren't sure if he'd come all the way down to us because the barriers only had pieces of wood from one to another. Thick pieces mind you but still… however, down he came to sing to everyone and as hands reached for him, there was nothing but slaps and shakes… the way it should be, LOL!
When it became time for the "bad dancing" again, we began to bounce and Mark, Dianne and I looped our arms through each other which basically lifted me up off the ground. I've never gone so high in my life, LOL. Mr. H#2 kept laughing at us and it kept going through 'Sister Marie Says', though Mark and I hadn't recruited anyone but the KC gang, who by the way put devils horns on just for that one. 'Dreaming' had a ton of singing and 'Sailing On The Seven Seas' was met with a great response too. There was just no stopping, either from the band or us fans. By the time 'Enola Gay' came and went, the band seemed really pleasantly surprised by the crowd and Mr. M and Co. whole heartedly thanked everyone for coming.
Once back on stage, Mr. M said again how glad they were to have played the gig and then 'Walking On The Milky Way' got going, a good strong "Hey, Hey, Hey" coming from each direction the mic was handed with Dianne getting a solo. Mr. H did the announcing of USB sales and also how they got so much slack from not playing 'Secret' (gotta say, it's cute to see him do the talking for this one ;o) and when people realised it was 'Secret', well let's just say everyone was very happy!
'Electricity' rounded the night off as it should and then it was final goodbyes before the lights came on and the show was over. Group photos, much needed water and later a quick goodbye to the guys outside (which was a bit strange as we didn't know where exactly to go and then they originally were behind a big gate… until Mr. M asked for someone to get a key to open it. Oh, and I should mention there was a forumeer…I think ocfan… who had come with his wife and two small kids. He asked for a picture and Mr. M and Mr. H knelt down next to the kids for the shot, SO cute!) before heading out.
So, highlight of the night. Well, aside from the obvious soundcheck, I have to say it was the guy to my right. Unfortunately, we hadn't talked too much before the gig so I didn't grab his name and then he bolted so quickly, I didn't get to grab it, or his email, as I had snapped a pic of him with the guys behind him during 'Souvenir' his fav song. (so if by some fluke you read this blog, contact me through the site and I'll email it to you). But he was a blast to watch. He was just SO elated! He had said before that he'd seen a ton of bands such as The Cure, Echo, Depeche, Siouxsie and the Banshees etc but never OMD so he was really excited but once the gig got going, he was like a kid on Xmas day, songs being presents. Song after song found him SO excited and when 'Souvenir' came on, Mark and I just had to laugh as he erupted into "OOOMMMMGGGGGGGG" and just kept pumping the air in a "yes, yes" followed by "this is my FAVORITE song, OMG!". I loved it!
So one final gig tomorrow in Austin. Not looking forward to it all ending but it's an inevitable thing and no doubt will be very special, if not also bitter sweet.
---
Photos by Lori Tarchala