"Everything You Say, Everything You Do…"
The ballroom at Bletchley Park is a very intimate and opulent room, with its gilded ceiling and linen fold wood panelling. The grandest of the rooms there, so a fitting venue for such a special event for just 100 very lucky people.
Andy and Paul took to the stage which was back dropped by a red velvet curtain. Andy said that he was going to interview Paul about his computer geekness, then they would do some Q&A and then play a couple of old tracks, a couple of new tracks from the forthcoming album History Of Modern (the first studio album for 14 years) and a couple of old tracks.
So the interviewing began and we found out the basic history behind the band, they went to the same school (but in different years), the fact that they both had to do 'miming' in recorder class as neither were very good (said it gave them good miming capabilities for TOTP performances), Paul said that his music teacher put on his report that he had 'no musical aptitude' and that he had kept that report to this day.
Andy told us about how they got their first synth (Korg Micro Preset) from his Mum's Kays catalogue and paid £7.76 a week (said they are still paying it off!). Paul said he used to experiment with electronics and would tell elderly relatives that their old radios etc were broken (when they weren't) just so he could take them apart and steal the bits!
The chemistry between Andy and Paul was electric and you could tell that they were both really enjoying the evening. It was all very relaxed, and there were some good laughs especially when Paul let slip that he had sold some of their old equipment for 4 grand and hadn't told Andy.
Before they started playing, Andy said that they had a problem with the mixing desk, but that the great thing about attending a Vintage Computer Festival was that everything was laying about, and the evening was saved as someone had a spare Behringer in the back of their car!
We waited patiently to hear the 'exclusive' first play premieres of 2 new tracks that we'd heard snippets of from outside when the sound check was being done, the following set was performed:- 'Maid Of Orleans', 'Souvenir (Moby Remix)', 'History Of Modern (Part I)', 'Green', 'Electricity', 'Enola Gay'.
The new tracks, 'History Of Modern (Part I)' and 'Green', are so new that Andy had the lyrics written down, and screwed up the paper after performing. 'HOM (Part I)' has a killer synth riff that has echos of Kraftwerk 'Europe Endless' and is already sounding immense live, 'Green' made the hairs on the back of my neck stand up. With its Jon & Vangelis mid-tempo style, this carries all the angst/emotion that Andy's voice does so well. If both of these tracks are representative of the new album, then we are in for something very special indeed.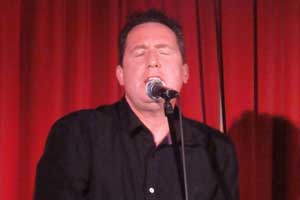 The audience erupted after both of these which prompted an encore of them both again (Andy retrieving and hastily unscrewing the lyrics sheet). For these encores we were allowed to stand and dance, so got treated to 'Electricity' again as a closure. I think that the audience reaction to the new tracks stunned Andy, whose parting words were to tell the 'forum doubters' about tonight, in response to some negative comments that had been made on the official forum about the new material.
In the bar after you could tell that both Andy & Paul had really enjoyed themselves.
We even got some snippets of info about the new album, the performed track 'History Of Modern (Part I)' is about the Big Bang Theory, Andy got Peter Saville to ask a scientific friend if the theory behind the track was correct, and on the answer, Andy said a little bit of 'artistic licence' has been used with the lyrics. A track called 'RFWK' is named after members of Kraftwerk, and the closing track on the album 'The Right Side?' is the longest track OMD have ever produced, coming in at over 8 minutes.
Many thanks to Andy McCluskey and Paul Humphreys from OMD for one of those 'once in a lifetime' opportunities, and also to Simon Hewitt and his team at VCF for all the organisation.
---
History Of Modern is released on September 20th 2010.
This article originally appeared on The Electricity Club.