Tour Stop #10 – SXSW Austin, Day 1 17th March 2011
Headed off early to catch something I highly doubt will happen again, so well worth the late night, early morning wake up call to get in and see! On my way to Austin for the SXSW festival I couldn't help but laugh – guess what truck I ended up behind for a bit… Stubbs Texas BBQ! That is the venue OMD will be playing at tomorrow. I thought "Heck, pitch the Google map directions and just follow him!" LOL ;o)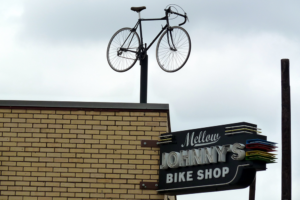 I had originally planned on getting to Mellow Johnny's Bike Shop, see OMD perform at 2:30pm, then quickly head to the hotel and check in before returning to see Bob Geldof at 7pm and ending with the 11:20pm set of Mr. M and Mr. H. That plan quickly flew out the window though when I got into the downtown area, found parking, headed to the bike shop and met two fellow OMD fans: Lily and Quinn. Quinn started giving me expertise local advice. From the sound of it, Sir Bob was out of the question if I wanted to be assured a spot for the OMD gig and tomorrow's show at Stubbs… Hmm, not sounding too promising as she told me to just forget it, I won't get in without a badge or wristband because Stubbs is THE place to go and at times even wristband holders get turned away! So I decided to stick around all day so as to get to the evening performance and worry about tomorrow at Stubbs later.
So… the bike shop. Well, that was exactly what it was – a bike shop! I arrived early, 12:20pm, so the first act (a bluesman who I can't remember the name of) hadn't quite started yet. There was a small area set up at the one end of the store (no stage, just the instruments) and about 100 people or so had milled down by it. This was being broadcast by a Seattle station, KEXP and soon a DJ went up to the mic and announced the first act. There were a few camera men and I also noticed a man with a large camera way up on a ladder at the back part of the crowd, didn't know it was being video taped but that was what it looked like… hmm, interesting.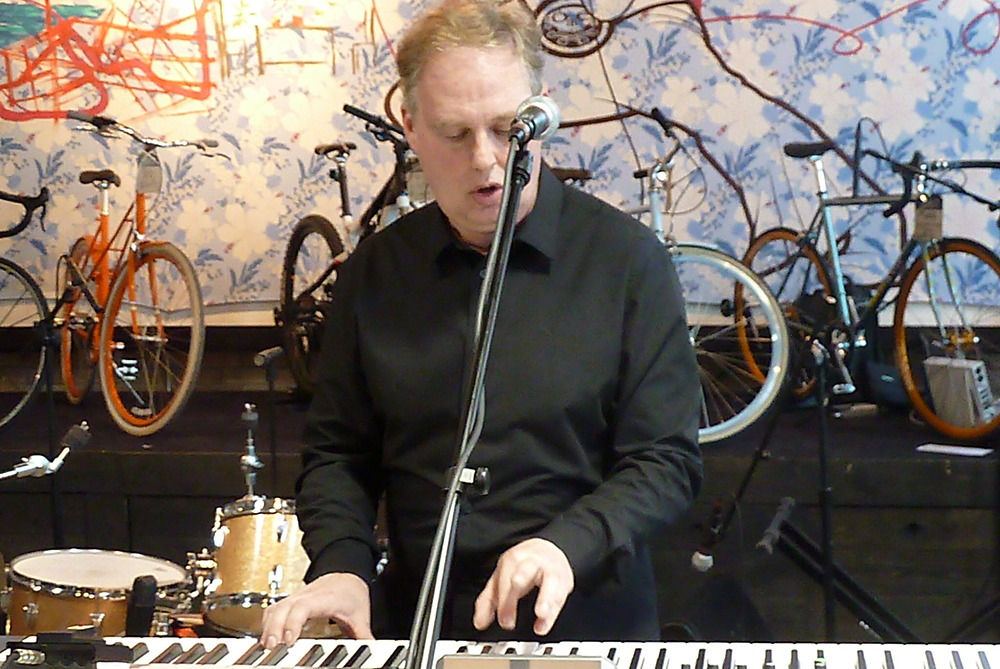 Well it was a long wait for OMD but I passed the time chatting with new friends, Quinn and Lily but also (ha, lots of "L's" to go around), Lisa and her husband Lee.. We watched as they got ready, first the crew and then eventually the guys. It was like getting into a short show AND sound check, all for free! Lisa teased Mr. M about all the bikes hanging on the side of the wall along with a huge picture of Lance Armstrong saying they should do Kraftwerk's 'Tour De France'. Sadly Mr. H didn't have that one programmed ;o)
Eventually they seemed ready but it was only 2:15pm so Mr. M said they would see us in about 15 minutes. Everyone was getting excited at this point! Both guys had already had autograph requests, now it was just time for the music. I heard someone call my name, turned around and found Kevin, a nice guy I had met in Houston standing a few rows behind me. Cool!
When they returned, the DJ got up and gave them a welcoming introduction, then LOL, Mr. M said "Right, OK – Orchestral Manoeuvres in a bike shop" HA! And then they were off (no pun intended). They started with 'Electricity' and the crowd began to move (at least some of us). It was just amazing to see them in such a small, intimate setting. My gosh, I had Mr. H RIGHT in front of me (could see him well between the girl and her dancing friend who were in front of me) and it was SO much fun watching his fingers float along the keys! I felt like I was getting in on a secret.
The next song saw Mr. M's bass (which I need to say I had wrong, "Old Faithful" always looked white to me but now in the normal daylight I realised it's more grey/silver… sorry OF) get put aside and it was time for 'History of Modern (Part I)'. A number of people joined in on the dancing and bouncing and it didn't really matter we were in a tiny area of a bike shop, the song was still great!
It was super hot in there (well in general, welcome to the south!) so Mr. M. took his sweater off to reveal a hilarious t-shirt that read No Job, No Money, No Car, But I'm in a Band… HAAAA!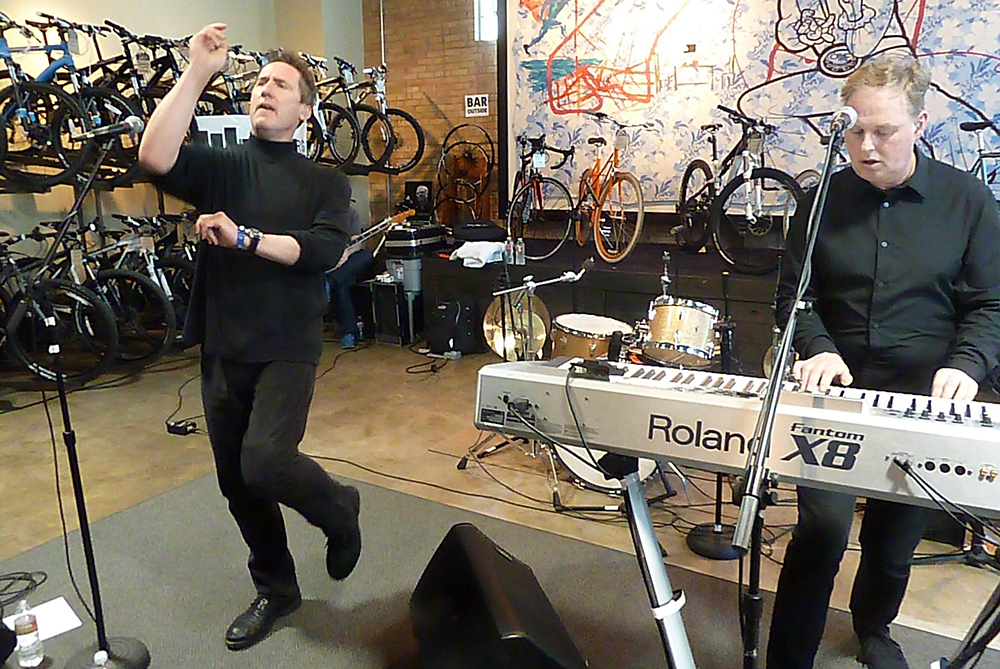 After that, they did the one song everyone would be expecting, 'If You Leave' and it was funny because Quinn's son and Lily's daughters were there… this was the ONE song they new and loved ;o) We got to see a version of 'Souvenir'. "'Souvenir' as done by Moby as done by OMD" and it definitely did sound different, slower for one thing but it was still wonderful to hear and glad Mr. H. did it! I should mention the sound was quite good for a set up like this. Mr. H's voice wasn't too soft and the balance of the instruments were great.
The crowd was really enjoying it and I think it safe to say we gave them a better response (and there were more people) than the bluesman (no disrespect to him of course!) Mr. M said "You guys aren't too bad a of a crowd… for a bike shop".
So this brought us up to 'Maid Of Orleans'. Yep, they did that one but Mr. M. said there would be no bad dancing for it… well there was no windmilling but LOL, Mr. M couldn't stay completely still so we still got a mild version, anyone who has seen them live must have recognised a few moves. LOL, I wonder how hard it was for him to stay more still. 'Sister Marie Says' followed and Mr. M once again asked us to join him and brought a bit of savour into the mix.
Since they only had 30 minutes, the set was 7 songs long. They decided to end with 'Enola Gay' but not before Mr. M said "Well, this is our last song we will be doing in a bike shop… hopefully" and when they were done, the DJ came up and said she was about to cry "OMG, what an amazing thing to see these guys do these songs in a setting like this". You said it sister!
So highlight of the day thus far… um, OMD in a bike shop! Need I say more? ;o)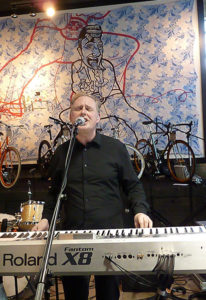 Ok, now onto the rest of the day…
I got to hang with Kevin for a few hours which was great fun! We ate (thanks for treating!) and tried to get in to see The Dears. I should probably explain SXSW since it is different from other festivals I have gone to. This is a fest that encompasses the whole downtown area. There are clubs, bars, shops etc that take part in bringing live music so once you are there, you have a choice of either paying major money for a badge, get a wristband (reasonable for a resident, not so much for out of towners), OR get to a venue early and take your chances on being let in with just cash. I have to say the concept doesn't please me, I would much rather be at a place where you are ensured ability to see a band, even if you are far away but hey, always good to try something new.
We weren't successful in getting into The Dears so tried The Pains of Being Pure at Heart and whoo hoo, not only did we get in but they were great! Liked every song they did (and LOL, they must be fans of OMD because when I went up to say good job and ask about CDs, both the keyboardist and lead singer saw my 'I heart OMD' necklace and were like "Ahh, yeah, love your necklace" and gave recognising thumbs up… I knew there was a reason I liked this band ;o)
By the time they were done, Kevin and I headed back towards Maggie Maes Rooftop (the venue hosting Mr. M and Mr. H for the night) and Kevin's parking spot (hope he didn't get towed, we were late due to the gig). We parted ways sadly and then I headed off to find the place… nowhere near the spot Google map said it would be. I can honestly say I haven't walked that much at a festival ever! And I definitely need to bring some Gatorade with me for tomorrow!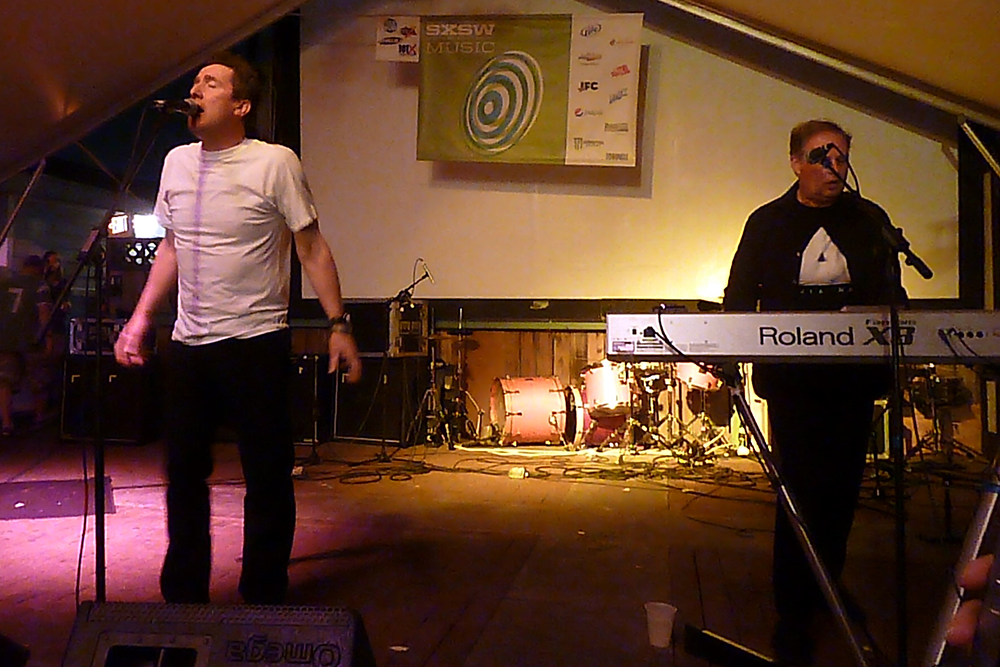 When I finally found it, no one seemed to know much about where to stand, when it would start etc. The info on SXSW said doors at 7pm and show at 8. There were 4 acts on before the guys. Since they took so long to finally open (7:45pm) I was a bit worried I wouldn't get in since by this time there were easily about 25 badgers along with 50-60 wrist band holders, all getting in before us "regulars" but happy to report I made it in! And managed to get a spot up close for the first act (and more centre front for the rest thanks to Lisa and Lee who had come in too).
Geographer was up first and they did a good job. 3 guys; drummer, keyboardist/singer and a guy playing something I can't name but stringed along with keys and a few misc things. Fun pop, dance stuff, a good choice to get the crowd going. The only downfall was that the PA started cutting out but they just kept going so what the heck.
The second band was my favourite of the night (well after OMD of course!). They were called Chain Gang of 1974 and LOL, the lead singer could challenge Mr. M to a dance contest ;o) Great fun though! Very high energy, catchy tunes though sadly they only played 25 minutes. Funny, near the end of their set, they said "OK, two more songs and then we will be done. We know you are all here to see OMD"… hmm, Lisa and I were up in front of them, her in retro black outfit and me with OMD shirt/necklace… how'd he know? ;o)
Next up was Jimmy Gnecco and the best I can think to describe him/them (as there were 5 other members to the band) would be alternative rock. Not bad really, just not as good as the first two. Unfortunately, the lead singer announced that since it had taken them so long to set up, they were being told to cut their set by 4 songs, that seems a bit much as they still did 5-6, no one had time set aside for 9-10 songs except the headliner but still.
By the time Lonely Forest came on, I was SO ready for OMD. Lisa and I both got bored with what we were hearing though in all fairness, it could have been partly due to we were anxious for Mr. M and Mr. H and also because this band was playing the longest… 40 minutes. They all looked really young and music wise I would say a mix between Dashboard Confession and Deathcab For Cutie. Again, not bad, just not my cup of tea.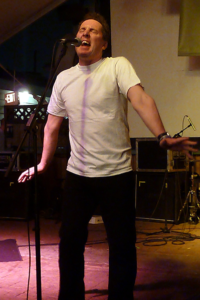 Finally they finished and the stage started switching over. But it was taking awhile to get it all up and more importantly, tuned and balanced properly. As minutes went by, we nervously looked at our watches because it was past the slotted 11:20 time slot. I can't say for sure but I think they went on about 15 minutes late and we got the impression that things still weren't right, confirmed by Mr. M. saying "I sure hope you're all drunk because I think this is going to sound like shit". Like in the bike shop, they began with 'Electricity'. It was quickly followed by 'History of Modern (Part I)'. I looked around to find a number of people dancing away. Much better reaction than the other bands had got and from our stand point, it sounded fine.
Of course they had to play 'If You Leave' and the crowd loved it! It was then time for 'Souvenir' and Mr. H made mention of Moby again, LOL, his version. It was after 'Souvenir' that Mr. M announced that they were being told they had to go, it was getting time to leave since they had run late getting set up/on stage (not due to the band itself) so he skipped 'Maid Of Orleans' and went straight to 'Sister Marie Says'… .good choice to engage the crowd. But then, with only one song left, Mr. M. made a comment along the lines of "We're doing it, you will have to pull the plug on us" and began 'Enola Gay'… for about 5 seconds. Then that is EXACTLY what the venue did… pulled the plug! I immediately thought of the Mermaid gig and figured if we made some noise they would put it back on but nope… First came booing, then Lisa and I started chanting "OMD… OMD… " but the rest took a bit more PO'd approach and started chanting "Bullshit!" I thought "Oh COME ON!". One single song… I mean really, how long is it going to take and how late do you think they'll actually be? Heck, us chanting and not shutting up isn't good either and takes time! But they didn't listen and poor Mr. M and Mr. H had to vacate the stage but not before Mr. H threw up the finger… oh my! (OK, not as angry as it sounds as he still had a slight bit of humour in his eyes)
So that was it. Lisa and I went over to the bathrooms (you had to actually walk on the side of the stage to get to them, sheesh!) and ended up speaking to their agent (who we had seen yelling at one of the SXSW guys and the BS word was coming out of his mouth too). He was emailing the organisers as we spoke as he too was royally ticked! SO not fair, ridiculously rude and IMHO, the venue shouldn't have booked as many bands as they did (there were two more after Mr. M and Mr. H) because they crammed them in with NO room for situations that can and often do come up. The change around time was unrealistic, the set times (with the exception of Lonely Trees, not sure why they got so much time) was too short… just do 4 or 5 bands and let them actually play!
But of course I don't run the thing so we all had to just deal with the venue's actions. I felt bad for the guys and disappointed for everyone involved, especially Lisa since this was her one chance to see them but hopefully they'll be back again soon. The Austin crowd wanted OMD, we just got an OMD teaser instead.
So one day down, one to go. The plan… meet up with Lisa and Lee for a 3pm gig at Stubbs, then queue early and hopefully get in to the evening performance which will be the full band, whoo hoo!
---
Photos by Lori Tarchala