Tour Stop #11 – SXSW Austin, Day 2 18th March 2011
So another day in Austin for SXSW but not before I tried desperately to get caught up on blogs. Hadn't been able to do Houston due to early departure to Mellow Johnny's yesterday and computer complications found me in the hotel room attempting to finish both that and SXSW day one (not successful) until it was time to leave. Ah well, for this case I don't think I was missing anything as the city itself was pretty much the fest right now so…
The plan was to meet up with newly made friends Lisa and Lee for a 3pm gig at Stubbs… until I got a call from Lisa saying it was a private affair, ooops! Ah well, they had found a nice grassy place in the shade and the sound was loud enough that we could hear it just fine so we danced our little hearts out in the "garden". It was Mr. M and Mr. H again and they began with 'Electricity' but afterwards we heard Mr. M say something that the crowd was too hip to dance. Well they launched into 'History of Modern (Part I)' next and my guess is that the crowd wasn't so "hip" after that!
It was basically the same set list that was done in the bike shop (and I'm assuming what was supposed to have been done last night had things gone right) but mixed up a bit. 'If You Leave' sounded fantastic, especially the ending where Mr. M holds the last "Don't let go", it was really powerful coming through the air. Through out the show we found things would sometimes bounce off the buildings, giving us an echo… LOL, two Mr. M's and Mr. H's. 'Sister Marie Says' was funny, Mr. M said something along the lines of "I'm not sure how much sinning you've done but this is your chance for redemption". That song has leant to some good laughs! Like mentioned, the running of the setlist was changed a bit in order to allow Moby to come on near the end and play the bass on 'Souvenir'. Wow, so cool and love the picture posted on the OMD forum, thanks for that! ;o) When it was over Mr. M (who I am not sure if he was playing too or if Moby played alone on that one) came back and mentioned how strange it was having more bass guitars on the stage than keyboards (very true!) and then they finished with 'Enola Gay', obviously having two basses on that one… major booming! Special indeed and though we didn't see it, it was still so fun experiencing!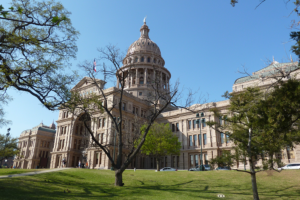 It was after this that I sadly parted ways with Lisa and Lee as they were heading to Lisa's sisters since we weren't sure if we would get in for the night show and it had been a long, hot day/night yesterday. I wandered around a bit, checked out the capital building (pretty) and then headed back to the venue. Since I had another girl at last nights gig tell me not to bother but a couple others saying if I got to Stubbs early I could be ok, I decided to not take any chances… doors were at 7pm so I got there at 5:30pm… first in line until they moved it, then fourth behind Ivan, Veronica and Havier, three young ones (early 20s) I hung with for a good portion of the night.
About 6:15pm one of the Stubbs workers came out and explained that at 7:30pm he would get info from the register as to how much the show was going to be and how many cash/single admittance tickets would be for sale. I asked him what it'd been like up to now and though he said it varies and he couldn't guarantee, the smallest number he mentioned was 100 so was thrilled as it looked like I would get in – all I needed was 4 spots…
It was super hot (darn, I didn't realiSe it would be this hot and humid so had hoped to run to a Target store in search of shorts but didn't have time… melting! Though kind of funny when I think that just 10 days ago I was "freezing my toosh off" in Canada!) but slowly as we waited the sun went down and by about 7pm we were all thankful for the reprieve from the heat. When they finally started taking our money and stamping our hands the four of us did high-fives as we were all SO happy to be getting in! (I should mention that most of the people around me were young and wanting to see an act I have never heard of… City and Colour but once I got in, found another guy named Kevin who was there to see Scala and OMD)
Stubbs is a BBQ place (LOL, Lisa said they had done some roadie stuff for a friend and that Stubbs' people are really good to the bands, set things up well, give them all the BBQ they want – I hope that was the case this time!) But the main stage was outside of the building off to one side. For a festival it was good sized and up pretty high so everyone could see. I went straight to the stage and was about 4 rows back for the first band – Walk the Moon from Cincinnati OH. I really liked them! They were fast, catchy pop music that had many of us bopping around. Short set time though, only about 20 minutes, bummer!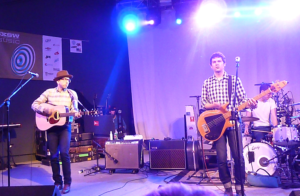 A girl in front of me left and I was able to get into second row with Veronica – cool! The Vaccines from London were next. I liked them too – Brit pop/rock but updated so it was great fun. Another short set and then it was time for City and Colour. He pulled a very young crowd, I let some kids in front of me since I literally had no idea who he was and no loss as to be honest, I didn't really like him. A bit too mellow for me, I like slow, melodic – just couldn't get into him. Not to mention that I was tired from a lot of short nights and recent heat/humidity so slow, mellow was NOT what I needed, LOL!
Since that was who Veronica and the guys wanted to see and they were hoping to catch Chromeo at another venue, they headed out but not before giving me the front row spot Veronica had managed to get part way through the last set – yippee!
Well that took us up to a band I was excited to see again. It had been about 3 years since I saw The Airborne Toxic Event so I was happy when they came on stage. They are a 5 piece from LA that offer a good punch. The first few songs they had with them 4 extra string players to make the songs more orchestral but the rest were straight rock with a violin and/or a keyboard thrown in for good measure and the lead guitarist, who happened to end up right in front of me, was easy on the eyes. I hadn't realised they had been touring the world (literally) for over 2 years until the singer mentioned it, along with the fact that tonight's show was the first they'd played in America "In a long time", huh.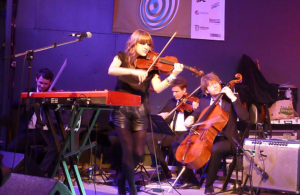 Well happy to say they got a longer amount of time to play, I would say 35-40 minutes but eventually they cleared off and made way for the final act before OMD. Kevin had given me a bit of a warning about them but I was still surprised when they came on stage. Scala and the Kolacny Brothers from Belgium… basically 22 (yes 22, I counted!) female choral singers walked on stage along with one brother being their leader and the other playing piano accompaniment. Wow, that is definitely not something I would think would lead into OMD… far cry from Oh Land! So what do I say about them… I could appreciate their talent, that's for sure and occasionally the song choice worked (like 'Ever Long' by Foo Fighters) but most were just strange. I'm sorry but Marilyn Manson should never be attempted by a choir IMHO! And if I thought I was tired before, shoot, I was about to fall over with these girls. Great voices, just a bizarre "setlist" and as the girl next to me said (one of only a few around me who weren't going crazy for the girls) "not at this time of night, it was making me tired. Maybe at 5pm or something but not now before OMD". Glad to know it wasn't just me.
So now the moment many of us were waiting for. I was SO looking forward to a full set and was surprised to think that it was only 2 days since the last show with all four members, it strangely seemed longer than that. The guys walked out at 1am sharp thank goodness and I thought OK, this is going to be good! Mr. M made a joke about them being too old to be playing at this time of night and then I saw two small things come flying at him. I originally assumed (as did one of the girls by me) they were ear plugs but I remember thinking "well that's strange. Why would someone throw ear plugs at him?" But right after I heard people cry out and I noticed something going on off to my left about 12 feet from me. I didn't know what it was at first, thought maybe a fight or someone passed out from the heat. I don't know if Mr. M or the band knew either at first but then he said something along the lines of should they start or wait for the lawyers. And then he asked if they should wait or just start. At this point Kevin informed us the camera that all night had been moving around over us to capture the band and the crowd (not sure for what but someone said it would probably end up on the net) had crashed down on the crowd! OMG, I was shocked and scared for the people as we all were – that thing was big and obviously heavy!
It was only a matter of a few more seconds and it became very apparent that this was serious. Mr. M asked for a doctor and also announced they would leave and come back when things were done and the band walked off while the camera people went crazy. They all jumped up on the bench like rails of the barrier and started snapping at the injured while we were being told to back up. I just couldn't believe it! I thought "Are you KIDDING me? Get in there and help!" Apparently one got into the crowd and actually took pics of the injured while they were on the ground before a police officer threw him out and confiscated the camera… unbelievable! Well a tall guy started reporting to us what was up – one girl on the ground, a couple guys (one I saw) holding their heads, one bleeding bad. I tried not to listen and kept looking at the ground, the stage (where I saw Mr. Hx2 and Mr. C coming in and out from the back to check on the status. They looked upset just like the rest of us) or the people around me. We were all freaked out because we knew it could have easily been us and kept saying we hoped everyone would be OK. Talks of the show being cancelled started and I thought "Oh God, the poor guys, yet another disaster for them" but under the circumstances, if it happened, it would make sense and I felt even worse for the hurt.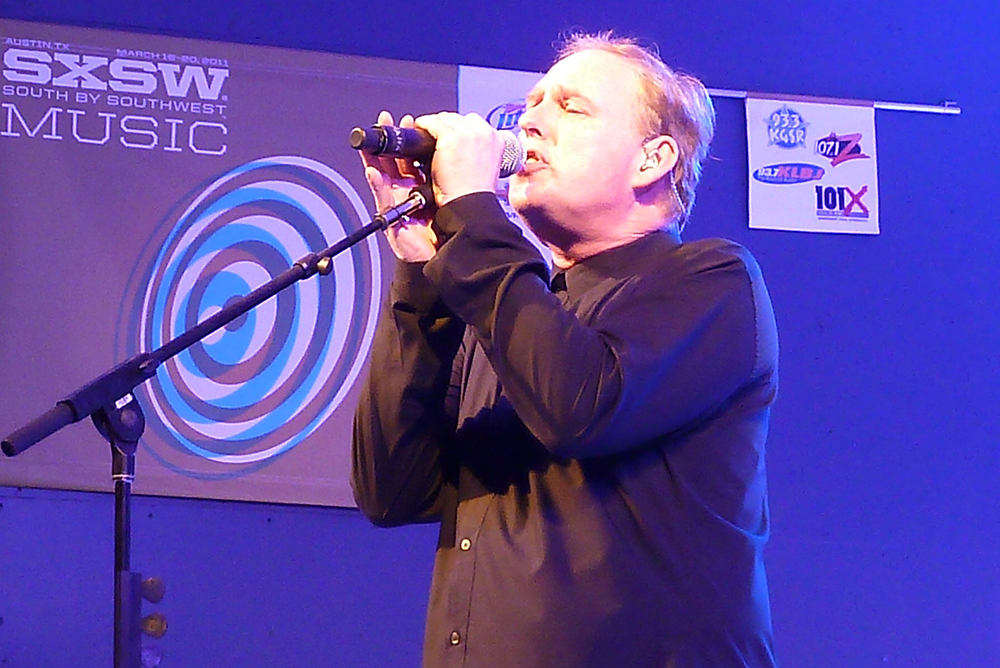 It seemed like forever but I am guessing maybe 10 minutes and we heard sirens, then cheering as the medics arrived. All this time, members of OMD's team were out and about, watching what was going on, then talking to officials and eventually we saw songs being crossed off the setlist. OK, at least there still WAS a set list. One by one people were carried out on stretchers (I was told 4 total) and shortly after, we saw more songs being crossed off the setlist. It was just very surreal. I couldn't help but think "What if it had been me"? I'm on my own here, it would have been scary as all heck to be going to a hospital out of state alone and I hoped the injured had someone with them. What a freak accident! Lots of talk about lawsuits and who would be at fault and it was then that one of the girls said that the screws popped so the equipment failed. I asked her how she knew and she said "Didn't you see the screws fly up on stage?". The girl next to me and I both said we thought they were ear plugs but the other girl thought they were screws. Would make sense – more so than someone throwing ear plugs but I don't really know.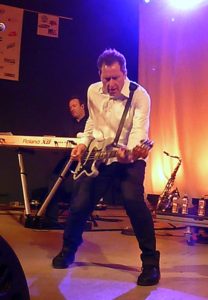 So eventually they allowed everyone back to their spots (best we could, things were a bit mixed up at that point) and out came the band. Geez, how do you follow THAT? Mr. M said "I hope you all understand why we had to leave, it was a medical emergency" and of course we did, there was no option! He then said everyone would be OK and were we ready, things like that and they eventually opened with Messages. Instinctively I began to bop but I stopped because it felt weird. Almost like disrespectful of what just happened. I know that probably sounds stupid but I spoke into the girl in front of me (at that point, she eventually ended up next and then behind me, don't ask me how) "I can't dance, it feels wrong" and she nodded in agreement. I think a lot of us felt that way and it made me sad for the guys. Made myself bounce a bit and then 'Tesla Girls' came on and that was a little easier. Figured it was over, there was nothing any of us could do and why have it ruin it for the guys who were putting on a show like any other so by the time 'History of Modern (Part I)' came on I began to really enjoy it with only a small part of me thinking about what just happened. The crowd around me, including the girls, seemed to be the same (at least from what I saw as the set was so short I only glanced around a little between pics and just trying to enjoy it) so though it was a slow start (not surprising under the circumstances but nothing against the band!) each song found more and more people dancing. I think 'If You Leave' got the best sing along to my ears and I was really happy for that!
Mr. H came out and did 'Souvenir', stumbled a bit on the introduction but sang the song wonderfully and it was starting to feel like another OMD show, with the exception that the running set was all off. Someone yelled "'Maid Of Orleans'!" and Mr. M said "Well we'll try and get to it but we are running on a very tight schedule" and that was also evident by his quick intros to the songs. 'Sister Marie Says' got us jumping though I saw Mr. M really yell gesturing for people to "Come on!" so maybe the back were dead, it was kind of funny, he was quite persistent.
They did 'Enola Gay' and I knew it was drawing to a close but that song was a good one to let loose and forget our worries and then Mr. M and Mr. H gestured to Baz – time for one more? 5 minutes? And Mr. M said "Seeing as how we literally had the plug pulled on us yesterday, this is our last one. We will finish the way we began 35 years ago" and they did 'Electricity'. When it was over, Mr. H seemed to be thinking they could maybe squeeze one more song in, made a gesture of 3 minutes but Mr. M gave him a look and shook his head as if to say "No, not again. Not going there" and instead he apologiSed for the short set, said they would hopefully come and do a proper full set next time and then they all waved goodbye and left the stage.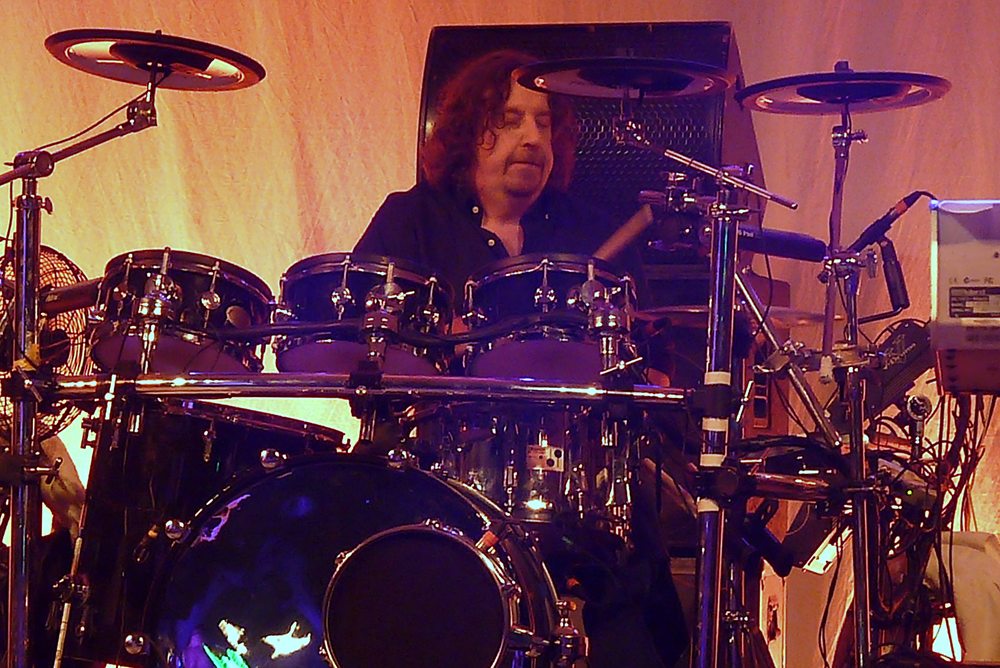 And that was it. SXSW was done for myself and also the band and it obviously didn't go as planned. The bike shop gig was phenomenal! What a special experience that will stay with me forever but paired with that were both disappointing evening gigs. I can't however feel too bad for the simple fact that it could have been worse. It could have been me or one of my new friends who got hurt and though the guys didn't get the appearances and show times they so deserved, the bits we got were great and were thoroughly enjoyed so all we can do now is look forward to a hopeful, UNEVENTFUL return.
So it is off to Dallas but not before I stop at a local strip mall for some summer clothes! Hmmm, maybe I should explain that to non-Americans reading this. A strip mall is an outside complex that has various clothes, jewelry etc stores that you walk outside to get from one to another vs. a regular mall. Not sure why we call it a "strip" mall, we just do, tee hee Then here's to Dallas and a fantastic show, I am sure we will get it!
---
Photos by Lori Tarchala