Tour Stop #1 – Toronto's Phoenix Club 5th March 2011
Hi all, as many of you may know, I'm doing the entire OMD tour… an adventure of a lifetime to say the least and I get to write about it! I should probably insert a disclaimer right now as many of you also know my story telling can get a bit long so consider yourselves warned though I promise to do my best not to be boring! ;o)
So this was the first night of the tour and the excitement was definitely high! I had my friend Sinead with me who hadn't known who OMD were until January… of um..this year! But she was totally game to go and also a great sport when I suggested we get there early to try and get close to the stage. We ended up getting there so darn early that they were just starting the soundcheck and the lady at the door opened it to let us in thinking we were a VIP or Gold ticket holder! Told her we weren't and had to stay outside but lucky for us, some guy who I have no idea his role re-opened the door so we could hear. 'Radio Waves'… OMG! That wasn't on the UK set list! I couldn't help myself, much to the amusement of the security lady, and started dancing. After came the familiar bombastic bass of 'New Babies: New Toys' and I had to hold back telling Sinead that was what they'd open with.
Well as it was set up, Gold tickets had to leave after sound check but VIP got to stay in and do the official meet and greet so soon we saw a ton of people, I'm guessing 40-ish come out and after a bit of confusion, the security lady informed everyone that VIP would get put in line first to go in, then Gold, then the rest of us. Most left thinking they'd come back and as Sinead and I stood around, gradually VIPers started exiting. I was on the look out for a fellow forumeer, Fleetwood who had said he'd hold us spots, not to mention set up the post gathering we were joining in at but LOL, he doesn't look like his old avatar picture so I ended up asking a few long haired guys if they were Fleetwood?… Brydon?… and one guy actually thought I was asking restaurant names, HA!
Well we had quite a long wait as it was only about 6pm and the doors weren't to open until 8pm but it was passed quite nicely by chatting with fellow fans. A nice German couple who were here combining USA vacation and OMD tour dates (seeing 9) along with a few locals, all VIPers. As it neared 8pm, the line had gotten pretty long (the show was sold out! Roughly 1,000 allowed) and tensions grew due to a bit of confusion on who got in first. A bit of shouting from fans and guards but eventually VIP were allowed in, then Gold, then Sinead and I since we were the first 'normal' ticket holders, tee hee!
The Phoenix is a smaller, intimate venue… since I've only seen OMD in one standing room venue I can't compare too much but think a huge, square like floor with a small balcony behind. We were able to get behind the camera guy who, after he left, had a big enough space to allow both Sinead and I up and whoo hoo, front row!!!
Oh Land was the opening act and will be with them for the entire tour. To be honest, I was a bit preoccupied trying to send a text that actually went to another forum friend in hopes of finding them, so the first few songs I didn't get to hear well but the crowd was getting into it and they had an element of electronic for sure… just not as good as Villa Nah or Mirrors (but those are two great bands so…). I promise to report on them more from tomorrows show!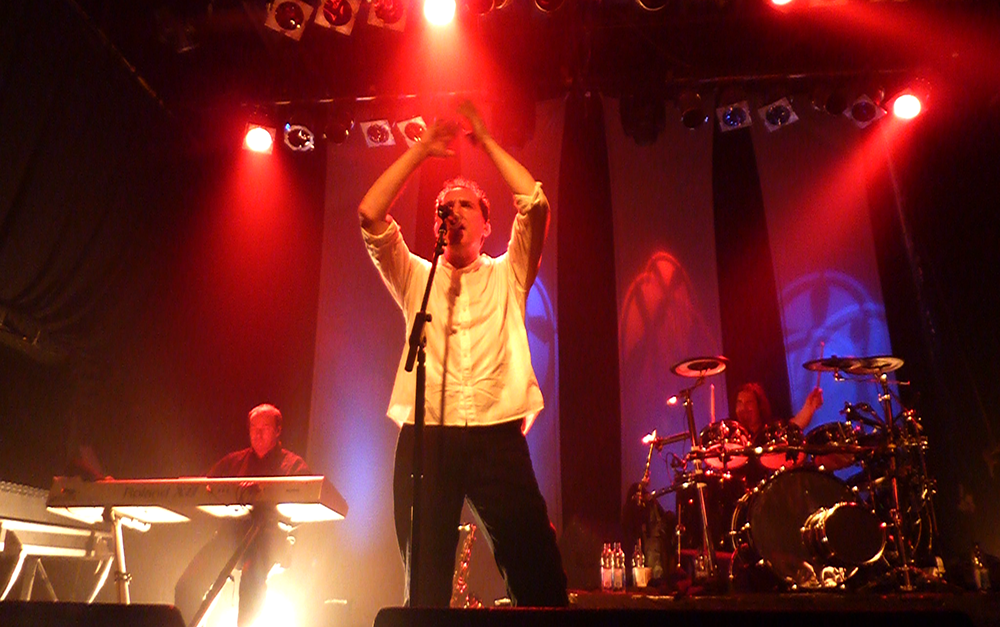 But it wasn't until the lights went down and we all knew what was going to happen next (well to an extent) that things got great. TONS of cheers rang out as one by one, each member came out… first Mr C., then Mr H. #2, then Mr H. and finally Mr M. (hmm, should probably explain as I don't call them by name… Mr C. is Martin, Mr H.#2 is Mal, Mr H. is Paul and Mr M. is Andy) Having been lucky enough to see the gigs overseas last year, I couldn't help but look for the graphics of faces when 'History of Modern (Part III & IV)' came on but sadly, they weren't there. But honestly, what was missing from a visual stand point was well made up by the atmosphere, vibe and energy both from the crowd and the band so no loss!
'New Babies: New Toys' kickstarted the show off and it was met by a thunderous crowd reaction! We were SO happy to have the boys back on our soil! 'Messages' came next and it sounded as wonderful as always. 'Radio Waves' was done in place of 'Bunker Soldiers' and was introduced as a song for the diehard fans off of Dazzle Ships… music to the ears! 'History of Modern (Part I)' was the first of the true bouncing songs and I had warned Sinead there'd be a number, so was happy to see that it wasn't just her that joined me, though as the show progressed more and more joined it. The guys really seemed to be enjoying themselves and truly amazed at the crowds reaction. I remember thinking "Wow, if they're like this now, I can't wait to see and hear them after 'Maid Of Orleans'!"
Mr H. seemed to have a blast doing '(Forever) Live And Die' and 'Souvenir' and by the time 'Joan Of Arc' came on, everything jumped up a notch. That song paired, with 'Maid Of Orleans', is such a show favourite that one can't fully comprehend its power until viewed in person. This is why I didn't pass the video on to Sinead, I wanted her to see it live first and she was in awe! Strobe lights made Mr M's windmilling (the name given to describe his personal dance style and moves, especially during this song) even more intensity and, as expected, the crowd ate it up! As Sinead marveled after the show was over "He's so light on his feet, I don't know how he does it!"
I should probably mention that with all the dancing, many of us, including Mr M. of course, were starting to melt. I can honestly say I've NEVER been as hot and wet as tonight! Note to self, bring something to pull hair back tomorrow (though LOL, my hair is shorter than it was for last years shows… this was just a super heated gig!)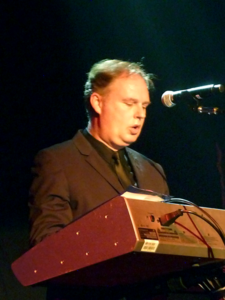 One of the funniest moments of the show came with 'Sister Marie Says'. Mr M. announced "I'm an atheist but this song is about God" and continued to invite us to join his congregation: "Come with me my brothers and sisters" HA!!!! And as if that wasn't enough, an "Alleluia" was let out near the end… too funny!
When it came time for 'Enola Gay', the sign of the inevitable ending of the main set, it was clear to see that the crowd was ready to let lose and heads were bopping! After, as the band stood to take their bows and wave, the reaction was one that could rival any of the gigs I saw last year overseas and it continued with the chatting of OMD, OMD, OMD until they returned for their encore. "Do you want to hear 3 more songs?" I immediately thought, THREE more songs? The encore for last year was only two… yippee!
'Walking On The Milky Way' was the first and as he did during last years shows, Mr M. changed the words to fit appropriately: "But just very occasionally you can recreate your youth". That's it exactly! 'Dreaming', an addition to this set list, was next and I couldn't help but get all giddy thinking I was finally getting to see this song live! This lead us to 'Electricity', the song they always end with. Unfortunately something went wrong with Mr H.#2's drums and we watched while one of the crew tried to fix it and cries of "Now we get two songs" came out. Mr M. told Mal if it didn't get fixed soon they'd owe us another song and if it took too long, it'd be 3 more songs… TAKE YOUR TIME STAGE GUY! But things got resolved rather quickly (bummer) and it was sad to think it was close to over but wonderful to know that things went the way they did. When the guys said their final goodbyes, promises were made to come back and I can guarantee everyone in the club is going to try and hold them to it!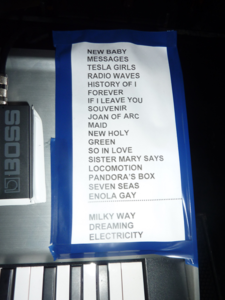 The lights came on and it was all over but looking around, I didn't see one unhappy or indifferent face, everyone was still reeling! Many came rushing to the stage in hopes of getting a set list but unfortunately they were told none were being given out as the band needed them for tomorrows show. Lucky for me though, I had seen one of the crew men when Sinead and I were out side early so I nicely asked him if he'd take a picture of it for this blog and bless his heart, he did! (though he refused to do it again for the guy next to me who asked… guess what I'll be passing on after this ;o)
So there ya go… first gig's rundown. Sorry to be so long winded but lots to say. One final comment… highlight of the night: Sinead reaching out and getting her hand slapped by Mr M.! I almost fell over! Not like her really, I SO didn't see that coming but as she said later when I expressed my shock "hey, I saw an opportunity so I took it". Alrighty then!
So, 1 down, 16 more to go… Montreal here I come!
---
Photos by Lori Tarchala