Tour Stop #15, Amoeba Music In-Store Performance, Los Angeles 24th March 2011
Well I probably shouldn't admit this for fear I won't be allowed into The Music Box show tomorrow, but I ended up getting as excited to see the host of this event as much as the guys. I couldn't believe it but out walked none other than Richard Blade to do the introductions¸ OMG! I should explain why I got so excited¸ Richard Blade is one of two people who turned me onto OMD (with the other being by complete and utter accident) so to see him live, in LA, introducing the band that, thanks in part to him, have been my favourite for 24 years was beyond surreal. I freaked out, cheered and grabbed my camera to snap away (I swear I got a smile and look from him that said "Um, thanks but I'm just the DJ/host, OMD will be out in a minute", tee hee!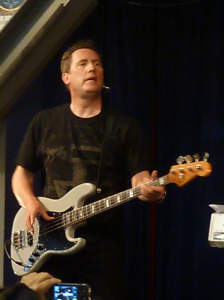 So after mentioning that his station was trying to get OMD back together awhile ago for the VH1 bands reunited show only to have it fall through and giving them huge credit for being a ground breaking and influential band of the 80s, he welcomed them out and Mr. M and Mr. H took their places. Mr. M announced they hadn't had a soundcheck so for about a minute, they ran through part of 'History of Modern (Part I)', then Mr. M teased us that that was it, thanks for coming. Um, no, you're not getting away that easy!
The setlist was the same as in Mellow Johnny's Bike Shop and it was wonderful to see the guys having a ton of fun, this time with band posters surrounding them instead of bikes. 'Electricity' got a good cheer and then 'History of Modern (Part I)' found Mr. M requesting us to bounce, some of us obeying. If You Leave was next and it just felt right for them to be back here after all these years. The camera people were catching all this for their live feed and Mr. M had fun getting his face in their lens.
Next it was Mr. H's turn and he let us all know that the reason 'Souvenir' sounded a bit different was because it was Moby's remix. But then it was time for 'Maid Of Orleans'. Though still a much more tame version than what you would see in a full show, there were a few hints of the windmill for us. Mr. M joked that we were to all waltz, hmmm, that didn't happen. The 'Sister Marie Says' comments were back and as good as ever. Mr. M said he was here to save us, then laughed saying he was doing a lot of things, waltz, save… all with the help of his "trusty assistant", pointing to Mr. H And to add on to his voting request of a few days ago, he promised to lower taxes… too funny!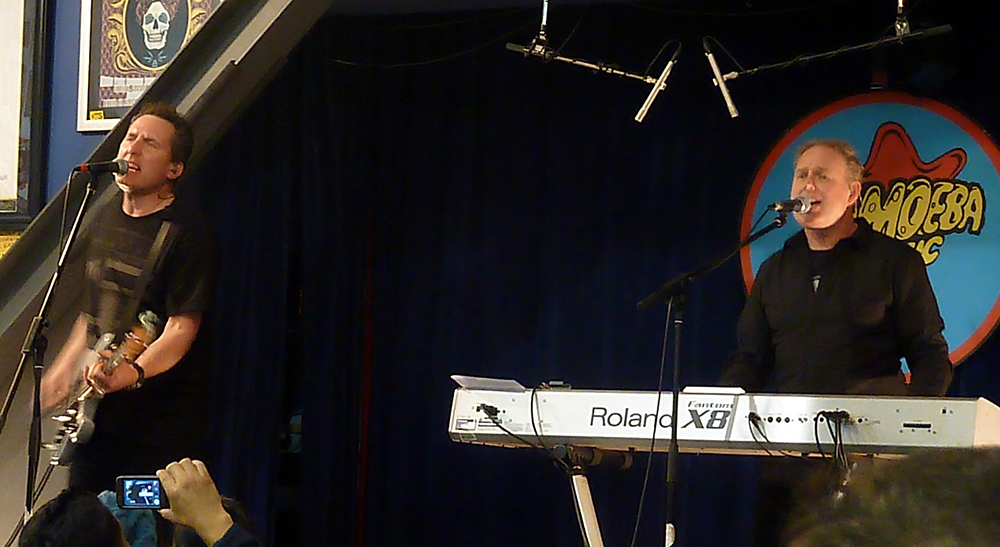 The show ended with 'Enola Gay' and the whole thing seemed to be quite a fun event for both the guys and all of us there. I've gotta say, I feel really lucky to be able to see the guys in such small and unique quarters, it must be like what the German fans experienced with the store shows and signings.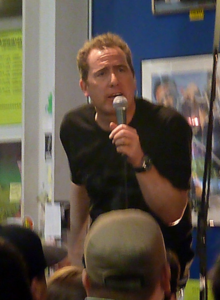 And speaking of signings, after the show we were allowed to line up and get one item signed but the funny thing was (well funny for me) you had to buy their new CD before you could line up. When I arrived for the event, my goal was just to say "Hi" afterwards, not get an autograph because I already have multiple copies of History Of Modern so when talking to Missy, I misunderstood and thought that as long as we bought SOMETHING in the store, we could get in line, especially since she was going to have them sign the 12″ single of 'History of Modern (Part I)'. LOL, I searched the album section and found a copy of Pacific Age and an extended version of 'Never Turn Away'¸ my Pacific Age vinyl at home doesn't play well and the Never Turn Away single would be fun to have so I happily bought them and got ready to have 'Never Turn Away' signed… but that was when I was told that no, you have to buy the new CD to get in the line. OK, what am I going to do with yet another copy of that CD? Well I wasn't going to miss out on saying "Hi" so off I went again to buy History Of Modern though to be honest, am thinking of returning it for credit to buy more vinyl, they had a few interesting singles!
Things went smoothly with the exception of a few fans disobeying the NO CAMERAS order… wow, they were so strict that two fans were thrown out and security wouldn't even let Missy hold her 12″ single and poster taken from the wall! She was only going to have the 12″ signed and was holding the sign because it was large so she had no where to put it but the guard insisted she get rid of it or give it to her for personnel to hold it, my goodness! (Missy ended up just rolling it up so that there was no way for her to get 2 items signed, sheesh!)
Walked out with my 'Never Turn Away' 12″ extended signed and a wall poster advertising the event for myself also – success! Oh, AND I got to see Richard Blade¸ whoo hoo!
---
Photos by Lori Tarchala