How can this be true…
After a year of a live performance schedule that resembled a scene from Mad Max, the news that OMD were to perform live once again came as something of a shock. In fact, the You Me & OMD performance had originally been scheduled to take place back in October 2020 (an ambitious venture in the midst of the Covid-19 pandemic to be fair).
The concept for the concert had been part of an initiative to raise funds for OMD's back stage crew, stricken by the Covid crisis and unable to actually earn money while gigs were affected by the lockdown. Tickets had been issued across a four-tier system, which included a limited number of places at London's O2 venue itself (albeit in a socially-distanced form), livestream access, livestream access with presale access for OMD's next tour, plus the option of livestream access complete with Zoom facilities so you could be part of a remote audience.
2021 marks the 40th Anniversary of OMD's classic 1981 album Architecture & Morality, an occasion that ties in with the band's plans for live performances later this year. Not that this isn't the first time that OMD have revisited their iconic album, with the notable reformation tour back in 2007 featuring the performance of Architecture & Morality in its entirety.
However, for this special performance, the setlist features a mix of selections which are mainly pulled from OMD's extensive catalogue of hits, plus some choice A&M cuts.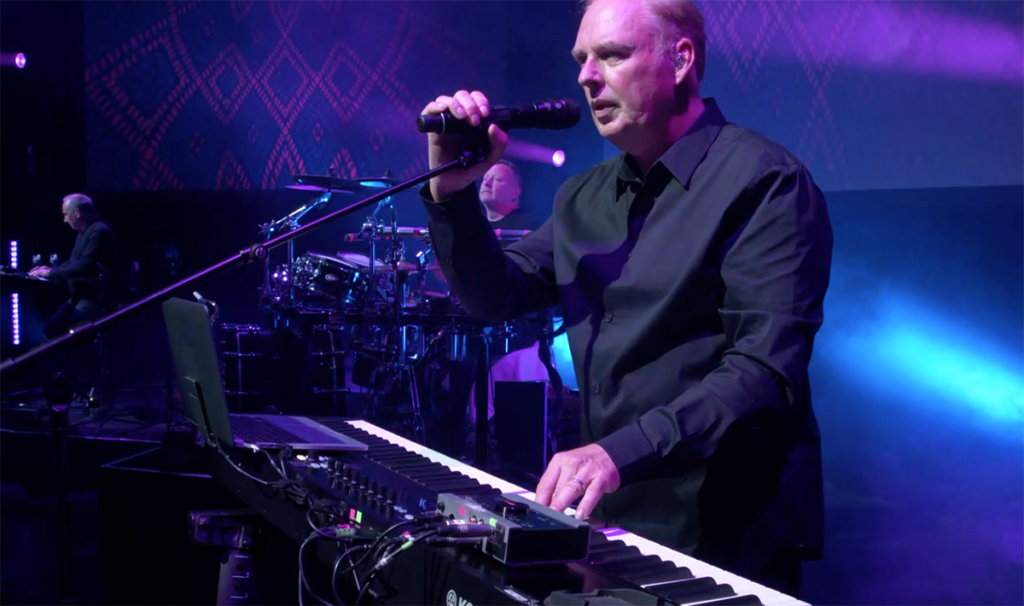 The livestream concept has become something of a lifeline for a lot of performing artists. Denied the possibility of playing before audiences, bands have had to become creative in their striving to keep the performance muscles in practice (while also connecting with their audiences). Many of these performances are at risk of technical failure, relying on the vagaries of modern technology to keep the illusion of a concert in the air. Luckily, OMD's performance for this particular night proceeds flawlessly (give or take some minor flubs by the band themselves during the performance – forgivable under the circumstances!).
On that basis, it probably shouldn't come as a surprise that before the band file out on stage, we're entreated to the title track from Architecture & Morality itself. Stark imagery of steel girders and ironwork structures fill the three screens enfolding the stage. It's a suitably brooding combination which embraces perhaps a mood of uncertainty and seriousness given a year of life being thrown into chaos.
If there's an austere sense left by that segment, its blown away by the emergence of the band themselves as they swiftly launch into a fierce 'Messages'. Andy McCluskey forcefully commands everyone up on their feet as OMD's blistering electropop powerhouse works its magic. Its yearning coda of "Coded messages/Poison letters" still delivering an impact over 40 years later.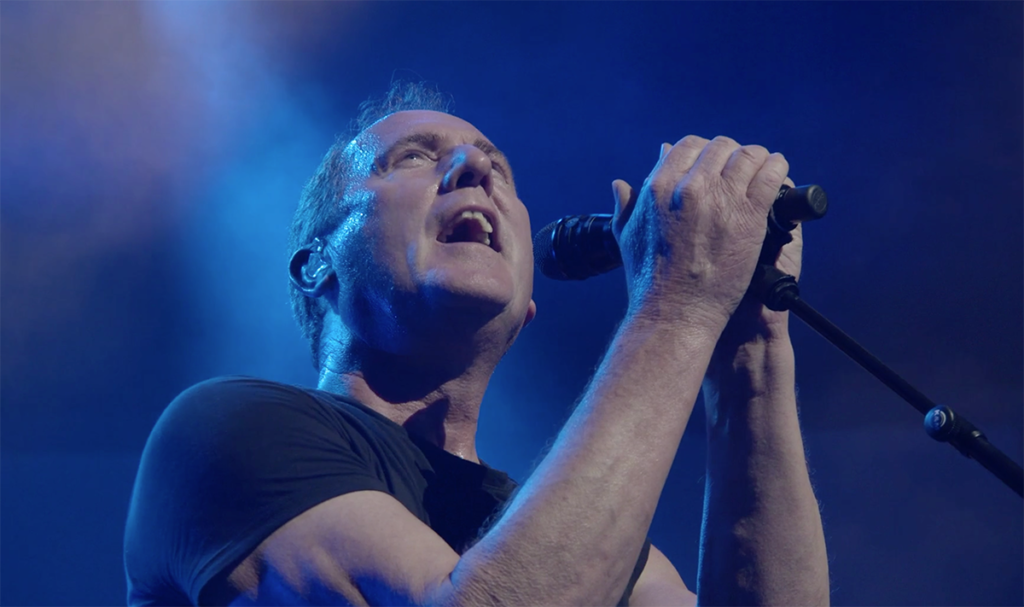 "You can't sit down for another 90 minutes" quips Andy as the final bars of the song come to an end. With little respite, it's then straight into the driving pop of 'Tesla Girls', which does a superb job in getting the socially-distanced audience bopping away. Meanwhile, the screens intermittently show the global audience joining in (many sporting suitably OMD-themed get-ups to boost the atmosphere).
'History of Modern (Part I)' is dedicated to US fan Lori Tarchala who "Invented the dance for this one" according to Andy. The song's thumping, percussive power brings that particular triptych of bangers to a close.
With a shoutout to 100%'s Ed McDonald ("Thanks for getting the noisiest bastards here tonight…"), Andy swiftly brings everyone's attention to the (sort of) theme of the moment. "Did I mention Architecture & Morality?" That serves as an intro to a welcome 'Georgia' which, as ever, takes on a much more visceral form in its life incarnation. Lines such as "Well here we are again" also take on a fresh significance during this performance.
'(Forever) Live And Die' allows Andy and Paul Humphreys to switch places ("You come over here and be sexy and I go over there and fuck up the keyboards…"). The lush Pacific Age-era tune clearly causes some female OMD fans' hearts to flutter, with that more wistful approach filtering into a bassy 'She's Leaving' ("Stuart's favourite song" comments Andy).
The Architecture & Morality theme is given centre stage with four excellent choices in succession: a heartfelt 'Souvenir', a frenetic 'Joan Of Arc' (featuring some intense percussion from Mr Kershaw), the obligatory 'Maid Of Orleans' and a stately 'Sealand'. Much of these songs are performed with the special films crafted by the late Hambi Haralambous. Andy pays tribute to the talented video artist at the close of 'Sealand', noting that Hambi's daughter (who appears in the film) was 6 at the time – she's now 22!
That brief moment of reflection is then switched up for an emotionally-charged 'Don't Go', OMD's last single release given a surprisingly moving vocal performance. "Ok, we're rolling again…" comments Andy before launching into a boisterous 'So In Love' – complete with live brass fills from Martin Cooper.
The angular percussion of 'Sailing On The Seven Seas' is preceded by Andy musing on how many of the Zoom audience are indulging in "sex on the sofa" (apparently none, sadly). Finally, the widescreen synth-pop classic 'Enola Gay' brings things to a close, with Andy also giving a shout-out to everyone taking part in the vaccine initiative (as well as throwing out his thanks to the NHS).
Naturally, things aren't quite over yet with a 3-song encore that includes 'If You Leave' and 'Electricity' – two classic OMD songs from very different eras. People puzzled by the switch-up of 'Electricity' in the set-list were rewarded with an old era OMD closer in the form of 'The Romance Of The Telescope'. As a composition, it remains one of OMD's smartest and most effective songs, even if it's in direct contrast to the band's more showy synth-pop bangers.
The final conclusions as the concert ends are fairly concise: OMD continue to be a powerful live act with a loyal and enthusiastic audience; even a year of lockdown can't dampen the band's energy and the success of this particular initiative should go some way to assisting OMD's road crew. Roll on future gigs.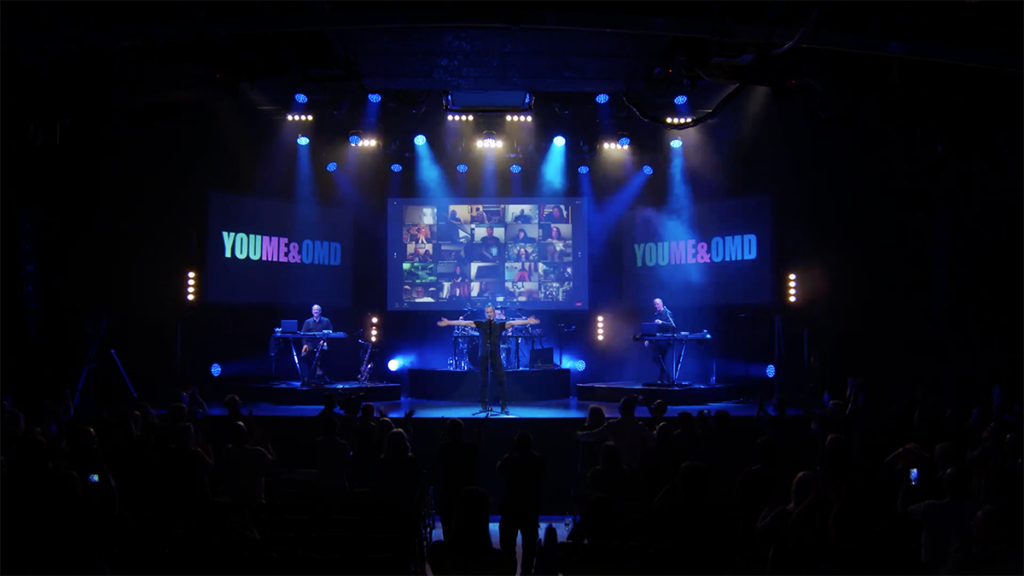 ---
There is also a variety of YOU ME & OMD merchandise available, all in aid of the crew:
https://store.omd.uk.com/collections/you-me-omd