Like time was standing still…
Straddling the gap between OMD's Crush and The Pacific Age albums, OMD's phenomenally successful single 'If You Leave' was a bit of an oddity. It embraced the smoother, more organic (and certainly more US-friendly) style of those two albums, but existed without a parent album. Instead, it emerged as a standalone single in 1986 on the back of its inclusion in the film Pretty In Pink, where it served as the soundtrack to that film's grand finale.
OMD's fortunes had wavered in their post-Architecture & Morality years. Shifting their sound to a more commercial approach following the negative reception to 1983's Dazzle Ships had brought them some hits, although their sound was evolving to a point that was markedly removed from their classic electronic approach.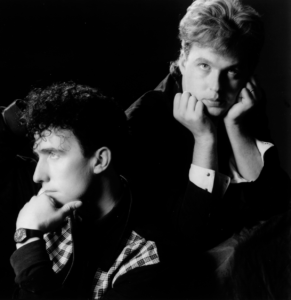 Their 1985 album Crush had adopted a smoother, more organic style, which had a polarising effect on both critics and the public. None of the singles from Crush had made the UK top twenty charts and Crush itself failed to achieve Gold status (the first OMD album up to that point to do so).
Arguably, some of OMD's woes during this period could be attributed to the fact that they weren't invited to take part in Live Aid – the biggest music event of 1985. While the music project was designed to both raise funds and awareness of the famine in Ethiopia, it also unsurprisingly boosted the profiles of the bands that took part – giving them increased record sales as a result.
Instead, OMD found themselves crossing the Atlantic for a US tour in the summer of 1985. With their musical style shifting to a much more US-friendly direction, their new US label A&M were happy to help the band finally break America (their previous efforts had won them a cult college radio audience, but America was clearly not ready for the smart synth-pop that OMD were offering in the early 1980s).
OMD's US attack was given a much broader profile this time around with the band playing larger venues. They had to adopt a support role for 'super group' Power Station, but it allowed the band the opportunity to crack an elusive market, so were happy to take second place.
---
In turn, the band's profile was also helped by the fact that the video for 'So In Love' was getting exposure via MTV. Once the Power Station tour had ended, OMD continued on with a short headlining tour of their own to capitalise on their growing US profile. They took a break from touring to do some promotional work in Europe as well as returning to the UK to work on potential new material – including a new song titled 'Goddess Of Love'.
Earlier in 1985, Andy and Paul had met with film director John Hughes who was then working on his latest film Pretty In Pink (read the Wavegirl essay on the film's legacy). Hughes was carving out a profile for angsty teen films that seemed to resonate with audiences, particularly with the phenomenal success of The Breakfast Club, released in February that year. That film had also done wonders for Simple Minds via 'Don't You (Forget About Me)' which featured as the film's signature song.
John Hughes had already been an OMD fan before he met the band and was very keen for them to pen a song for his new film. Not surprisingly, 'Goddess Of Love' has a brash pop vibe to it (and utilises a lot of Americanisms in its lyrical content), which slotted in perfectly with the style that Hughes and the film's director Howard Deutch was aiming for.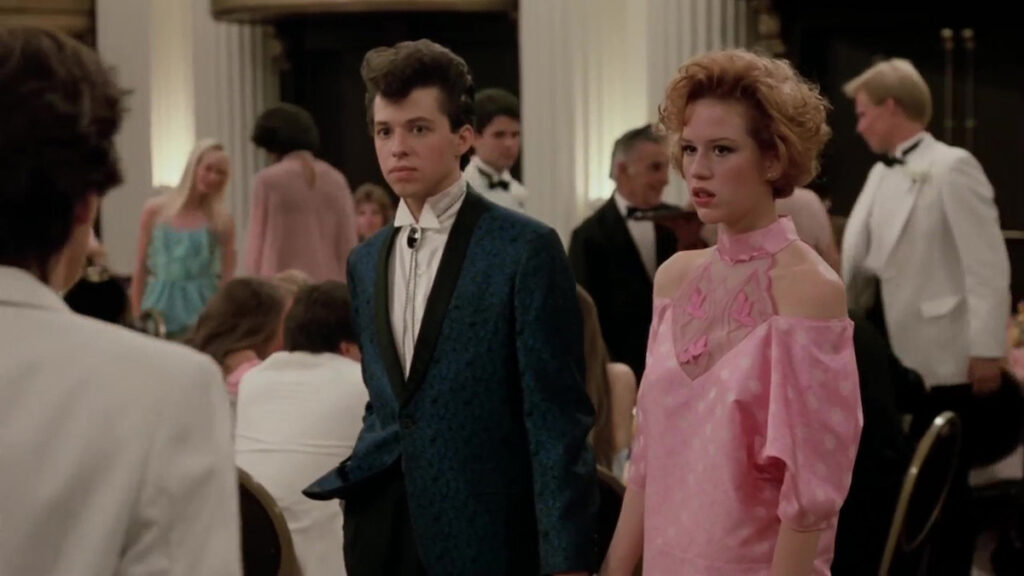 Unfortunately, test audiences didn't really agree with the Pretty In Pink's original ending in which Molly Ringwald's character Andie walks off into the sunset with Jon Cryer's Duckie. As a result, the film was re-edited to suit a new storyline. On that basis, 'Goddess Of Love' suddenly didn't fit the new ending, which put Paul and Andy into a crisis over what to do.
They opted to write and record a new song for the film and, as a result, found themselves in a small private cinema in LA to watch a rough cut of the new edit of the film. It's interesting to note that at this stage, the film's prom scene finale had the cast dancing to 'Don't You (Forget About Me)', which gave OMD a template of sorts to adapt to on the basis that the song had to be 120bpm. Andy and Paul then whisked themselves off to Larabee Studios in Los Angeles with engineer Tom Lord Alge and the rest of the band. Lord Alge had previously worked with OMD on the 12" mix of 'La Femme Accident', so they were already on familiar terms.
The band only had three days to produce the song as they were due to resume touring. That produced a challenge as they were still in the process of writing the new song! "We began at 5pm" recalled Paul Humphreys in the 1987 biography Messages, "and just thrashed ideas around all night. It must have been 4am before we got something that sounded promising."
The rough song, now titled 'If You Leave', was played to John Hughes and Howard Deutch, who both loved the song, leading the band returning to the studio with Lord Age to record the finished track.
While all this was going on, the success of 'So In Love' had transformed OMD's fortunes with sales of Crush reaching 200,000 – a four-fold increase in what their albums usually shifted in America. Determined to continue to take advantage of this uplift in their US profile, OMD also elected to support The Thompson Twins on their US tour. Andy and Paul were still working on 'If You Leave' when time would allow, regularly jetting off to Los Angeles after concerts.
The use of 'If You Leave' in the finished film is testimony to OMD's ability to lean-in to the themes and style of Pretty In Pink as an angsty teen drama. It's heartfelt rhythms and judicious use of sax (care of the talents of Mr Martin Cooper) combine with a bittersweet lyrical narrative.
That said, there's a witty moment earlier in the film when Andie and Duckie are driving in her car. Duckie is zipping through the music on the car's stereo and there's a brief snippet of 'If You Leave', which prompts Duckie to quip "I hate this song!". Perhaps the irony of that comment (aside from the fact that it foreshadows the end of the film) is that in the final edit of the film, 'If You Leave' appears to be playing for over 8-minutes in length!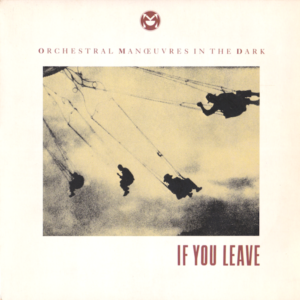 When the song was released as a single in the UK, it also sported an understated sleeve design care of Caz Hildebrand. The soft focus shot of people on swings lends the design an evocative charm, while the sleeve also boasted OMD's new logo concept – a cleverly executed typographic design that suggested a nod to Peter Saville's Factory roots.
The release of the single in the UK didn't quite hit the heights that the band were hoping for however. The press were unforgiving in their criticism of the song, with Sounds describing it as "An insipid, suffocating and spirit-sapping ditty" while the NME summed it up as "Standard OMD, slower this time, but the usual ups-and-down the scale melody and breathy singing. Stop making rotten records!" Smash Hits described it as "false and contrived", yet reserved praise for B-side track '88 Second in Greensboro' (see separate Messages article) as "OMD at their blazing best."
As a result, 'If You Leave' failed to make a deep impression on the UK charts, limping in to No. 48. In part, this was also likely due to releasing the single before Pretty In Pink had hit UK cinemas.
By contrast, the song proved to be a huge success for the band stateside and it's largely considered their signature tune by American audiences. 'If You Leave' managed a very respectable No. 4 in the Billboard charts stateside. It also stayed in the top 40 for thirteen weeks. Time Out later ranked it the 10th greatest track of 1980s cinema.
'If You Leave' also occupies a respectable position on Pretty In Pink's soundtrack album, a much-praised release that also encapsulates the eclectic sounds that the 1980s produced. OMD share billing not only with The Psychedelic Furs' titular song, but also the likes of New Order, Echo & The Bunnymen and The Smiths (see The Electricity Club feature on Pretty In Pink's music).
The album featured in Rolling Stone magazine's The 25 Greatest Soundtracks of All Time listings and is still considered a great music compilation album some 35 years after its release.
'If You Leave' has since become a mainstay of OMD's live set – and it's a testimony to the song's longevity that it also featured in a broadcast advert for Verizon Wireless in the 21st Century. The impact of the song was also weaved into the plot of popular American sitcom Modern Family.
OMD's mid-1980s catalogue is definitely a bit of a Marmite thing for many OMD fans, but 'If You Leave' is arguably one of the band's highlights from that particular period.
---
Pretty In Pink celebrates its 35th Anniversary today. Read more about the film:
The Electricity Club: Pretty In Pink: An Eclectic Soundtrack
Wavegirl: Pretty In Pink:35th Anniversary