A Red Car And A Green Car…
It must have been a strange time to be unfolding into a world of music during the 1970's when your influences were not being dictated by the guitar bands of the late 60s and 70s, but instead by the German movement heralded by the likes of Kraftwerk, Neu! and La Dusseldorf.
It was into this world that Andy McCluskey and Paul Humphreys emerged, initially in early outfits such as The Id, but devoting increasingly more time to their experimental work as VCLXI – essentially the prototype Orchestral Manoeuvres In The Dark
Their debut gig at Eric's Club in 1978 – and the subsequent release of 'Electricity' – changed everything. OMD moved forward as a pop engine through a mighty catalogue of electropop classics: 'Messages', 'Enola Gay', 'Souvenir', 'Maid Of Orleans' and beyond.
But at their heart they remained an experimental band who had originally been offended by Tony Wilson's suggestion that they had potential as a commercially successful band. It was the craft of the B-Side that continued much of OMD's experimental outlet, of which many are widely regarded as some of OMD's finest moments.
It was with 'Almost' that OMD began contemplating the idea of balancing the conventional A-Side material with something more challenging – or that at least offered a contrasting counterpoint.
The Teardrop Explodes had been one of the other Eric's Club scene bands well on their way to becoming household names at the time. The Teardrops are probably best known for 'Reward', but the band had a knack for crafting unusually sophisticated songs that would grow into a unique Baroque English pop sensibility.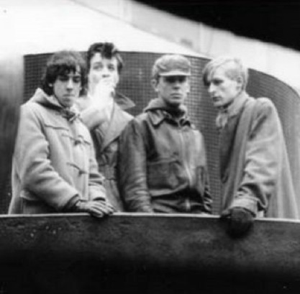 One of their early songs was 'Camera Camera' which had a very rhythmic hypnotic element to it complemented by lead singer Julian Cope's intoned vocals. It's probably appropriate to mention at this stage that 'Camera Camera' would later feature as a B-Side track itself to the Teardrop Explodes debut 'Sleeping Gas', so there is a certain symmetrical beauty at play here.
The Teardrops had made their live debut in November 1978 and it was at their second-only gig at Eric's Club later that month on the 23rd November that they found themselves performing alongside OMD.
It was during this gig that Andy McCluskey had been struck by 'Camera Camera' – particularly a line from the lyrics: "A red car and a green car and I snap them with my camera camera".
During rehearsals later that week, Andy and Paul had begun playing around with the melody from 'Camera Camera' – and then began to improvise on it. Meanwhile, Andy began constructing lyrics for the new song. "You don't deliberately sit down and write a specific song about unrequited love where your girl lives too far away and you want to see her" recalled Andy in the 1987 biography Messages, "You just write "I'll travel oh so far to be where you are" – yeah that's a good line – and away you go! You get one line in your head and then whatever vision that gives you.. but the 'car' reference and the idea of traveling came to me from 'Camera Camera'".
The position of 'Almost' as a classic OMD song is the fact that it gets everything right: it's very simple, yet delivers an emotional payload in its effective construction. While other contemporary synthpop bands would have opted for a much more brighter, more electronic melodic line, OMD decided on the subdued charm of the Korg Micropreset – a choice that crafts a melancholic slice of electropop that is counterbalanced perfectly by the yearning vocals and also by the evocative bassline and subtle washes of white noise.
But 'Almost' had been very different in its original incarnation. The evolution of the song would require the timely intervention of the legendary Martin Hannett.
In a bid to raise the profile of the band – and to attract record label interest -Andy and Paul had sent out cassette tapes with both 'Electricity' and 'Almost' on it. This in turn drew them to the attention of Tony Wilson and Factory Records.
Wilson offered them the possibility of a single, but insisted that they re-record the songs to produce cleaner, more commercial versions of the tracks. He arranged for the pair to visit Cargo Studios in Rochdale and meet producer Martin Hannett.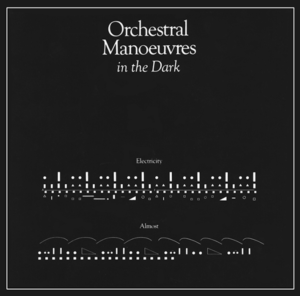 Hannett usually had his own vision of what a song should sound like – even if it ran contrary to what the band wanted. Hannett also had his own style of working which could be somewhat disconcerting (he allegedly went to sleep under the mixing desk during the OMD session).
The magic element that Hannett added to 'Almost' was space. The original song proudly boasted the 'garage synth' sound that summed up the early, classic OMD. This was especially true in the lead melody delivered by the Korg Micropreset with a simple reed-like tune backed up with organ chords.
Hannett isolated the melody and added echo effects that gave the tune a haunted, isolated feel. Meanwhile, the organ chords were shoved down much lower in the mix. It's this bleak, spaced out production that lends 'Almost' its unique charm, despite the fact that the band weren't convinced at the time and thought that Hannett's production had stripped both 'Almost' and 'Electricity' of its rawness and energy.
This led in turn to the compromise for the Factory release of 'Electricity' in which the band's version of 'Electricity' featured on the A-Side, while Hannett's take on 'Almost' featured on the B-Side (Hannett had the last laugh though as his version of 'Electricity' was later released when OMD signed to DinDisc). OMD's original version of 'Almost' lay hidden for over 20 years and only became available in 2001 with the release of the OMD B-Sides compilation Navigation.
'Almost' remains a classic OMD song beloved by both the fans and also the band (who regularly soundchecked with the song for many of their post-reformation gigs). As the counterpoint to 'Electricity' it remains as OMD's most familiar and cherished B-Side track.
---

---