A vision fading fast…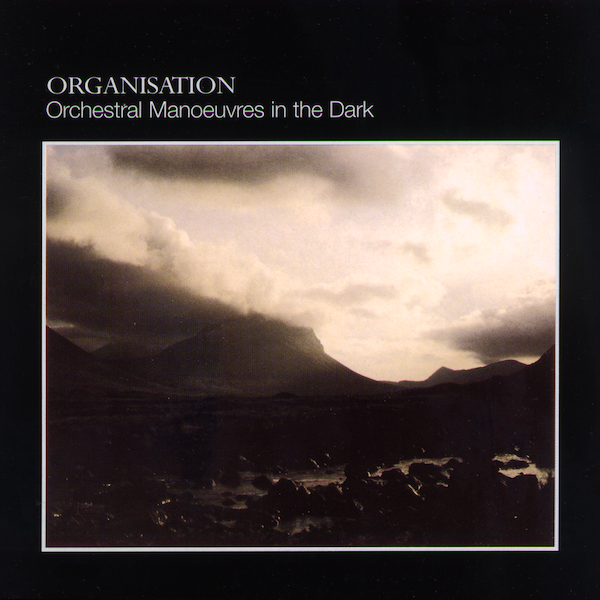 Today marks the 40th Anniversary of Organisation, OMD's second album release and also the album that showed the band taking a more serious step into music as a business – as well as changing some significant aspects in their sound.
Although OMD had only released their eponymous debut album earlier that year, Organisation saw the band rounding out 1980 with a heavier, more brooding collection of songs.
Organisation saw a dramatic change of gear from OMITD's 'garage punk' aesthetic, the band's looser approach having been tidied up by producer Mike Howlett to produce a more professional, polished sound. At the same time, the album embraces a more gothic aspect with darker melancholic tones and soundscapes. That change of direction owes some of its inspiration, in part, to Joy Division's second album Closer – an album that OMD designer Peter Saville had played constantly and which had subsequently seeped into the writing of OMD's second album.
"Organisation was, for me, a transitional album" commented Paul Humphreys on OMD's second album outing, "It was a record which reflected Andy and myself coming to terms with the fact that at the age of 20, and having spent all of our teen years wondering what kind of a career we were heading towards, all of a sudden we were 'professional' musicians!"
"Also, after the previous album OMITD had featured pretty much all of the best songs we had ever written to that date, we were all of a sudden confronted with a blank page and something new called a DEADLINE! Which at first was a very scary prospect. Fortunately for us, Andy had written a song called 'Enola Gay' [during] the making of the first album but it wasn't ready in time to include on OMITD! We at least knew that we had a potential first single from the outset which I think helped calm the nerves!"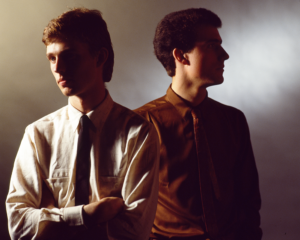 "'Enola Gay' had been written around about the time of the first album, but we played it on tour" adds Andy McCluskey, "There are other songs that had been written earlier: Obviously 'The Misunderstanding', which was an old Id song, and 'Motion and Heart'. 'Motion and Heart' was actually written the same week as 'Enola Gay'."
Organisation also marked some changes to the way OMD produced music, with the decision to record at an outside studio – and to also use the talents of an outside producer for an album in the form of Mike Howlett. Howlett, formerly a member of Gong, had previously worked his magic on 'Messages' (transforming the raw electro-trash of the original into a hit single).
OMD had embarked on a tour to promote their debut album in the early months of 1980, which helped to solidify their reputation as a live act. Prior to the summer, the band had flown to America in an attempt to break the lucrative US market. This wasn't an easy period with the tour being under-financed and synth-pop being very much a niche genre across the Atlantic. In fact, the tour was so poorly funded, that Paul and Andy often had to rely on the generosity of the locals to find a bed for the night. As a result, Paul ended up sleeping on the floor of Maureen Udin, a ballet dancer then working with the American Ballet Theatre School. Romance blossomed swiftly and when Paul returned to the UK, he convinced Maureen to join him.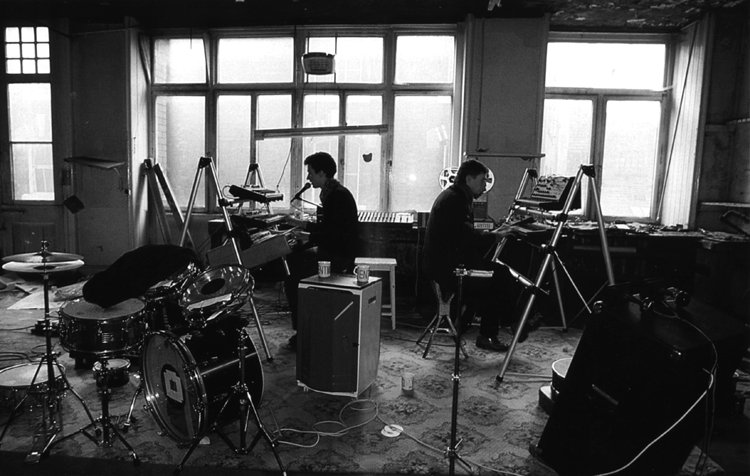 On OMD's return to the UK in the early summer months, they went through a creative spurt of productivity. The album's initial genesis had begun at the duo's own studio, the Gramophone Suite, which was nestled in the heart of Liverpool. Here, the pair recorded ten backing tracks, which included nine new songs. That led to their label DinDisc suggesting that they aim for releasing the next album for Christmas the same year.
The tenth song was a cover version, which tended to be a standard thing for many bands to dabble in, but that OMD rarely did (the obvious exception being their take on the Velvet Underground classic 'Waiting For The Man' which had been a mainstay of early OMD gigs (a recorded version appeared on the 10″ release of 'Messages' earlier that year). But the cover version featured on Organisation came purely by chance. Without any lyrics for one of the fledgling new songs, Andy instead began singing the lyrics to the Chris Montez 60s classic 'The More I See You' over the top of it. It wasn't meant to be a serious attempt at a cover version and the fact that the breezy pop of the Montez version was transformed into a dark, percussive number showed a rare glimpse of OMD's humour.
Meanwhile, with Paul and Maureen spending more time together, it meant that Andy found himself on his own at the Gramophone Suite more often. During those solo sessions, he composed the foundations for five new songs (including '2nd Thought' and 'Statues'), while Paul would later add his own particular flourishes to some of the other tracks.
Paul also composed 'Promise', which marked the first time that he took on solo vocal duties for an OMD song. "'Promise' was kind of an experiment to see what would happen if I wrote a song without Andy for the first time" recalled Paul, "Also I had been singing back up vocals on the OMITD album and in live performance so we thought perhaps it would be interesting to have a song with me on lead that would also serve to add another dimension and variation to our sound". Despite Organisation drawing from a darker palette, 'Promise' is a brighter, wistful pop song whose lyrics were clearly inspired by Paul's thoughts of Maureen ("I shan't forget I feel this way/And all the time you can dance until we meet again").
Having laid down the initial foundation tracks, the band relocated to Ridge Farm, a 24-track studio in Surrey, to record vocals and overdubs with Mike Howlett. But it wasn't all work, with some amusing stories emerging from the sessions, as Mal Holmes recalls: "I probably wanted to let my hair down a little bit. I remember we used to have parties. I think I nearly blew up the bloody computer on the mixing desk by throwing milk at Paul's wife! I didn't realise there was £200,000 worth of computer next to it!"
Andy and Paul were also keenly aware that DinDisc would require commercial material that could compete with the success that 'Messages' had achieved. Although 'Enola Gay' was the obvious contender, there were still struggles to get the song to sound right. So they decided to record yet another version of 'Electricity' as a result. The new version actually boasts a different middle-eight from previous recordings and is totally unique. The track was featured on the DinDisc compilation album DinDisc 1980 – an album that helped promote DinDisc's growing stable of artists which also included Martha And The Muffins.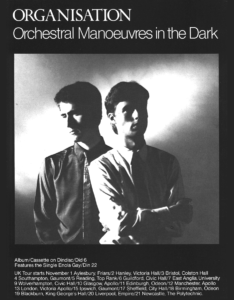 One of the oldest tracks recorded for the album was 'The Misunderstanding', which had originally been composed by Andy and Paul during their pre-OMD years and was utilised during live performances by The Id, the band that preceded OMD. The raw Eno-inspired number was given an overhaul in its Organisation guise. Here, the song opens with unsettling tonal shifts that have an almost physical presence. Meanwhile, the composition as a whole has a disconcerting, almost paranoid atmosphere enhanced by the random, seemingly incoherent synth foundation.
That uncertainty is reflected in the cryptic lyrical content ("Well we know where the true one lies/ And you can't say it's our imagination") where Andy's use of random words and phrases manage to take on multiple meanings, depending on how the listener interprets them. It's a vital element of many classic OMD compositions, which often played against the standard 'boy meets girl' lyrics that filled the pop songs of the charts.
'VCL XI' takes its name from one of Andy and Paul's early experimental outings. The title for that partnership actually comes from a number on a valve that features on the reverse of the sleeve for Kraftwerk's album Radio-Activity. Here, Andy and Paul revert back to the raw electronic approach that seems more typical of the first album. The indistinct lyrics drift in and out against a layered collage of effects, again giving this composition a cryptic aspect.
'Motion And Heart' sees OMD adopt a swing beat for a song that has a certain charm, but which also seems slightly out of place on Organisation's heavier direction. 'Motion And Heart' was briefly considered as a possible second single and the band subsequently recorded a new version at Amazon Studios, Liverpool. This version later featured on the B-side of 'Souvenir'.
Organisation also marked the debut of 'Stanlow' which is today regarded as the first of OMD's 'tone poem' pieces. Inspired by an idea that there could be an emotional aspect to an oil refinery (Stanlow is actually the name of a refinery located on the Wirral peninsula at Ellesmere Port), the grand sweep of the finished song has produced not just a classic OMD song, but a classic electronic composition in itself. The haunting intro is actually one of the diesel pumps at Stanlow recorded by Andy himself. Despite the bizarre concept of a love song for a refinery, there's no doubting the romantic weight of lines such as "A vision fading fast/A million hearts to one."
In fact, Stanlow as a location also carried an emotional weight for the band members. Andy's father and sister both worked there, plus the striking sight of the refinery lit up at night marked a familiar and welcome sight to the band when coming home from tours.
One of Organisation's finest moments is undoubtedly 'Statues', a track mostly composed using OMD's other reliable instrument, the Elgam organ. Here, OMD take their melancholia and dial it up to ten not only due to the haunting melody, but also the lyrical content, which was partially about Joy Division's Ian Curtis, who died in May 1980. OMD had played with Joy Division at early concerts and the Manchester band's own darker approach had a profound effect during the recording of Organisation.
At the same time, 'Statues' embraces other aspects that are essential components of classic OMD songs: a warm, human quality that touches the heart as much as it touches the head. That warmth carries over into compositions such as '2nd Thought' where lyrics such as "And all the order in our lives/Left some time ago" are clearly reflections on OMD's journey ever deeper into the machinery of the music business. In fact, the album's title is itself commentary on the fact that the band were having to become more organised and more disciplined now that this was less an experimental one-off and actually a career in itself.
Part of that restructuring was cleaning up OMD's visual style. Previously, Andy and Paul had been unconcerned about how they dressed, adopting the idea that the music should speak for itself. But it was designer Peter Saville who suggested that the pair should smarten themselves up, which led to the use of suits and ties for promo photos – and in turn for the band during the Organisation tour. That 'bank clerk' look defined OMD and reinforced the idea that they were purveyors of intelligent pop – it was also a visual style that OMD fans eagerly copied.
The band spent four weeks at Ridge Farm before relocating to Advision studios for mixing duties, chiefly on 'Enola Gay' (see previous Messages feature) which was an easy selection for the album's single of choice. But the process of honing the demo track into the finished song was a difficult one, not helped by a crisis of confidence by Andy himself.
'Enola Gay' had originally been composed on the trusty Korg Micro-Preset while the bass accompaniment of the song is supplied by a Roland SHO9. In its original incarnation, 'Enola Gay' had lacked the distinctive drum machine rhythms that give the song its unique identity. In fact, the drum elements, culled from a Roland CR-78 drum machine, were the last parts to be added to the song.
Early versions of 'Enola Gay' featured a slightly different drum machine intro along with a more laid back vocal from Andy. At the time, the band were confident enough in the new song to introduce it into their live performances. In April, OMD had also recorded a version of 'Enola Gay' for John Peel's show based on this arrangement.
Under pressure from DinDisc to produce a single, the band struggled to get 'Enola Gay' across the finish line. Even when they had committed to a satisfactory take which was zipped over to the pressing stage, Andy changed his mind and ordered the pressings to be scrapped. Taking time to reassess things, Mike Howlett managed to get a new, much improved vocal from Andy by encouraging him to just relax and sing along to the speakers. In fact, the final recorded version of 'Enola Gay' was actually assembled from a composition of the various vocal takes from both the Ridge Farm and Advision sessions.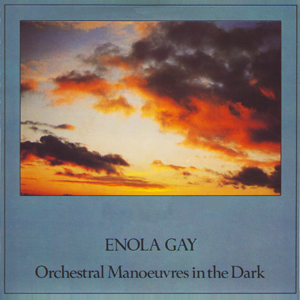 While the single choice was obvious, they still required a B-side track to accompany it. 'Annex' (see previous Messages article) offered up a throwback to OMD's earliest experiments during their post-Id and pre-OMD incarnation as VCLXI. "It was completely made up on the spot" recalls Andy, "I think that we started with the pulsing keyboard sound that comes in on the record at 42 seconds. That gave us the tempo. You can clearly hear that the timing of everything else is rather shaky trying to follow the synth. We then found a synthesised marimba sound and randomly played notes across the top, followed by the tuned wind noises".
"The strangely eerie vocals at the end are me singing falsetto notes heavily effected by an Eventide Harmonizer effect to create weird chords".
Despite Andy's concerns over the song, 'Enola Gay' surprised everyone when it was released in September 1980 and reached no. 8 in the UK charts. Although OMD had made an impression on the public with the success of 'Messages' in May the same year, something about 'Enola Gay' struck a much stronger resonance in the record-buying public. The single also took the No. 1 spot in France, Italy, Spain and Portugal and sold more than 5 million copies worldwide. Even today, the song remains popular in many of these countries.
Organisation's release in October 1980 drew some polarising reviews in the press. "With their second album, OMD have produced not so much a collection of songs as a pervading mood, a feeling of restfulness spiked by an unsettling edge that never allows the music to descend into complacency" suggested Lynden Barber in Melody Maker.
Mark Ellen went in for a more critical assessment for Smash Hits: "If only this twosome would cease clinging to the idea of being a serious 'experimental' band and go all out for the shameless synth-pop single, then at least we'd be spared these mindless re-treads of a rather limiting format."
But the overwhelming consensus was a thumbs up and the public agreed. Organisation took OMD to No. 6 in the album charts (eclipsing their debut album's chart performance).
Initial copies of the album also included a free 7" EP which included four very early OMD compositions, many of which embraced Andy and Paul's initial love of utilising recordings from radio and TV and which were recorded directly onto their trusty reel-to-reel tape recorder 'Winston' during a live performance in Manchester. The tracks all have a certain charm, but it's the magnificent 'Distance Fades Between Us' which stands out – a triumph of melody and arrangement which manages to induce a form of euphoric ambience.
Meanwhile, Organisation's sleeve concept saw Peter Saville move away from the technical precision that had graced OMD's first album design. Instead, he opted for a moody landscape shot (showing Marsco on the Isle of Skye ) that reflected the darker material on the album itself, set off with a serif typeface that lent the album a classicist feel. Saville often used imagery pulled from photo libraries that struck his fancy (the choice of a street cafe scene gave the 1981 single 'Souvenir' the right ambience for instance).
The album underwent a reissue back in 2003, which prompted Andy and Paul to reassess Organisation in OMD's catalogue. "It's a very strong album" commented Andy at the time, "and I think again in hindsight now that you can listen to it sandwiched between OMITD and Architecture & Morality, you can quite clearly see it as the intermediate album, it's a steppingstone: It gets bigger, it gets darker, it gets more gothic. You can clearly see it as a move between the first and the third album."
"The most wonderful thing I find with all music" adds Paul " is that you attach time and events of your life to specific songs in that when you hear them you are instantly transported to a specific place in time. When I hear Organisation, I'm instantly transported back to a time of transition for both myself and Andy when I think it finally sunk in. Wow!, a career in music!! Who would have thought!!"
---