A tough year…
2020 hasn't exactly been a good year with the advent of the Covid-19 crisis, live gigs effectively being written off and the OMD community suffering some tragic losses.
But it's also the year that's marked some special anniversaries, including the 40th Anniversaries of OMD's albums OMITD and Organisation as well as anniversaries for iconic singles 'Enola Gay' and 'Maid Of Orleans'.
Hopefully this article will serve as a reminder of the importance of music during darker times. Here's the Messages review of 2020…
---
January marked the anniversary of OMD's iconic single 'Maid of Orleans'. As a song, it was actually the first composition that had been inspired by Saint Joan, but had been shelved during the early sessions for the Architecture & Morality album. In a special Messages feature, we looked at the story behind the song which, on its release, managed to reach the top 5 of the UK singles chart – and smashed it internationally. It topped the charts in several countries, including Germany, where it was the biggest-selling single of 1982. It also reached No. 5 in Ireland and No. 7 in New Zealand.

January also saw a few more OMD anniversaries, which included 1988'S 'Dreaming' and also Atomic Kitten's 'Whole Again', which was released in 2001.
Meanwhile, OMD were enjoying tour dates across Europe which included a headline slot at the W Festival in Belgium and also included the band's first live performance in Estonia.
The band were also delighted to have won Group Of The Year and Live Act Of The Year in the Classic Pop Magazine reader awards.
February saw more anniversaries for OMD releases, including 'Red Frame/White Light' and 'Genetic Engineering'. Meanwhile, Messages marked the 40th anniversary of OMD's eponymous debut album with a special feature: Orchestral Manoeuvres In The Dark : Strange Directions.
The start of February saw a special benefit concert organised by the Friends of 6323003, the group set up to look after the iconic 'Red Frame/White Light' telephone box. As a result, acclaimed OMD tribute band Manoeuvres put on a sterling live show with able support from Weimar and Imogen Bebb. With a raffle also set up with stacks of rare OMD memorabilia, the event eventually raised £1,600 towards the phonebox upkeep.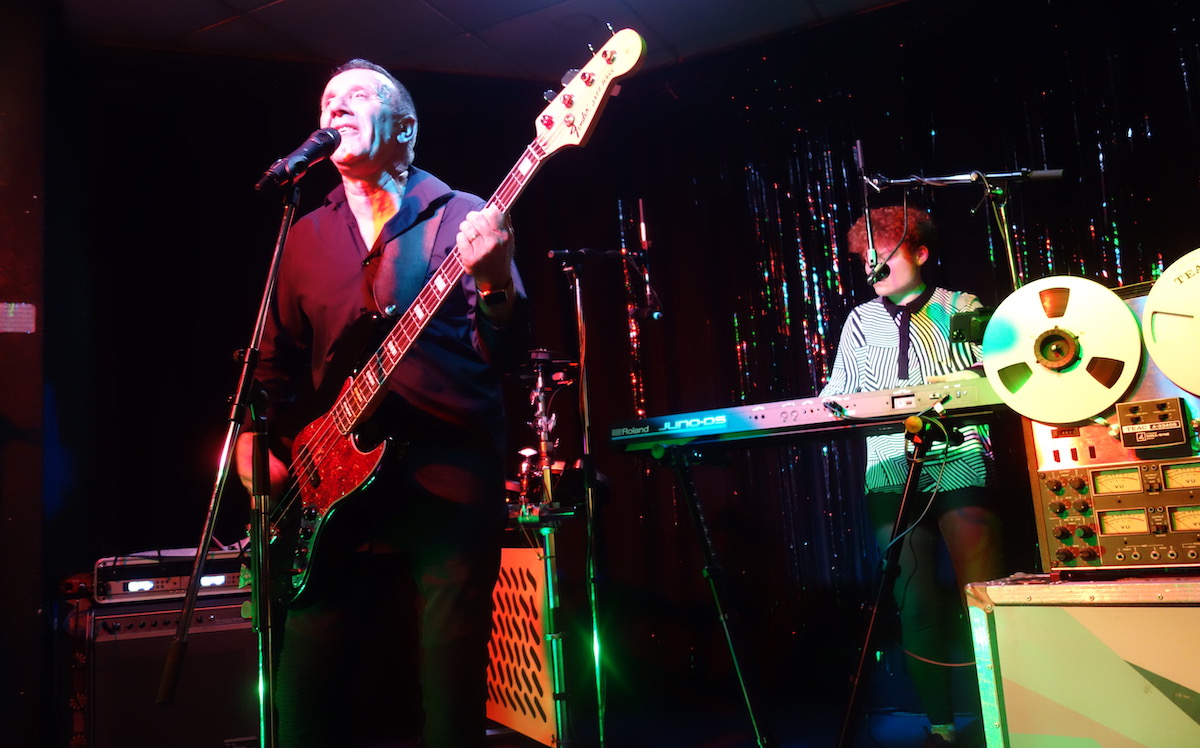 Paul Humphreys turned 60 this month and it was also Happy birthday to Julia Kneale, the co-writer of 'Julia's Song' and author of the book Moods, Memories and Other Manoeuvres.
OMD also announced their first gig on the Wirral since 1979. Andy and Paul planned to play a two-man show at Near Future, the new pop-up 350-capacity venue in Birkenhead. Scheduled as the first ever show at the venue, the duo were keen to capture the spirit of the band's early Wirral gigs, so the setlist would feature seven songs from the band's debut album. Tickets for the venue sold out almost immediately.
OMD also planned to be headlining an outdoor gig in Birkenhead Park on Sunday 6th September as part of the Wirral Food, Drink & Music Festival. This would mark the first time the full 4-piece band had played on the Wirral Peninsula and would see the band in the company of other Liverpool legends, including The Coral and Echo & The Bunnymen.
Sadly, the looming Covid-19 crisis would put a stop to OMD's live schedule, with many dates pushed back to 2021 and beyond.
February also marked the last night of OMD's European dates with the band performing at La Cigale in Paris on the 16th February. MiG 15 were in support.
The Quietus featured an intriguing article on OMD's impact on one individual as Kristen Gallerneaux examined illness and recovery through the lens of her introduction to the band's early work.
March marked the anniversary for the release of the iconic Dazzle Ships album. 'Sailing On The Seven Seas' was also released in 1991 this month and 'Metroland' was released in 2013.
OMD announced plans to return to London's prestigious Royal Albert Hall in September. The concert would feature two sets: the first would focus on atmospheric fan favourites such as 'Stanlow', 'Our System', 'Statues' and 'Ghost Star'. It would also include a selection of tracks from their debut album in celebration of its 40th anniversary. The second set would be a full Greatest Hits set. Demand was so great that a second show was also scheduled.
Concern over the Covid crisis was already starting to have an impact at this stage. OMD helped to promote a stricter regime of hand washing by adapting the lyrics of 'Genetic Engineering' to follow the routine.

2020 also saw tragedy hitting the OMD community with news that Rob Rumbell had passed away in March. A passionate fan of both OMD and also Marsheaux, Rob was a kind and gentle character who touched the lives of everyone that he encountered. Rob was also an occasional contributor to both Messages and also our sister site The Electricity Club, where his interest in electronic music was showcased.
Later in the year, Covid struck down Hambi Haralambous. A long-time OMD creative spirit who assisted particularly with OMD's video projects, his loss was a big impact on Liverpool's music scene. Messages posted an obituary for Hambi in which Andy McCluskey contributed some fitting words. "I remain numb at the thought that he is no longer here. I still can't imagine that we are never again going to meet and discuss new ideas."
2020 also saw the sad passing of Kraftwerk's Florian Schneider. The OMD Website posted a fitting statement: "We are absolutely devastated to learn that one of our heroes Florian Schneider has passed away. He changed our lives."
April also marked the anniversary for the release of 'Telegraph', 'Locomotion', 'If You Leave' and 'Shame'. Meanwhile, OMD's fifth studio album, Junk Culture, was also released this month in 1984.
Andy McCluskey decided to keep in shape for future OMD tours by regular cycling jaunts. Along the way, he shot photos of locations in Meols and the Wirral that had a special significance in OMD's history.
During a turbulent time for the music industry, Tim Burgess seems an unlikely herald for bringing people together over the love of albums. Better known for his involvement with rock outfit The Charlatans, Burgess spent 2020 curating Listening Parties, involving audiences on Twitter to listen to an album in real time. Typically, members of the bands or artists responsible for the album will also chime in with stories of the record's production. His choice of genres is also not necessarily confined to the obvious ones, taking in everyone from Pulp to The Chemical Brothers; from New Order to Slowdive.
Considering the broad remit of the albums that Burgess chooses, OMD seemed like a likely candidate – particularly via their classic 1981 album Architecture & Morality. Messages covered selected highlights from the event in a special article, which included some choice anecdotes and commentary. "I still hate the sound of the bass drum on 'Joan of Arc'" quipped Andy, "Sounds like a cardboard box!"

Keeping in with an Architecture & Morality theme, the OMD Website also scheduled manufacturing new versions of some of the merchandise from 1981.
As a stop-gap for the lack of concerts, OMD staged an online stream of their 2009 gig with the Royal Liverpool Philharmonic Orchestra. This was the footage from the previously-released DVD but included a new introduction by Andy McCluskey.
That sentiment was carried over into May when OMD: Live From Your Sofa was broadcast. This live concert, shot at OMD's Hammersmith Odeon in London in 2019, featured a single-camera focus for the livestream, but a planned DVD release included multiple camera views. The DVD also sported a fetching reversible sleeve conceived by Heloise Flores.
Andy joined Johnny Normal on Artefaktor Radio for an extensive interview about OMD's career and the ongoing coronavirus pandemic. In the interview, Andy discussed how he's been writing new material and has also conducted other interviews from home (particularly in the tragic wake of the passing of Florian Schneider). Andy also discusses the hot topic of analogue versus digital in the creation of electronic music, the idea of OMD collaborations, his thoughts on remixes and also his current favourite OMD album.
[evp_embed_video url="https://www.omd-messages.co.uk/wp-content/uploads/2020/05/ANDY MCCLUSKEY INTERVIEW BY JOHNNY NORMAL MAY 20.mov"]
Andy became an ambassador for the Martin Gallier Project, the only suicide intervention, prevention and postvention service in the North West of England. "There is nobody in the world who at some stage has not had their lives touched by depression and anxiety" commented Andy, "or supported loved ones struggling with these issues. The more that we can talk openly and honestly about the reasons why someone may consider ending their own life, the better we can assist by making everyone understand that there should be no judgement or stigma. Shine a light into the darkness and help dispel the pain that thrives on silence and fear."
Later in the year, a prize draw via the OMD facebook fan group helped raise over £3,000 was raised for The Martin Gallier Project.
Meanwhile, the OMD Facebook group staged the 'OMD World Cup', inviting fans to vote on their favourite OMD song. The concept, organised by Jeremy Damsell, eventually declared 'Maid of Orleans' as the winner by 1,034 votes (to 'Electricity's 591).
It was also Happy birthday to Stuart Kershaw this month too.
As expected, the Wirral Food, Drink & Music Festival in Birkenhead Park was been postponed to the first weekend of September 2021. One of many dates on the calendar to be shuffled around due to Covid. The Royal Albert Hall performances were likewise postponed to 14th and 15th March 2022. The Future Yard show was also rescheduled again to the 3rd of April 2021.
OMD's planned Australia/New Zealand shows with Simple Minds were also rescheduled for December 2021. "We can't wait to finally return down under" read a statement from the band, "a little later than planned but it will be so wonderful to finally play for you all!"
In June, Tim Burgess hosted another OMD-themed Listening Party, this time with the focus on Dazzle Ships. Among the stories to emerge from the session: "The new Emulator sampling keyboard was heavily featured giving us a new ability to create more pieces of Musique Concrete. Unsurprisingly, we lost 90% of our record sales."
It was also Happy Birthday to Andy McCluskey for the 24th June.
Anniversaries for July included 'Dream Of Me (Based On Love's Theme)', 'Secret' and the release of The Listening Pool's debut single, 'Oil For The Lamps Of China' back in 1993. July was also drumming legend Mal Holmes' birthday month.
On the 2nd July, OMD slung their weight behind the coordinated #LetTheMusicPlay action across the music industry to lobby the Government to provide much-needed financial support to the live music industry. The social distancing rules made the future for venues, concerts and festivals as well as the many people who work in them (including OMD's own crew) looks bleak.
August anniversaries included the release of 'Souvenir' back in 1981, '(Forever) Live And Die' was released in 1986 and 'Tesla Girls' was released in 1984.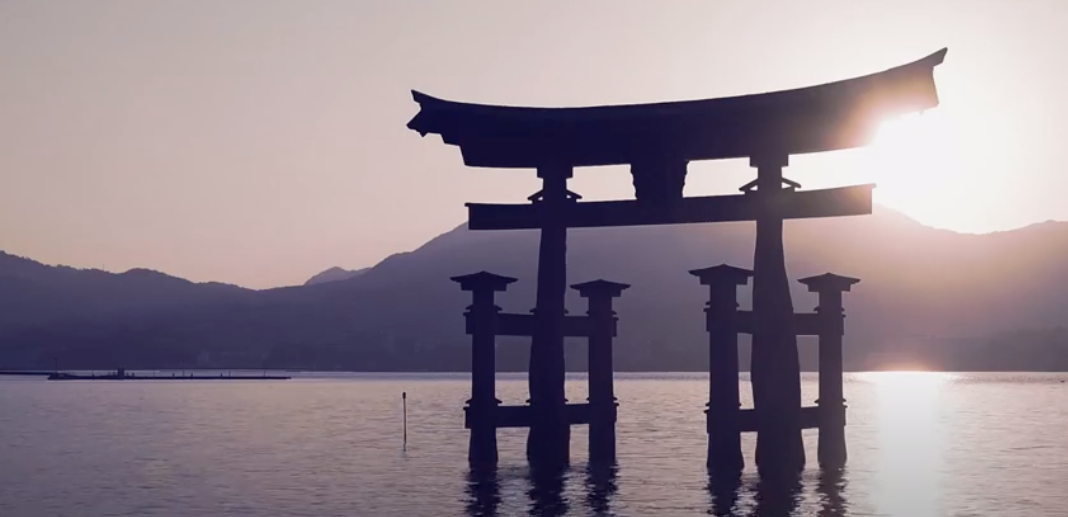 Meanwhile, the 6th August saw the 75th anniversary of the Hiroshima bombing in which the Enola Gay made its fateful mission, which resulted in the deaths of an estimated 140,000 people. To coincide with the anniversary, the alternative pop duo Ooberfuse teamed up with chiptune artist Hibari for a cover version of 'Enola Gay'. "It is such a difficult subject to confront because the images are deeply disturbing and have caused me actual nightmares" comments Ooberfuse's Cherrie Anderson, "On our last tour in Japan with Hibari we spent 2 days in Hiroshima. Music speaks into the silence that nuclear holocaust leaves in its wake. We should not turn away or cover up what happened 75 years ago if only to remind ourselves that this should never happen again and should never have happened."
"We learned about these pictures and videos in school when we were children" adds Hibari, "Everyone should know the tragic pictures of war. Some say the atomic bombing was necessary to end the war. They try to say 'People who die from the atomic bomb were needed for the current peace.' My song is not what people want to hear… it challenges the myth that Hiroshima needed to happen in order to spread peace throughout the world."
The end result is a slower, more haunting take on the classic synth-pop song with Cherrie Anderson's vocals presenting a sad, wistful quality. Meanwhile, Hibari contributes a raw, visceral slice of commentary ("One's so-called "justice" kills another") which poses awkward questions.
Once again, Tim Burgess staged an OMD-themed Listening Party in August, this time for The Punishment of Luxury.
HMV released a special vinyl edition of OMD's debut album to coincide with its anniversary year. The album made it to No. 10 on the Vinyl Chart as a result.
Andy McCluskey attended Liverpool's #WeMakeEvents demonstration, designed to raise awareness of the crisis facing the music industry – and calling for the government to support the many hundreds of thousands of workers in the sector.
August also saw synth-pop outfit SoftWave (who were OMD's support band on the Scandinavian leg of the Souvenir Tour earlier this year) release a cover version of 'Souvenir'.
Andy also spoke to the 1001 Albums podcast for an in-depth conversation about Architecture & Morality
September heralded a dizzying number of OMD anniversaries. Back in September 2017, OMD's 13th studio album, The Punishment of Luxury, was released and Universal arrived back in 1996 (an album that Barry Page did an in-depth feature on). The Pacific Age was also a September release and OMD's comeback album, History Of Modern was released in 2010. 'Then You Turn Away', 'Everyday' and 'If You Want It' were all singles released in this month previously.
With 'Enola Gay' celebrating it's 40th Anniversary, Messages posted a special feature on OMD's classic single.
OMD themselves marked the anniversary by releasing a brand new Hot Chip remix of the track. There was also an announcement for the release of a 12″ coloured vinyl featuring two brand new mixes by OMD (Extended Mix & Slow Mix) on November 27th. A brand new 'Enola Gay' T-shirt was also available for purchase: https://store.omd.uk.com/collections/enola-gay-40
There was also a welcome return for She's Got Claws in the form of new album Doppelgänger. Messages's review suggested it was "bigger and bolder" than previous releases, also showing off some tracks that were produced by OMD's Andy McCluskey. We concluded: "a stunning album that's engineered for peak synth-pop perfection".
To lend some support for their live crew, OMD announced the You Me & OMD project which was designed as a special one-off concert purely to raise funds for their team. This initiative also linked into their touring plans for 2021 with VIP Packages not being included for the new tour. Instead, all the best seats (and early access standing) would be reserved for a pre-sale that will only be open to those who purchase access to it via a You Me & OMD ticket.

In October, there was concerning news when Andy tested positive for Covid-19. But a statement posted on OMD's Facebook page put minds at ease: "Fortunately, his symptoms have been mild and he is feeling much better already. The good news is that he stops isolating on Oct 16th two days before the band rehearse for You Me & OMD."
Sadly, the planned You Me & OMD performance had to be postponed with the new date rescheduled to March 27th. In a statement, the band said "Whilst there is nothing in the government's new regulations that technically prevents us from proceeding with the event, we feel it would be against the spirit of the fight against the virus to allow band members who live in a Tier 3 area to be travelling and working in a venue alongside crew members who have travelled from other parts of the country. Similarly we are concerned about the movement of the audience. Additionally, whilst Andy's symptoms remain extremely mild and his isolation period is due to end in the coming days, it would be irresponsible to resume rehearsals with the rest of the band and crew."
The same month, Messages also marked the 40th Anniversary of the Organisation album. OMD's second album saw a dramatic change of gear from OMITD's 'garage punk' aesthetic, the band's looser approach having been tidied up by producer Mike Howlett to produce a more professional, polished sound. At the same time, the album embraces a more gothic aspect with darker melancholic tones and soundscapes. That change of direction owes some of its inspiration, in part, to Joy Division's second album Closer – an album that OMD designer Peter Saville had played constantly and which had subsequently seeped into the writing of OMD's second album.
"The most wonderful thing I find with all music" commented Paul Humphreys, "is that you attach time and events of your life to specific songs in that when you hear them you are instantly transported to a specific place in time. When I hear Organisation, I'm instantly transported back to a time of transition for both myself and Andy when I think it finally sunk in. Wow!, a career in music!! Who would have thought!!"
Meanwhile, OMD continued to release their remixed versions of 'Enola Gay'. On the 19th October they announced: "We have created a brand new extended mix of 'Enola Gay'. We never made an extended mix when the track was originally released, so we thought it would be fun to create one now with all the original elements."
October also marked Martin Cooper's birthday.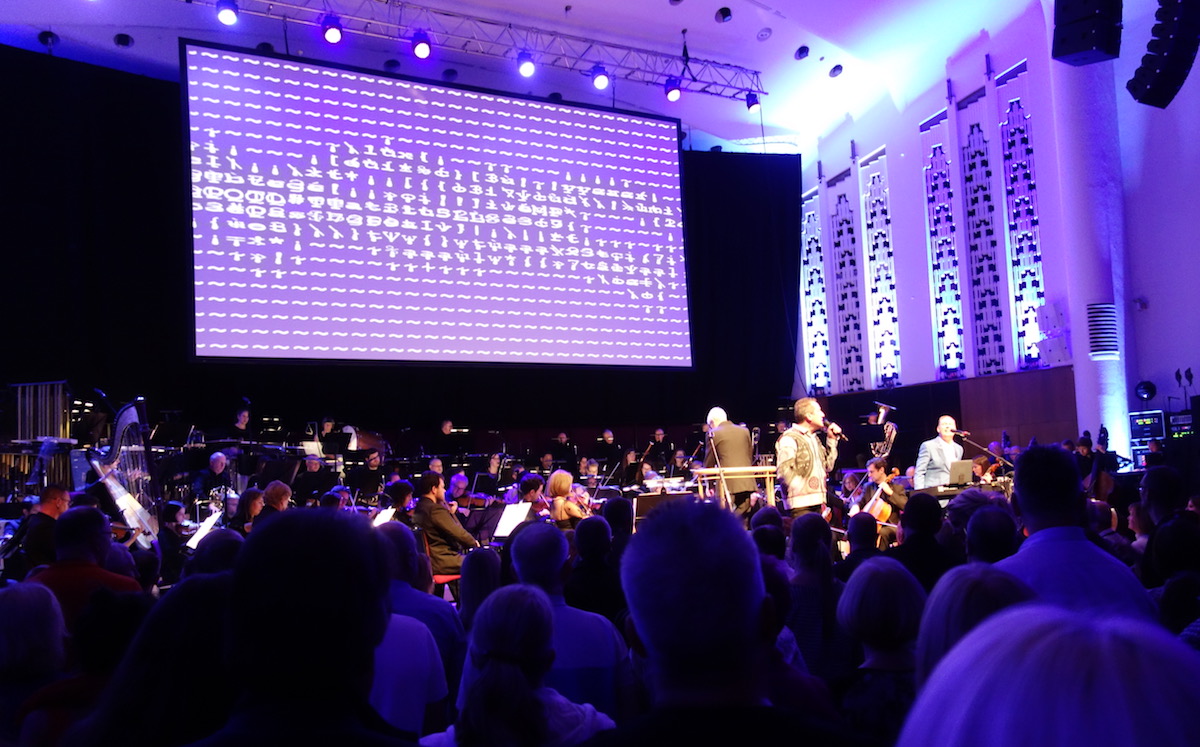 Later that month, the band staged OMD: Live From Your Sofa 2 as an online streaming event. This featured 45 minutes of footage with the Royal Liverpool Philharmonic Orchestra from 2018 as OMD had also located some static-camera footage of the performance. "Footage of the first half of the gig (where we performed 8 of our more ambient and atmospheric songs) will therefore be screened for the first time as part of Live From Your Sofa 2" the band announced. This was followed by the full multi-camera edit of 2019's Hammersmith gig.
Towards the end of the month, more exciting news emerged as plans for OMD's 2021 tour began to be released. With 2021 marking Architecture & Morality's 40th Anniversary, this meant that next year's tour took on a special significance. The Architecture & More Tour was therefore scheduled for November 2021, with a special pre-sale for those who had purchased You Me & OMD tickets.
November also saw anniversaries for the release of 'We Love You' and 'Call My Name'. Silent movie star Louise Brooks, the subject of 1991's 'Pandora's Box', was "born in Kansas" in 1906.
There was more good news when it was announced that OMD's Souvenir box set release had been nominated for Best Historical Album at the GRAMMYs.
Andy spoke to The Lonely Arts Club podcast about his career. The in-depth interview saw Andy speaking openly about the highs and lows of being in a band, his time as a music producer and songwriter for other artists, Andy's involvement in establishing girl group, Atomic Kitten and more.
On the 13th November, OMD also revealed their latest 'Enola Gay' mix with details of the Slow Mix being unveiled.
December had an intriguing surprise when it was revealed that 80s icon Boy George had been working on a cover version of OMD's 'The View From Here'.
This month also witnessed the last of the four new mixes of 'Enola Gay' with the release of the Theo Kottis mix.
OMD also wrapped up December with a suitably festive video message to their fans.
---
Special thanks to Johnny Normal and the Artefaktor Radio team.
Official OMD Website: http://www.omd.uk.com/