Religious fervour…
As one of OMD's classic singles, 'Joan of Arc (Maid of Orleans)' is perhaps the oddest release that emerged from the Architecture & Morality sessions as a potential single. There are few chart-topping singles that open with such a bizarre, almost discordant, intro and yet it continued the success of the band both domestically and abroad nonetheless.
Andy McCluskey's interest in the iconic French saint had bordered on an almost obsessive desire to get to grips with religion. It was a continuation, of sorts, of his interest in themes of war – characters who are motivated to do extraordinary things. "A lot of the war references are because I was interested in the lengths to which people would go in a situation beyond the norm", commented Andy on OMD's military manoeuvres.
This fascination carried over into religion with two songs penned about Joan Of Arc, but would also manifest itself on later songs, such as early drafts of 'Telegraph' and the on-the-nose lyrics of 'Universal'.
But in the Architecture & Morality period there was also an intriguing draw to Joan Of Arc as a character. "Really I like Joan Of Arc as a historical character because no one really knows anything about her," suggested Andy in the Messages biography, "and that's part of my fascination with things that aren't black-and-white – things you can't put your finger on. There are so many theories about her. I'm sure there are overtones of sexual attraction in her appeal."
'Maid of Orleans' had originally been the first Joan of Arc-inspired piece that Andy had penned. But unhappy with the finished composition, it was shelved and he took a fresh approach to the concept. The result of that effort was 'Joan Of Arc', which at the time had been given the working title of 'Waltz (Joan Of Arc)' to distinguish it from the earlier song.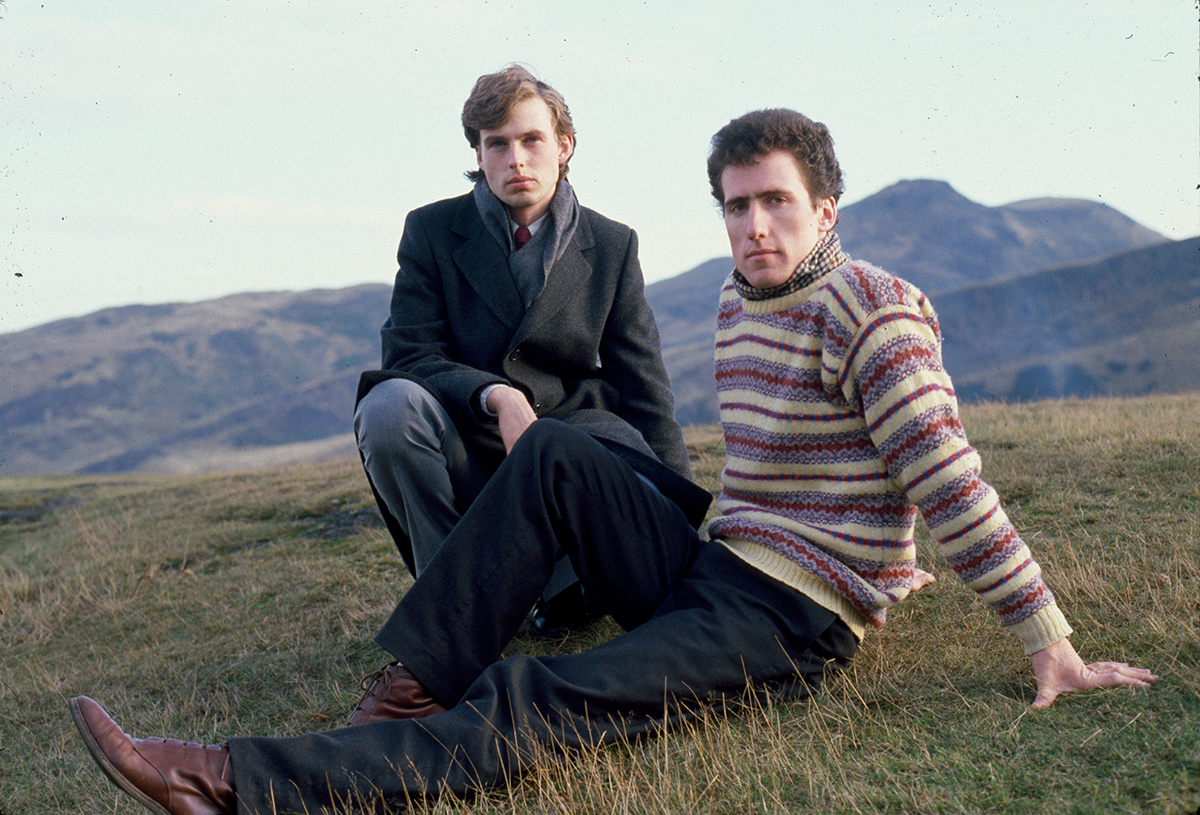 Before the band set off to record at The Manor studio in Oxfordshire, Mal Holmes had queried what was being done with the original Joan Of Arc track. There was some doubt that it was salvageable on Andy's part as it was a very short piece, particularly in comparison to the more sturdy 'Joan Of Arc'. But they decided to play around with it regardless, particularly working on a more lengthy intro to bulk the song out.
'Maid Of Orleans' is dominated by Mellotron sounds (specifically, its '3 Violins' sound), so it seemed to make sense to continue using that as the foundation for the intro. Architecture & Morality explores a lot of unusual soundscapes on its various tracks (particularly the title track) so once the band began playing around with sound ideas, 'Maid Of Orleans' quickly began to take on a bold if quirky form.
Much of the intro is actually Mellotron sounds that have been distorted by overdriving the Helios mixing desk in The Manor. There's also some pink noise and snare drum covered in reverb. The song itself is in 6/8 time, which led to it taking on the lengthier title of 'Maid Of Orleans (The Waltz Joan Of Arc)' – which distinguished it from the second Joan composition (and was also a little more prosaic than 'Joan Of Arc Part II' as a title).
While the successful completion of 'Maid Of Orleans' might have signified that OMD were in a positive mind, in fact there were doubts being raised both behind the scenes and in the press. Both Andy McCluskey and Paul Humphreys had reservations about OMD being successful – while also wrestling with the idea that they weren't making much money from their efforts due to the record deal that they had signed up to. That contrasting dilemma became the chief topic of discussion in the press, particularly through Andy's comments. In one Record Mirror piece he stated "I don't want to get a UK Number one. That would be the end, I'd crack up".
Commentary on the misgivings surrounding their record deal also didn't do much to improve relations with DinDisc at the time. Carol Wilson, who ran DinDisc, was already arguing with Richard Branson on the status of the label, wanting it to be a standalone effort rather than a subsidiary. Now she was faced with disputes with her star act at the same time.
Some of these grumblings also factored into the decisions based around the record sleeve for 'Maid Of Orleans' as a single. The original concept, based around a Joan Of Arc-themed medallion, had resulted in moans from the band (there were stories that it would have looked better on the front of a box of chocolates). There was a more positive response to the stained glass sleeve (inspired by a design by Anton Wolf) that Peter Saville, Carol Wilson and Brett Wickens had conjured up.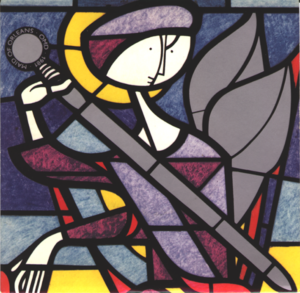 In the end, both designs were utilised for the 7″ and 12″ releases respectively. But more confusion arose when the band had put forward a title for a B-side that hadn't actually been written at the time of printing! As a result, sleeves bore the title 'Experiments In Vertical Take Off', which is a song that still exists purely as a title even today. The reissued sleeves took on the stained glass effect, although there were still problems with some of the track listings.
In fact, 'Maid Of Orleans' featured 'Navigation' as a B-side track to begin with. It was an old experimental piece that actually dated back to the pair's VCLXI days prior to OMD. The sound effect was a combination of a noise machine that Paul had constructed and Andy blowing down a cardboard tube (Apparently, if you listen carefully you can also hear Paul's dog barking in the background!).
But prior to the start of the UK tour, Andy and Paul found themselves in the studio at 3:30am working on another B-side track for the single. 'Of All The Things We've Made', with it's Eno-esque guitar lines, has become something of a classic in subsequent years (so much so that the band rescued it as an album track for 1983's Dazzle Ships).
"We were really tired and felt we couldn't go on" reflected Andy on the early morning studio session, "We thought it would be the last song we'd ever write, 'Of All The Things We've Made' would be our epitaph. We'd had enough."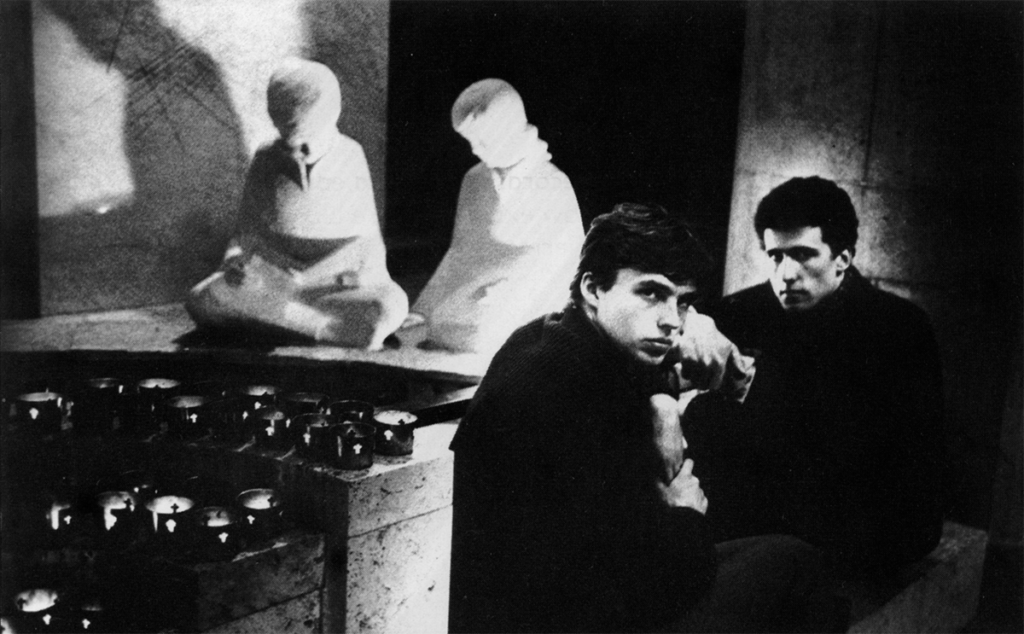 Despite this gloomy outlook, there were more positive things to focus on. This included the promo video for 'Maid Of Orleans' which used both indoor shots at The Manor and Fountains Abbey in North Yorkshire. The video was directed by Steve Barron (a seasoned veteran of the promo video) and featured Julia Tobin, an actress from the Royal Shakespeare Company as Joan of Arc.
It was certainly a striking video with sweeping snow-covered landscapes and dramatic shots of Julia Tobin to ramp up the theatrical aspects of the shoot. In fact, in 1991, MTV Europe named it as the 37th best video ever made.
Despite the initial concerns raised about the track, 'Maid Of Orleans' managed to reach the top 5 of the UK singles chart – and smashed it internationally. It topped the charts in several countries, including Germany, where it was the biggest-selling single of 1982. It also reached No. 5 in Ireland and No. 7 in New Zealand.
It's also become a foundation piece for OMD's live performances, allowing Andy McCluskey to indulge his very unique dancing style during the instrumental segments.
Discussions about further single releases from Architecture & Morality were nixed by the band, frustrated that they were over-milking the album (although a belated 'She's Leaving' release was issued in the Benelux region). But between the arguments with DinDisc and DinDisc's disputes with Virgin, enough of a crack appeared that ultimately led to the label folding and OMD being adopted by the parent label. As a result, 'Maid Of Orleans' marks OMD's final DinDisc release (and the last single release on the label).
Despite the problems behind the scenes, the percussive power of 'Maid Of Orleans' has a timeless appeal which continues to this day. In many ways, it showcases OMD's talent for combining unusual sound ideas with warm, evocative melodies.
---