OMD at 40…
2019 marked the year that OMD really kicked it up a gear in terms of 40th Anniversary celebrations. As well as launching an extensive tour, the release of the Souvenir box set helped to capture the band's legacy as a pioneering electronic outfit.
But it was also a year of other notable events, including the unveiling of a blue plaque at the 'Red Frame/White Light' telephone box. Plus, Liverpool's British Music Experience staged a special exhibition celebrating Wirral's finest. Here's the Messages review of 2019…
---
January saw a few OMD anniversaries, which included the release dates for 'Maid Of Orleans (The Waltz Joan Of Arc)' (originally released in 1982), 'Dreaming' (from 1988) and also Atomic Kitten's 'Whole Again', which was released in 2001 (and was later recorded by OMD for the album Liverpool – The Number Ones in 2008).
We reported that Chuck Sabo, who played drums on the Universal album, was due to release his debut album, Running The Human Race.

"I was struck by how many of the songs were simple, yet really effective and infectious: a basic melody, repeated with variation. It's the core of pop music, yet somehow often seems forgotten, and is an under-rated talent." OMD were in Tucson, America at their Museum of Contemporary Art for an exhibition titled 'Dazzled'. The theme of which was "the influence dazzle camouflage has had over designers, artists, and musicians of the past one hundred years".
Part of that influence is OMD's 1983 album Dazzle Ships, which was commemorated by "an immersive installation with interactive video and sound components." But the band also staged a live performance and our friends at DSO Audio were on hand to review it: http://www.dso.co.uk/gig357.htm
February saw more anniversaries for OMD releases, including 'Red Frame/White Light' and 'Genetic Engineering' and OMD's eponymous debut album. Paul Humphreys turned 59 this month and It was also Happy birthday to Julia Kneale, the co-writer of 'Julia's Song' and author of the book Moods, Memories and Other Manoeuvres.
Andy McCluskey was interviewed for the magazine Wirral Life where he touched on some ideas for the 40th Anniversary. But the magazine also focussed on the Friends Of 632 3003 and their efforts to look after the legendary 'Red Frame/White Light' phonebox.
"We were offered opportunities and we took them, and we were amazed that songs that we were writing when we were when we were 16 or 17 turned out to be popular and we'd have hit singles." OMD featured in a special Electronic Pop magazine. The publication also had articles on Kraftwerk, Depeche Mode, The Human League and Gary Numan.
March marked the anniversary for the release of the iconic Dazzle Ships album. 'Sailing On The Seven Seas' was also released in 1991 this month and 'Metroland' was released in 2013.
The new OMD book Pretending To See The Future was made available for Kindle. This 678 page full-colour Kindle edition included a bonus extras section withan additional 100 stories from OMD fans not included in the print version of the book.

April marked the anniversary for the release of 'Telegraph', 'Locomotion', 'If You Leave' and 'Shame'. Meanwhile, OMD's fifth studio album, Junk Culture, was released this month in 1984 celebrating its 35th Anniversary.
The Guardian ran a feature on the career of the late Trevor Key. This photographer-cum-designer (who contributed to a lot of OMD's early work including the Organisation album and the 'Genetic Engineering' sleeve) worked with a broad range of musical legends, including Mike Oldfield, New Order and Roxy Music.
May proved to be a busy month. Andy McCluskey spoke as part of the Sound City + event in Liverpool. The annual Sound City + business event is the UK's leading independent conference for new music – founded to champion the rich and diverse creative output of the North of England, in particular, but welcoming and celebrating exciting artists and leading executives from all over the world every year.
There was also news that a softback edition of Pretending To See The Future was on the way, featuring additional content.
OMD were just one of the artists featured on a new synth-pop retrospective titled Electrical Language by reissue specialists, Cherry Red Records. The 4-CD compilation, released on 31st May, included 'Red Frame/White Light' (rapidly becoming the OMD Song Of The Year!).
Meanwhile, tickets went on sale for OMD's forthcoming tour (most rapidly selling out) while this month's edition of Mojo featured an extensive feature on the band.
In terms of anniversaries, May marked the original release dates for 'Messages', 'So In Love', the Sugar Tax album and (perhaps of more significance) their debut single, 'Electricity' was released on Factory Records back in 1979 – which formed the landmark for OMD's 40th Anniversary.
It was also birthday month for the one and only Mr Stuart Kershaw. Meanwhile, to celebrate Karl Bartos's 67th birthday, Messages posted up Elektric Music's 'Show Business', which was co-written by Andy McCluskey with Karl.
June saw Messages post up new features, including a look at OMD's haunting B-side track '4-Neu' and the role of Dave Hughes in the band's early days.
As part of the restoration work on the Messages archives, we were also pleased to announce that Lori Tarchala's extensive 2011 American Tour Blog has been retrieved and restored to the site in its complete form. This blog, which covers two legs of the US tour, tracks OMD's journey from Toronto to New York, SXSW, Los Angeles, Washington, Chicago, Miami and many more. The reviews also feature restored photos taken from the original files.
Offering up a wealth of stories taken from the many venues that the band performed at, including a window on the US OMD fan scene, the Tour Blog is a fascinating window on OMD's global adventures.
"Architecture & Morality was a culmination of everything we had learned at that point about songwriting and about sound textures." The latest issue of Classic Pop Magazine featured an article on OMD's iconic 1981 album.
Meanwhile, Andy also commented on the 40th Anniversary of Joy Division's Unknown Pleasures for a special feature on The Quietus.
The latest issue of Electronic Sound looked at the Factory label, including a brief look at OMD's association with the iconic label. The magazine also featured a Q+A with Andy McCluskey recalling his experiences.
On the anniversary front, 'Talking Loud and Clear' was celebrating its 35th Anniversary, the Liberator album was released in 1993 while sixth studio album, Crush, arrived in 1985. It was also Happy 60th Birthday to Andy McCluskey.
July saw a special Blue Plaque celebrating the 'Red Frame/White Light' telephone box unveiled in Meols by Andy. At the ceremony, the Deputy Mayor of Wirral also presented Andy with the Borough of Culture Ambassador Award.
Elsewhere, electro outfit The Circuit Symphony did a stellar remix of 'Dresden'.
Anniversaries this month included 'Dream Of Me (Based On Love's Theme)', 'Secret' and the release of The Listening Pool's debut single, 'Oil For The Lamps Of China' back in 1993. On the 50th anniversary of Neil Armstrong's "Giant leap for mankind", we also posted up 'Apollo XI' as a tribute. July was also Mal Holmes' birthday month.
The summer months brought more exciting news. OMD unveiled details of the Souvenir box set and singles compilation.
'Don't Go', which marked OMD's 40th single release, drew praise from Imogen Bebb in the Messages review: "The punchy synthesised undertones, catchy melody and directness of the lyrics all add to its charm, and potential for repeated listening…"
OMD also featured in a limited edition box set celebrating the Factory Records label. Use Hearing Protection: Factory Records 1978-79 focussed on the early period of the label and features facsimiles of the first 10 numbered records and objects, with a 60 page exhibition style book, plus a bonus 12" single and 2CDs of unheard Joy Division interviews. Included in the set was a reproduction of FAC6, OMD's first single release featuring 'Electricity'.
The stunning OMD tribute band Manoeuvres were busy with a range of UK-wide concerts. Their performances came with a range of both classic OMD tunes as well as a few obscure tracks to keep things interesting. As ever, Imogen Bebb also gave a solid support in her guise as Music For Your Tape Recorder.
A special 7″ 'Electricity' vinyl release was also announced. "For Paul and I, holding in our hands an actual vinyl record of a song we had written as 16 year olds was one of the greatest thrills of our young lives" commented Andy McCluskey at the time. This limited edition version was pressed on ultra-clear vinyl and contains the original Factory Records version of 'Electricity', as well as a brand new remix of 'Almost' by Vince Clarke (Depeche Mode, Yazoo, Erasure). Both tracks were remastered by Miles Showell at Abbey Road and the sleeve is an adaptation of the original Peter Saville design.
"Forty years later, that original garage recording still has a charming energy that makes us proud" mused Andy, "We are honoured that Vince Clarke has created such a distinctive personal remix of the B-side 'Almost'."
August anniversaries included the release of 'Souvenir' back in 1981, '(Forever) Live And Die' was released in 1986 and 'Tesla Girls' celebrated its 35th Anniversary 1984. The Enola Gay, piloted by Paul Tibbets, dropped 'little boy' on the Japanese city of Hiroshima back in 1945.

September heralded a dizzying number of OMD anniversaries. Back in September 2017, OMD's 13th studio album, The Punishment of Luxury, was released and Universal arrived back in 1996 (an album that Barry Page did an in-depth feature on). The Pacific Age was also a September release and OMD's comeback album, History Of Modern was released in 2010. 'Enola Gay', 'Then You Turn Away', 'Everyday' and 'If You Want It' were all singles released in this month previously.
On the 10th September in 2011, OMD played at the site of Mathew Street's legendary Eric's Liverpool Club, where a new club bearing the name was opening its doors that night (and which Messages covered in a special review at the time).
In October, we cast an eye on OMD's adventures in Japan (following a request to act as coordinator on a special 40th Anniversary feature in a Japanese music magazine).
Originally, OMD's 1993 album Liberator had been conceived as a 'gothic dancepop' companion to its predecessor. But the course of its trajectory changed during production. But the story of Liberator is also the story of OMD's fascination with the choral tradition. We looked at the genesis of the album in a special feature.
The same month, we presented an unboxing video for the new Souvenir set to give people an idea on its contents.
A new video for 'Don't Go' premiered via Clash Magazine: "'Don't Go' is a song that began two years ago and very often when we start something, we don't finish it, we always hang on to it" commented Andy, "it doesn't get abandoned. And we were delighted earlier this year to add more lyrics and a beautiful main melody so we are really excited about it as a prospect."
As part of their 40th Anniversary celebrations, an OMD exhibition at the British Music Experience, Liverpool (running from 11th October until 5th January) was also unveiled. The OMD exhibits presented an extensive showcase of archive instruments, posters, clothing and even Andy's notebooks.
Paul Humphreys and Andy McCluskey took part in a special Q+A evening as part of the event in which they discussed OMD's 40th Anniversary. Messages was on hand to film the experience and this video shows the initial discussion focussing on OMD's formative years.
"We thought getting out of Liverpool might be good, so we went to Montserrat. We were in this paradise setting, we would stop work at 5pm, go down to the beach where we'd hear calypso reggae bands and we got influenced by our surroundings – that's where 'Locomotion' came from, with the steel drums." OMD appeared in this month's Record Collector Magazine exploring their album legacy.
October also marks the anniversary of OMD's debut gig at Eric's Club. From that initial experiment in electronic music, a successful four-decade musical career was spawned. Back in 2011, Barry Page looked at OMD's return performance at the site of Eric's Club and also looked at the legendary venue's legacy.
Elsewhere on the anniversary front, 'Joan of Arc' was released as a single this month in 1981, an edited version of 'Universal' was released in 1996. And 'Never Turn Away' celebrated its 35th Anniversary, having been released in 1984. Martin Cooper also celebrated his birthday this month.
As OMD's tour took off, there had been some debate surrounding the planned use of 'Red Frame/White Light' back in the band's setlist. But due to some lukewarm reception on the initial dates, the band instead decided to relegate the song for the VIP attendees at the soundcheck.
November saw OMD performing live in London – and Messages was there to report back, adding in some critique along the way. "There's a few notable absences in the setlist (neither Dazzle Ships nor English Electric get a look in outside of the brief intro/interlude segments) while the omission of 'Red Frame/White Light' seems like a hard blow for diehard OMD fans. But trying to present a selection of songs that capture OMD's sprawling 40-year history was always going to be a tough mission. All things considered, it's a set that strikes an effective balance."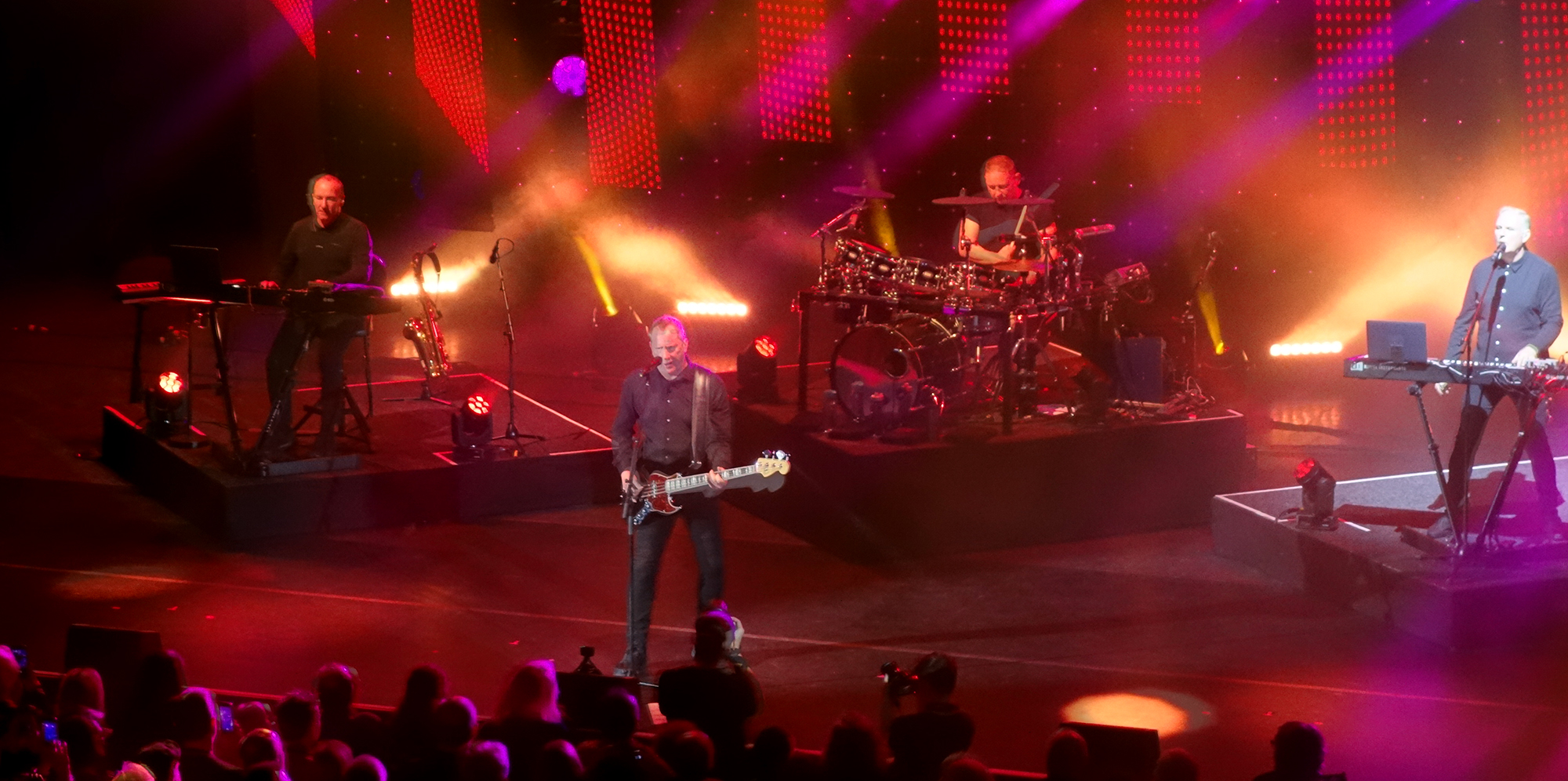 November also saw OMD announcing a return to Australia and New Zealand in 2020 supporting Simple Minds (Time to dust off 'We Love You' for the setlist!)
"We're not a band who just strives to write a hit single, and the rest of the album are songs that aren't good enough be hit singles. We accidentally write hit singles while we're on our journey, experimenting and trying different kinds of music." The Official OMD Website hosted an exclusive interview with Andy McCluskey in two parts by Mary L. Chang, which explored OMD's 40 year legacy.
November also saw anniversaries for the release of Architecture and Morality, 'We Love You' and 'Call My Name'. Silent movie star Louise Brooks, the subject of 1991's 'Pandora's Box', was "born in Kansas" on this day in 1906.
With the winter months closing in, it was time perhaps to look back at OMD's fledgling days as a band. Back in December 1979, OMD were building their legacy following a successful stint supporting Gary Numan. Having released their debut single 'Electricity' earlier in the year, the band had also signed to the DinDisc label and the release of their eponymous debut album was looming in February 1980.
The Live And Loud site featured a live recording of a concert where OMD were supporting Talking Heads at the time. It shows the raw potential of the band (who would later expand to a 4-piece in the new year). Classic songs such as 'Bunker Soldiers', 'Red Frame/White Light', 'Messages' and 'Electricity' are all showcased during this fascinating window on early OMD.
---
Special thanks to Barry Page and Imogen Bebb.
Official OMD Website: http://www.omd.uk.com/