This week sees the launch of Electronic Sound, a new iPad only format monthly publication from the team behind Electronic Magazine.
The debut issue features an exclusive interview with Andy McCluskey discussing English Electric as well as Andy's commentary on the state of the contemporary electronic music scene as this excerpt demonstrates: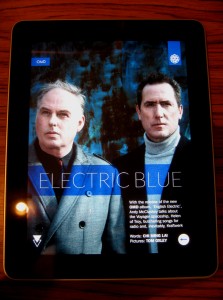 "And on the subject of modern vocal processing technology where often, there is the interesting paradox of people adoring Kling Klang styled vocoders while disapproving of Autotune, the OMD front man is quite forthright: "People draw lines in sound in weird and arbitrary places don't they?" Letting off a chuckle, he continues: "I have no problem with anything being used… if I get something out of it! I'm a little bit bored of pop vocals with Autotune as an effect but modern production is so clean that you can hear all the separation between the instruments and the voices so clearly that unless you are the most incredible singer, actually most people are Autotuned! It's just a case of how much… have you just pulled it into tune or is it patently obvious and sliding?""
Amongst other features in the magazine are interviews with Karl Bartos, Michael Rother, Gary Numan, Bilie Ray Martin, Utah Saints, Dave Clarke Marsheaux and Mesh.
In addition, there are reviews of new albums by Depeche Mode, Ghost Capsules, James Blake, Autechre as well as English Electric plus reissues by The Postal Service and Electronic. There is also a special article with The Gadget Show host Jason Bradbury being given a synth master class with Heaven 17's Martyn Ware while among the new acts featured are Tomorrow's World, an offshoot of Air and New Young Pony Club. There's also an eye witness account of Depeche Mode's first gig European gig in 1981.
Editor Push comments on the debut issue: "A great deal of thought went into creating Electronic Sound as a digital title. The market for print titles is immensely challenging at present, and we felt that digital gave us the flexibility to deliver a high-quality product at an affordable price."
---
Electronic Sound is available exclusively in iPad format for an introductory price of 69p from the Apple iTunes Store at https://itunes.apple.com/gb/app/electronic-sound-magazine/id628044956?mt=8
This first issue is free if you subscribe on a basis of £1.99 per issue. Your subscription can be cancelled at any time. The normal one-off purchase price £2.49
Please visit http://electronicsound.co.uk for more details
www.facebook.com/electronicmagazine
https://twitter.com/ElectronicMagUK
---