An in-depth look at OMD's tenth studio album
With rave reviews – and a top five placing – for their latest album The Punishment Of Luxury, a near sell-out UK tour, plus long-overdue recognition for their pioneering synth-pop work, it's been an incredible turnaround in fortunes for Orchestral Manoeuvres In The Dark, who reformed in 2005.
Back in the summer of 1996, it was a vastly different story, as singer Andy McCluskey prepared to release Universal, his third – and final – solo album under the OMD banner. Both McCluskey and Virgin Records had shifted the bulk of their chips in the direction of the album's first single 'Walking On The Milky Way' but, by the time of its release, OMD were deemed to be past their sell-by date and Radio 1 passed on adding it to their playlist; causing a knock-on effect that would effectively sink its parent album. Shortly afterwards, a depressed McCluskey would slip into the shadows, before officially ending OMD in 1998.
Like the band's previous album Liberator, it's an album that has divided fan opinion over the years; whilst its lack of commercial success has somewhat coloured McCluskey's own opinion of it. But this lyrically focused and well-produced collection has actually aged very well, and stands up against the best of the band's back catalogue.
In this article we take an in-depth look at the making of OMD's often overlooked tenth studio album, using archived material and some exclusive new reminiscences from Andy McCluskey and some of the album's key personnel.
---
THAT WAS THEN
The critical and commercial failure of the Liberator album meant that, by the spring of 1994, OMD's Andy McCluskey had reached the third crisis of his music career; following the commercial failure of Dazzle Ships in 1983 and the acrimonious split of the classic 4-piece line-up in 1989.
The beginning of the year had started well with the band bringing the Liberator tour to a close with some well received shows in South Africa, but little did McCluskey know that the show in Pretoria on the 15th January 1994 would be OMD's last show for over 22 years. In an interview for the Messages magazine in 2002, McCluskey reflected on this show, as well as his decision to end the band: "I didn't know that Pretoria in South Africa was going to be the last OMD gig. It was like, did The Beatles know that Candlestick Park was going to be their last ever gig? At the time, you're not planning to stop, but when you do stop that's it, you bring down the curtain."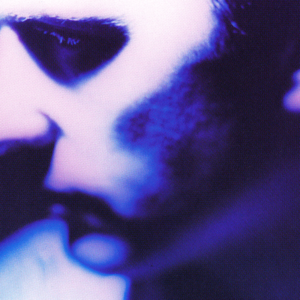 Whilst McCluskey had plans to utilise the services of the members of OMD's touring band for his next album, Nigel Ipinson, Phil Coxon and Stuart Kershaw drifted into other projects once they'd returned to Liverpool. Kershaw hooked up with bass player – and college friend – Keith Small, while Phil Coxon formed Isha-D with Beverley Reppion (who'd sang backing vocals on OMD's hit 'Pandora's Box' in 1991). But it was Ipinson who would eventually land the highest profile job, playing keyboards for The Stone Roses in a new line-up that reunited him with his old Rebel MC bandmates Robbie Maddix and Aziz Ibrahim (the trio had previously played on the rapper's 1991 album Black Meaning Good).
By and large the tour had been a success, but its fortunes contrasted sharply with that of the Liberator album itself – attracting criticism from both fans and journalists, one reviewer described it as a "collection of featherweight pop doodles". Whilst the success of 1991's Sugar Tax and its attendant singles had reinvigorated the OMD brand, it's somewhat rushed successor was unable to replicate its success, with much of the blame laying at the feet of its techno-styled production. McCluskey recently explained: "The problem with Liberator was that I invited Phil Coxon to work on the production but wouldn't relinquish my own programming, so we basically ended up with an album full of songs with two sets of often conflicted programming. Also, whilst Phil programmed I was bored so I played video games instead of keeping an eye on things! It was then too late to steer him in a different direction when he had done a couple of days work on a song."
By this stage, the musical landscape was changing, and a new breed of guitar-based acts (Blur, Oasis, Suede, Pulp, et al) were spearheading a new movement that would eventually become known as Britpop. Fearing that OMD's brand of synth-pop was becoming dated, McCluskey made a conscious decision to adapt to the changing climate and freshen up the act's sound. "It was important for me to abandon some of the electronic stuff," he confirmed. "Nobody in the mid-1990s really wanted 80s synth-pop any more, which is essentially how OMD were perceived, whether correctly or not."
And there was to be a further change as McCluskey decided to shake up his songwriting routine, abandoning his usual rehearsal space at The Ministry in Preston Street, Liverpool. "I've worked in the same room now for four and a half years," he told the Telegraph fanzine that year. "I'll be living in Dublin – admittedly not far from home, but far enough to break my usual habits." McCluskey rented a house in Dublin and transferred his mixing desk, computer, speakers and rig to a room in a studio named The Factory.
---
THE DEMOS
Whilst work on the new demos was largely done independently, he was occasionally joined by Stuart Kershaw – tracks such as 'Too Late' stemmed from these sessions. Kershaw also accompanied McCluskey on a 3-week road trip across the USA; hiring a car in Washington D.C. and clocking up 6,500 miles on an indirect journey to Los Angeles. "We went north to Gettysburg," McCluskey told The Travel Almanac in 2011. "Then back down all the way to New Orleans, then to NASA and to Tucson, Arizona…it was fantastic. When we got to Las Vegas we'd already done 5,500 miles and the valet guy wanted to take the car away: 'I'll get this washed for you, Sir!,' he said. We asked him not to, of course, as we wanted to take a picture of the dirty car once we had made it to L.A.!"
By mid-1994, 'The New Dark Age', 'Too Late', 'Universal' and 'That Was Then' had been demoed, and the band's information service also reported that the new album would include an updated version of 'Resist The Sex Act'. This was a track that had been heavily influenced by Lil Louis' club classic 'French Kiss', and originally considered for inclusion on 1991's Sugar Tax album. "It's now like a slowed-down house song built around a repeated bass riff which continues for six minutes with ambient choral sections floating in and out," explained McCluskey. Whilst it was reported that the track would 'definitely' be on the album, it was eventually consigned to the archives.
Work on the album ceased as McCluskey convalesced following a collar bone break sustained whilst playing 5-a-side football. OMD's peripatetic frontman also set off on holiday again; this time journeying with his then 70-year old father, Jimmy. "I flew with him into Tashkent, in Uzbekistan, and spent a couple of days with him there and in Samarkand," McCluskey told The Travel Almanac. "Then we took a train across the border into China, through China and all the way to Singapore." McCluskey added: "When I was young, I didn't see my father that much. He was always working. And when he wasn't working, he was out wasting his money on greyhound racing. When you become an adult, you reassess your relationship with your parents. This was my opportunity to go away with my father as an adult, one on one, and talk to him about us, about his history, to learn something about him. I'm glad I did it."
By the end of the year the new album, provisionally titled Universal, was making good progress and Virgin Records were reportedly pleased with the demos that McCluskey had sent them. "I'm increasingly excited about the way this album is progressing," said McCluskey. "It really is going to sound different." The singer later told Sound On Sound that he was concerned about "getting a bit laid-back in Ireland", and he relocated to Los Angeles for several months. After renting a house in Hollywood Hills West and a studio room at J.E. Sound, McCluskey was able to complete the album's demos, which now included 'If You're Still In Love With Me', 'The Chosen One' – not to be confused with 'Sister Marie Says' – and 'Oboe Song'.
But there was one particular song that really excited OMD fans, after it was reported in mid-1995 that McCluskey had been working with his old bandmate Paul Humphreys in Los Angeles. Although Humphreys was committed to both The Listening Pool (who were working on a follow-up to debut album Still Life, provisionally titled Natural) and his Telegraph Records venture, the pair had remained good friends and seized the opportunity to work together again. "We wrote three or four pieces, but this one piece – 'Very Close To Far Away' – was by far the most exciting of the ones we'd written," said an enthused McCluskey. "We specially set out to write a psychedelic pop song – it was quite interesting."

PRODUCTION AND RECORDING
"The songs were 80 to 90 percent there – it was the last 15 to 20 percent, which is always the best bit, converting the good-sounding demo into the great-sounding finished record." – Andy McCluskey
With the demos now completed, McCluskey was finally ready to begin recording the new album. Whilst the Sugar Tax and Liberator albums had largely been recorded at his co-owned Pink Museum studio in Liverpool, McCluskey was keen for a further change to his routine, and opted to record Universal at the then EMI-owned Townhouse Studios in London (the Shepherd's Bush studio had been a popular facility with many high profile artists over the years, including Kate Bush, XTC, Simple Minds, Queen and The Jam). A change of recording environment had certainly paid off in the previous decade as the original OMD line-up sought to put the commercial failure of the Dazzle Ships album behind them. Switching from the confines of their self-built Gramophone Suite studio to Highland Studios in Inverness – and, later, the more exotic climes of Air Studios in Montserrat – the band returned in 1984 with a glossier pop sound and the reward of a successful album, Junk Culture, plus three hit singles.
With a change of studio there also came a change in production team, with McCluskey employing the services of both David Nicholas and Matthew Vaughan to co-produce with him. "When I got back from America, I had everything pretty much demoed," McCluskey told Sound On Sound, "and having changed the way I wrote the album, I wanted to change the way I was going to record the album; it was quite important for me to find the right people to work with." ARIA award winner David Nicholas was an experienced producer and recording engineer who had worked on landmark albums by Midnight Oil and INXS (notably 1987's multi-platinum Kick) in his home country of Australia. Prior to his work on Universal he had also worked on albums by Elton John, Ash and Marcella Detroit, as well as Liverpool-based River City People, who had supported OMD on the second wave of the Sugar Tax tour in 1991.
Also boasting an impressive CV was Matthew Vaughan, an experienced musician and programmer who had featured on albums by Elton John, The Christians and Terence Trent D'Arby. In the early 1990s Vaughan had also co-written tracks and played on two albums by Bassomatic (a project masterminded by William Orbit, who had remixed OMD's 1988 single 'Dreaming' for the 10″ format) and, in 1993, was credited with additional programming on two remixes of Depeche Mode's 'I Feel You' single. His versatile musicianship would be called upon during the making of OMD's new album, as he added guitar and keyboard parts to several tracks.
Prior to Universal, both Vaughan and Nicholas had completed programming and engineering duties, respectively, on Marcella Detroit's Jewel album, and they had also commenced work on Pulp's fifth studio album Different Class (by Christmas 1994, future smash hit 'Common People' was already in the can). "They were the right and left-hand men for that record, with [producer] Chris Thomas sitting on the couch doing the crossword and I thought, that's the way I want to do it!" McCluskey told Sound On Sound. "So I spent three months in The Town House doing the crossword on the couch! It took a bit of the pressure off me, because I could delegate things to them and trust that they would do things I would be happy with – they were very much on my wavelength." Whilst Nicholas and Vaughan were committed to working on the Sheffield band's breakthrough opus, they were able to put in some preliminary work on the Universal album, picking two songs – 'Very Close To Far Away' and 'The Chosen One' – from McCluskey's demos that they were particularly impressed with.
"I think it was my (and Dave's) manager Barbara Jeffries who got us introduced to the gig," Matthew Vaughan told Messages. "I remember going to the [Virgin] record company offices in Kensal Rise for a meeting, and we got the gig. What I knew of OMD's catalogue extended not much further than 'Enola Gay', 'Messages', 'Joan Of Arc' and 'Maid Of Orleans' at the time, to be honest. I do remember that, between me and David, we thought there wouldn't be much point in trying to recreate the sound of those records, given that that particular zeitgeist had passed (little did we know it was soon about to rush past us on its return journey). So we opted for live drums and bass and very little use of the old synthesisers that had characterised the OMD sound – this proved critically unpopular at the time as I recall. Andy had quite meticulously constructed demos already that we were keen to keep to the spirit of – the demos were what attracted us to the project really. So we went into a few weeks of pre-production in one of the basement rooms at the Town House studios in Goldhawk Road W14. We tarted up the sounds and some of the parts using various synth modules, and then started recording in the main studios upstairs – I think it was Studio 4 mainly. I remember doing the first track, 'The Chosen One' (which was a bit Roy Orbison), in Studio 1 and it going down well with members of staff. You should know that Studio 2 did not exist in the same building – that was the old Ramport Studios in Battersea, formerly owned by The Who. Studio 3 was the legendary 'drum room' at Townhouse used to record Phil Collins' 'In The Air Tonight'.
"It was the first time Matt and I had teamed up as co-producers," explained David Nicholas. "Before that we had worked together many times for producer Chris Thomas as engineer (me) and programmer (Matt). To be honest, I had not heard any of [OMD's] music other than singles I had heard on the radio back in the 80s when they were quite big in Australia. I loved working on the record. Matt, Andy and I made a good team and it was also the first time I/we had attempted to do a tapeless album (which in those days was very new). We decided to work from Andy's demos which were well advanced and all on Logic [Audio], which Matt was very familiar with. So we decided to just add live drums, bass and strings, and the odd guitar to the files that already existed in Logic using the first generation of digital audio computer hardware. It was very scary as that technology was very new and quite unstable. But we persevered and almost the entire album was done without using any tape. Now it's the norm, but back then it was almost unheard of… and not without some major crashes and some very late nights! But a great learning curve and an achievement I'm proud of. I have very fond memories of the recording sessions, too. It was a very creative, happy and fulfilling record to work on as we all got on very well, both personally and creatively – which always make the music better, from my experience."
Vaughan adds: "I remember Andy raising an eyebrow at me and Dave's consumption of the classic Town House full English breakfast every morning, saying something like: 'It's all very well if you're going out for a day's worth of honest physical toil, less appropriate if you're going to sit on your arse all day fiddling with a piano part'. I can't swear that's verbatim, but that's the gist!"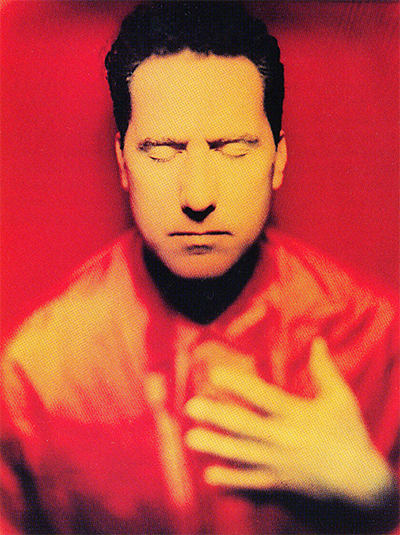 The use of session players – particularly the rhythm section – marks Universal out as a unique album in OMD's back catalogue. Bassist Phil Spalding was a vastly experienced musician who had worked with artists including Toyah and Mike Oldfield during the 1980s, and he'd also been a member of Original Mirrors, along with Ian Broudie (a former member of the legendary Liverpudlian ensemble Big In Japan who would later form Care with Paul Simpson and, more successfully, The Lightning Seeds). Spalding had played on Original Mirrors' self-titled debut album, and performed live with the band (notably as support for Roxy Music on their Flesh And Blood tour), before being sacked for reasons he explains on his website: "I was too loud, too opinionated, too arrogant, too paranoid, too high (definitely!), and just too much of a pain in the arse, no matter how good I was!"
In the lead-up to his work on Universal, Spalding had completed a plethora of sessions for acts such as Chris de Burgh, Elton John, Right Said Fred, Jimmy Somerville and Dubstar, and was well acquainted with producers David Nicholas and Matthew Vaughan, having played on Marcella Detroit's Jewel album. In a very honest account about his contribution to Universal, he told The Electricity Club: "My part in the making of this album – whilst there are a couple of incidents that are quite clear to me – is largely very foggy as I was deeply entrenched in heroin and crack addiction at the time. My friends Dave 'Chipper' Nicholas and Matt Vaughan, who were producing the album, had asked me to play bass for them and I ended up doing some backing vocals and playing some guitar – some of which is on 'Walking On The Milky Way', but has gone uncredited for some reason.
"I'd got myself into such a muddle as I was, at the same time as this album was recorded, also on tour with Alison Moyet, supporting her greatest hits release [Singles – Ed]. I was trying to do sessions at the Town House, in between coming and going for Alison; which in itself turned out to be a nightmare of scoring loads of drugs, running out of drugs, leaving the tour in way-off parts of the UK to get back and score, going into heavy withdrawals on the road and having to do gigs in that terrible condition. You see, when you're drug-dependant you can't take your dealers on the road with you! I really should never have committed to going on tour with Alison but I really didn't know what I was doing. It would have been much safer to stay at home and do OMD's album and stay close to my drug source and at least stay 'well' whilst recording.
"I remember one incident when I'd played a couple of nights in Glasgow with Alison, which were recorded for her live album [included as part of the 1996 reissue of Singles – Ed]. I was in such a state of panic, having been sick since Dublin a few days before, that I left the Glasgow hotel first thing the morning after the gigs, got a cab to the airport and took a plane to Heathrow. I landed at Heathrow and went straight to Twickenham to score heroin and then went straight to the Town House for an OMD session. That's how I was living during the recording of Universal – I was completely mad!
"The album itself is, for my part, a miracle. I love this album, particularly the title track… Everything was usually done in a very short space of time, once I'd got the part, feel and sound right. Chipper and Matt were great, too – very supportive, even knowing the state I was in. I wondered why Andy wasn't playing bass, but didn't ask too many questions. I think Andy wanted someone who could approach the songs a bit more technically and, for all my faults, I could at least still play great."
Drummer Chuck Sabo was an American-born musician, who had previously played in an unsuccessful band named Sonny Lucas with then-wife Jeanette Landray (best remembered for her brief stint in The Glove, a side project of The Cure's Robert Smith). Sabo gained his first big break when he played on British Electric Foundation's Music Of Quality And Distinction, Volume Two album in 1991. "Very much a soul record," Sabo told XTC fan site Chalkhills. "He [Heaven 17's Martyn Ware] gathered up a bunch of artists and did cover songs with them. So, just within that one album, I played with Tina Turner, Chaka Khan, Terence Trent D'Arby, Billy Preston and more… An artist named Tashan also sang on that album, and I later went on to do an album by him [For The Sake Of Love], which Martyn Ware also produced."
"I met the producers of the OMD Universal LP, Dave Nicholas and Matt Vaughan, when I was recording drums on Marcella Detroit's LP," Sabo told Messages. "Chris Thomas was producing, Dave was engineering and Matt was programming. After that we did The Lion King with Elton John as well. Then Dave and Matt got the production job for Andy's next OMD LP and called me in to record drums. I was familiar with the OMD hits, but not too familiar with the whole back catalogue. The bass player Phil Spalding and I were working on lots of records together at that time, so we all knew each other very well, and enjoyed working together."
The bulk of the album was recorded during a 3-month period at the end of 1995, with McCluskey renting an apartment in Chelsea by the River Thames during its making. There would be one further delay, though, as McCluskey explained to Messages: "I made that album just after James was born in San Diego [in September]. He was almost four weeks early and I had to cancel pre-production in London and fly to the US – I missed his birth by four hours!" He added: "When recording the album I would take the train home every weekend to paint and work on the new house that I had bought for the family to move into when [partner] Toni and James finally came back to the UK. It was exhausting!"
Sixteen songs had been recorded during the Universal sessions but, as the album approached the mixing stage, McCluskey ended up tagging on a pair of self-produced tracks. 'Too Late' was one of the first songs I wrote in Ireland," McCluskey explained to Sound On Sound, "and Chip [David Nicholas] and Matt ganged up on me and said they didn't want to record that – neither of them happened to get off on that song. Once we finished the album, though, I was adamant that something was missing, and that that track needed to be on too." The other addition was 'The Boy From The Chemist Is Here To See You', which McCluskey wrote in December 1995 and recorded the following month. "I just fancied doing another uptempo one," explained McCluskey. "Strangely, of all the songs, it's the one that sounds the most analogue and old-fashioned OMD."
An early, provisional 13-track listing for Universal also included an experimental track titled 'GTR 9' that was built around a sampled guitar riff of Stuart Kershaw's. "It was pretty good really," Vaughan recalls. "A bit like 'Song 2' by Blur". This was eventually dropped, while there were some tracks that didn't make it beyond the demo stage. 'Sister Maria Gabriel' had, bizarrely, been rejected by McCluskey for sounding 'too much like OMD' as he sought a grander, more organic sound. McCluskey recalled the writing of the song years later in an interview with The Arts Desk: "When I was living in Ireland there was a Polish nun called Sister Marie Gabriel who was taking out full-page adverts in The Times and The Independent – which can't have been cheap – saying that the Hale Bopp Comet was a harbinger of the end of the world, that we should all be repenting and turning to Jesus, that she'd had revelations and knew what the third revelation of Fatima of Lourdes was, that the Catholic Church had tried to suppress this. I'd written songs about Joan of Arc and this just hooked me." The track eventually received a well received airing at a fan convention in 2005, and had even been considered for a single release to promote an album of unreleased material. The project was abandoned, but eventually morphed into 2010's History Of Modern album, which included a revamped version of the track (retitled 'Sister Marie Says'). Other tracks considered for inclusion on Universal included 'Yellow Press' and 'Thank You'.
---
TRACK-BY-TRACK
Universal
One of the first songs McCluskey worked on in his Dublin rehearsal room was Universal's title track, which represented something of a return to the sound of some of the band's longer, more epic tracks. "I like the idea of songs like 'Sealand' and 'Stanlow', where there is an intro, a sung section, and an outro," he confirmed in 1994. "I feel it's been missing from the last two albums – the bigger songs with more complex arrangements." Originally described as "a cross between Architecture & Morality and Pink Floyd", the track originally sprawled to over nine minutes, but its original five-minute intro was eventually edited down to two minutes – the production team were also presented with the challenge of segueing the song's stunning industrial-tinged, prog rock intro (in D sharp) into the actual song, which was in McCluskey's favoured key of C. "You can imagine Rick Wakeman or Keith Emerson playing it in a stadium," he told Sound On Sound. "I was having fun, basically, and trying to knock down some of my own personally-imposed boundaries with a prog-rock intro." Lyrically, the track saw McCluskey brazenly airing his atheist views ("When we die there's no heaven above"), but with a defiant "We all bleed the same blood/ We all need the same love" message that transcended colour and creed.
Walking On The Milky Way
The opening lines of OMD's first single in three years – "When I was only seventeen/ My head was full of brilliant dreams" – were a good indicator of Universal's generally autobiographical and reflective lyrics. "[It's] about growing up," said McCluskey, "having confidence and energy but, as you get older, the reality of life grinds you down." Its huge production, meanwhile, showcased a fuller and rockier sound that harked back to albums such as Crush (see 'The Native Daughters Of The Golden West'). However, whilst there was certainly more of a 'live' feel to the recording, with its live drums and vintage keyboard sounds – a million miles away from the busy, techno-stylings of Liberator – McCluskey was still determined to make use of more up-to-date technology. "CD-ROMs are great – you can now get things like a choir of nuns singing block chords, which we used on the middle eight of 'Walking On The Milky Way'," he told Sound On Sound. "You're using real organic sounds, but you're using technology to access them. I think we struck a really effective balance." In terms of its melody, it subtly borrowed from the David Bowie-penned 'All The Young Dudes' (popularised by Mott The Hoople' in 1972), a song that Noel Gallagher would later admit to plagiarising for the Oasis hits 'Don't Look Back In Anger' and, more obviously, 'Stand By Me'. "He's still not sued me yet!" the musician joked to Q magazine in 1997.
Aside from his competent keyboard work on tour, Nigel Ipinson had also contributed the impressive glockenspiel arrangement of 'Sunday Morning' to Liberator. It was a chance visit to McCluskey's Hesketh Street studio that resulted in his contribution to the writing of 'Walking On The Milky Way', as he recently told Messages: "After the Liberator tour, I moved house and was living pretty close to the Pink Museum recording studio. I was playing session keyboards on a variety of different albums, and I actually got to do a brief tour with Hot Chocolate. When I returned, I started to think about what I was going to do next, and it was actually on the advice of Errol Brown (the lead singer of Hot Chocolate) that I got heavily involved in songwriting and production. I had a small home studio set up, and I was pretty much doing that every day. One day, I decided to pop in to the Pink Museum and Andy was in there working on the next album and I hung around just catching up on what we had both been up to. The song that is now 'Walking On The Milky Way' was on cycle on the software, and we started talking about it. And, if I recall correctly, Andy was working on the verse section. The idea at the time was to develop a section that would link the verse to the chorus. Andy asked me what I would do, and the way that I tend to work means that I like to provide options. So I played a few options that would provide the link and the option he went for is the musical sequence that sits under the lyrics "I don't believe in destiny/ I don't believe in love/ I don't believe that anything will ever be enough". We then proceeded to work on the bridge, and the process was exactly the same. I looped different options and Andy made the choice of the musical sequence he liked best and what we now hear – I loved the final version; in particular, the sound that was selected for the solo in the bridge."
"'Walking On The Milky Way was a very hard song to write," McCluskey told Messages. "I had the verse, but just could not get the chorus. I was planning to save the song as it had no chorus, until one day I was driving from my home to the supermarket and totally out of the blue I sang "Man you should have seen us on the way to Venus, walking on the Milky Way", and realised that it fit the chorus chords! It had come to me when I least expected. I rushed to my rehearsal room and cut a quick guide vocal so I didn't forget it."
The recording also featured young singer Hannah Clive on backing vocals. Prior to her work on the track, the daughter of film and TV actor John Clive (who sadly died in 2012), had completed session work for a number of artists whilst still in her teens; including Right Said Fred (1993's Sex And Travel), Chris de Burgh (1994's This Way Up) and Ray Charles (1996's Strong Love Affair). "Hannah Clive was Phil Spalding's girlfriend and always came with him when he played bass at the studio," McCluskey told us. "She just piped up one day, 'I have a crazy idea of the end of 'Walking On The Milky Way' – can I try it?'. So we set up a mic and told her to do it. It was the fantastic countermelody vocal at the end of the song – I loved it and kept it!"
The Moon And The Sun
Completing a triumvirate of epic, guitar-based tracks was 'The Moon And The Sun', which – both musically and thematically – wouldn't have sounded out of place on Tears For Fears' similarly '60s-flavoured album, The Seeds Of Love. Embroidered with some effective slide guitar and choral sounds, the track saw McCluskey continuing the album's reflective theme ("It always seemed so easy/ When we watched it while we're young"), whilst also throwing in some Wildean paraphrasing ("The energy of arrogance/ Is wasted on the young").
The track was co-written with former Kraftwerk member Karl Bartos, who he'd previously collaborated with on both 'Kissing The Machine' and 'Show Business' for 1993's excellent Elektric Music album Esperanto. "I always find it intimidating working with other people, especially ones I don't know very well," admitted McCluskey. "I'm not a very competent musician so if I work with people who are really good musicians, it frightens me! I was very nervous working with Karl but everything turned out fine." The track saw Bartos continuing a guitar-influenced journey that had begun with Electronic's Raise The Pressure album. Released just weeks prior to Universal, in July 1996, Bartos had contributed six co-written songs – including the memorable singles 'Forbidden City' and 'For You' – to Bernard Sumner and Johnny Marr's second album. (Two years later, Bartos' second album under the Elektric Music banner – though confusingly rebranded as Electric Music – saw the German musician continuing his flirtation with '60s-influenced music).
The Black Sea
There was a change of pace and mood on 'The Black Sea', a more introspective – and simpler – piece. One of the first tracks to be written for the album, it was based on an oboe riff that Stuart Kershaw had written, hence its original title of 'Oboe Song'. "I thought that it sounded like the swell of the sea," recalled McCluskey. "So that's where the idea for the aquatic content came from." Like The Beach Boys' stunning "Til I Die', which saw Brian Wilson using metaphorical phrasing ("I'm a cork on the ocean/ Floating over the raging sea") to highlight his inner turmoil, McCluskey utilised similar vignettes ("On a ship to nowhere/ On a dark and tranquil sea/ I'm sinking with a cargo") to convey emotional struggle. Structurally, this was a classic major-minor chord progression, and the track included some effective mellotron sounds to give it something of a late-period Beatles feel.
Very Close To Far Away
McCluskey's collaboration with Paul Humphreys on 'Very Close To Far Away' marked the first time the duo had worked together since the late 1980s. "The idea developed from a sample drum loop," explained McCluskey. "Paul wrote the bass line and I put in some chords. Then we just started throwing in weird noises and samples to create this ambient texture. At the end of the day I gave the song its title which I had seen as part of a TV advert. I continued to arrange the song after Paul left so that I could sing on it." McCluskey added: "It's hard to say what it's about – just an abstract train of thought about trying to communicate with someone who won't listen. Even though they're with you, they're far away because they don't understand what you're trying to say to them." The psychedelic track's distinctive backing vocals were provided by renowned session singer Carol Kenyon, whose numerous credits included recordings by Pet Shop Boys, Ultravox, Mike Oldfield, Tears For Fears, Simple Minds, Duran Duran, Pink Floyd and many others. But it's perhaps her performance on Heaven 17's biggest hit, 'Temptation', that she's best remembered for. In an interview with The Guardian, Glenn Gregory described her style as "stratospheric".

The Gospel Of St Jude
Boasting something of an 'Amazing Grace' feel to it was 'The Gospel Of St Jude' (formerly titled 'Gospel Song'), which saw McCluskey continuing his fascination with religion, and turning in perhaps the most spiritual track in the OMD catalogue. The track contained a sample of the Richard Allen Singers' interpretation of Isaac Watts' 18th century hymn, 'Early, My God, Without Delay' (available on the 1994 album Wade In The Water, Volume II: African American Congregational Singing), with McCluskey overlaying it with his own introspective ruminations. "[It's] about searching but not finding what you're looking for," he said. "It's about the struggle to achieve happiness but no matter what you do and what you change, you can never attain it." (The song's title was derived from St Jude, one of the twelve apostles of Jesus, who has often been referred to as the patron saint of lost causes). Like 'Pulse' – from 2010's History Of Modern album – it's a track that has divided fan opinion over the years; one that the NME described at the time, somewhat cruelly, as "piss awful".
That Was Then
Utilising a simple four-chord progression (G-F-C-D), 'That Was Then' saw McCluskey in soul-searching mood, reflecting on his journey throughout adulthood, with a suitably powerful vocal to match the intensity of the lyrics. "It echoes how your life and attitude towards it change as you grow older," explained McCluskey. "Just through the pressure of living." With hindsight we can see portents of the future within the lyrics, as McCluskey bared his soul ("And only memories are left with me/ This shallow history becomes my destiny"). Indeed, during a Q&A at the Pink Museum in 1997 he admitted that the album was almost the epitaph of OMD: "There are a lot of lyrics on the Universal album that are very specifically me talking about the possible end," he said. "It's kind of about the end of a journey, if you like. I was really thinking a lot about how long it had been, and the journey I've travelled down to get to where I have."
Too Late
Once touted as a potential single, 'Too Late' dated back to McCluskey's writing sessions in Dublin, but was added to the album almost at the last minute. "It's about regretting the end of a relationship," he explained. "But, no matter how much you regret it, it's too late to start it again." Something of an internal monologue, the track fitted in with the album's generally reflective theme, but its all-too-familiar chord progression (G-Em-C-D) was more synonymous with the rock 'n' roll era, and co-producers David Nicholas and Matthew Vaughan were arguably correct in recommending its exclusion.
The Boy From The Chemist Is Here To See You
The final track to be written for Universal, 'The Boy From The Chemist Is Here To See You', was inspired by one of McCluskey's art gallery visits. "It came from seeing a sculpture which shows a Barnardo's collecting box of a handicapped boy positioned behind a frosted glass door," he confirmed. "I thought of an inanimate object arriving at someone's house from outside the chemist shop where he'd been positioned and asking why they hadn't given him a penny. I carried the image on to apply to all sorts of people you may have upset in your life coming back to get their revenge on you." Whilst the lyrical theme was somewhat unusual, there was certainly some familiarity in the music itself, as McCluskey reverted to a more synth-pop based sound. Whilst it took its obvious cue from Pulp, who had just enjoyed huge success with the Different Class album and its attendant singles (notably 'Common People' and 'Disco 2000'), a somewhat defensive McCluskey was keen to dismiss the comparison: "I'm returning the compliment, quite frankly," he told Sound On Sound. "Because as far as I'm concerned, some of Pulp's stuff sounds like late Pulp playing OMD doing early Roxy Music. So this is late OMD, doing late Pulp, doing early Roxy Music! 'The Boy From The Chemist Is Here To See You' – and a lot of Pulp stuff – has that two-chord piano, much the same as Roxy's 'Virginia Plain'." Listening to Pulp cuts such as 'Babies' and 'Inside Susan', McCluskey certainly had a point, but the song still sounded out of place on Universal.
If You're Still In Love With Me
The stunning, Beatles-esque 'If You're Still In Love With Me' had originally been written with Paul Humphreys in 1987. "[It] was originally a reggae song," McCluskey revealed. "It's essentially about trying to escape from a relationship someone won't let you out of." According to the official information service, OMD had recorded a version of the track following the German leg of the Liberator tour in 1993, and presented it to Virgin as a potential single (they declined). During his sojourn to Los Angeles the following year, McCluskey worked on a new string arrangement of the track with Stuart Kershaw, which Anne Dudley eventually scored for a 12-piece string section. Dudley was a classically trained musician – and a founder member of The Art Of Noise – who was renowned for her pop-classical crossover work. The multi-award winner (who was recently presented with an Ivor Novello award for her outstanding contribution to music) had worked on albums such as ABC's The Lexicon Of Love and orchestrated the intro on Frankie Goes To Hollywood's huge hit 'Two Tribes'.
"Andy introduced us to Anne Dudley," recalled David Nicholas. "As a result of that session, I put her forward to do the orchestral arrangements for the Pulp album Different Class – both sessions were amazing! She then went on to win an Oscar for a film score – the name of which escapes me [The Full Monty – Ed] – but suffice it to say, after the Oscar I could no longer afford her… or even get her on the phone anymore!"
New Head
The most abstract and experimental track on Universal was conceived ten minutes prior to leaving the studio one evening. "I got the loop… and I just thought, 'I'll put this on tape'," explained McCluskey in 1997. "And I plugged the mic in and I just sang something… When I came in the next day I thought, 'this is great'. I actually sat down and tried to work out what it was I might have been singing, phonetically sort of… that's why the words make no sense at all!" Co-credited to multi-instrumentalist Simon Fung (a member of the duo China Black, who had a big hit with 'Searching' in 1994), the track's use of oriental sounds added a psychedelic dimension to the track.
Victory Waltz
Closing the album in style was the beautiful 'Victory Waltz', a plaintive 3-chord ballad, featuring just piano and choral presets in a simple arrangement. "It's about the last day of a relationship that's ending and the thoughts that are running through your head at the time," said McCluskey. Whilst Universal has often been described as the 'anti-OMD' album, tracks such as 'New Head' and 'Victory Waltz' still managed to showcase the band's experimental side, as well as their undoubted gift for fusing melody with melancholia.
---
WALKING ON THE MILKY WAY Single, August 1996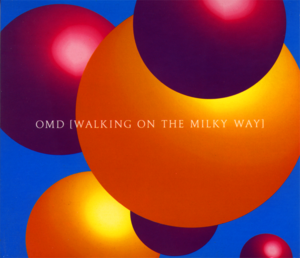 "I thought that was quite a good record, actually" – Paul Humphreys, 2005
The album's first single had originally been scheduled for release in March 1996 but wasn't released until August. The video, filmed in July, echoed the song's lyrics, as McCluskey confirmed: "The images show a combination of performances and surreal landscape. It also has close-ups and character studies of people of different ages to reflect the passage of time". It was filmed at Canvey Island, near Southend-on-Sea, and directed by Howard Greenhalgh (who had also worked on promos for Pet Shop Boys, a-ha, George Michael, Suede and many others).
'Walking On The Milky Way' has the distinction of being the first OMD release not to be released on 7″. As per previous OMD releases (from the Sugar Tax album), there was a pair of CD singles and a cassette single (often referred to as a 'cassingle') that featured a brace of non-album tracks. Nestling in neatly with the lead track's nostalgic sentiments was b-side 'Mathew Street'. "It parallels the history of The Beatles and OMD on the two sides of the street," explained McCluskey. "On the left is the Cavern, on the right is Eric's and The Gramophone Suite." The recording featured Keith Small (who had co-written 'Walking On The Milky Way') on bass and Stuart Kershaw on drums, and was an obvious Beatles pastiche, heavily weighted towards the melody of 1967's 'I Am The Walrus'. Whilst, ultimately, it was the music of acts such as Kraftwerk, Tangerine Dream and Brian Eno that would influence the aspiring musician during his formative years, McCluskey had grown up listening to The Beatles. "I knew their music because most of the singles in the house were Beatles records," he recalled in 1987's Messages biography. "But I was only ten or eleven when they split up – I can just about remember them doing 'All You Need Is Love' on Top Of The Pops." Years later, in July 2008, OMD would perform a version of 'Across The Universe' for Beatles Day at the Liverpool Echo.
Second b-side – and former album contender – 'The New Dark Age', meanwhile, was a more abstract, experimental piece, and something of a throwback to the band's imperial phase in the early 1980s. "[It] sounds a bit like the old song 'Statues'," confirmed McCluskey in 1994. "For those people who know The Hitchhiker's Guide To The Galaxy, it's a cabaret-type song about the end of Western Society – just the song to be played at Milliways!"
Whilst one reviewer described the single as "middle-of-the-road Beatles-flavoured nostalgia pop", there was very little coverage in the music press about 'Walking On The Milky Way'. The biggest problem, though, was that the UK's biggest station, Radio 1 – who in those days could effectively make or break a single – refused to play the song. A change of playlist policy in the mid-1990s had seen the popular station phasing out 'heritage' artists; instead favouring the guitar-based music that was heavily in vogue at the time. Earlier in 1996 there had been a well-publicised court action by rock veterans Status Quo, following Radio 1's decision not to add 'Fun, Fun, Fun' – a collaboration with The Beach Boys – to their playlist. The action was virtually laughed off by the station, who described the band as 'too dull'. "There have been a number of occasions in the past two years where we have not playlisted records in the charts, including Mr Blobby, Michael Barrymore, Michael Ball, Robson & Jerome and Cliff Richard," a Radio 1 spokeswoman said. "Unlike everyone else, Status Quo don't seem to have noticed that there have been a few changes at Radio 1…We do not slavishly follow the Top 40."
Whilst OMD were obvious victims of Radio 1's new playlist policy, fortunately, local radio stations were more enthused about the song and the band were rewarded with their 12th Top 20 single. "I thought [it] was about as good a song as I could write, " McCluskey reflected to The Guardian in 2001. "Radio 1 wouldn't play it, because it wasn't perceived as trendy by their target audience. Because Radio 1 wouldn't play it, Woolworths wouldn't stock it. The upshot of it was that one of the best songs I'd ever written struggled to get to number 17 in the charts." The song did, however, receive some welcome exposure via Top Of The Pops, and an assortment of players duly mimed to the track – these included a hirsute Stuart Kershaw on drums and Carlo Bowry on keyboards (Nigel Ipinson was unavailable due to his touring commitments with The Stone Roses). The chart that particular week included an eclectic mix of tracks from artists such as Robbie Williams, Eternal, Underworld, Suede and chart-toppers, the Spice Girls (the manufactured girl group that would heavily influence McCluskey in his post-OMD career). But there was one particular act in that chart that stood out, albeit for the wrong reasons. Whilst, in his own words, McCluskey had "sweated blood" to write 'Walking On The Milky Way' and re-establish the OMD brand, it probably didn't help that there was an act named OMC climbing the charts during this period with the song 'How Bizarre'. And the team behind the popular Now That's What I Call Music series also thought that it might be funny to place OMC and OMD side-by-side on that summer's Now 34 compilation! In the end, OMC's sleeper hit 'How Bizarre' peaked at number 5, whilst 'Walking On The Milky Way' slipped to number 23 in its second week, soon disappearing from the charts altogether. Not the start McCluskey was looking for as he prepared to release his new album that had been two years in the making…
UNIVERSAL Album, September 1996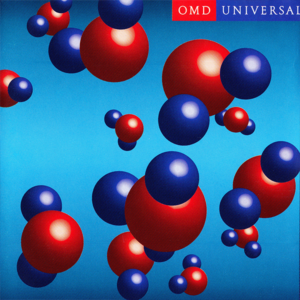 "The mood is more ethereal than electronic, favouring strings and choirs to synths and sampled voices. Lyrically, this is a collection of songs about lost youth, doomed love and broken dreams…and yet the music is wonderfully uplifting." – Q
"Bears all the hallmarks of the classic OMD sound with trademark downbeat lyrics and soaring pop melodies… Probably won't take the charts by storm but it should prove to be a steady seller." – Music Week
"Crispy, clear, serenely syrupy, occasionally spiritual, frequently lovelorn, comically old fashioned and extremely expensive-sounding." – NME
The much-delayed Universal album was finally released in the first week of September 1996; on the same day as Pet Shop Boys' Bilingual album. The rather uninspiring artwork, featuring computer generated water molecules, was based on a concept by Peter Saville (who had worked on several OMD designs in the previous decade). "Instead of going huge and galactic for Universal, I decided to go microscopic and find something small that has universal implications," explained McCluskey. "Water is the most important molecule for life."
Promotional items included a 5-track sampler on CD and cassette (featuring 'Universal', 'Walking On The Milky Way', 'New Head', 'Too Late' and 'The Black Sea'), and a 10-track compilation – unimaginatively titled The Collection – that rounded up hits from both the 80s and 90s. The album was released on CD, cassette and vinyl, though there was a very limited number of copies pressed for the latter (today it's a highly sought-after collector's item).
Somewhat bizarrely, one of the press advertisements bore the Woolworths logo, and the now-defunct retailer – who had refused to stock the single – used a tag line that declared 'The new album from OMD is Universal. (So you should all like it.)'. Sadly, whilst the album was well received by both fans and critics, the failure of the single to crack the Top Ten effectively buried the album, and it limped to a first week position of number 24, plummeting to number 52 the following week. Whilst there were some big hitters in the album chart at the time, including Oasis, Suede, Celine Dion and Manic Street Preachers, when your album is being outsold by titles such as Smurfs Go Pop!, you know you're in trouble! "I think if 'Walking On The Milky Way' had been a top 3 hit you would have seen the album sell very well," lamented McCluskey to Messages magazine in 2002. "I mean, I've said before, if Oasis had released 'Walking On The Milky Way', it would have sold all over the world… I just think that OMD was out of fashion and nothing I could have done – I could have gone techno, I could have gone hip-hop – nothing I could have done would have actually made Universal sell more."
UNIVERSAL Single, October 1996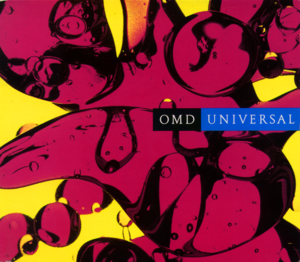 "The title track from the latest OMD album is a big unrestrained anthemic pop song befitting the title…its bright guitar and huge drums make it a potential chart hit." – Music Week review
Until the release of 'If You Want It' in 2010, the title track from Universal would be the last single by OMD to feature original material. Released in a heavily edited version that featured Dublin singer Breda Dunne's backing vocals in the intro, the single – like 'Walking On The Milky Way' – was released on CD (x2) and cassette only.
There were no exclusive tracks to entice potential buyers; just a handful of live tracks culled from a Liberator tour show at the Birmingham NEC. Once again there was a Howard Greenhalgh-directed video, but the song lacked the commercial appeal of its predecessor and it peaked at a lowly number 55.

---
FINAL SUNSETS FALL The Solo Era Ends
The failure of the 'Universal' single to hit the upper echelons of the charts effectively brought the album campaign to a conclusion – an appearance by McCluskey at the end of November on TV show Never Mind The Buzzcocks was largely a futile exercise as there was nothing to promote. A tour – which had largely been dependant on the success of the album – had long since been abandoned. "In Britain at least there has always been a resistance to the band in much of the media," bemoaned McCluskey at the end of the year. "It seems that finally even the quality of the music was unable to overcome the problems." McCluskey did consider a tour in 1998 to celebrate 20 years of OMD, and there was even talk of including a brand new song on The OMD Singles (a second retrospective that included hits old and new), but in the end the band – which saw him briefly reunited with Paul Humphreys – limped over the finishing line with an EP of remixes. By this stage, McCluskey was already committed to the idea of writing for other acts. There was something of a false start with the group Honeyhead, but he and Stuart Kershaw eventually found the perfect vehicle for their songwriting with girl group Atomic Kitten. He later told Paul du Noyer, the author of Liverpool – Wondrous Place: From the Cavern to the Capital of Culture: "I was still conceited enough to believe that I could write songs, and that it was just the OMD vehicle that was dated. So I thought, screw it. I'm gonna get someone who will be well-received because they're young and good-looking. And I'm gonna write songs and prove, if only to myself, that I can still do it, and fuck Radio 1 and all the rest!" McCluskey added: "Atomic Kitten had been my knee-jerk response. I'd felt jilted by the music industry when OMD came to an end, so I went off and found another lover."
In a frank interview for an OMD fan event magazine in 2005, McCluskey told Paul Browne: "I think I made a mistake. I consciously tried to sound organic, using traditional instruments because I was worrying about sounding too 80s electro in the mid-90s. And I think the album suffered for it. I think a lot of people like the feeling of the tracks, but I listen to them now and I just think I was thinking in a way that I wish I hadn't been. I think tracks like 'The Moon And The Sun' don't work; doesn't do anything for me anymore. I like 'New Head'. I like some of the other songs. I think 'Walking On The Milky Way' is one of the best songs I ever wrote in my life. But there'd be other tracks in there now that just remind me of the difficult time and the confusion, so I cannot dissociate the recording of the songs from the memories which may not be the most positive for me."

THIS IS NOW
The Town House (where the bulk of Universal was recorded) sadly closed in 2008. The studios, where Elton John recorded one of the UK's best selling singles (the re-recorded 'Candle In The Wind'), were eventually converted into luxury houses.
One particular demo from 1994 – titled 'Green' – was given a new lease of life by Paul Humphreys, who transformed the McCluskey/Kershaw composition into one of the best tracks on 2010's History Of Modern. From the same album, comeback single 'If You Want It' has more than faint echoes of 'Walking On The Milky Way', while more recently, on the band's latest album, The Punishment Of Luxury, the track 'Kiss Kiss Kiss Bang Bang Bang' recycles part of the melody from 'The Boy From The Chemist Is Here To See You'.
Since their comeback shows in 2007, OMD have regularly included 'Walking On The Milky Way' in their hit-packed sets which, up until recently, had included a sample of Hannah Clive's original backing vocal part. Clive herself retreated from session work in the late '90s as she focused on becoming a singer-songwriter. In recent years she has been working with Brian Tench, who co-produced OMD's Junk Culture. She released a critically acclaimed single, 'Remember To Breathe', in November 2017, and also manages electro-rock band (I Am) Warface, who are planning to release their debut album Atomic White Gold in the summer.
Nigel Ipinson (now Ipinson-Fleming), the co-writer of 'Walking On The Milky Way', played on Stone Roses singer Ian Brown's debut solo album Unfinished Monkey Business in 1998, also contributing the songs 'Nah Nah' and 'What Happened To Ya (Parts 1 and 2)'. He has continued writing and producing music, though mainly via the gospel community. Aside from running web design service UKChurches, he also presents gospel radio show 'Soul Food', and is the Senior Pastor at Bethlehem Church Life Centre in Mid Glamorgan. He is proud of his contribution to Universal: "One of the challenges of a band like OMD is translating the band's natural sound through the technology of the day, and that is something that the guys have done successfully from decade to decade. I really liked the final sound of the album, and 'Walking On The Milky Way' is my favourite for obvious reasons."
David Nicholas, who co-produced, engineered and mixed a large percentage of the Universal album, returned to his native Australia in 2000. He worked on Delta Goodrem's successful debut album Innocent Eyes, and a plethora of recordings for other Australian acts; including Drag, whose second album The Way Out gained him his third ARIA award. In recent years he has launched independent record label and publishing company, Rhinoceros; and, in addition to producing, mixing and engineering, has been helping to develop studio hardware. He still looks fondly back on his time making Universal: "I have revisited the record a few time over the years and it always makes me feel good," he told Messages. "[It] brings back a flood of nice memories. I'm proud of what we achieved and the songs still resonate with me as much now as they did then. And, as one of my first gigs as a producer, a pretty pleasing result."
"It's always difficult to listen to something for a while after you've finished working on it, having listened to the same songs over and over again," recalls the album's co-producer and musician, Matthew Vaughan. "But I've often revisited this record, and I'm very, very proud of it. I remember it as a wonderful time; we all got on like a house on fire as I remember, and I thoroughly enjoyed it and still enjoy listening to the result of our efforts now." Following the Universal album, Vaughan worked on Marcella Detroit's Feeler album (1996), as well as Pulp's This Is Hardcore (1998). He has since contributed to recordings by Monaco, Mike + The Mechanics, Texas, XTC, Delta Goodrem and many others. More recently, as a member of the band Wild Honey, he released a charity single ('Love All The People'), with proceeds going towards Aleppo.
"Andy was great to work with," adds drummer Chuck Sabo. "And the Town House in Shepherd's Bush was a great studio to work in, so the whole LP was very enjoyable to record. I liked the songs, and the vibe of what was going down on to tape. I'm now doing a lot of online drumming, mixing and mastering sessions from my studio, Big Sound; meeting lots of great songwriters from around the world. I'm also writing music for other artists, and sync music for film and TV." Sabo's numerous credits include Natalie Imbruglia's hugely successful debut Left Of The Middle and XTC's final album, Wasp Star (Apple Venus, Volume 2).
Andy McCluskey was less enamoured with the studio, as he told Messages. "I really disliked working in the Town House. I never felt comfortable with the atmosphere in there but we couldn't record in a residential country studio because Matt Vaughan was married with young child and needed to go home at nights and weekends." He adds: "I had never worked before in the way that I did on Universal. Using session musicians and just sitting at the back on the sofa reading the paper and smoking small cigars (which totally stank the place out) whilst the programmer and production engineer did all the work trying to translate my demos into a new recording. In hindsight it was very alienating. Even though I recognise that Matt and Chipper were doing a great job in their way – and in the way that they knew – I had decided to shake things up and work with others as I was losing my self-confidence."
Phil Spalding has consolidated his reputation as a highly skilled musician, playing on a huge number of recordings since Universal; including albums by Electronic, Dubstar, Kylie Minogue, Mick Jagger and many others. In addition to his session work, he also teaches and lectures. "After all this time I still listen to Universal in my own time for fun," he says. "I shudder when I think of what I was putting myself through at the time, but I had to learn the hard way like most addicts. I'll be forever grateful to Andy, Matt and Chipper for having faith in me and letting me do this album. 'Walking On The Milky Way' is still played a lot on the radio, so I'm still getting paid after over 20 years – can't be bad!"
---
Suggested alternative tracklisting: Universal / Walking On The Milky Way / The Moon And The Sun / The Black Sea / That Was Then / If You're Still In Love With Me / Very Close To Far Away / New Head / Victory Waltz
---
Messages gives its warmest thanks to Andy McCluskey, Nigel Ipinson-Fleming, David Nicholas, Matthew Vaughan, Chuck Sabo and Phil Spalding for their contributions to this feature.
Thanks also to Hannah Clive, Paul Browne, Sara Page and Imogen Bebb.
An unedited version of Phil Spalding's account of the Universal sessions can be located via http://www.philspalding.com/music-and-mayhem/story/omd-universal-1995
www.omd.uk.com
www.nigelipinsonfleming.com
www.rhinocerosmusic.com
www.philspalding.com
www.chucksabo.com
www.hannahclive.com
This feature originally featured on The Electricity Club.