Give me what I want…
The Organisation album had given Andy McCluskey and Paul Humphreys a fresh canvas to work on. The sombre soundscapes that dominated their second album were a world away from the 'garage punk' stylings of their eponymous debut release.
But Organisation's heavier mood had been inspired in part by a general unhappiness in the band during 1980 – including the death of Joy Division singer Ian Curtis earlier that year.
OMD had performed with the Manchester band on several occasions and they shared similar roots through the Factory label (which was where OMD's debut release 'Electricity' emerged). There were certainly elements of the iconic outfit that had made an impression on Andy McCluskey. Songs such as 'Statues' clearly took their cue from the passing of Curtis.
Despite this moody period, the band had been enjoying their first flush of success on the back of 'Messages' and were already engaged in a furious schedule of songwriting. But along for the ride was 'Enola Gay' – a pure pop song that had originally been penned prior to the release of OMITD.
There was little doubt that 'Enola Gay' was the most obvious single to be drawn from Organisation, despite the complexities that surrounded the recording of the song. But with every single, there has to be a corresponding B-side track and while at Ridge Farm, during the recording of Organisation, 'Annex' was conjured up.
"It was completely made up on the spot" recalls Andy McCluskey, "I think that we started with the pulsing keyboard sound that comes in on the record at 42 seconds. That gave us the tempo. You can clearly hear that the timing of everything else is rather shaky trying to follow the synth. We then found a synthesised marimba sound and randomly played notes across the top, followed by the tuned wind noises".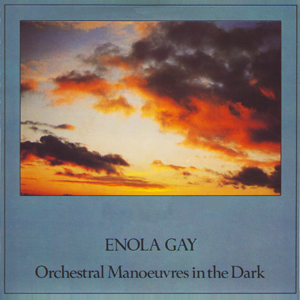 "The strangely eerie vocals at the end are me singing falsetto notes heavily effected by an Eventide Harmonizer effect to create weird chords".
The title of the new B-side emerged from the lyrics, which dealt with wanting everything from a relationship. "Basically annexing the other person like a hostile takeover" remarks Andy.
"The best thing we've done all year is 'Annex'", observed Paul Humphreys in an article in Sounds at the time "It takes a bit of getting used to and it does go on a bit, but there's a good feel to it. It's definitely an area we prefer. We're into random synthesiser".
In fact 'Annex' harkens back to that primitive, raw sound that had been the hallmark of the OMITD album. While synth-pop is often unfairly painted as being cold and sterile, OMD managed to introduce mood and warmth into their material.
At the same time they could craft unusual soundscapes that were a step removed from their classic pop songs. It's evident in B-sides such as 'I Betray My Friends' and 'Navigation' – and 'Annex' slots perfectly into that niche.
---

---