Looking back at OMD's 2011…
2011 was a busy year for OMD following on from the release of History Of Modern. It was also the year that saw the Messages site feature some great articles, stories and interviews.
January saw Andy McCluskey interviewed by our sister site The Electricity Club in which Andy mused on where OMD were post-History Of Modern, as well as outlining the plans for OMD's future.
'History of Modern (Part I)' was released in February. The release came in a limited edition digipack CD and 10″ vinyl. The 10″ included B-side 'The Grand Deception' as well as OMD's own cover of xx's 'VCR'.
A competition for the Official Promo Video for 'History of Modern (Part I)' was also announced with the winner being Lapantafilm from Sweden.
A new article in our Club 66 OMD B-Sides series was posted, this time focusing on classic track 'The Avenue 'from 1984 single 'Locomotion'.
There was also an opportunity to write a small feature on OMD's classic 1991 comeback album Sugar Tax.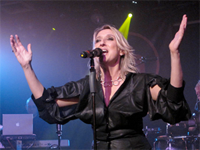 Claudia Brücken released an album of her best songs titled Combined, which featured the mixing talents of Paul Humphreys. Claudia also performed live at the Scala in London supported by Paul Humphreys alongside Glenn Gregory, Martyn Ware, Andy Bell, Susanne Freytag, Ralf Dörper and Andrew Poppy.
March saw Andy McCluskey interviewed for a feature in which he discussed his approach to songwriting and production.
The same month, Messages featured an article on the intriguing story behind the artwork for the sleeve of 1993 album Liberator.
A new American tour was announced which saw OMD playing a variety of cities and venues (including a gig in a bike shop!). "The audiences have varied between brilliant and amazing.." said Andy at the time, "every night has been incredible". Lori Tarchala followed the tour and provided in-depth write-ups and photos from the concerts. The tour covered Los Angeles, Denver, Chicago, New York and Boston.
Sadly, the tour was marred by an unfortunate accident just prior to one of the SXSW performances. A camera boom collapsed and fell on the crowd with four people injured. The band considered whether or not to continue with the performance, and made the decision to continue once they learnt that the injuries were not serious and the people would be OK. However, the incident was further compounded when some sources misquoted the band complaining about their set now running short (OMD went on late at 1:30am with a 2am curfew still in place) when in fact they had complained about a different venue in which the management had cut the power off during the stage performance.
In April, another interview with Andy McCluskey and Paul Humphreys had the writer focusing too much attention on 'If You Leave' (citing OMD as "one hit wonders") before managing to spell Paul's name wrong in time-honoured tradition!
May saw Andy McCluskey joining Claudia Brücken and Paul Humphreys for OneTwo's special electronic show at Düsseldorf's Stadtwerke alongside Propaganda's Susanne Freytag and Ralf Dörper. Former Kraftwerk member Wolfgang Flür also read from his book I Was A Robot.
Andy and Paul also found time to join the Radcliffe and Maconie show on BBC Radio 6 to chat and play some songs.
In June, OMD headlined two concerts in Spain, including one at the Madrid Arena. Support was provided by the excellent Mirrors.
In July OMD took part in the Latitude Festival which took place on the Sunrise Coast, Suffolk. Latitude's booking agent Jon Dunn commented: "The ideal thing for me would be for someone, say 16 years old, come see a new band like the Vaccines and then go and see Orchestral Manoeuvres in the Dark and absolutely love it – and vice versa"
June also saw OMD taking part in the Meltdown Festival, part of which was a tribute to the late Tony Wilson which included contributions from Paul Morley and Peter Saville.
More controversy arrived in July when Eric's Club was re-opened with OMD headlining the launch. The decision to relaunch Eric's met with some condemnation from some of the people from the original scene. "Eric's is dead" said former Big In Japan member Jayne Casey, "If you want to celebrate it, lay a gravestone in Mathew Street, put flowers on it if you want, but don't dig it up" while one of the former owners, Ken Testi described the venture as "foolish and cynical".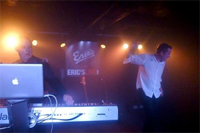 The launch party was further hampered by problems with a competition for tickets which saw OMD fans patiently waiting on the OMD Facebook page for a whole evening. "I have spent over 7 hrs waiting for the fb posting last night!!!!" commented one OMD fan, "whatever happened?? Alot of loyal fans wasted many hours waiting for something that never materialised. Perhaps tickets should be sent to all who dedicated so much of their time??". The launch night itself however seemed to go smoothly with a 35min set by OMD that featured classics such as 'Electricity', 'Almost', 'Messages' and a surprise inclusion of 'Julia's Song'.
Paul Humphreys took part in the Vintage Festival event as part of OneTwo, which included the band performing Messages and Electricity. The event also saw Paul meet once again with former Depeche Mode member Alan Wilder.
August saw the release of OMD – Live In Berlin. This CD and book featured an OMD performance recorded at the Tempodrome Berlin on 18th November 2010. The book included images from the OMD tour, hand written notes by the band, recent letters from the band to the fans and a selection of lyrics. A live version of Messages was made available via the OMD Website as a taster.
Meanwhile, we featured The Id in a special article looking back on the pre-OMD outfit.
A live video for 'New Babies: New Toys' was also released, featuring footage shot at New York's Terminal 5 venue.
August also saw another interview with Andy McCluskey for Steelberry Clones in which he discussed the changing methods of writing electronic music and also spoke briefly about OMD's direction for English Electric.
OMD returned to Germany in September for a brief series of concerts, supported by Finnish duo Zebra And Snake. They had to do without their sound engineer mixing their front of house sound however as he was stuck in New York due to Hurricane Irene!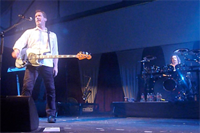 The second US tour followed on from Germany with Lori Tarchala once again providing her usual in-depth concert reports. This time the tour visited San Diego, Anaheim, Milwaukee and Miami.
Also, for the first time, OMD made available live recordings from each of the American dates on USB sticks.
Lori followed her Tour Blog with a special 2-part interview with Andy McCluskey himself in which he discussed plans for English Electric, OMD's tough path in paving a career in America in the mid '80s, the reformation of the band and the genesis of History Of Modern
.
November featured a special article covering the history of the recording and release of OMD's debut single 'Electricity'. This article covered all of the songs various versions, from The Id through to the infamous Micronauts remix!
November also saw acclaimed website The Quietus look at the 30th Anniversary of Architecture & Morality. Writer John Doran provided a well thought out retrospective take on the album.
"There isn't a note out of place on Architecture & Morality
. From the panic-ridden, cold war paranoia and booming Numanesque synths of 'The New Stone Age' to the wistful 'The Beginning And The End' which sits somewhere between Japan and The Smiths (and is certainly more Hal Hartley than John Hughes), this is one of the finest 1980s pop albums. 'Souvenir' is perhaps the moment when they lay their cards on the table and say, 'Look, we're actually trying to break your heart.'"
The article was important in many ways, not least because John Doran had written the scathing commentary on History Of Modern that featured on the BBC site (and was later used for the review on Amazon).
In response to criticisms in the comments section, Doran responded: "I don't like the album I'm afraid. I'm glad that other people do, but I have to call it like I see it, otherwise what we do is just PR and advertising for the music industry not independent journalism. It's not my job to be friends with rock stars and bands or their fans… which is a shame as my life would be a lot easier in this respect if it was. I interviewed Andy in front of a group of fans in Norway at the start of the year and while he knows about that album review, I guess he also knows how important I think OMD are through writing here and in 1001 Albums You Must Hear Before You Die
etc. I have the utmost respect for OMD but can't enjoy the last album."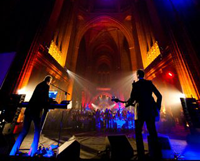 Musician Hannah Peel had produced her own unique cover version of 'Electricity' at one stage – a gesture reciprocated in a way when Hannah's own 'Organ Song' was sampled for 'Bondage of Fate' from the History Of Modern album.
December also saw OMD play live at Liverpool Cathedral for the Chamber of Commerce's annual dinner. The event was a special performance and had been arranged due to OMD's support for the Chamber of Commerce in playing in Shanghai in 2010 as part of the Shanghai Expo.
A classy performance to end 2011 on. Here's hoping that 2012 will bring more OMD goodness!
---
By Paul Browne
1st January 2012