The Questions & Answers section of the Official OMD Website proved to be a popular feature in which queries about OMD's record releases and career could be answered directly by Andy McCluskey or by site administrator and OMD archivist Paul Browne.
The context for many of the queries and replies featured on these pages has obviously changed over time but have been preserved here intact as a window on a particular period in OMD's history.
---
Are there any members of the group currently writing or performing anywhere. Also are there any plans for a OMD reunion concert?
Mike Osborne
Andy and Stuart have recently written and produced two songs for Jennifer Ellison. Paul Humphreys is currently writing with Claudia Brücken. Mal Holmes is working with both Jo Mooney and Dean Johnson. There are no plans for an OMD reunion concert at the moment.
Could you please tell me who got custody of Winston? I know you've probably been asked this question hundreds of times in the past but I've never been able to find out!
Dave Stevenson
Paul Collister was the original owner of Winston and he kept hold of him after he stopped working with OMD. Interestingly, Paul Collister has recently been in touch with Andy with a view to passing Winston back to him.
I heard that Andy McCluskey wanted to start a career as a single singer. Is that right?
Stefan Iwanowski, Munich
"No, I have no intention of performing alone or as OMD – at least not at the moment". – Andy
What football team does OMD support?
Ted Cikowski, Detroit, Michigan
"I support Liverpool. Paul Humphreys supports Manchester United. Nigel Ipinson and Stuart Kershaw are Liverpool fans. From memory, the Weir brothers were Hibs supporters. I can't recall Mally or Martin having a particular interest in football". – Andy
I would like to ask if Andy has ever considered recording as a solo artist in the future instead of recording as OMD?
Carol Wheeler
"Not thought about it" – Andy
There is a track on the soundtrack of the Pokemon movie (don't ask how I come to hear it!) called 'Vacation' by Vitamin C. The opening few bars contains a sample from 'The Place You Fear The Most', slightly speeded up.
Stuart Johnstone
"Yep! Same sample. Thanks for pointing it out." – Andy
What whould you say was the hardest part of your music and what was it like going on Top Of The Pops for the first time?
Gorden Noble
"Writing songs is the hardest, but best part. Top Of The Pops in 1980 was incredible. Everyone who does it feels the same – they can't believe they are in the studio they have seen on TV." – Andy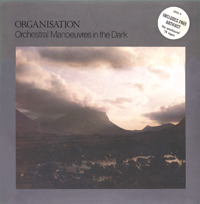 One of my favorite albums of the past 20 years is Organisation. I have a copy I bought in the early 80s outside Chicago IL. At the bottom of the album, in small print, it says; "O.M.I.T.D. Songbook 'Music 77-80' available from your local music dealer…" It gives a price in pounds and the address is; Camden House, 7 High Street, Newmarket, Suffolk.
What is this referring to? Is it and album before Organisation and OMD? If it is a recording of earlier OMD material I would be incredibly happy. I would love to hear more of their early music.
Brett Barton
Organisation was originally issued in a grey sleeve. Initial copies of this album were stickered and featured a free single and merchandising insert. When copies of this release were exhausted, DinDisc issued the album in a black sleeve. Initial copies of this black-sleeved Organisation featured an advert for an OMD book. This book featured the music and lyrics for both OMITD and Organisation.
Could anybody tell me where the photo on the front of the Organisation album was taken and by whom it was taken?
Donald, Edinburgh
Is the front cover on Organisation Rannoch mor looking down towards Glencoe with Stob Dearg in the main part of the photo or am I completelyWrong?
p.latham
The cover photo of Organisation was chosen by sleeve designer Peter Saville from a stock photograph library. Saville felt the broody landscape shot perfectly captured the atmosphere of the album.
Unfortunately, there is no record for where the photograph was taken or by whom. As far as we know, the shot was taken in the Scottish Highlands and so it may well be part of the Glencoe region.
Being in my mid-30s, I remember a children' TV science programme that Paul and Andy wrote the theme music to around 1981. What was it called? I even remember Thomas Dolby being on the program and playing the theme tune with the programmes presenter.
David Sewell
The programme was called The Final Frontier and Andy and Paul did indeed pen the theme tune.
What is the link between OMD and Atomic Kitten ?
J.C.W.M. v. Beuningen
Andy McCluskey and Stuart Kershaw write and produce material for the girls.
I was hoping the OMD website could possibly enlighten us fans on the American side of the pond as to if/when the kittens will release any material in the US. It's hard to come by kitten imports here since they have yet to release a single here. Please, I'm begging. I've asked this before & would like to avoid sinking lots of money into expensive imports if the kittens plan on releasing their album here in the states.
Tad Saine
"Album in the new year. We are arguing about 'Whole Again' before or after Xmas. The girls are reshooting the video for USA in LA this week (August 2001)" – Andy
I read in a magazine some time ago, that you don't wear any undies. Is this true?
Wendy O'Sullivan
"It's true, I still don't. I stopped wearing them when we were in Montserrat, it was just too hot to wear underpants and once I stopped I just felt uncomfortable wearing them. " – Andy
Who has been your favourite group you have toured with?
Kyle Smith
"The Cocteau Twins in 1983. " – Andy
I reckon you've got an excellent taste in clothes. Have you got any fave designer?
Carmen Vazquez, La Coruna, Spain
"No one particular designer now but I used to be a big fan of Katherine Hamnett. " – Andy
I don't particularly find it appealingly fascinating to discuss such morbid, depressing thoughts, but I have been wondering what songs, if any, you intend on having played at your funeral.
Spencer, USA
"I have thought about funerals and how I want to be buried but I've never actually thought about what I would like to have played at my funeral. Part of me says that funerals actually should be a celebration of people's lives rather than a mourning of their passing so it would be quite nice to have some jolly music, but then again 'Romance Of The Telescope' would sound pretty good. " – Andy
Thank you very much for your work in the discography. You mention that all that data will be available in the shape of a book. When? Are we going to be able to purchase that book via the web page?
Javier, Spain
The book is a combined OMD Biography/Discography currently under the working title of 'Archive'. There are no plans to publish this just yet, but any updates will be posted on the OMD Website news page.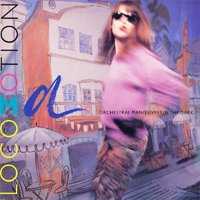 Regarding Locomotion, did this picture sleeve feature autographs of any of the band in the design?
Paul
There are no autographs in the sleeve design, although the name "OMD" has been rendered in a freehand style so it might look like a signature to some people.
What's your opinion about painters like Picasso, Miró, Dalí…?
Carmen Vazquez, Spain
"Of the ones you mentioned my favourite is Miró. My personal all-time favourite painter is JMW Turner. " – Andy
What's was the worst performance that you can remember?
Pat Fetty
"First gig in Boston, USA 1980. The PA broke down and we only did 20 minutes then left the stage. " – Andy
I believe that OMD opened for Depeche Mode at the Pasadena Rose Bowl, June 18th, 1988. I have the Depeche Mode 101 CD that was recorded live on this exact day and I was wondering if you know of anyone who would have the OMD opening songs recorded on this day as they must be available somewhere ? (The reason I ask is because I have heard from many people in the States that OMD was actually better than Depeche Mode as the support act. – this is something I can believe as OMD is a great live band).
Matthew Greenway, South Africa
"As far as I know we were not recorded at the Rose Bowl concert but I like the idea that people think we were better than Depeche Mode." – Andy
What are those four 'battons, tubes' on your front cover of the OMD Singles CD?
Elaine Long, Botswana. Southern Africa
"Human DNA in the shape of electronic diodes. " – Andy
What made you change labels, first from Factory to DinDisc and then to Virgin?
Magnus Larsson, Linkoping, Sweden
"Factory always said that it was a one single deal because they were so small in those days. Factory got us the deal with DinDisc. DinDisc was a subsidiary label of Virgin so when it closed we ended up on the parent company. " – Andy
Do your children know what you do/what you have done in terms of your success in the music industry?
Pat Fetty
"They are only young so they don't really understand much. " – Andy
Are there any TV appearances coming in the near future? Possibly the championship tournament for Never Mind the Buzzcocks 🙂
Pat Fetty
"Never Mind The Buzzcocks is a UK music-based quiz show that features celebrity contestants. I don't think I'm too popular with Never Mind The Buzzcocks because I can't stand Mark Lamarr! " – Andy
Have you considered the idea of composing another soundtrack such as For The Greater Good?
Carmen Vazquez, Spain
"No plans in the immediate future. It was interesting to do a soundtrack but very restrictive. I would rather do songs." – Andy
Now OMD's "death sentence" with Virgin is over, why hasn't Andy taken himself to another label? – it certainly helped Mike Oldfield when he moved and some bright spark came up with the great idea of Tubular Bells 2 (and now 3), making Mr Oldfield a very successful recording artist again !!! (and don't forget Mr Meatloaf (Bat 2) and Mr Jarre (Oxygene parts 47-93 !) has also had the same idea) So what about Architecture & Morality 2?
Some gentle moody synth stuff to attract the attention of us 30 somethings (how many records does Enya sell these days?) giving the surge in fashion of analogue synths……and what Andy can do on those synths ('Sealand', 'Stanlow', 'She's Leaving', The Joans etc. Forget dance loops and digital nightmares – back to basics !!!!!! well it's just an idea…..if he feels Dazzle Ships was a "commercial cock up", why not sell out and just on this sequel bandwagon and get OMD on the map again.
Mike Guy
"I feel no need to "sell out" just yet. Also, there is no point of consciously recreating the past just for money, but I will do new music in the future. At the moment I don't want to be OMD but maybe one day it will make sense again." – Andy
I have a BBC Radio tape recording that I taped from a Radio 1 broadcast on 03/11/84. From the notes I have on the card insert it was originally recorded at the Odeon, Hammersmith. The sound quality is quite acceptable. Can you give any background info on the performance I wonder if this live recording was ever made available on a commercial basis or if any OMD live recordings were released other than individual tracks on singles
Garry Bunce
"We were recorded by various radio stations over the years. The 1984 Odeon one has never been used for records as far as I recall. " – Andy
I know that you (Andy) are a Pulp fan. After listening to their excellent job on the latest Pulp album, don't you think you can work back with Paul and the rest of the band to come with new music (more acoustic), just like 'That Was Then, This Is Now'?
Gustavo Jiménez
"Paul and I are friends but I don't really want to try to recreate the old days. " – Andy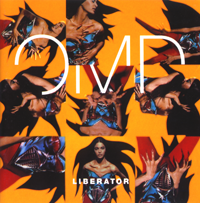 I remember reading an article in an old NME which covered a gig that was done in the Hacienda in the early 80s, the article mentioned a song called 'Heaven Is' which at the time did not feature on any albums. Is this song the same song that was recorded for Liberator?
Alex Hamilton
"Yes, but very reworked. There are bootlegs from the Mid-80s that feature the original live version. " – Andy
Why do you wear white socks with dark trousers? Any special reason?
Carmen Vazquez, Spain
"It was an 80s thing – Now I only wear black socks." – Andy
---
The original Q&A pages first appeared on the Official OMD Website in 1998
Revised text 4th February 2014