Despite its troubled beginnings, OMD's 'Enola Gay' has remarkably seen very little variation from its original incarnation to final release. While the song has had its own unique history, the classic Organisation cut has avoided the complicated evolution that tracks such as 'Tesla Girls' or 'Telegraph' has endured.
Despite this, 'Enola Gay' has seen a few officially sanctioned remixes and variations – plus more than a fair share of cover versions – ranging from good to terrible. In our article discussing the recording of 'Enola Gay', we looked at the genesis of the song, here we'll list the various official versions that form the catalogue of releases.
---
ENOLA GAY (PEEL SESSIONS VERSION)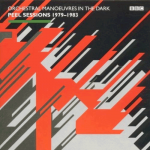 The 2000 release of the OMD Peel Sessions had finally satisfied one of the 'Holy Grails' for OMD fans who, prior to its release, had had to make do with 4th generation cassette copies that had originally been hastily recorded directly from the radio on transmission.
Recorded in April 1980, this version of 'Enola Gay' has some subtle differences from the more familiar single version which would arrive several months later. The drum machine intro is slightly different and Andy's vocal style is much more casual. The result is a much more laconic version of the track than perhaps we're used to, but it has its own unique charm regardless.
Where to find it:
Orchestral Manoeuvres In The Dark Peel Sessions 1979-1983
(CDV2908)
---
ENOLA GAY (ORIGINAL RECORDED VERSION)
Recorded at Advision Studios in the final months of summer 1980, this version was planned to be the original single release, but although it was committed to press by DinDisc, Andy McCluskey changed his mind and ordered the pressings to be halted.
This version of 'Enola Gay' has never been officially released, but judging by the Peel Sessions version (and the version that was introduced into the live set at concerts in the early part of 1980), it's more than likely that it's similar to those early versions.
Where to find it:
Currently unreleased
---
ENOLA GAY
The classic version, which appeared on Organisation and also issued as a single in September 1980.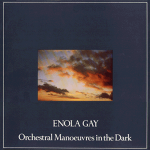 Here, the drum machine intro is much more robust than on the Peel Sessions version and there's a much harder edge to Andy McCluskey's vocals. Plus, Mike Howlett's production skills give the entire track a much more widescreen sound.
This version was recorded at Advision Studios following the scrapping of the original take. Mike Howlett advised Andy to be more relaxed and to simply sing along to the speakers. Despite this, the vocal elements for the final version were actually combined from a variety of takes from both the Advision sessions and Ridge Farm recordings.
Where to find it:
Enola Gay 7" Single (DIN22)
Enola Gay 2" Single (DIN22-12)
Organisation
(DIDCDR6)
---
ENOLA GAY (URGH! VERSION)
Released in 1981, Urgh! A Music War boasted a huge variety of artists and bands that had originally been filmed back in 1980 (a video release arrived in 1982). Among them, was OMD performing in Portsmouth with an unusual version of 'Enola Gay'.
Here, the familiar drum machine intro is missing which gives the song a much more raw feel to it. This odd arrangement of 'Enola Gay' featured on many of OMD's pre-Organisation concerts where the song was essentially being tested for a live audience, hence the stripped-down arrangement.
It was only when the band embarked on the Organisation tour in the winter months of 1980 that the more familiar drum machine rhythms were reintroduced into the live version. It's also where the tradition of 'Enola Gay' as the last song was established – the drum machine continuing to play a solitary rhythm while the band filed off stage.
Where to find it:
Urgh! A Music War (AMLX64692)
---
ENOLA GAY (OMD VS SASH!)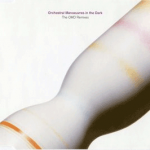 When the compilation album The OMD Singles was being assembled in the latter end of the 1990s, a series of remixes were commissioned from a broad variety of musicians and producers. The original idea was for the album to feature one disc of original versions and another featuring the various remixes.
Budgetary restrictions prevented this double CD from happening with a selection of remixes appearing instead on The OMD Remixes – an EP that was issued to help promote The OMD Singles in 1998.
One of the commissioned remixes was the work of SASH!, actually a German DJ/production team, fronted by Sascha Lappessen. This version, which boasts more of an EDM approach, also includes various samples culled from a documentary on the Enola Gay mission. It also includes Robert Oppenhemier's famous quotation "Now I am become death, the destroyer of worlds".
This mix comes in several flavours – a 5.18 mix on VST1694 and a 4.04 Radio Edit on VSTX1694. A 6.11 mix appears on a special double-pack white label release VSTDJ1694. The French edition of The OMD Singles also swapped out 'Call My Name' in favour of the SASH! remix of 'Enola Gay'.
Where to find it:
The OMD Remixes CD (CD VSCDT 1694)
The OMD Remixes 12″ (VST 1694)
The OMD Remixes 12″ (VSTX 1694)
The OMD Remixes 12″ (VSTDJ 1694)
---
ENOLA GAY (DANCEFLOOR "KILLA MIX")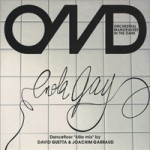 When Virgin France reissued The OMD Singles in 2003, they issued it as a double CD with an additional disc of remixes (as had originally been planned for the UK back in 1998).
At the same time, they commissioned new remixes for the album, which included this contemporary remix by DJ and producer team David Guetta and Joachim Garraud. Guetta has established himself as a household name through his DJ appearances and is probably best known for the likes of 'When Love Takes Over'.
Also issued as a 12" release which featured 3 variants: 'Enola Gay (Dancefloor "Killa Mix")', 'Enola Gay (Dub Remix)' and 'Enola Gay (Radio Edit)'.
Where to find it:
The OMD Singles (7243 5 82859 2 5)
Enola Gay 12" (7243 5 47264 6 0)
---
ENOLA GAY (LIVE VERSION)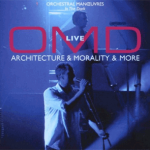 Following OMD's 2007 reunion, the band embarked on a special Architecture & Morality themed tour. US-based record label Eagle Records commissioned both a video of the Hammersmith Apollo show as well as a special CD release of the soundtrack.
Keeping with tradition, 'Enola Gay' here ends the show (before the inevitable encore). There's an exuberance and energy here, bolstered by the enthusiasm of the audience, which serves to demonstrate how powerful 'Enola Gay' remains as a live song.
Where to find it:
OMD Live: Architecture & Morality & More
(ER20137-2)
---
Text by Paul Browne
4th August 2015