Building a girl group…
There was a point during Atomic Kitten's career when their record company had decided not to pursue a future with the band. It was yet another obstacle on the long road to the Kitten's success…
The music industry can be very fickle at the best of times and it's that fickle nature that led Andy McCluskey and Stuart Kershaw to form Atomic Kitten in the first place. In fact it was the release of 'Walking On The Milky Way' that hammered home the point that OMD just weren't seen as a credible act for the 1990s. Although the song was one of the best OMD songs that Andy had written, it struggled for radio play just due to the baggage of OMD being perceived an "80s band".
Andy still had faith in his ability to write songs, but began to consider the possibility of presenting them in a different way. This idea began to take a definite shape in the early part of 1997 when Andy began having meetings with two music managers in Liverpool with a view to producing a girl pop band. An ad in The Stage brought some possible recruits and, after holding a series of auditions, by July they had a band called Honeyhead that consisted of Jo Jeffries, Heather Leigh, Joanne Mannion and Rebecca Rudd (A possible fifth member was also considered in the shape of Jan Carr who was initially brought on board to do styling and choreography).
Andy and Stuart had a name, a band and songs – 'Right Now' and 'Whole Again' were written during this period – and everything looking like it was on track. Unfortunately, the chemistry between the girls wasn't working and internal tensions led to the Honeyhead project collapsing. Despite this, Andy and Stuart were happy with the songs that were written during this period and decided to try again, but with a different line-up.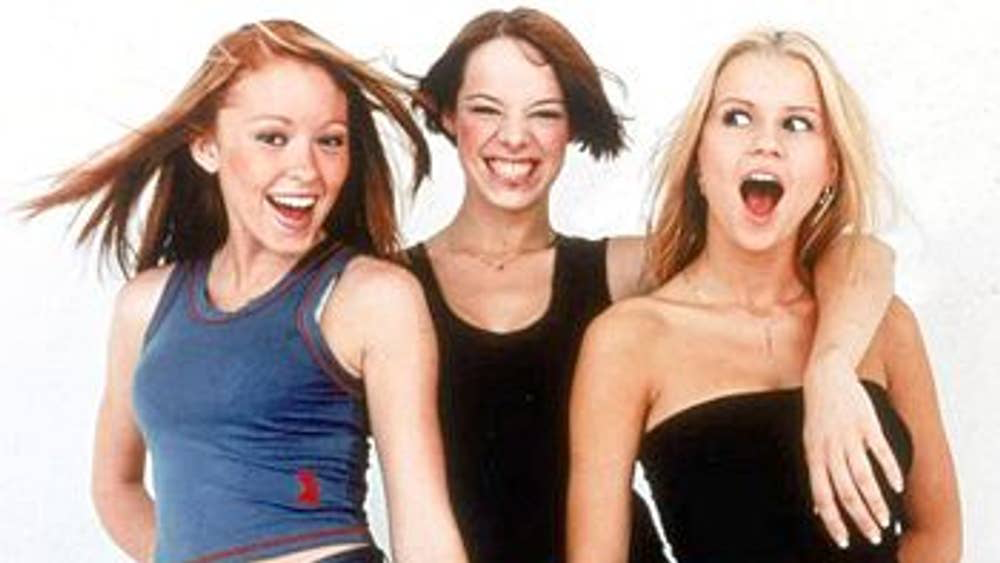 For the new outfit, they decided to focus on local Liverpool girls which resulted in the recruitment of Kerry Katona, Hedi Range and Liz McClarnon. The new band were initially called The Automatic Kittens, but by early 1999 had been renamed Atomic Kitten.
During the early days of Atomic Kitten's rehearsals, Heidi left the line-up. Heidi had a great voice according to Andy, but at 15 she was reckoned to be too young for the arduous task of being in a dynamic girl band. Enter Natasha Hamilton , who completed Atomic Kitten's line-up and the serious job of getting the outfit up to speed was underway.
In May 1999, Atomic Kitten made their debut appearance at a performance at the Paradox Club in Liverpool. The response exceeded expectations and this was helped by follow-up appearances at London's Heaven club and the Gay Pride event.
Andy and the Kitten's manager Martin O'Shea talked with several record labels about a possible deal before signing with Virgin subsidiary Innocent. Three songs were being finalised as possible releases at this point, but it was the vibrant pop of 'Right Now' that finally made it as the Kitten's debut single.
Innocent were very enthusiastic about the Kittens and actually described Atomic Kitten as "The next big thing". 'Right Now' was given a big push by the label (who shipped 80,000 copies on the day of its release) and the single sold 30,000 singles in its first week alone, managing to reach No. 10 in the UK charts. The follow-up 'See Ya' made a more impressive climb to No. 6. After that, things appeared to tail off – the next single made No. 10, but the single after only managed No. 20. Atomic Kitten's debut album Right Now, released in November 2000, struggled to make the top 40, edging in at No. 37.
To complicate matters, Kerry Katona was pregnant and had decided to leave Atomic Kitten to devote more time to her relationship with Westlife's Bryan McFadden. Kerry's replacement was Jenny Frost (who had previously been part of Eurovision hopefuls Precious).
While all this was happening in the public eye, behind the scenes things were looking decidedly grim. Virgin had decided to drop Atomic Kitten from their roster – a decision that might have spelled the end for the Kittens if it wasn't for one significant event…
---
In October 2001, shortly after the original release of the Right Now album which had reached only No. 37 in the UK charts, Atomic Kitten were dropped. Andy, Stuart and Atomic Kitten manager Martin O'Shea all believed in a song called 'Whole Again' and entered into discussions about buying back the catalogue of songs recorded for Innocent/Virgin Records in lieu of an advance they were owed.
They were determined to release 'Whole Again' as a single and remained optimistic. Meanwhile, O'Shea managed to convince Hugh Goldsmith of Innocent to give the band one more chance. A limited budget was agreed with parent group Virgin.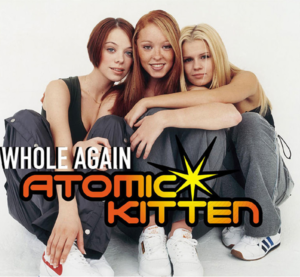 So 'Whole Again' was released in January 2002 with a simple promotional video and minimal marketing campaign. Things were beginning to look promising. Support that had not been forthcoming in the past was suddenly there. Most significant was airplay on BBC Radio 2. This was the first time a national radio station had backed the girls. The video too was getting prime time exposure on music TV channels such as The Box.
'Whole Again' had been intended as Atomic Kitten's fourth single but, in its original form, it had a spoken word vibe similar to All Saints' 'Never Ever'. It was thus 'Follow Me' that was released as the pre-album single while 'Whole Again' was reworked to be more melodic. As Andy McCluskey and Stuart Kershaw has lived with the song for nearly two years at this point, it was given to songwriters Bill Padley and Jeremy Godfrey in an attempt to turn a nice album track into a potential international hit single.
But there was one major setback. Kerry Katona, who had been persuaded to stay with Atomic Kitten for the 'Whole Again' campaign became ill and wanted to leave immediately. So Jenny Frost, Kerry's replacement was notified her services would be needed early. This meant joining the band the next day to perform on TV while frantically learning the words to 'Whole Again' on the car journey to the TV studio!
In the face of competition from singles by U2, Wheatus and Ash (who had smugly predicted the return of 'guitar orientated rock' to the top of the charts!), 'Whole Again' went straight to No. 1 in the UK Single Charts, staying there for five weeks. Bono of U2 admitted defeat and declared that "Pop has bitten us on the arse!" The song eventually reached No.1 in a number of countries including Germany and New Zealand.
'Whole Again' was Andy McCluskey's first UK No.1 and was accorded recognition by fellow songwriters when nominated for the prestigious Ivor Novello Award later that year. It was an amazing turnaround of fortunes after the demise of OMD, the still-born project that was Honey head and the initial loss of faith by Innocent/Virgin. The future looked good as Andy sought to consolidate his success with Atomic Kitten.
Initially, the signs were good. The re-packaged, re-mixed, Right Now album reached No.1 in the UK Album Charts in August 2001 several weeks after Atomic Kitten had scored another No.1 single in the shape of Bangles cover, 'Eternal Flame' which had been recorded after a suggestion to the girls by Martin O'Shea.
However, a quick glance at the CD booklet hinted at what was to come. The tracklisting, which featured additional newly recorded non-McCluskey/Kershaw compositions, was re-sequenced to put emphasis on ballads and pop r'n'b tunes. The "in-yer-face" pop singles 'See Ya' and 'I Want Your Love' were relegated to bonus track status. The girls themselves had gone from feisty teenagers to grown up young ladies. Atomic Kitten were about to become big business and everyone wanted their cut of the lolly, including the girls.
In the preparations for the second Atomic Kitten album, Andy and Stuart found themselves being slowly edged out of the group they had been instrumental in creating. Under management and record company guidance, external songwriters and producers were brought in. Among them were Mud's guitarist Rob Davis (most famous for co-writing 'Can't Get You Out Of My Head' for Kylie Minogue), Norwegian trio Stargate and Andy's 'Whole Again' sparring partners Padley and Godfrey. In addition, new songs were accepted from Kylie Minogue herself and Susannah Hoffs of The Bangles. The girls themselves shared writing credits on a least one song each with their respective writing partners. The net effect was that only new three McCluskey/Kershaw compositions appeared on the Feels So Good album as opposed to the eleven which had featured on Right Now. Amusingly, the Atomic Kitten motor racing team were mentioned in the girls special thanks, while Andy and Stuart's names were nowhere to be seen!
In July 2002, Atomic Kitten petitioned lawyers to terminate the recording agreement with Andy McCluskey and Stuart Kershaw that had effectively made them the fourth and fifth non-performing members of Atomic Kitten. It was a sad end to yet another turbulent chapter in the successful but bittersweet career of Andy McCluskey.
But what next? Andy and Stuart have already written and produced two tracks for former soap actress (and Kerry Katona lookalike!) Jennifer Ellison.
With girl pop still very much to the fore during 2002 in the continuing success of Atomic Kitten, Kylie, Holly Vallance, Sugababes (now featuring ex-Atomic Kitten member Heidi Range – who actually thanked Andy and Stuart on their album Angels With Dirty Faces!) and Popstars – The Rivals winners Girls Aloud, don't be surprised if Andy McCluskey doesn't rise like a phoenix for not the first or even second time in his musical career.