This kiss you give, it's never going to fade away…
It's one of OMD's most iconic songs and gained them their first UK Top Ten – as well as their first international hit single. 'Enola Gay' remains a classic OMD song – and today celebrates its 40th Anniversary.
The release of OMD's second album Organisation in 1980 saw a shift in OMD's sound. From the 'garage punk' aesthetics that had dominated their debut album, Organisation instead opted for more gothic, broody tones and soundscapes. Yet, in the midst of all this solemnity, was a pop song which seemed curiously out of place with its broody neighbours.
'Enola Gay' actually dated back to the era of OMITD, the band's eponymous debut album, in particular a period where Andy McCluskey and Paul Humphreys were penning new material (much of OMITD's content actually dates back further, to the days of The Id). 'Enola Gay' (along with 'Motion And Heart') had been written by Andy in the back room at Paul's mum's house in the week before the first album had been released.
'Enola Gay' had originally been composed on the trusty Korg Micro-Preset (OMD's particular workhorse of choice at the time) with the bass accompaniment of the song supplied by a Roland SHO9. In its original incarnation, 'Enola Gay' had lacked the distinctive drum machine rhythms that give the song its unique identity. In fact the drum elements, culled from a Roland CR-78 drum machine, were the last parts to be added to the song.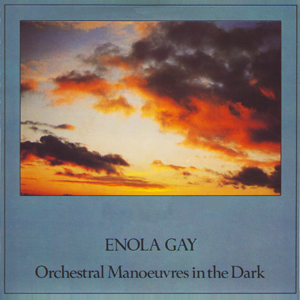 The band teamed up with producer Mike Howlett (formerly a member of Gong, who had previously worked his magic on 'Messages') to record 'Enola Gay', initially at Ridge Farm and then Advision Studios.
No one could make a clear decision on how to get the song sounding the best, a situation made worse by record label DinDisc's hurried insistence at getting a single out. In fact even when a decision was made and DinDisc were pressing the single, Andy had a crisis of confidence and ordered the pressings to be scrapped. Taking time to reassess things, Howlett managed to get a new, much improved vocal from Andy by encouraging him to just relax and sing along to the speakers.
The final version of the song was actually assembled from a composition of the various vocal takes from both the Ridge Farm and Advision sessions.
Despite Andy's concerns over the song, 'Enola Gay' surprised everyone when it was released in September 1980 and reached no. 8 in the UK charts. Although OMD had made an impression on the public with the success of 'Messages' in May the same year, something about 'Enola Gay' struck a much stronger resonance in the record-buying public.
The single took the No. 1 spot in France, Italy, Spain and Portugal and sold more than 5 million copies worldwide. Even today, the song remains popular in many of these countries and has become OMD's signature song for many.
It's also a popular touchstone for remixes and cover versions from a broad selection of artists and bands. In 1988, Sash (see Messages interview previously) produced a remix to coincide with the OMD Singles compilation release. More recently, contemporary electropop duo Ooberfuse collaborated with Japanese chiptune artist Hibari for their own take on the song to coincide this year with the 75th Anniversary of Hiroshima.
Today, 'Enola Gay' remains as one of the most potent weapons in OMD's live arsenal and has rightly established itself as a classic example of synth-pop perfection.
To celebrate 'Enola Gay's anniversary, Hot Chip have produced a new remix of the song which opts for a more spacey approach with more of a lean-in to the bass and percussion elements.
Meanwhile, a special 40th anniversary reissue of 'Enola Gay' on limited 12″ coloured vinyl is now available for pre-order via the OMD Website.
Scheduled for release on 27th November, the 12″ will feature two brand new mixes created by OMD: 'Enola Gay (Extended Mix)' and 'Enola Gay (Slow Mix)'.
---
You can read more about Enola Gay in the following Messages articles:
---