2016 proved to be a busy year for OMD with the band presenting a variety of approaches to live performances, as well as seeing some anniversaries for classic OMD releases. Along the way, Andy McCluskey guested at events and gave talks on his thoughts regarding the current state of electronic music…
---
January saw the announcement of OMD's musical contribution to the film Eddie The Eagle, based on the story of one of the UK's most colourful sporting characters. The track 'Thrill Me' (sung by cast members Jackman and Taron Egerton) was penned by Andy McCluskey and Take That's Gary Barlow.
Outside of the soundtrack for the film itself, a special release titled Fly – Songs Inspired by the film Eddie The Eagle featured 'Thrill Me'. The album also gathered together a roster of 80s acts including Tony Hadley, Marc Almond, Holly Johnson, Paul Young, Kim Wilde, Andy Bell, Midge Ure, Nik Kershaw, ABC, Go West, Howard Jones and Heaven 17.

In February, OMD announced a US tour with a twist – the band would be accompanied by Howard Jones with both acts supporting Canadian rock outfit Barenaked Ladies. The unusual combo drew some criticism from voices within the OMD fan community, but the opportunity gave OMD the chance to expand their reach to a potential new audience. It also paved the way for future US tour dates.
February also saw the 30th Anniversary of Pretty In Pink, the classic American rom-com penned by 'Brat Pack' svengali John Hughes. Pretty In Pink provided a pivotal moment for OMD when they were recruited to contribute a song to the film's soundtrack.
Although the band had originally written 'Goddess Of Love' for the film, Hughes had changed the ending of the film after poor test audience results. This meant that OMD had to write and record a new song in 24 hours. The result was 'If You Leave' which became OMD's highest charting US single at the time, reaching No. 4 in the Billboard Hot 100 chart in May 1986.
OMD's Royal Albert Hall concert in May saw the band reaching out to fans of both their commercial and experimental periods. It saw OMD performing both Architecture & Morality and Dazzle Ships in their entirety (including some songs either rarely performed live or never performed live at all). OMD's interest in staging unusual gigs had also been the theme of an earlier Messages article.
As a choice, it was a clever one and sidestepped the obvious choice of doing a predictable if acceptable hits setlist. It also meant that the concert saw some OMD firsts with tracks such as 'This Is Helena' performed live for the first time and an augmented version of 'Time Zones' (with English Electric samples) performed.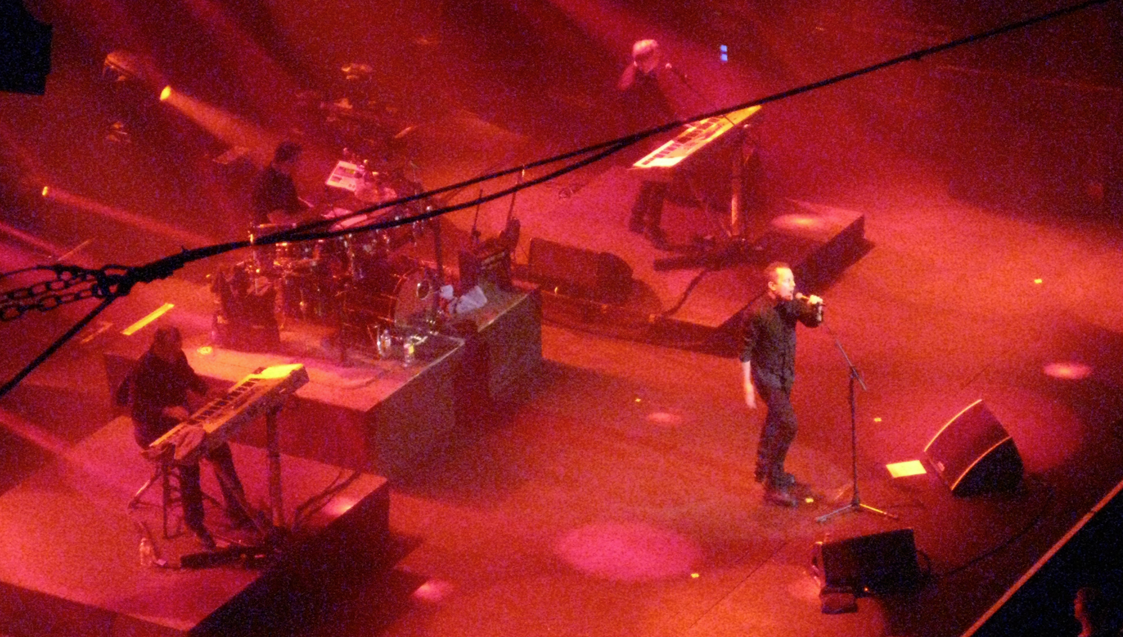 The recorded version of the concert was also released as part of the band's PledgeMusic campaign with pre-orders swiftly selling out. Unlike the Museum of Liverpool live CD/DVD release, which had been mixed and mastered by Paul Humphreys, the RAH recording was taken straight from the soundboard on the night. As well as a download version, the recording was also issued on CD and vinyl.
Although the Royal Albert Hall performance was initially conceived as a one-off affair, the popularity of the concept prompted the band to add on additional dates in Germany the same month.
OMD's legacy was acknowledged on a box set release in April that focused on early UK electronic acts. Close To The Noise Floor: Formative UK Electronica 1975-1984 covered a wealth of artists, some well-known and some more obscure. OMD's contribution was the in form of 'Almost'.
'Julia's Song' remains one of OMD's classic songs whose history dates back to pre-OMD outfit The Id. The song's evocative lyrics were penned by then-member of The Id Julia Kneale, whose own history featured in her fascinating book Moods Memories And Other Manoeuvres. In May, Julia arranged personalised versions of the 'Julia's Song' lyrics, each of which was handwritten, signed and dated by Julia Kneale herself on A4 parchment paper.
The summer months saw OMD blaze across America as part of the Barenaked Ladies support slot. The reports from the performances were positive and the setlist for the gigs was heavily weighted towards the US fanbase, with songs such as 'If You Leave' and 'Secret' drawing attention.
Meanwhile, in September, the Messages site switched its focus to OMD's 1993 album Liberator – in particular the visually arresting sleeve art. Growing up, Andy McCluskey had been part of a generation seeped in post-war culture and was particularly drawn towards the airplanes that saw active duty during World War II. In particular, the B-24 Liberator resonated with the young McCluskey. Although the sleeve art concept went in a different direction, it was interesting to see the design process that led to the final sleeve.
2016 also saw OMD celebrate a few anniversaries. Architecture And Morality, widely regarded as the band's most iconic work, celebrated its 35th Anniversary. As an album, it produced 3 top 5 UK chart singles in the shape of 'Souvenir', 'Joan of Arc' and 'Maid of Orleans (The Waltz Joan of Arc)' and scored even greater success internationally.


The album is considered one of the defining synthpop albums of the 1980s and although the band had established themselves as a household name prior to its release, it's Architecture And Morality that really set OMD on the map. Even today the album regularly features in Best Album lists and also featured in the book 1001 Albums You Must Hear Before You Die.
2016 Also marked the 30th Anniversary of The Pacific Age, OMD's last studio album before the band separated. The album, produced by Stephen Hague, was recorded in Paris at the Studio de la Grande Armeé and collated two of the songs that the band had recorded for film soundtracks ('Goddess Of Love' and 'We Love You'). Although not considered one of OMD's finest albums (not least by Andy McCluskey himself) it proved popular with OMD's new US audience who had been reintroduced to the band through their contribution to Pretty In Pink. Ironically however, the band opted not to include 'If You Leave' on the album. The Pacific Age also spawned the single '(Forever) Live and Die' – considered as one of OMD's most classic songs of that period with an immersive, lush sound and some fine Paul Humphreys vocals.
Sugar Tax celebrated its 25th Anniversary this year. The album, which was the first OMD release post-split, received favourable reviews and helped to re-establish OMD as a chart success when the album reached No. 3 in the UK charts.
Sugar Tax also marked Andy McCluskey's first collaborations with Stuart Kershaw and Lloyd Massett (then members of local band Raw Unltd) and saw OMD shifting to a much more dance-pop orientated sound. It also delivered two Top 10 UK hits in the shape of 'Sailing On The Seven Seas' and 'Pandora's Box'.
OMD's final pre-reformation album Universal also celebrated its 20th Anniversary this year. The album offered a more mature and reflective approach than its predecessors. It also saw OMD return to the UK charts on the back of 'Walking on the Milky Way', which remained a constant item in OMD's future live setlists.
Universal saw Andy collaborate once again with Paul Humphreys for the songs 'Very Close To Far Away' and 'If You're Still in Love with Me'. The album also included a contribution from ex-Kraftwerk member Karl Bartos.
2016 has proved to be a year of tragedy with the loss of music luminaries such as David Bowie, Leonard Cohen, Prince, Colin Vearncombe and Beatles producer Sir George Martin. In October, we also lost Pete Burns who had been one of the Eric's Club regulars through bands such as Nightmares In Wax and Dead Or Alive. Although he had later achieved a public profile for reality TV shows, Burns would be forever remembered for his Dead Or Alive work, particularly through singles such as 'Lover Come Back To Me', 'In Too Deep", 'My Heart Goes Bang (Get Me to the Doctor)' and of course 'You Spin Me Round (Like a Record)' which reached No. 1 in the UK charts.

In November, Andy McCluskey appeared as a guest at the Seventh Wave Festival of Electronic Music – a 4 day event that also featured guests such as ex-Kraftwerk member Wolfgang Flur, Rusty Egan and Richard Barbieri. In a keynote speech, Andy took the opportunity to make some comments about the state of the contemporary electronic music scene, particularly the worrying focus on retro synth:

"…I do feel that if you restrict yourself to a particular narrow slice of retro parameters and say the electronic music can only use certain authentic instruments because the best days were analogue, and these were the best sounding synthesisers it's a bit like saying that you can't play folk music on a banjo made after 1930. It's a bit pedantic and you confine your sound palette to being an historical pastiche. It's your choice, and you can still make beautiful music but I believe that it makes for a future heavily nuanced by a nostalgia for the past. "

Later that month, Andy McCluskey joined writer and Die Krupps bassist Rudi Esch at Liverpool's Cavern Club in November for a talk which revolved around Esch's book Electri_City: The Düsseldorf School of Electronic Music. The book explored Düsseldorf's musical legacy and charted the rise of local bands such as Kraftwerk, Neu! and La Düsseldorf. For the talk, Andy discussed his own personal connection with Kraftwerk and how the German band became such a strong influence on the fledgling OMD.
In December, OMD became part of the line up for the Electric Dreams festival staged at Butlins in Bognor Regis. The event provided the opportunity for attendees to also see the likes of Holly Johnson, Marc Almond, Heaven 17 and Blancmange on the bill. Contemporary electronic music was also supplied by Marsheaux and Avec Sans.
Finally, Andy McCluskey made an appearance on a special Christmas edition of '80s TV fixture Pop Quiz alongside guests including Toyah Willcox, Nick Heyward, Carol Decker, Tom Bailey, Steve Norman, Mari Wilson and Leee John.


With 2016 reaching its end, 2017 is looking brighter with the planned release of OMD's 13th studio album Punishment Of Luxury. Andy has described the album style as "Bleepy and glitchy, and choirs, occasionally electro retro". Whether the album strikes the chord with OMD fans that English Electric did remains to be seen, but it's clear that OMD still have a strong creative drive for studio work, as well as a keen eye for a variety of live performances.
---