With the release of English Electric there was speculation that the 2013 album could well be OMD's final release.
Following on from 2010's History Of Modern (which marked OMD's first studio album since reforming), English Electric boasted a clarity of sound and ideas that drew critical acclaim, yet had seen the band exhaust themselves during the 2 years it took to work on the album.
In an interview back in 2013, Paul Humphreys remarked on the dilemma that he and Andy McCluskey faced: "We said to each other 'I don't think we can do this again'". At last year's Electri_City book talk in Liverpool, Andy remarked that after writing songs for nearly 40 years it was becoming difficult to find something new to write about.
At the same time, there were other issues facing the band in the wake of the post-reformation release History Of Modern. Andy had previously made it very clear that the reformation of OMD wouldn't simply consist of nostalgia performances and that unless there was some artistic engine prompting the band to move forward, there would be little point in continuing. "…Paul and I sat down and said "OK, we don't want to be a nostalgic heritage act. Nor, however, is it sufficient for us to just write a nice collection of songs in the style of OMD."
In fact much of the 'engine' that drove the production of English Electric was a desire to explore what the future sounded like. But having now explored that idea, the question of whether or not the band should or indeed could continue was a valid one.
For a while, English Electric's possible follow-up had existed purely as sketches for potential material, devoid of a theme or even a title. In fact it wasn't until the summer of 2015 that details of some of these songs emerged with titles such as 'Evolution of Species' and 'The Punishment of Luxury'. While no details of what these songs sounded like, Andy had later outlined the influence for the track that would become the album title.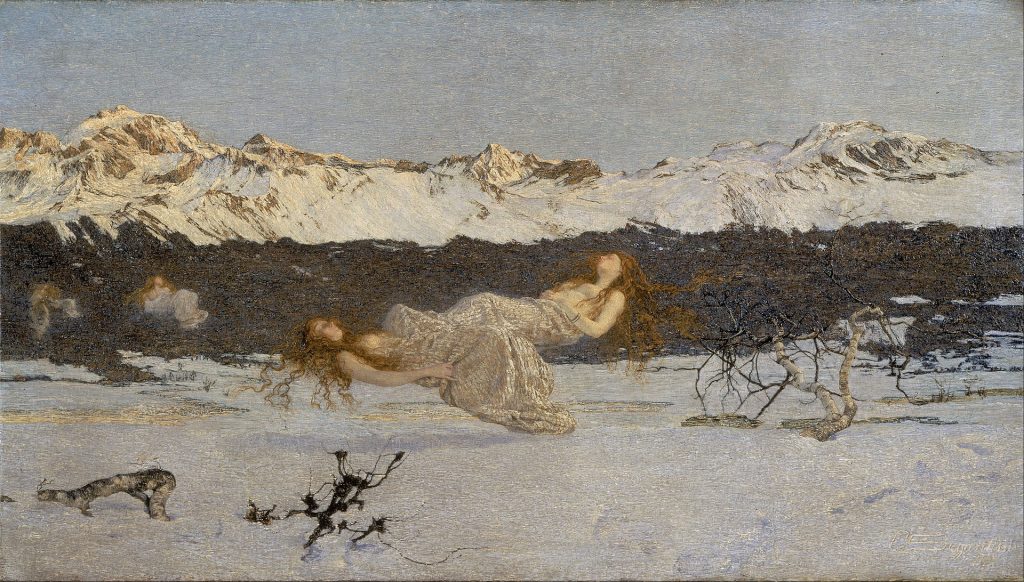 The 19th Century artist Giovanni Segantini had produced an oil painting in 1891 which had the original title of The Punishment of Lust. The painting had been part of a series that Segantini had conjured up known as the Nirvana cycle, which revolved around the idea of "bad mothers". Having been raised as a Catholic, Segantini had a strong belief in the role of women as mothers and this series of paintings was designed to illustrate the results of women who he believed had failed in this role. Segantini himself had lost his mother as a child, which is likely to have had some bearing on these themes. The Punishment of Lust shows two women apparently being punished by being suspended over a barren landscape for preferring a life of ease over a life of duty. Despite the harsh approach to the themes of the painting, the work itself has a serene, almost dreamlike state to it.
The retitling of the work came about when the painting was purchased by the Walker Art Gallery in Liverpool in 1893. Fearing that Victorian sensibilities would be shocked by such a charged word as "lust", the painting was presented as The Punishment Of Luxury.
As ever, with any inspiration for OMD's material, there is some interpretation involved. In the case of The Punishment Of Luxury, it's the idea that the phrase is a metaphor for modern life or as Andy himself put it in a recent interview: "First world problems. All of the shit we have to deal with is only a problem that's created for you by some suggestion that came from a marketing man or a PR job that's been done on you. Everything you think you know was placed there by a marketing man… Everything you think you want, you don't".
Of course, Andy McCluskey has always had an interest in art, particularly indulged by both his interests in the subject at college and also by the fact that OMD's long touring history has been marked by visits to art galleries and museums in the many cities that the band had visited. In fact Andy made a significant gesture in 2014 when OMD staged their Museum Of Liverpool performance – an event designed to raise money for the museum directly.


OMD's own history with art is of course most famously illustrated by their 1983 album Dazzle Ships. Its design had been inspired by a suggestion from designer and long-term collaborator Peter Saville after seeing some of the work of painter Edward Wadsworth. Equally, Crush had been sleeved in a wraparound painting that had been designed to evoke the style of the American artist Edward Hopper.
As a result, it was probably unsurprising when another song contender for The Punishment Of Luxury was flagged up. La Mitrailleuse had been painted by the artist CRW Nevinson, regarded as one of the most famous war artists of World War I. Nevinson had been friends with Italian Futurist Marinetti (trivia buffs might be interested in the fact that the Futurist movement had inspired some of OMD's creative work, particularly when Futurist architect Antonio Sant'Elia's sketches were featured in the tour programme for Architecture And Morality) and also Wyndham Lewis, who went on to found the Vorticists movement (which included Edward Wadsworth).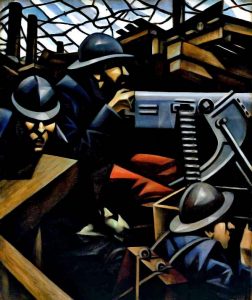 Nevinson was deeply affected by what he saw in France during World War I, which had a profound effect on the paintings that he produced at the time. This included the 1915 work La Mitrailleuse, which translates from the French as "the machine gun". Nevinson summed up the work later as a comment on the changing face of war: "To me the soldier going to be dominated by the machine … I was the first man to express this feeling on canvas". Fellow artist Walter Sickert described the painting as one which: "will probably remain the most authoritative and concentrated utterance on the war in the history of painting". Nevinson had used the art styles of Futurism and Cubism to great effect, but later moved into a more realistic painting style.
Themes of war have also been a regular feature of OMD compositions. Songs such as 'Bunker Soldiers', 'The Messerschmitt Twins', 'Frontline' and 'Enola Gay' are all either inspired by – or commentary on – war. As a result, 'La Mitrailleuse' falls into place with OMD's extensive catalogue of songs, although at this stage it's unclear whether the theme of the painting, or the title itself, will have a bearing on the song. If that sounds unusual, bear in mind that OMD have previously taken evocative titles from art, history and culture to produce songs that stand alone from their influences. That includes songs such as 'Silent Running' (taken from a 1970s science fiction film) and 'The Dead Girls' (whose title was 'borrowed' from a book cover).
As for the sound of the album itself, details are very sparse at present. Andy McCluskey has suggested that the album is "Very varied at the moment. Bleepy and glitchy, and choirs, occasionally electro retro". Previously, Andy has expressed an interest in the electronic music genre known as glitch, which is loosely summed up as an "aesthetic of failure which revolves around the use of malfunctioning audio recording devices or digital electronics (such as a CD skipping, digital distortion or hardware noise).
Glitch artists such as Atom TM have been a particular influence. Songs such as 'Our System' from the English Electric album show how this style of electronic music has been picked up by the band.
More recently, Andy has commented: "The new album has quite a few 'morphoded' vocals , so be prepared!" which suggests that, similar to some of the tracks on English Electric (such as 'Atomic Ranch'), unconventional vocals are going to be used.
Paul has stated in an interview that The Punishment Of Luxury is "even more stripped-down than English Electric" with Andy adding that there's more of a "crunchy industrial sound", albeit with sense of melody still present.
What is clear is that contemporary music technology affords a far greater scope of sounds and ideas than the band possessed back in the '70s and '80s. While this might suggest an 'embarrassment of riches', the truth is that too many options means choice becomes a much more complicated affair. As a result, Andy and Paul have tried to focus on a limited musical palette for the material on the new album.
The process of writing for the album is also not that dissimilar from the methods behind the writing of English Electric. Although both Andy and Paul work on ProTools separately (but with mirrored file systems), it's clear that the real magic works when they're in the same room writing together. In many ways, this is the same method of working that the pair were familiar with in the Gramophone Suite days – their self-built studio in Liverpool from where they crafted some of OMD's most classic songs.
OMD have managed to succeed in escaping the trappings of being purely a legacy act (a trap that many of their contemporaries have either fallen into or moved their sound so far from their roots as to be a completely different act altogether) on the strength of their contemporary songwriting skills. Much of the material on English Electric demonstrated that the band could craft good contemporary electropop tunes, while also writing music that was very much part of the OMD oeuvre.
The Punishment Of Luxury presents the most pressure for the post-reformation OMD. It's the critical third album syndrome in some respects, although it's worth bearing in mind that OMD's actual third album Architecture And Morality delivered what is largely considered their most classic work of music.
---
Update
With the launch of more The Punishment Of Luxury details in May 2017, more information emerged about the album.
On Instagram, two short lyric snippets were revealed: "Kiss Kiss Kiss, Bang Bang Bang, Mao Tse-tung and Uncle Sam" ('Kiss Kiss Kiss Bang Bang Bang') and "The Punishment of Luxury is in the air for all to see. And it's ugly now. And it's getting worse every day" ('The Punishment Of Luxury').
'Evolution Of Species' didn't make the album, although Andy has commented to Messages that it's "not been abandoned" (suggesting a possible B-side).
'La Mitrailleuse' has been the first complete track to be unveiled, with snippets of the album title track also appearing online.
---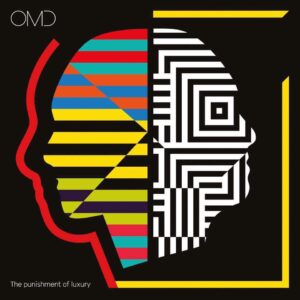 The Punishment Of Luxury is released 1st September 2017. The album is available to pre-order now.
Tracklisting:
The Punishment of Luxury
Isotype
One More Time
Precision & Decay
As We Open, So We Close
What Have We Done
Robot Man
Art Eats Art
Kiss Kiss Kiss Bang Bang Bang
La Mitrailleuse
Ghost Star
The View From Here
OMD will also be embarking on a UK and European tour later this year. For the UK and Ireland dates, a limited number of VIP tickets including the best seats in the house, access to soundcheck, an exclusive T-shirt and meet & greet packages are available for each show. For the European shows, VIP s are available which will include access to soundcheck, an exclusive T shirt and meet & greet packages (Customers will have to purchase their own tickets for the evening show).These go on sale at 9am on Wednesday 17th May.
IRELAND
Oct 23 Dubin Vicar Street, Oct 24 Belfast Mandella Hall.
UK
Oct 29 Liverpool – Empire, Oct 30 Bristol – Colston Hall, Nov 01 Southend – Cliffs Pavillion, Nov 02 Ipswich – Regent, Nov 03 Cambridge – Corn Exchange, Nov 05 Leicester – De Montfort Hall, Nov 06 Nottingham – Royal Concert Hall, Nov 07 Sheffield – City Hall, Nov 09 Reading – Hexagon, Nov 10 Southampton – Guild Hall, Nov 11 Guildford – G Live, Nov 13 London – Roundhouse, Nov 15 Bexhill – De La Warr Pavillion, Nov 17 Manchester – Acacdemy, Nov 18 York – Barbican, Nov 19 Glasgow – Royal Concert Hall, Nov 21 Birmingham – Symphony Hall, Nov 22 Gateshead – Sage.
EUROPE
Nov 25 Erfut – Traum Hits Festival, Nov 26 Hamburg – Grosse Freoheit, Nov 28 Berlin – Huxleys, Nov 29 Leipzig – Haus Auenesse, Nov 30 Munich – Tonhalle, Dec 02 Offenback – Stadhalle, Dec 03 Dusseldorf – Mitsuibishi Electric Hall, Dec 05 Tilburg 013, Dec 06 Antwerp – De Roma, Dec 08 Lausanne – Les Docks.
You can view Segantini's painting of The Punishment Of Luxury at Liverpool's Walker Art Gallery
La Mitrailleuse is on view at the Tate Gallery.
OMD pic by Ed Fielding.