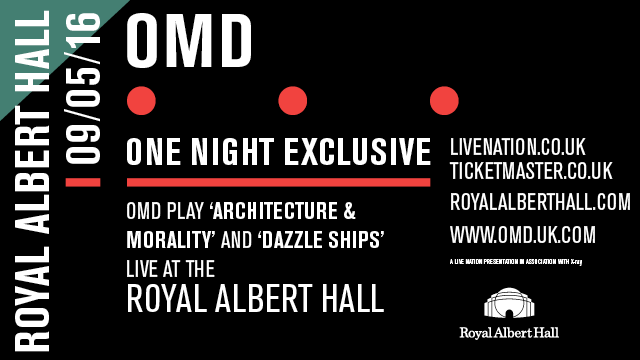 In the post-reformation years, OMD have begun to slot in increasingly unique live performances in between their routine touring schedule.
When OMD first reformed back in 2007, the band embarked on a re-staged Architecture And Morality tour (to coincide with the album's 25th Anniversary). This in turn was followed up by OMD's own 30th Anniversary Tour in 2008, which weaved in some of the Dazzle Ships material – some of which hadn't been performed live since the original Dazzle Ships tour in 1983.
But their ambitions stepped up a gear when they opted for a performance with the Royal Liverpool Philharmonic Orchestra in June 2009. The band had already played around with orchestral arrangements of classic OMD songs as part of the Night Of The Proms shows in Europe, but this gave them an opportunity to present the concept before a domestic audience. The performance was also augmented by video projection work by Hambi Haralambous (which included new videos specially commissioned for the RLPO concert).
To give the event a special twist, it was also divided into two parts. While the first segment was given to an orchestral interpretation of The Energy Suite (originally an audio visual installation project which had been staged at Liverpool's FACT), the second was a selection of classic hits and the odd left field choice (a stunning 'Native Daughters Of The Golden West' being a highlight).
This concept of creating live shows as special events also led the band to create a showcase performance at the Museum Of Liverpool in 2014. Not content with purely staging a concert consisting of all the hits, OMD instead experimented with an unusual setlist – which included choices from their 1983 album Dazzle Ships. For OMD fans this was a particularly memorable event with songs such as 'International' and '4-Neu' given a rare and unique live outing.
If that wasn't enough, a dry-docked 'dazzle ship' was also the venue for an additional installation piece which revolved around some 'lost' material from the 1983 album in the form of 'Dazzle Ships (Parts II, III & VII)'.
The Museum Of Liverpool weekend also saw a unique OMD line-up of Paul Humphreys, Andy McCluskey and Martin Cooper (along with the trusty Winston) as Mal Holmes had reluctantly had to step back from drumming duties for health reasons.
Although the idea of staging similar events at similarly unique venues was being bandied about, the idea of staging a concert at the Royal Albert Hall caught many people by surprise.
Of course the idea of contemporary bands performing at the prestigious London venue isn't a new idea, but OMD opted to make things interesting with the plans for the setlist, which will see both Architecture And Morality and Dazzle Ships performed in their entirety.
The choices for the setlist are quite shrewd ones. Certainly Architecture And Morality is perhaps OMD's most iconic album, selling over 4 million copies and spawning three Top 5 single releases. The 1981 album drew critical acclaim with publications such as Smash Hits describing the release: "OMD are literally back on song, reigning in their more ambitious ideas into concise but varied and imaginative arrangements that actually boost instead of swamp their wonderful melodies and intelligent lyrics."
Meanwhile, Dazzle Ships drew fire on its original release for challenging experimentation, perhaps being too ambitious for its time. Despite this, the album was adored by OMD fans and produced one of the band's most visually spectacular tours. In later years, Dazzle Ships has been reassessed by critics and hailed as a classic album in its own right.
What OMD have achieved in the plans for the Royal Albert Hall is a combination of reaching out to fans of both their commercial and experimental periods. As a choice, it's a clever one and sidesteps yet again the obvious choice of doing a predictable if acceptable hits setlist. It also means that the concert will see some OMD firsts if tracks such as 'This Is Helena' and 'Time Zones' are performed live. Likewise, 'Of All The Things We've Made' (which has never been performed live in the UK) will provide an intriguing connection between the two albums.
Stepping up for drumming duties for the Royal Albert Hall concert will be Stuart Kershaw. Stu already has a long history of his own with OMD, working with Andy McCluskey as part of the band's 1990s incarnation (and responsible for co-writing many of the songs from that period, including 'Sailing On The Seven Seas'). Stu has also been performing with OMD as part of their festival appearances throughout 2015. The Albert Hall concert will see him drumming on many of OMD's classic songs for the first time.
Of course with any special OMD concert being announced, it sparked much debate amongst OMD fans. When the Museum Of Liverpool concert had been announced, it drew criticism that the venue was too small and then complaints when the tickets inevitably sold out.
Unsurprisingly, the announcement of the Royal Albert Hall concert prompted criticism from some quarters with concern over the 'One Night Only' aspect of the performance. It prompted suggestions that the band should simply tour the twin album performances. But it's the uniqueness of concerts such as the Royal Albert Hall and the Museum Of Liverpool that set these performances apart from OMD's normal touring schedule. It gives the band an opportunity to do something different.
Part of this debate it seems revolves around the desire amongst some OMD fans to feel obliged to attend every performance. Despite the will, sometimes the hurdles are too great: either finance, time or simple geography makes it impossible to get to every concert. The result is that the band is somehow to blame for this and therefore need to correct the 'mistake' (which usually revolves around staging a concert in the critic's neck of the woods…).
It's easy to forget that the band will still be performing at festivals – and also likely looking at tours on the back of the follow-up album to English Electric in the near future. The point being that there's always a concert to look forward to.
Since their reformation in 2007, OMD have managed to keep things interesting regardless of whether that's live performances or projects. At the same time, they've pulled off the enviable feat of catering for a diverse audience. Under the circumstances, that's quite an achievement which many of their contemporaries would struggle to emulate.
---
OMD appear at the Royal Albert Hall on Monday 9th May 2016