Tour Stop #13 – Bluebird Theatre, Denver 22nd March 2011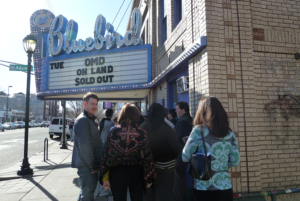 Ah, Denver… The Mile High City as it is nicknamed due to it being one mile above sea level. I arrived with a thud (literally, hardest plane landing I've ever experienced) a day prior to the gig to find that the temperatures were quite mild for this time of year but there was a very strong wind… blow me away for sure!
The day of the show I decided to check out the city before heading to the venue early and since my hotel was actually downtown this time around, did it all on foot. Like Austin, I visited their capital building but also wandered around the civic centre area and came across their quite uniquely shaped building that held the Art Museum… Denver definitely has some cool architecture! I was also told it was a beautiful city for its mountainous backdrop though I wasn't able to take advantage of the view until I headed up the capital dome but from there it was obvious.
Upon arriving to the venue, there was already one girl in line… a Ziggy Stardust look alike, complete with the alien like circular mark on her forehead (though I don't remember Ziggy ever wearing bright yellow boots!) When Mr. M and Mr. H came out to head back to the bus and/or for dinner, they not only took notice of the marquee that showed OMD/Oh Land… SOLD OUT (LOL, Mr. M took a picture to forward on in jest of how they can show they are selling out) but also commented on Ziggy… "Paul, you have to get that outfit… or at least the boots", in which Mr. H replied "I like the boots!" HA!
So the Bluebird Theatre, though smaller, was quite similar in lay out as the previous show in Dallas… very small, shallow floor followed by multiple shallow levels. The stage was also higher than normal but at least this time I could see as it only came up to just below my shoulders. Stephan and Irene were at the show but they moved over to the side a bit, I got centre with a sweet couple I had befriended out in line, Lisa and Brian.
Well, I was able to chat with both Nanna and also her manager Ryan and had to ask about the missing balloons. Apparently it all depends on time and space as they have to set up the projector and space it out properly so as to have the images hitting the balloons just right and the past couple of venues/shows didn't lend to having them but Ryan said hopefully they'd be back soon.
Oh Land's performance was met with a slow start (minus a couple of girls by me who were actually there to see them vs. OMD) but as the songs continued, so did the crowds enthusiasm though tonight wasn't as encouraging as some nights.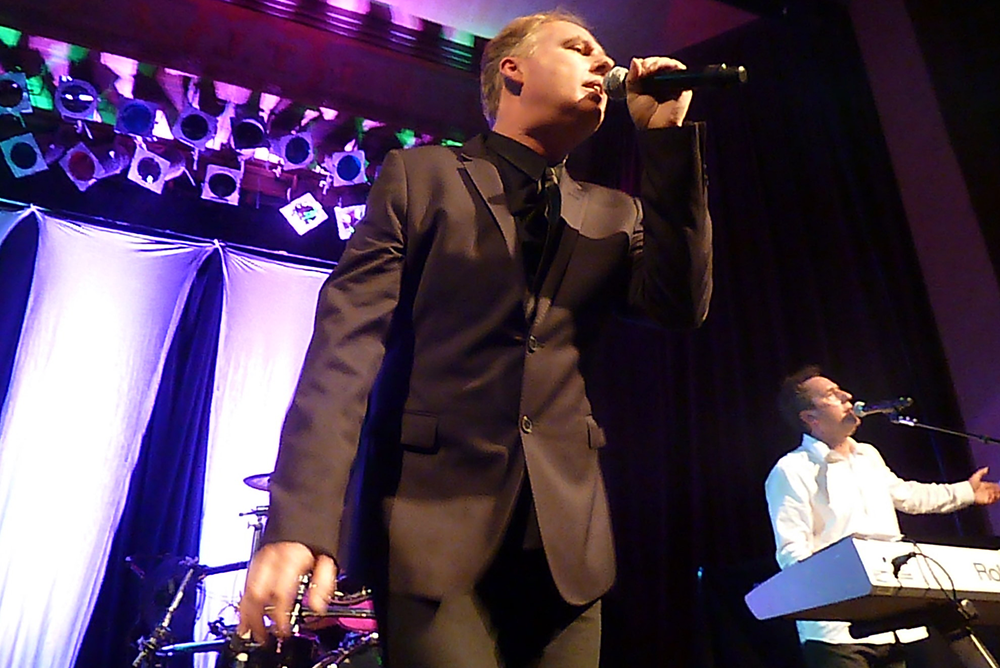 With the venue being small as it was, OMD came out of the side wing which was quite close to us fans, from where I stood, I could see them coming up to stand behind the curtain before they each progressed onto the stage. 'New Babies: New Toys' was the strong opener it always is but 'Messages' was what really got the crowd going. The fun continued through the next few songs but I have to say, after a night like Dallas, Denver was falling a little short (but in their defence, they had a LOT to try and beat or even meet so… )
The song that got the most applause early on was Mr. H's '(Forever) Live And Die'. Mr. M teased him about dancing again, Mr. H said no but it wasn't needed because the screams from the crowd (many from girls) was enough to make me think I was going to see knickers thrown… nope, but Mr. H seemed genuinely surprised by the outburst and his smile said it all!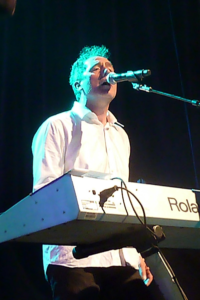 Lots of singing for 'If You Leave' and then it was time for the triple play from Architecture and Morality. Lisa was anxiously waiting to see her favourite, 'Maid Of Orleans' and Mr. M didn't disappoint! But it was nice because, after the applause for his windmilling slowed, he looked at Mr. H#2 and said "So Mal, how are you feeling after that?" Whether it was an intentional subtle nod to him or not, it brought the attention to Mr. H#2 as it is often easy to get caught up with the dancing and forget just how hard he has to drum. He's brilliant – and that song showcases his talent for sure!
I didn't think Mr. M would sit down for 'Talking Loud And Clear' since the speakers were quite low but he did (LOL, after moving the speaker "So I don't step on your camera" I quickly grabbed it out of the way anyways. Well it was funny to see us all move back and form a small little circular gap on the floor for him… .I think we were all like "OMG, he is RIGHT there!", LOL.
As promised, mindless dancing came next and SIL got the crowd jumping again. 'Sister Marie Says' was as funny as ever "clap your hands if you're a sinner" and when we all started clapping "I thought so". Then near the end, we were "saved" but a "And don't forget to vote for me" was added, HA!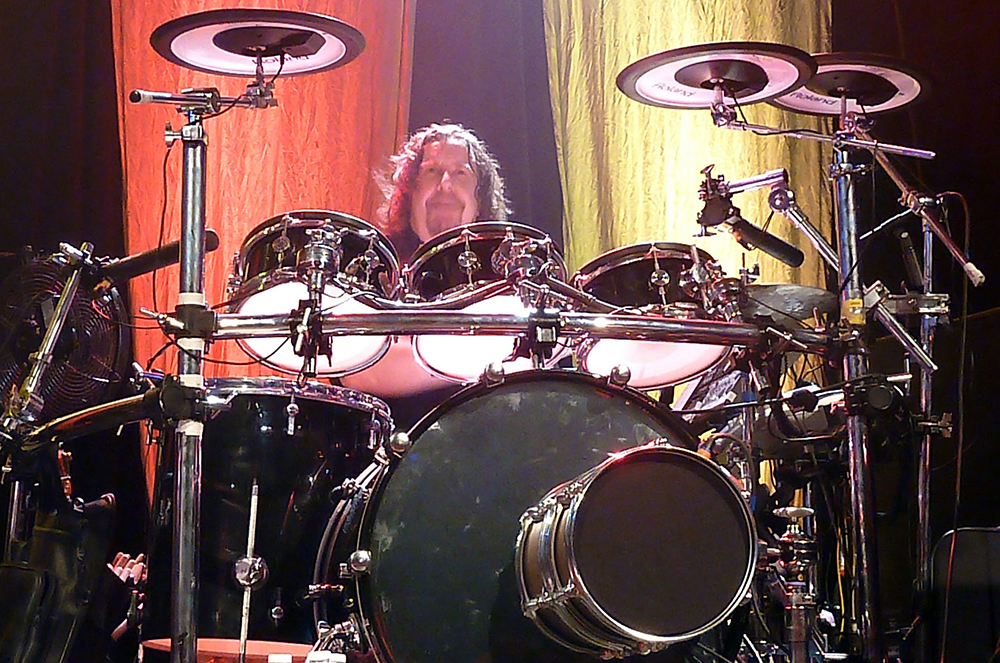 For some reason, this gig seemed to just fly by and before I knew it, they were starting 'Enola Gay'. A great song to just let loose and that is what many of us did. When the guys left, the crowd showed its appreciation, though sadly, no chanting.
They came back and did 'Walking On The Milky Way' and I am happy to report that both that along with 'Sailing On The Seven Seas' had people lip singing which was nice to see they are known songs. 'Electricity' rounded off the set and then it was time for goodbyes. When they left I turned to Lisa and Brian and got what has become so customary to me now… "Wow, they were amazing!" Yep!
So off to Salt Lake City… the night will be in the airport (got most of the blog done, tee hee) and the last of the cities of some concern over 'Sister Marie Says'… but hey, none of the other religious cities seemed to care so I am not expecting anything but "mindless dancing" to occur. ;o)
---
Photos by Lori Tarchala