Tour Stop #18 – 4th and B, San Diego 27th March 2011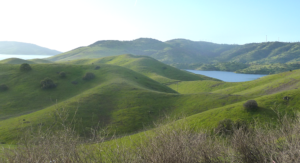 Well the day started early with an 8.5 hour drive in my trusty little sunshine car but as it tuned out, it was a lovely drive! OMG, tons of rolling hills (or are they mountains) and the sun coming over the lakes, even some snow capped mountains (yes, these were mountains!) as I neared LA so wow, gorgeous and definitely helped me forget that the tour is almost over.
Was lucky enough to get in with a little time to check into hotel but then it was quick to the venue as I had a Gold ticket. My friend Charlie from LA had a VIP so we hung out together for the soundcheck, which was great fun! I got to hear Green which isn't a norm and then Mr. H came forward to do part of '(Forever) Live And Die', cool!!! Afterwards, we had a master plan. I was going to go outside and right away get in line while Charlie did his meet and greet. When he came out, I would go get some food while he held the spot, then we would swap as he ran for food and I held the spot. We were determined to get front row and I also had my German friends Stephan and Irene along with Mark, JohnE and his friend Jenifer and Ted with his friend (OK, this is bad, I have forgotten his name after being told twice… you can tell it is near the end of the tour, my brain is mush).
There was a balcony with some small boxes for people in front. On the one side was a section that was closed off by glass, I got the impression it was for VIPers, not package but real VIPers.
As it turned out, Charlie and I got right in the front, smack middle, John was a bit off to my left, Ted and his friend were off behind to my right, Mark was behind me and Stephan and Irene were next to Charlie. Two newcomers to the OMD party were Charity (we let her in front as she was very short) and Chris, a whole gang really, LOL.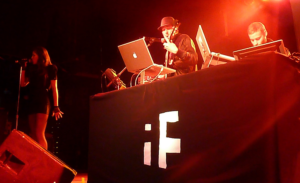 Well, as mentioned earlier, there was no Oh Land for the last two nights so the burning question was who were we going to have? As it turned out, we got a local act called Inspired Flight. They consisted of two guys, one who was on keyboards and laptops, the other who switched between electronics and a guitar. Occasionally a slick dressed "babe" would come out and do some vocals, then disappear as mysteriously as she came. The musical style didn't fully fit the mood… most of the time it was slower, heavy beats with a lot of sampling but occasionally things would pick up a bit and either get funky, hinge on reggae or inspire us to dance a bit but, overall, not really my thing. Ah well, that's just mho.
There was a bit of concern about the bass sounds for the show as we got a lot of vibration and reverb from the bass during the opening act and the music being played to us during intermission (and even a bit during sound check) but when OMD came out, those worries flew out the door, they sounded great! 'New Babies: New Toys' had its 'in your face' attitude as always and by the time it was done, the roar of the crowd gave a hint of just how awesome this show was going to be. 'Messages' got done and Mr. M, pleased with the response said "You sound good already". Unfortunately, 'Tesla Girls' started off badly… something happened to Old Faithful and about 1/3 into it, Mr. M called for the band to stop and announced that his bass was F'd up so Baz ran out with the burgundy one, Mr. M gave it a very short test drive and then said they were ready to start again, then threw in "We're just going to do all our songs twice"… tease!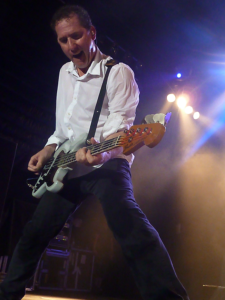 So the idea for me was to get 'History of Modern (Part I)' taped in Oakland as I just can NOT stand still very easily and wanted to be able to enjoy it during the last two shows. However, the guards at the Fox were just ridiculously set on stopping any attempts so I now had the dilemma of getting it tonight. I came up with a plan to use my little crunchy tripod (I call it that because it is spiral formed but can be moved around to fit anything… you can wrap it around things etc) to attach my camera to the rail (was told many times the venue allows people right up to the stage but that wasn't the case tonight… oh well, to my advantage in this case) and have it positioned so as to catch Mr. M but allow me to dance. That was the plan… what really happened is that Mr. M. was way to the other side so I had to adjust the camera, then when he came over by us, I had to move it way up because he was closer than I had anticipated. Add that I was moving the camera and trying to hold it so as not to have it fall (gets top heavy sometimes on a tripod) all the while trying to be still, jump and, well, I watched the video and its not awful but I've seen and done better, LOL!
'FLaD' went down really well, Mr. H was having a blast and when If You Leave" came on, OMG, the crowd just exploded and there was singing fans all over! 'Joan Of Arc' and 'Maid Of Orleans' were smashes and the thunderous applause just caused the entire band to start laughing in disbelief.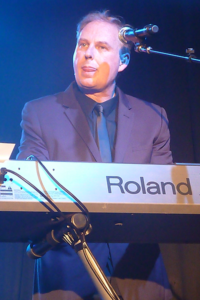 And then it was time for 'New Holy Ground' and 'Green'. Well, I could say a lot about tonight's performance but I think it wise to just sum it up with Intense! 'Talking Loud And Clear' got the mood light again and as is normally the case, Mr. M made himself comfortable on the speakers in front of us.
"Mindless dancing" ensued after that and it was time to bounce up and down again. So In Love was a great sing a long, Mr. M pulled his ear piece out to hear us and I don't think he was disappointed. In fact, this crowd was shaping up to be as good as Dallas and by the looks on the band's faces, they were feeling that too.
Things kept going with 'Sister Marie Says', the comedy song of the night as Mr. M. just keeps the cracks coming. I should mention that Mark and I were having a great time bouncing up and down but by the time this song came on, Charlie decided to give it a try and before I knew it, I had guys around me bouncing up and down like I was the middle of a bouncing sandwich! I don't think I've laughed so hard all tour.
'Locomotion' was the usual goofiness that lends to seeing just how much fun the band really has playing together but before long, 'Enola Gay' was up… and um, so were Charlie, Mark and I, tee hee. When the band got ready to leave, the crowd was unbelievable, we were just loving it and in every possible means wanted the band to know. The guys didn't really know what to make of it and as you guys say in the UK, their faces were pictures!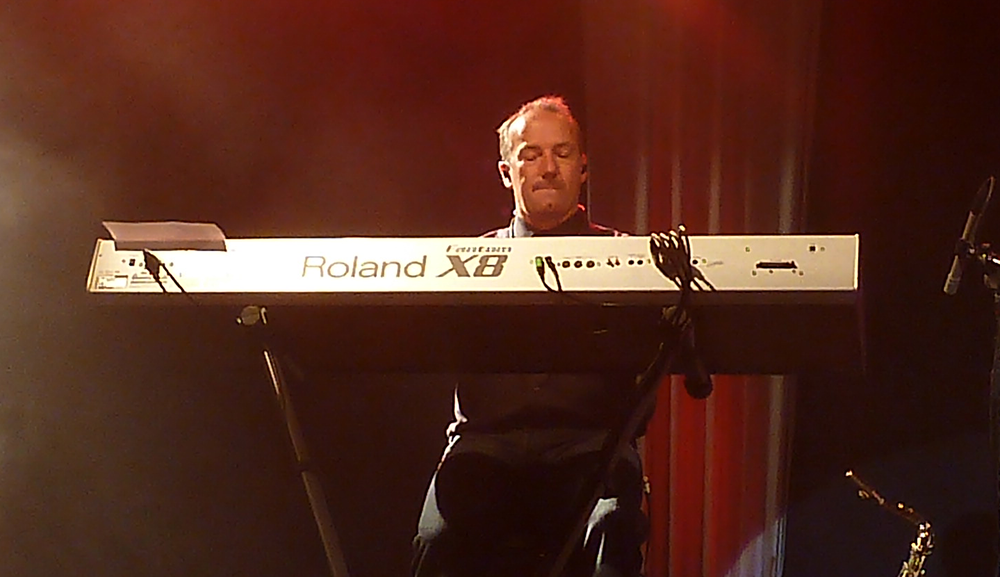 While waiting for them to come back, the "OMD… OMD… " chant began (not surprised) and soon we got our wish. 'Walking On The Milky Way' and 'Electricity' were wonderfully executed and my buddies and I had our final bounce before having to say goodbye. Wow, no doubt California LOVES OMD!!!!
So highlight of the night… well, I would have to say the look on Charlie's face as he joined in on the bouncing… pure joy and the laughter out of him matched mine. It was like he was a kid experiencing a new toy for the first time… sweet!
Well, only one more show of the tour… I have a free day that I think I will spend at a beautiful state park but then it is off to LA for one final hoorah *sigh*
---
Photos by Lori Tarchala