OMD stage a remarkable live show in the amazing Royal Albert Hall…
---
OMD's ability to successfully perform different setlists and different venues, essentially giving audiences two different versions of the band, has given them an advantage that eclipses many of their contemporaries.
Previously, the band had managed to perform with the Royal Liverpool Philharmonic Orchestra in 2009. Then in 2014 they staged the Museum Of Liverpool concert/art installation. At the same time, they had juggled tours promoting both History Of Modern and English Electric alongside some festival performance slots.
Yet it was probably inconceivable that OMD would manage to raise the bar with a special performance at London's prestigious Royal Albert Hall. So the announcement that the band would be performing both the Dazzle Ships and Architecture And Morality albums in their entirety at the venue in May this year took OMD fans by surprise.
The impressive interior of the Royal Albert Hall certainly provided an unusual and classy backdrop for an OMD performance. The sheer size and style of the venue is difficult to appreciate until you take in the tiered balconies and the ornate fixtures. In this stylish setting then, OMD opened with the wise decision of restructuring three of the more difficult elements of the Dazzle Ships album for the front-end of the performance. As a result 'Dazzle Ships (Part II, III And VII)' opens proceedings, with 'Radio Prague' and 'ABC Auto-Industry' following suit.
There's a few deft touches, such as Andy McCluskey giving the radio announcement of 'Radio Prague' live via a loudhailer. Plus, the theatrical performance of semaphore by the band members to the machine melody of 'ABC Auto-Industry' is a nice nod to the original 1983 live shows.
For those that had attended the Museum of Liverpool performance in 2014, much of this will be familiar as that concert was also heavily weighted towards Dazzle Ships. Hence the inclusion of 'International', which had been unveiled as a surprise at the Museum Of Liverpool show and makes a repeat performance here.
There are a few differences from the original with a longer intro of radio samples (which serves to initially confuse the audience until the familiar, if depressing, voiceover intones "The youth and the imperialist tribune was also addressed by a young girl from Nicaragua whose hands had been cut off at the wrists by the former Samosa guards…"). As a song, 'International' is a demanding challenge vocally, but Andy McCluskey manages to yet again do the powerful song justice in its live rendition.
Hearing both the evocative tones of 'Silent Running' and the Eno-esque guitar jam of 'This Is Helena' played back-to-back provides a moment of reflection, particularly considering that some of these songs hadn't actually been performed when Dazzle Ships was first toured back in 1983.
A very bass-heavy 'Genetic Engineering' follows which predictably receives an enthusiastic response from the audience. "Only you lot would cheer for this song!" jokes Andy.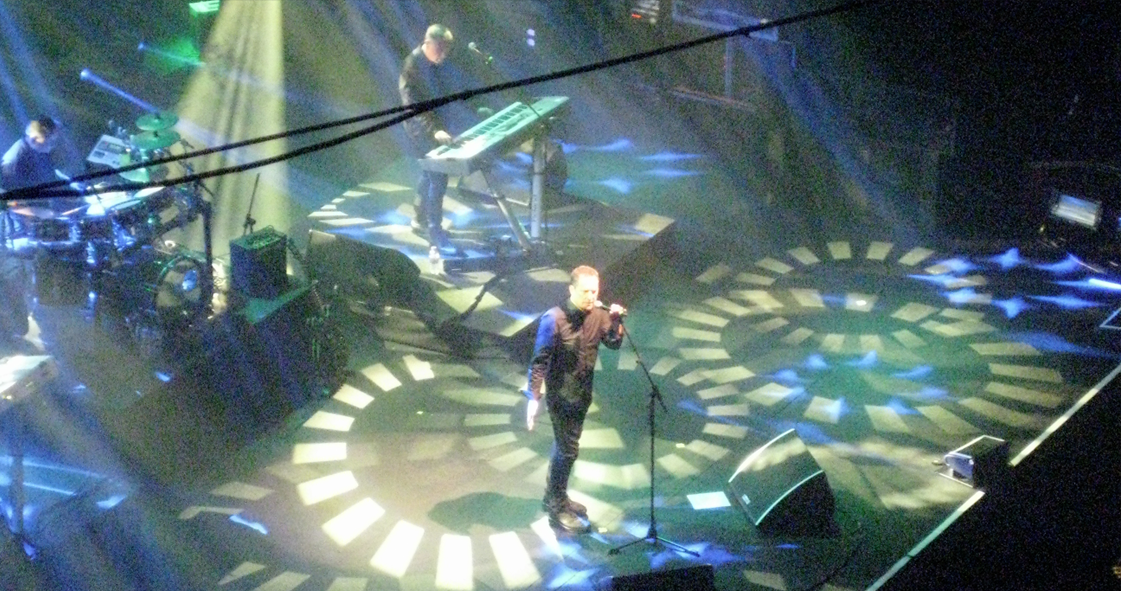 If Dazzle Ships single No. 2 receives a good response, it's dwarfed by the reception for the album's first single release, here making its live return after nearly 35 years. An inspired round of clapping from the crowd buoys up a confident return for 'Telegraph' into the OMD setlist. To be fair, the song here has been revised from its original longer live rendition, thus saving Andy from attempting those tricky high notes.
Following up with 'Radio Waves' keeps the banger element high for this segment of the concert, which Andy wittily introduces with "Who'd like to dance along to 1980s Cold War tunes?"
Anyone curious as to how 'Timezones' was going to be performed would have been surprised by the musique concrète elements of the song enhanced with segments lifted from 2013's English Electric catalogue (in many ways the spiritual successor to Dazzle Ships) in the form of samples from 'Please Remain Seated' and 'Frontline' amongst others. As a result, the composition acts as an interlude of sorts before the band return to deliver the more reflective tracks from Dazzle Ships to close proceedings.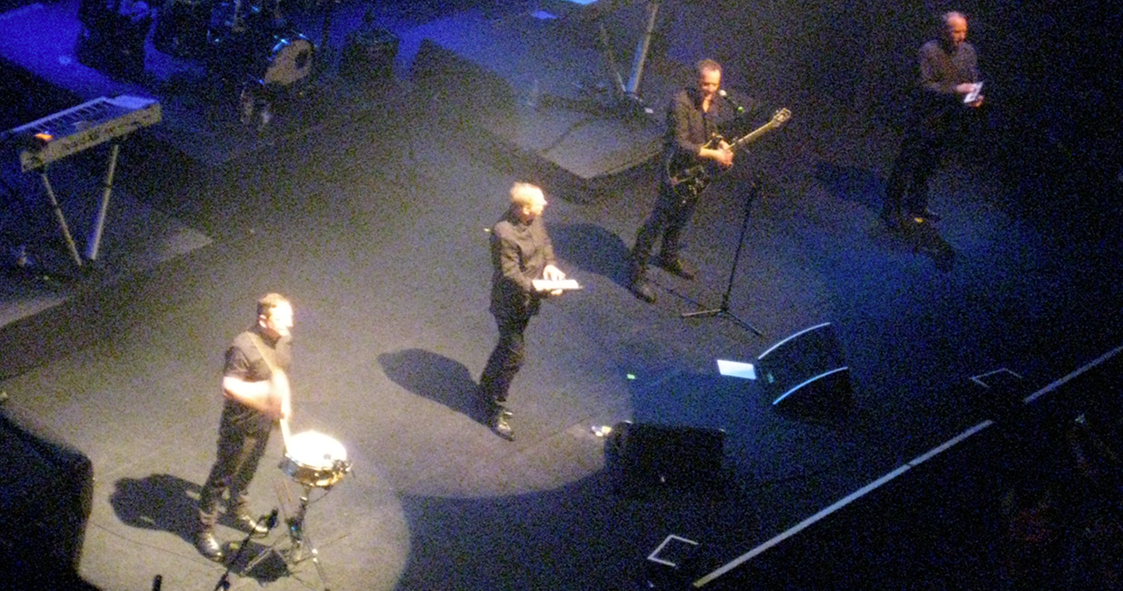 As a result, 'Of All The Things We've Made' offers a touching and reflective moment to the live performance. It also features all 4 band members stage front, including Stu Kershaw beating a lonely refrain on a snare drum. This song (which essentially bridges Architecture And Morality and Dazzle Ships) is followed by the brooding beauty that is '4-Neu', a tune that acts as both a tribute to the pioneering German band, but also one that manages to prop itself up as a masterful OMD composition in itself rather than any ham-fisted copy of Neu!'s distinctive style.
Dazzle Ships as an album had the distinction of being OMD's shortest (it only clocks in at just over half an hour), which results in the band deciding to enhance the set with a few other period pieces. Martin Cooper comes stage front to take up bass duties for the classic melodies of 'Julia's Song'. Andy's freedom to pace the stage also allows some minor windmilling.
If there's another welcome return that's been anticipated for many years however, it's the melancholic tones of 'Almost' which here has lost nothing of its particular beauty or power. Meanwhile, traditionally the third song in any OMD live set, 'Messages' is here relegated to the curious position of guest song in the bridge between sets.
A short intermission follows, which allows the gathered fans to check out the merchandise on offer for this performance. The concert was being simultaneously recorded for release on CD, which meant that people could order the live album on the same night it was being recorded. But the rest of the merchandise was equally attractive with T-shirts, posters and even a tour programme that had been rendered in the same size and style as the original Architecture And Morality tour programmes.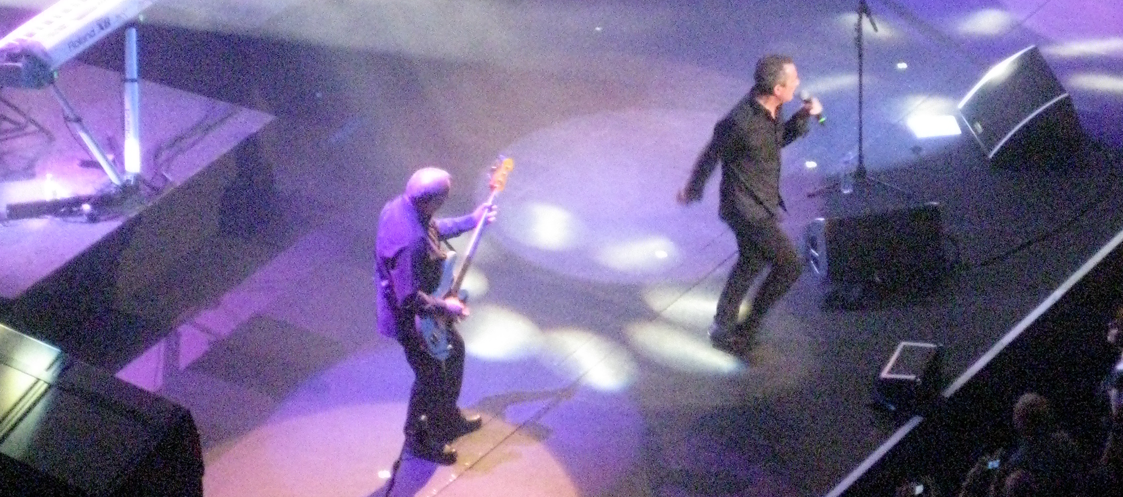 The evening's second performance is announced by the discordant tones of 'Architecture And Morality' blasting over the PA as the empty stage is bathed in white light.
There's a slight cock-up on the keyboard front for 'Sealand' (although to be fair, the stage lighting was very dark!). Meanwhile, 'New Stone Age' gained an intriguing choral intro and an enthusiastic audience clapping in time as Andy kicked off the familiar guitar rhythms for the song.
Elsewhere, 'Souvenir' loses none of its power with Paul Humphreys on fine form to deliver the song's wistful lyrics. For 'Joan Of Arc' Andy and Paul lead the audience in the sequenced clapping that's become a traditional part of live performances for the classic tune. Despite Andy making a brief slip on the lyrics (which he swiftly laughs off), it's clearly an audience favourite.
As usual, 'Maid Of Orleans' follows and the percussive power of the song still manages to elicit a particular magic that remains undiminished even 30 plus years later. Andy's knees may not be what they were, but he still gives an energetic effort for dancing on stage in familiar windmill fashion.
It should also be noted that Stu Kershaw turns in an impressive performance on drums throughout the concert. It's perhaps difficult for many OMD fans to appreciate that Mal Holmes is unable to continue in his usual capacity for the band. But Stu delivers a powerful percussive rendition across some of OMD's most classic songs. For the finale of the Architecture And Morality segment he also does a star turn taking up the guitar.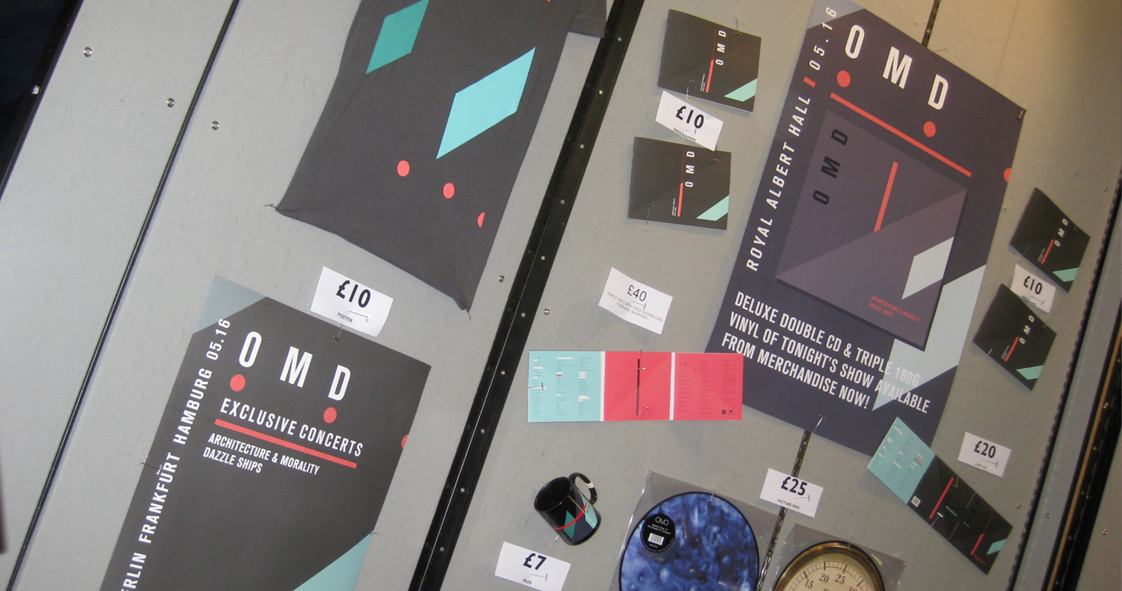 Despite being treated to the performance of two of OMD's classic albums in their entirety, it's clear that the band are keen to slot in some of the bangers that are always part and parcel of any OMD live show. So naturally there's a huge reaction from the crowd for both 'Electricity' and 'Enola Gay'.
Adding in 'History Of Modern (Part 1)' does seem to be an unusual choice for encore. Thematically, it would perhaps have made more sense to pull from the English Electric album, but History Of Modern does have its fans. Either way, proceedings come to a close with the final song of the evening in the form of a particularly emotional performance of 'The Romance Of The Telescope'.
While OMD have clocked up nearly 40 years of live performances, it's not often that concerts such as this feature in that extensive history. It's a memorable occasion which allows the band to perform some rarely played songs and establishes that they're not simply content to rest on their laurels. Whether or not OMD manage to outdo themselves after the Royal Albert Hall remains to be seen, but as a band they continue to surprise us.