Consumerist culture receives some harsh introspection on OMD's latest outing…
Following on from previous releases 'La Mitrailleuse' and 'Isotype', 'The Punishment Of Luxury' represents the title track culled from OMD's forthcoming 13th studio album.
Musically, the new song (which had only been glimpsed in snippets previously) has strident electronic rhythms and a powerful percussive foundation. It's a good indicator that the "crunchy industrial sound" that Andy McCluskey had hinted the album was aiming for is present and correct on this particular outing. There's also a euphoric element married to a classic electropop melody, which shows OMD wearing their German influences on their sleeve.
As with many OMD songs in the past, 'The Punishment Of Luxury' also presents an opportunity for the band to make pointed comments – in this case taking aim at consumerism. Lyrics such as "surrounded by your broken toys/you don't know how to make the pain just go away" and "think you're right think you're free/floating in your purgatory" are pretty unambiguous in their message.
As Andy himself put it in a recent interview: "All of the shit we have to deal with is only a problem that's created for you by some suggestion that came from a marketing man or a PR job that's been done on you. Everything you think you know was placed there by a marketing man… Everything you think you want, you don't".
Meanwhile, the video has a combination of neon colours and rotoscoped animation (which bring to mind the video for English Electric's 'Dresden'). The nods to synthwave/vaporwave are very strong, while the visuals also weave in satirical imagery aimed at social network culture. There's also some elements of political commentary with the barely disguised animations of Donald Trump sporting buzzwords that could have come directly from John Carpenter's 1988 film They Live (a film which also satirised consumerist culture).
The title for the lead track had originally been inspired by the painting by 19th Century artist Giovanni Segantini. The Punishment Of Luxury was part of a series that Segantini had crafted on a loose theme of 'bad mothers'. Segantini had a strong belief in the traditional role of women and the works in this series were a commentary on women he believed had failed in that role. In fact the painting's original title of The Punishment Of Lust suggests a much more contentious approach (and explains why Victorian audiences were subject to a more genteel name change).
It would have been perhaps a more intriguing direction for the song to head in if it had tacked closer to the themes that Segantini had illustrated. Yet at the same time turning them on their head to address the bizarre slide backwards that the modern world has experienced with issues revolving around gender. But there's perhaps enough commentary on modern culture in both the video and lyrics here to keep things contemporary.
The Punishment Of Luxury represents the third album in OMD's post-reformation trilogy, which had been kick-started by 2010's History Of Modern and followed up by English Electric in 2013. In terms of sound, Andy McCluskey has stated that the band are drawing from the palette established by English Electric. "We have tried to take the EE template and go forward with it. Obviously, we write melodies and I sing so there will always be 'OMD' elements. We have adopted a more electronic rather than rock drum sound and some glitch sounds".
With 'The Punishment Of Luxury' it's clear that OMD have, as Andy has commented, drawn from English Electric's electropop approach and clean production style. Whether the forthcoming album can eclipse their 2013 release remains to be seen, but there's still plenty of material for OMD fans to discuss and debate until the new album arrives in September.
---
'The Punishment Of Luxury' will be released as an exclusive 12″ vinyl on 13th October 2017. The 12″ vinyl is limited to 1,000 copies worldwide and includes a 12″ extended mix of the single (remixed by OMD) and an exclusive B-side track entitled 'Lampe Licht'.
PledgeMusic: https://omd.pmstores.co/
Rough Trade: http://found.ee/TPOL_RoughTrade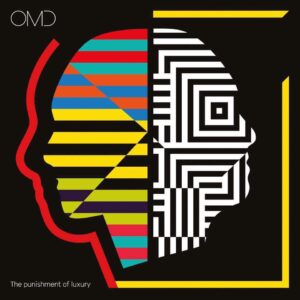 The new album The Punishment Of Luxury is released 1st September 2017. The album is available to pre-order now.
OMD will also be embarking on a UK and European tour later this year. Dates as follows:
IRELAND
Oct 23 Dubin Vicar Street, Oct 24 Belfast Mandella Hall.
UK
Oct 29 Liverpool – Empire, Oct 30 Bristol – Colston Hall, Nov 01 Southend – Cliffs Pavillion, Nov 02 Ipswich – Regent, Nov 03 Cambridge – Corn Exchange, Nov 05 Leicester – De Montfort Hall, Nov 06 Nottingham – Royal Concert Hall, Nov 07 Sheffield – City Hall, Nov 09 Reading – Hexagon, Nov 10 Southampton – Guild Hall, Nov 11 Guildford – G Live, Nov 13 London – Roundhouse, Nov 15 Bexhill – De La Warr Pavillion, Nov 17 Manchester – Acacdemy, Nov 18 York – Barbican, Nov 19 Glasgow – Royal Concert Hall, Nov 21 Birmingham – Symphony Hall, Nov 22 Gateshead – Sage.
EUROPE
Nov 25 Erfut – Traum Hits Festival, Nov 26 Hamburg – Grosse Freoheit, Nov 28 Berlin – Huxleys, Nov 29 Leipzig – Haus Auenesse, Nov 30 Munich – Tonhalle, Dec 02 Offenback – Stadhalle, Dec 03 Dusseldorf – Mitsuibishi Electric Hall, Dec 05 Tilburg 013, Dec 06 Antwerp – De Roma, Dec 08 Lausanne – Les Docks.
---