OMD revisit familar themes of war on their latest song…
With details of the new OMD studio album The Punishment Of Luxury finally being released, two samples of what the album will sound like have also been unveiled.
The first is a brief snippet of the title track 'The Punishment Of Luxury', which was revealed on the OMD Facebook page on the 13th May. A longer segment also aired on BBC 6 Music this week. It suggests that OMD are adopting a much more contemporary dancepop approach with strident electronic rhythms and a powerful percussive foundation.
Meanwhile, the first full length track 'La Mitrailleuse', complete with video, has also been aired. The inspiration for the song comes from a painting by the artist CRW Nevinson, regarded as one of the most famous war artists of World War I. Nevinson was deeply affected by what he saw in France during World War I, which had a profound effect on the paintings that he produced at the time. This included the 1915 work La Mitrailleuse, which translates from the French as "the machine gun".
The song itself is composed of a mesmerising droning intro which leads to a rhythm track designed to emulate gun fire, explosions and in particular machine-gun fire. Meanwhile, Andy McCluskey intones "Bend your body to the will of the machine". It's the perfect companion to Nevinson's work which sees the style of the soliders rendered in angular shapes, suggesting a merging of man and machine – a theme carried over in the video, which again features the distinctive style of Henning M. Lederer, who previously worked on videos for the English Electric album.
OMD's fascination with military themes is something that Messages has explored before, from 'Bunker Soldiers' through to 'Enola Gay' (see OMD And The Art Of War). In an interview with Andy McCluskey on BBC 6 Music he commented on the inspiration that drove the song, particularly the fact that Nevinson's powerful work only represents a small part of the many paintings that came out of the First World War period. "Of course just a few years ago it was the 100th anniversary of the starting of the war. It was the first really mechanised war and I was really rather deeply affected by the images I saw in exhibitions that were around the 100th anniversary".
The Punishment Of Luxury represents the third album in OMD's post-reformation trilogy, which had been kick-started by 2010's History Of Modern and followed up by English Electric in 2013. In terms of sound, Andy McCluskey has stated that the band are drawing from the palette established by English Electric. "We have tried to take the EE template and go forward with it. Obviously, we write melodies and I sing so there will always be 'OMD' elements. We have adopted a more electronic rather than rock drum sound and some glitch sounds".
Discussing the album on the BBC 6 broadcast, Andy also remarked: "We have to challenge ourselves, we're not just doing this to top up our pension or be a sad pastiche of our former lives".
---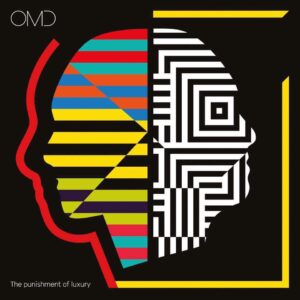 The Punishment Of Luxury is released 1st September 2017. The album is available to pre-order now.
OMD will also be embarking on a UK and European tour later this year. For the UK and Ireland dates, a limited number of VIP tickets including the best seats in the house, access to soundcheck, an exclusive T-shirt and meet & greet packages are available for each show. For the European shows, VIP s are available which will include access to soundcheck, an exclusive T shirt and meet & greet packages (Customers will have to purchase their own tickets for the evening show).
VIP tickets go on sale at 9am on Wednesday 17th May. Standard tickets available from Friday 19th May.
IRELAND
Oct 23 Dubin Vicar Street, Oct 24 Belfast Mandella Hall.
UK
Oct 29 Liverpool – Empire, Oct 30 Bristol – Colston Hall, Nov 01 Southend – Cliffs Pavillion, Nov 02 Ipswich – Regent, Nov 03 Cambridge – Corn Exchange, Nov 05 Leicester – De Montfort Hall, Nov 06 Nottingham – Royal Concert Hall, Nov 07 Sheffield – City Hall, Nov 09 Reading – Hexagon, Nov 10 Southampton – Guild Hall, Nov 11 Guildford – G Live, Nov 13 London – Roundhouse, Nov 15 Bexhill – De La Warr Pavillion, Nov 17 Manchester – Acacdemy, Nov 18 York – Barbican, Nov 19 Glasgow – Royal Concert Hall, Nov 21 Birmingham – Symphony Hall, Nov 22 Gateshead – Sage.
EUROPE
Nov 25 Erfut – Traum Hits Festival, Nov 26 Hamburg – Grosse Freoheit, Nov 28 Berlin – Huxleys, Nov 29 Leipzig – Haus Auenesse, Nov 30 Munich – Tonhalle, Dec 02 Offenback – Stadhalle, Dec 03 Dusseldorf – Mitsuibishi Electric Hall, Dec 05 Tilburg 013, Dec 06 Antwerp – De Roma, Dec 08 Lausanne – Les Docks.