OMD tackle visual information design for their newest song…
Taking its name from the method of depicting pictorial symbols to illustrate data, 'Isotype' joins OMD's extensive catalogue for songs on unusual subjects.
Wearing their influences on their sleeves, this new release from the forthcoming The Punishment Of Luxury album throws a nod to Kraftwerk in terms of its melodies and arrangement. The song boasts a suitably warm, euphoric melody augmented by intermittent artificial vocals, something that had been such a large element of 2013's English Electric album.
'Isotype' is also one of the longest tracks on the album, clocking in at over 6 minutes (a shorter edit was premiered on BBC Radio 6 earlier in the week). Once again, the talents of Henning M. Lederer have been utilised for the mesmerising animated video.
Lyrically, the song appears to be a commentary on the reduction of information to simple and reduced imagery. "Every thought and hope and dream" can be packaged into something simpler and in the process perhaps losing something essential. In a world of fast and instant communication, particularly the use of applications such as Twitter, this is a timely slice of cultural commentary.
'Isotype' will also be the first of a series of 12″ vinyl releases from The Punishment Of Luxury. Two further releases are slotted in for September and November. 'Isotype' also comes with a new non-album B-side track 'Skin'.
---
'Isotype' will be released on all digital platforms tomorrow. The 12″ vinyl version is due for releases 28th July and can be pre-ordered now: http://found.ee/Isotype_Vinyl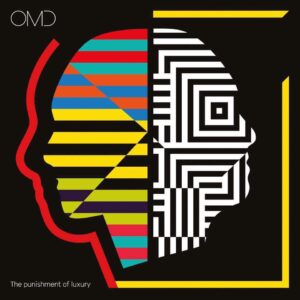 The Punishment Of Luxury is released 1st September 2017. The album is available to pre-order now.
OMD will also be embarking on a UK and European tour later this year. Dates as follows:
IRELAND
Oct 23 Dubin Vicar Street, Oct 24 Belfast Mandella Hall.
UK
Oct 29 Liverpool – Empire, Oct 30 Bristol – Colston Hall, Nov 01 Southend – Cliffs Pavillion, Nov 02 Ipswich – Regent, Nov 03 Cambridge – Corn Exchange, Nov 05 Leicester – De Montfort Hall, Nov 06 Nottingham – Royal Concert Hall, Nov 07 Sheffield – City Hall, Nov 09 Reading – Hexagon, Nov 10 Southampton – Guild Hall, Nov 11 Guildford – G Live, Nov 13 London – Roundhouse, Nov 15 Bexhill – De La Warr Pavillion, Nov 17 Manchester – Acacdemy, Nov 18 York – Barbican, Nov 19 Glasgow – Royal Concert Hall, Nov 21 Birmingham – Symphony Hall, Nov 22 Gateshead – Sage.
EUROPE
Nov 25 Erfut – Traum Hits Festival, Nov 26 Hamburg – Grosse Freoheit, Nov 28 Berlin – Huxleys, Nov 29 Leipzig – Haus Auenesse, Nov 30 Munich – Tonhalle, Dec 02 Offenback – Stadhalle, Dec 03 Dusseldorf – Mitsuibishi Electric Hall, Dec 05 Tilburg 013, Dec 06 Antwerp – De Roma, Dec 08 Lausanne – Les Docks.