OMD embark on aerial manoeuvres for their latest single…
Paul Humphreys singing lead vocal on one track per OMD album seems to be becoming something of a trend; in terms of releases over the last decade he has taken the lead on 'Stay With Me' and this track, 'What Have We Done', taken from the band's twelfth and thirteenth studio album releases respectively.
Still, this is the first time that a song for which he takes the spotlight (as opposed to OMD's usual lead vocalist Andy McCluskey) has been released as a single since 1986's '(Forever) Live and Die', making this an interesting if unprecedented move by the band.
The track itself is typically Humphreys-penned; its main attractions are his plaintive vocal and the gorgeous synth line that seemingly rises out of nowhere. It also has the added quirkiness of being in a three-four time signature- generally used for waltzes- as opposed to the generic four-four time.
'What Have We Done' also hides a deeper meaning than one might realise on first listen. Whilst lyrics like "And when love seemed so heartless/when light turned to darkness", as well of the title of the track itself, may evoke thoughts of something like the breakup of a love affair, Humphreys has stated in interviews that the track was actually written after he was forced to put his beloved dog Patsy to sleep.
'Initially the line 'what have we done' [came from the fact that]…it was like, you know, I'd just killed my dog…and I'm thinking 'what have we done?!" he said, in an interview about the song for The Punishment Of Luxury bonus DVD. 'But in the bigger picture of the song it's not just about my dog…it's about making these incredibly difficult decisions that you have to make in life.'
It is a shame then, that the music video recently released for the track does not reflect the deeper meanings that 'What Have We Done' holds. The use of drone footage is a thought-provoking idea, and yet does not seem to reflect the darker, more subtle undertones of the track.
Fans will probably not be complaining too much though; the video for 'What Have We Done' is the first since 2010's 'If You Want It' to feature actual footage of McCluskey and Humphreys themselves. We have been told in the past that neither of them are particularly keen on making videos, so although the pair only feature briefly as figures lying in a field it is somewhat understandable, particularly in this day and age when videos are often simply uploaded to YouTube as an accompaniment to a track, as opposed to OMD's 80s heyday when a well-made (or even not so well-made…) video on MTV would have helped to sell a record.
Still, the duo's appearance, however fleeting, is hopefully a sign of things to come. Whilst there may not be any more lying around in fields (anyone familiar with the music video for the band's 1984 hit 'Locomotion' will know that OMD and large fields are something that do not go well together), with any luck it will mean that they are going to be more personally involved with the promotion for new material etc. than they have been for their last few albums.
---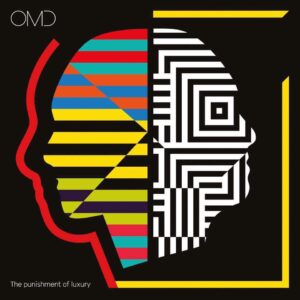 'What Have We Done' will be released on 15th December. The 12″ release will also feature 'What Have We Done (Extended Mix)' and B-side track 'Ha Ha Ha'.
PledgeMusic: https://omd.pmstores.co/
The new album The Punishment Of Luxury is available to purchase now.
OMD are currently on a UK and European tour. Dates as follows:
UK
Nov 13 London – Roundhouse, Nov 15 Bexhill – De La Warr Pavillion, Nov 17 Manchester – Acacdemy, Nov 18 York – Barbican, Nov 19 Glasgow – Royal Concert Hall, Nov 21 Birmingham – Symphony Hall, Nov 22 Gateshead – Sage.
EUROPE
Nov 25 Erfut – Traum Hits Festival, Nov 26 Hamburg – Grosse Freoheit, Nov 28 Berlin – Huxleys, Nov 29 Leipzig – Haus Auenesse, Nov 30 Munich – Tonhalle, Dec 02 Offenback – Stadhalle, Dec 03 Dusseldorf – Mitsuibishi Electric Hall, Dec 05 Tilburg 013, Dec 06 Antwerp – De Roma, Dec 08 Lausanne – Les Docks.