A means to an end…
A former member of pre-OMD outfit The Id, Julia Kneale occupied an important role in the formative years of the popular synthpop band.
Already a published writer prior to Joining The Id, Julia is perhaps best known to OMD fans for penning the lyrics of 'Julia's Song', a classic Id and OMD track whose evocative sound and cryptic lyrics played an integral part of the band's 1980 debut album Orchestral Manoeuvres In The Dark.
Her new book Moods, Memories and other Manoeuvres
provides a window on the vibrant Wirral and Liverpool music scene from the mid to late 1970s, her involvement with Andy McCluskey and her own part in the history of OMD.
---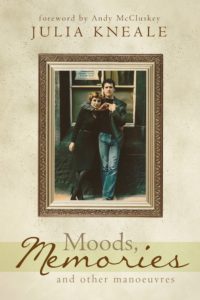 Why did you think the time was right to write the book?
It was never my intention to write a book at all. Both of my parents and my brother died within a 5 year period and it was in 2012 after my mother had died, that I realised that there is only me left, and how fragile life is. I did a lot of soul searching, as most people do in their 50s and started questioning my own existence eg: what is my purpose? who am I? etc. I wanted something for my son, for him to be able to see how I used to feel about certain issues when I was growing up and how I dealt with them. Perhaps he may find similarities in his own make up. Family history is important, and I want him to have a record of that. I didn't want to write a full-blown autobiography, so I've just chosen a few significant issues from my life so far and have tried to capture the mood and atmosphere surrounding them. Of course, Andy has been a part of that.
Where did the inspiration for 'Julia's Song' come from?
I wrote 'Julia's Song' when I was 18 above Greasby library at an Id rehearsal. There was no particular inspiration for it. It's a weird stream of rhyming words which most likely tells of the superficiality of looks and glamour, and at the end of the day, we are all just ordinary human beings and pretty much the same underneath.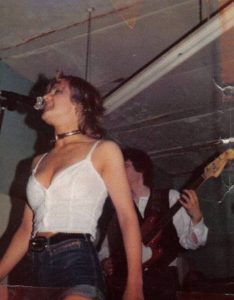 Did you sing 'Julia's Song' during The Id days?
I was in the original Id when it was an 8-piece band of college friends. I was going out with Andy at that time and we were at the same art college. In those days it was only ever me who sang 'Julia's Song'.
The Id achieved a degree of popularity. Would you have liked to have seen the band achieve commercial success?
The local Wirral bands, including The Id, weren't doing it to achieve commercial success. Most of the time it was groups of college friends having fun, borrowing each others' equipment and frequently playing in each others' bands. It was a close-knit musical community on the Wirral in the mid to late '70s.
Can you talk about how your first book of poetry came about?
The Shellfish That Weren't (1976) was a bizarre collection of poetry, ramblings and odd sketches that I put together when I was 16. My father had it printed up for me and I sold it to my school friends for 30p a copy. Where are those copies now I wonder?
Were there particular poets and writers that inspired you?
I've always read avidly from childhood and lived in book filled homes. Both my father and brother had been writers, and both wrote poetry too. Anything that arouses emotion inspires me. I used to love the work of the war poets (Wilfred Owen etc), and oddly enough poet William Wordsworth when I was growing up. Nowadays, I tend to read psychology and spiritually inspiring books. I don't like reading novels.
Can you tell us a little about what you did in the post-Id years?
You'll have to buy the book to find that out!
---
Moods, Memories and other Manoeuvres
is published 24th January and features a foreword by Andy McCluskey. The book is available to pre-order via Amazon.
Messages extends its warmest thanks to Julia Kneale.
---