"Lots of songs about inanimate objects, relationships and science!"
Originally released in 1980, OMD's debut album Orchestral Manoeuvres In The Dark featured some of the most iconic OMD songs, including 'Electricity', 'Bunker Soldiers' and 'Messages'. The sleeve design (by Peter Saville and Ben Kelly) for the album was built around a die-cut concept that also marked it out as an instant design classic.
In 2003 the album was reissued featuring remastered tracks taken from the original master tapes for the album. The reissue also boasted bonus tracks along with sleeve notes, photos and restored artwork. As part of the process of penning the sleeve notes, Paul Browne interviewed the band to collect their thoughts on Orchestral Manoeuvres In The Dark as an album then and now.
---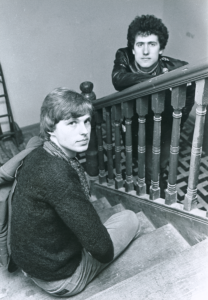 What do you recall about the ideas and emotions that originally inspired the songs on Orchestral Manoeuvres In The Dark?
This album was pretty much a typical first album in that it contained the best of everything we had written since we began writing songs. It was, however, perhaps not so typical in that it wasn't laboured over for a long period of time. I'm sure we spent longer building The Gramophone Suite studio to record the album in, than the time it took to record the whole record! I think that this is also one of the reasons why the songs have a definite feeling of spontaneity about them.
I think that all of our influences are perhaps the most apparently obvious on this album above all the others. Even though we had developed our own unique sound this early on, you can still vaguely – and sometimes clearly – hear the influences of Eno, Neu! and Kraftwerk particularly in several of the songs.
The subject matter of the songs set a definite tone and direction for the future. Lots of songs about inanimate objects, relationships and science!
Were you happy with the final album?
I was definitely happy with the songwriting on this album, and I think that a lot of the songs still hold up well today, the production – well, we produced it ourselves and it was our first attempt. Sometimes beautiful and sometimes a little naive, but then that really is a big part of its charm!
Can you explain the reasons behind the creation of The Gramophone Suite?
I think we created The Gramophone Suite rather in the spirit of Kraftwerk who had their own Klingklang Studio. We wanted a laboratory to experiment in too!
It was also a very practical option as we were extremely pessimistic of our chances of commercial survival, so we decided to spend almost all of our advance money from the record company on musical and recording equipment as we figured that when the record company dropped us after the first album, we would at least have a studio to show for it!
How did it feel signing to DinDisc?
As Orchestral Manoeuvres was only supposed to be a one-off gig, it felt fantastic.
I remember the day we signed. Andy and I looked at each other with an expression of – 'How on earth did that happen!!'
I also remember thinking "Hmm, does this mean that I have to stop drawing my unemployment benefit now?".
Peter Saville's final album design is a stunning piece of work. Did you have any thoughts yourself about potential design ideas?
Design and image were two things that we hadn't considered when we started the band and it was something that we were not particularly good at.
Fortunately, Peter was brilliant at it. It was a stroke of genius on behalf of the boss of Dindisc – Carol Wilson – to entice Peter down from Manchester to London to work for her. This cover is still my favourite of all our covers, so simplistic but yet so beautifully striking. The 12″ vinyl with cut-outs was really a piece of art as well as a record in my view.
---
Original interview by Paul Browne 2003
Revised text 22nd February 2020