"I ended up with a bass amp on top of my head!"
Although Mal Holmes is best known for his drumming talents in OMD, he was also part of earlier outfit The Id. Here he discusses life in the pre-OMD outfit…
---
How did you become involved with The Id?
When I was about 15/16 I moved from Prenton to Meols with my dad. He knew I enjoyed playing drums as a kid and bought me a drum kit, but I'd got rid of them. So when we moved he bought me another set. I made friends with Andy, Paul and Gary playing footie in the field that's over the road from where the Red Frame phonebox is. There were loads of new bands springing up at the time, so going on from there basically.
Can you give some background to what you were doing prior to joining The Id?
Left school, went to college. Hated college and bailed out basically! Went to work as a kitchen porter then a chef in a restaurant, Then worked with local musicians and bands then The Id. I did some very early work on Dalek I Love You demos and my earliest studio work was with Margox.
What was a typical gig like?
I remember getting on a bus from Gary Hodgson's house with a drum kit! Then we'd get to gigs using Gary's dad's Austin van with the gang. I can remember Gary went up a verge and nearly killed us all! We played gigs in pubs – I remember there was the Bull's Head in Spittle – a real rock venue and we were giving it heavy new wave! Gigs were generally good fun.
What are your memories of the Open Eye session?
My second time in a recording studio, strangely enough. I remember it was £100 for the day and we all chipped in £10. Andy had a really clear vision what he wanted to do with the tracks. I wasn't expecting anyone to do anything with the tracks, especially putting them on the Street To Street album. Everyone worked really well in the band. First time I realised Andy's input in the project.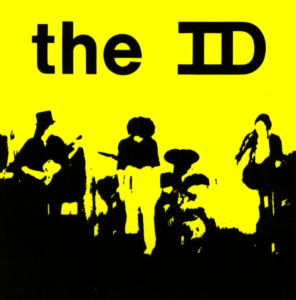 Were you disappointed that The Id folded?
I don't think I was actually because I knew that Andy and Paul had started reworking The Id tracks and I'd kept in touch with them. Although I didn't have a hands-on approach to those, I felt I was still involved. If anyone was going to go over from The Id it was going to be me. I was also active with Dalek I and did a gig with them so I was always part of that little splinter group. So I wasn't too upset about the split.
Are there any particular stories and anecdotes that stay in your mind from The Id days?
One: When Gary tried to kill us in the van when he span us into a ditch. I ended up with a bass amp on top of my head!
I remember the Bulls Head gig as being different – playing to a heavy metal crowd. I just generally remember it being a fun time. Doing it for the right reasons, doing it for the love of music.
---
This interview originally appeared on the Official OMD Website on 2nd May 2002.
Revised text 22nd January 2014