The return of OMD in the 1990s saw a surge of renewed interest in the band, especially with the success of Sugar Tax and subsequent live concerts. OMD's live shows introduced a whole new generation of fans to OMD – and the man behind the drums for those shows was Abe Juckes. In 2009, Abe discussed his musical roots and how he came to be part of OMD's live performances…
---
How did you get involved with OMD back in 1991?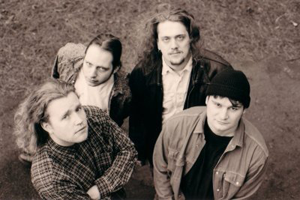 At the time I was in a band called The Preachers in Liverpool. We'd done all the record company showcases etc. and were popular in Liverpool, so my name was floating around the muso circles as being a good drummer. Andy needed someone to do a video and a couple of TV shows in Germany and Hambi [Haralambous] knew of me through my dad who also owned a studio, so Hambi came and saw me play at my dad's studio and then a week later I got a phone call to come and meet Andy at The Pink Museum (now The Motor Museum). We met, had a brew, he offered me the video and TV shows and said there might be some work after that but neither of us knew that 'Sailing On The Seven Seas' would be such a hit here and in Europe and that we'd go all over the world.
Why did you leave OMD?
I don't want to talk about it. (one bad apple etc.) so let's leave it there.
What is your most memorable moment with OMD?
"Playing great pop songs and people thanking you for it, going around the world and meeting all these different people. I've just been lucky I guess" Too many to remember: going to the Louvré in Paris with Andy and talking about art, Andy bleeding all over the stage at Newcastle and then getting stitched up with no aesthetic just a bottle of J and B whisky (which he drowned in !!!) ROCK AND ROLL.!!!!!!!! The US tour, meeting the fans after the gigs and them being so nice and friendly (some were scary). The power going half way through the set at Milton Keynes, going off and talking to radio 1 DJ Gary 'somebody' at the side of the stage whilst 44 and a half thousand people sang "Gary is a WANKER". How I kept a straight face I'll never know. Just the whole thing, playing drums in a band and that band to be successful, playing great pop songs and people thanking you for it, going around the world and meeting all these different people. I've just been lucky I guess. Getting very drunk with UB40, the hotel bar bill that night was £9000. Last but not least meeting Phil Collins, having a beer and talking drums:)
What have you been doing since you left OMD? What is your musical involvement these days?
After leaving the band, I did session work in London and Liverpool and in '96 I joined a band called Treehouse from north Liverpool. Our first gig we got signed to Hootie And The Blowfish's label Breaking Records which was part of Atlantic. So from '96 we moved to America and released an album called Nobody's Monkey and toured it until '98. It was some of the greatest fun I've ever had with my clothes on, we did about 400 gigs and met some amazing people. In 2003 I became a dad and so had to get a proper job and become the breadwinner. So I got a job on Coronation Street as a prop man and now as an art director as well. It's a good job but it ain't like playing DRUMS – that's still where the fun is !!!
Do you have a family now?
I've got a lovely wife and two beautiful boys Zachariah Ayan ( means son of drummer) and Reuben Finley.
Do you still keep in touch with Andy, Nigel and Phil Coxon?
I haven't seen anyone for a while, I heard Nigel lives in Bristol and has got kids and Andy is still living on the Wirral but that's it.
Is music as important to you now as it was back then?
Music is as important as before, if it wasn't for music I wouldn't have gone around the world, met some amazing people and had a life that most people would die for. I really have been lucky, you see the great thing about playing music is that it doesn't matter if your playing to 5 or 50000 people, when you play and people start dancing and having fun there just isn't anything better. I still get excited when I hear a new artist or band.
Are you still drumming?
I never stopped!!!!
---
This interview originally appeared on the Official OMD Website on 24th March 2009.
4th February 2014
---