My feelings still remain
OMD's 40th anniversary has delivered a broad selection of projects that has captured the attention of fans. This includes the reissue of their first four albums on vinyl, a special RLPO concert and a brand new OMD book.
But there were also plans for doing something much more ambitious, something that would not only mark the anniversary, but also capture OMD's legacy as a band. Hinted at during various interviews with Andy McCluskey and Paul Humphreys, that project was slowly unveiled as a comprehensive box set spanning OMD's 40-year career.
Given the suitable title of Souvenir, the foundation stone of the project is a comprehensive collection of every UK OMD single release. This includes OMD's latest single release 'Don't Go' which was unveiled this week (and also fittingly marks the band's 40th single release).
Keeping in the spirit of their post-reformation album releases, OMD have also plotted out a special box set release of Souvenir which contains no less than five CDs of material combined with two DVDs of rare video footage. Topping off this OMD archive is a hardback book, poster and a series of 10″ prints. The book contains unseen photos, single sleeve artwork, an introduction by Paul Morley and sleeve notes to accompany the archive material by Andy McCluskey.
Tackling the complete singles is an intriguing project, particularly in light of three previous greatest hits releases (which began with 1988's The Best Of OMD). Over the years, there's been plenty of debate surrounding the choices for these albums with some fans waving the flag for slightly more obscure single releases. Obviously, commercial pressure requires some shrewd consideration for any compilation album (a similar debate erupted over OMD's 2001 B-sides album Navigation). But with Souvenir, OMD get an opportunity to include everything from their UK singles catalogue.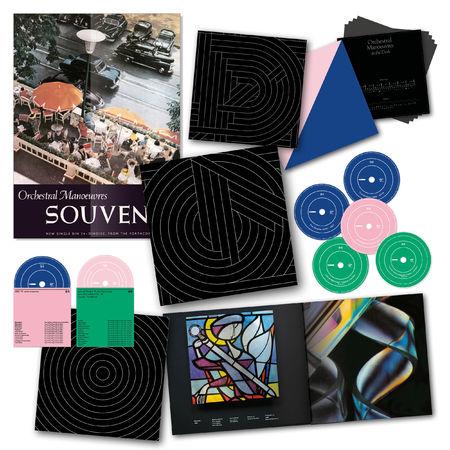 This still poses some issues in assembling the correct mixes for the final tracklisting. 'Messages' has been notorious in this respect as the 10″ mix has been utilised on all previous compilations, rather than the correct 7″ mix. Equally, there was a major error on 2015's Junk Culture reissue when a previously unreleased version of 'Tesla Girls' was used in place of the original.
For this compilation, it will be interesting to see how these challenges are met. Aside from 'Tesla Girls', there's a few single releases which also divert from their album versions. This includes singles such as 'Shame' and 'Universal' as well as 'Never Turn Away' (which featured a unique version on the picture disc release).
But perhaps the most coveted item on Souvenir's box set is what's billed as the Unreleased Archive Vol 1, which features a wealth of previously unreleased OMD tracks. Some of those listed have never been mentioned previously, while others have become legendary in their status as unreleased tracks ('Cut Me Down' and 'Cajun Moon' being two of them).
An unreleased material album had been under consideration prior to OMD's reformation, but had been shelved in favour of a brand-new album (2010's History Of Modern) once the band had got back together.
This incarnation of the unreleased material album has a few anomalies lurking on the provided tracklisting. 'Radio Swiss International', which was one of the abandoned tracks for Dazzle Ships appeared on the 2008 reissue of the album (albeit as 'Swiss Radio International'). It could be the case that this is an alternative version, although given that 'Swiss Radio International' was, like 'Radio Prague', merely a recording of a radio call sign, this seems unlikely.
A track titled 'Liberator' is also listed with a date that suggests it was recorded in 1985. While there's an outside chance that this is a long-lost track that coincidently bears the title of OMD's 1993 dancepop album, Liberator originally had an unreleased track titled 'The Liberator' which was intended to be the title track.
It's the missing tracks from this compilation that invite debate, particularly as there have been several complete (or mostly complete) songs haunting the archives for many years. 'Kiss Of Death', for instance, was dropped from the aforementioned Liberator album. 'Self-Destruct' was drawn from the Sugar Tax sessions (and exists as a finished instrumental sans vocal track). Also omitted are tracks such as 'Thank You', 'Suspicion', 'The Chosen One', 'Yellow Press', 'GTR9' and 'Resist The Sex Act'.
It's possible that some of these appear under different guises on this release or that they're being held back for a possible Vol 2 release in the future. However, the tracklisting suggests that the album isn't being sequenced chronologically (here, songs from 1980 share space with material from 1990) which means any potential follow-up will equally have a slightly odd sound profile.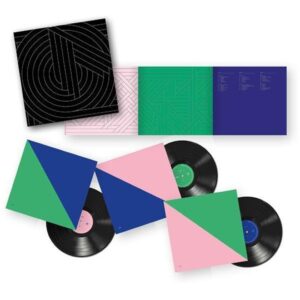 Two live albums are also included which features a 2011 concert recorded at the Mermaid Theatre, London. This focuses naturally on OMD's post-reformation album History Of Modern and was originally a special concert recorded for BBC Radio 2. On that basis, this is an unusual choice, tracking so soon after 2008's OMD Live: Architecture & Morality & More which similarly showcases History Of Modern. However, it's likely that part of the decision in including the 2011 concert is based around a general dissatisfaction with the 2008 release on the part of the band.
Meanwhile, the second album features OMD's classic Dazzle Ships set from one of the May 1983 appearances at the Hammersmith Odeon, London. Arguably, this captures one of OMD's finest hours with its combination of Architecture & Morality and Dazzle Ships set lists, alongside classics such as 'Enola Gay' and 'Electricity'. In fact, this release makes the loss of the filmed footage from the 1983 concert (featuring OMD's visually striking stage set) all the more painful.
But on the topic of footage of the band, one of the included DVDs features a wealth of OMD's BBC performances across the years. This includes their first TV appearance for The Old Grey Whistle Test, the band's various appearances on Top Of The Pops, along with more obscure outings, such as their performance of 'Dreaming' for Wogan back in 1988 or 'Call My Name' for Pebble Mill in 1991.
For the second DVD, there's three titles for your viewing pleasure. This includes the Live at Drury Lane concert from 1982 which showcases the Architecture & Morality album. As a choice, this seems a little odd as the footage was previously issued with the 2007 reissue of Architecture & Morality. That said, it remains a fascinating window on OMD's live capabilities on the back of their chart-storming album. While other acts would capitalise on their concert outings via the release of live albums, OMD had not felt comfortable with the concept. At one point, Andy McCluskey made a statement to the effect that live performances were a one-time thing and that you couldn't capture the magic through a recording. But the other aspect was a concern that any problems on the night, such as a bum note or a bad vocal take, would be captured for posterity. It's interesting to note that for the Drury Lane video, Andy has dubbed over some segments of the live vocal where he had concerns over the sound quality.
Live at Sheffield Hall captures OMD in 1985 during the Crush era (or rather, a pre-Crush period as the album hadn't actually been released at this point). It provides an interesting contrast against the simpler, perhaps more cautious approach on the Drury Lane performance. Here. OMD are seasoned veterans of the live circuit displaying more confidence in both their musical abilities and their banter with the audience.
The Sheffield Hall performance had originally been shot as part of the BBC's Oxford Road Show series. The footage that features in this edition was part of a special documentary on the band that also featured interviews with the likes of Paul's brother Mike, Tony Wilson, Julia Kneale and even Andy and Paul's music teacher from their school years! For OMD to receive such attention at the time was a boon for OMD fans, particularly for the inclusion of Julia Kneale (who was interviewed next to the Red Frame/White Light telephone box) who had taken on something of a legendary status in the fan community over the years.
Closing things out is Crush The Movie, OMD's own 1985 documentary which marked only their second foray into long-form videos since the Live At Drury Lane release. It's difficult perhaps to appreciate the significance of Crush The Movie at the time. It wasn't simply a compilation of promo videos, but featured the band rehearsing and performing songs from the album combined with interviews. The result was a rare behind the scenes view on OMD that gave an insight into how they worked.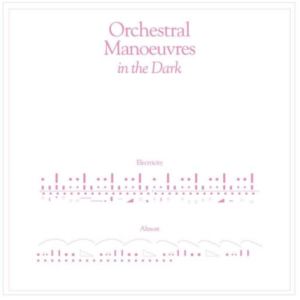 It should also be noted that the OMD releases don't stop there. Previously, it was revealed that Vince Clarke had been brought onboard for OMD remix duties. As a separate release, a special clear vinyl version of OMD's first single will be made available the same time as Souvenir is released. This will feature the original Factory version of 'Electricity' alongside a new mix of 'Almost' by Vince Clarke. The sleeve artwork also replicates Peter Saville's iconic design, albeit in a reversed white effect.
Outside of these releases, the Official OMD Website has also unveiled some new T-shirt designs. In keeping with the Souvenir theme, this includes a shirt with a simple adaptation of the title script as used on the 1981 single. But there are also shirts celebrating 'If You Leave' (which appears to be a shrewd nod to the US market) and an adaptation of the skull motif from 'So In Love', OMD's 1985 single release.
Souvenir appears in several formats, including simplified CD/vinyl editions that focus purely on the singles collection. Completists will of course buy everything, but it's the all-inclusive box set edition that most OMD fans will home in on.
Souvenir is likely to spark debate among OMD fans who will be assessing the choices made for the box set release. While the inclusion of two live albums provides an interesting contrast between two eras of OMD, arguably this would have been an ideal opportunity to include a 12″ mixes compilation (or even a release for the original version of The Energy Suite) in place of one of the live albums. Equally, the unreleased material choices seem to subvert expectations by omitting some of the more obvious candidates.
But overall, these are likely to be viewed as minor quibbles against an impressive catalogue of songs (balanced with both classic tracks and rarer material) that does a superb job in cementing OMD's 40-year legacy as an electronic band. The inclusion of some 'Holy Grail' video titles is also a bonus and Souvenir ultimately has to stand as a perfect tribute to OMD's 40th anniversary.
---
Disc 1 – The Singles 1979 – 1987
Electricity
Red Frame/White Light
Messages
Enola Gay
Souvenir
Joan of Arc
Maid of Orleans
Genetic Engineering
Telegraph
Locomotion
Talking Loud and Clear
Tesla Girls
Never Turn Away
So in Love
Secret
La Femme Accident
If You Leave
(Forever) Live and Die
We Love You
Shame
Disc 2 – The Singles 1988 – 2019
Dreaming
Sailing on the Seven Seas
Pandora's Box (It's a Long, Long Way)
Then You Turn Away
Call My Name
Stand Above Me
Dream of Me
Everyday
Walking on the Milky Way
Universal
If You Want It
Sister Marie Says
History of Modern (part 1)
Metroland
Dresden
Night Café
Isotype
The Punishment Of Luxury
What Have We Done
Don't Go
Disc 3 – Unreleased Archive Vol I.
Brand New Science (06.1981)
Dumbomb (01.1986)
Violin Piece (09.1982)
Untitled 2 (06.1981)
Cut Me Down (03.1986)
Radio Swiss International (09.1982)
Untitled 3 (09.1982)
Weekend (04.1985)
Organ Ditty (05.1980)
Unreleased Idea (06.1981)
Cajun Moon (05.1986)
Guitar Thrash (09.1982)
SMPTE (12.1982)
American Venus (04.1990)
Liberator (02.1985)
Ambient 1 (04.1980)
Unused 1 (12.1980)
Flamenco (04.1990)
Andy's Song (04.1985)
Dynamo Children (01.1985)
Flutey (03.1984)
Nice Ending (06.1981)
Disc 4 – Live at the Mermaid Theatre, London (03/02/2011)
Messages
Tesla Girls
New Babies New Toys
History of Modern (Part 1)
(Forever) Live and Die
Souvenir
Joan of Arc
Maid of Orleans
New Holy Ground
Green
Walking on the Milky Way
Sister Marie Says
Locomotion
Sailing on the Seven Seas
Enola Gay
Electricity
Disc 5 – Live at the Hammersmith Odeon (10/05/1983)
Dazzle Ships – Parts II,III & VII
ABC Auto Industry
Messages
She's Leaving
Georgia
Almost
Julia's Song
Joan of Arc
Maid of Orleans
Statues
The Romance of the Telescope
Souvenir
Telegraph
Radio Waves
Bunker Soldiers
Enola Gay
Silent Running
Electricity
Pretending to See the Future
Stanlow
DVD1 – BBC TV Performances
Messages (The Old Grey Whistle Test 15/04/1980)
Messages (Top Of The Pops 08/05/1980)
Messages (Top Of The Pops 29/05/1980)
Enola Gay (Top Of The Pops 09/10/1980)
Souvenir (Top Of The Pops 03/09/1981)
Joan of Arc (Top Of The Pops 29/10/1981)
Maid Of Orleans (Top Of The Pops 14/01/1982)
Genetic Engineering (Top Of The Pops 03/03/1983)
Locomotion (Top Of The Pops 19/04/1984)
Locomotion (Top Of The Pops 03/05/1984)
Talking Loud and Clear (Top Of The Pops 05/07/1984)
Tesla Girls (Top Of The Pops 13/09/1984)
So in Love (Top Of The Pops 30/05/1985)
La Femme Accident (The Old Grey Whistle Test 22/10/1985)
(Forever) Live and Die (Top Of The Pops 18/09/1986)
Dreaming (Wogan 27/06/1988)
Sailing on the Seven Seas (Top Of The Pops 02/05/1991)
Pandora's Box (It's a Long, Long Way) (Top Of The Pops 11/07/1991)
Pandora's Box (It's a Long, Long Way) (Top Of The Pops 25/07/1991)
Call My Name (Pebble Mill 11/12/1991)
Stand Above Me (Top Of The Pops 13/05/1993)
Walking on the Milky Way (Top Of The Pops 16/08/1996)
Enola Gay (Later With Jools Holland 31/05/2013)
DVD2 – Live at Theatre Royal, Drury Lane (04/12/1981), Live at Sheffield City Hall (14/06/1985) and Crush – The Movie
Live at Theatre Royal, Drury Lane (04/12/1981)
Almost
Mystereality
Joan Of Arc
Motion and Heart
Maid Of Orleans
Statues
Souvenir
New Stone Age
Enola Gay
Bunker Soldiers
Electricity
She's Leaving
Julia's Song
Stanlow
Live at Sheffield City Hall (14/06/1985)
The Romance Of The Telescope (intro)
Crush
Messages
Secret
Tesla Girls
White Trash
Talking Loud and Clear
Maid Of Orleans
Telegraph
Enola Gay
Electricity
The Romance Of The Telescope
Crush – The Movie
Bloc Bloc Bloc
The Native Daughters Of The Golden West
So In Love
88 Seconds In Greensboro
Hold You
Women III
Crush
La Femme Accident
Secret
The Lights Are Going Out
---
Souvenir is released 4th October 2019 and can be pre-ordered via: https://store.omd.uk.com/collections/music/products/souvenir-5cd-2dvd-deluxe-boxset
Official OMD Website:
http://www.omd.uk.com/