The DinDisc Connection…
Carol Wilson played an integral role in OMD's transition to commercial success by signing the band to the DinDisc record label. As founder and manager of the label (which was an independent operation under the Virgin label) Carol was also responsible for bringing the likes of Martha And The Muffins, The Monochrome Set, The Rezillos and Nash The Slash to DinDisc.
But OMD remained DinDisc's most successful act and in this 2003 interview Carol Wilson talked briefly about the DinDisc days and working with OMD…
---
How did you arrive at working for Virgin and launching the DinDisc label?
I applied for the job of Marketing Manager at Virgin. I got onto a short list of three people, then Richard Branson said he couldn't give me the job because I didn't actually know anything about marketing (true at the time). He said he would find me a job. I said anything as long as it isn't secretarial, so he offered me the job of running their publishing company.
After 5 years I got it to the number 3 position in the UK and was offered the opportunity of starting my own label within Virgin, so Dindisc was born.
Can you explain a little about how you first heard about OMD?
Through my namesake Tony Wilson. He gave me the band because he felt they needed a label with a more commercial approach. People thought we were married to each other, but we never even snogged.
What was it about OMD that captured your interest?
Catchy tunes & electronic sound. I was a big fan of Kraftwerk.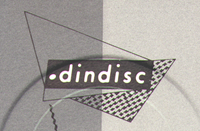 Did you sense that they had the potential to be a successful and popular band?
I never signed a band unless I thought they could be commercially successful.
What were your initial impressions of Architecture & Morality?
It was the culmination of everything they had done so far. I felt they had arrived at their full potential.
You must have been disappointed that the band said no to a fourth single being lifted from the album with 'She's Leaving'?
Don't even go there!
---
This interview originally appeared in issue 2 of Messages.
Original interview by Paul Browne 2003
Revised text 10th February 2014