Arriving in the latter part of 1980, Organisation followed up the 'garage synthpop' of Orchestral Manoeuvres In The Dark with an album of Gothic moods that included the classic 'Enola Gay'.
In 2003 the album was reissued featuring remastered tracks taken from the original master tapes for the album. The reissue also boasted bonus tracks along with sleeve notes, photos and restored artwork. As part of the process of penning the sleeve notes, Paul Browne interviewed the band to collect their thoughts on the album then and now.
---
What do you recall about the ideas and emotions that inspired the songs on Organisation?
Organisation was, for me, a transitional album. It was a record which reflected Andy and myself coming to terms with the fact that at the age of 20, and having spent all of our teen years wondering what kind of a career we were heading towards, all of a sudden we were 'professional' musicians!
Also, after the previous album OMITD had featured pretty much all of the best songs we had ever written to that date, we were all of a sudden confronted with a blank page and something new called a DEADLINE! Which at first was a very scary prospect. Fortunately for us, Andy had written a song called 'Enola Gay' [during] the making of the first album but it wasn't ready in time to include on OMITD! We at least knew that we had a potential first single from the outset which I think helped calm the nerves!
Why didn't you want to record the entire album in the Gramophone Suite?
Organisation was initially written and 'partially' recorded in the Gramophone Suite but the bulk of the recording was done at a residential studio called Ridge Farm.
What was it like working with Mike Howlett?
I loved what Mike had done with 'Messages' on the previous album and I think he was a really good producer. I think however, in our early days particularly, we were so opinionated about what we wanted to sound like , it was sometimes hard to accommodate an 'outsiders' ideas and perspective. Which probably made it harder for him working with us, rather that us working with him!
'Promise' was the first song you had written without Andy, and also your debut on lead vocal. Can you explain a little bit about how 'Promise' came about?
Andy had written a couple of songs without me, so 'Promise' was kind of an experiment to see what would happen if I wrote a song without Andy for the first time. Also I had been singing back up vocals on the OMITD album and in live performance so we thought perhaps it would be interesting to have a song with me on lead that would also serve to add another dimension and variation to our sound.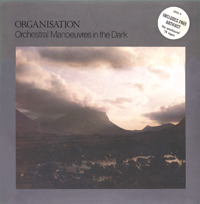 Was 'Promise' ever considered as a possible single?
Not that I remember.
Were you happy with the songs on Organisation?
I was generally pleased with the song writing on the album. For me, I think that 'Stanlow' was its finest moment and an obvious precursor to the more grandiose sound of Architecture & Morality.
'Motion And Heart' was re-recorded as a possible second single. Why was the decision taken to shelve this?
We felt then, as I still think now, that as much as I like 'Motion And Heart' and others, 'Enola Gay' was the only single on the album.
How do you feel about the album today? Do you think that it stands up to the test of time?
I do think that, with the exception of 'The More I See You', it stands up well against the test of time. It was an album I don't think we expected to make. We always kept thinking from OMITD onward that every album would be the last.
The most wonderful thing I find with all music, is that you attach time and events of your life to specific songs in that when you hear them you are instantly transported to a specific place in time. When I hear Organisation, I'm instantly transported back to a time of transition (as I referred to in the first question) for both myself and Andy when I think it finally sunk in. Wow!, a career in music!! Who would have thought!!
---
Original interview by Paul Browne 2003
Revised text 25th February 2020